Each of my PFH favourites are chosen to inspire you to do more on & for the planet whilst caring for yourself and others.
This monthly feature of a few things I'm loving that you can use on or between your travels is a space on PFH where I can share fellow creatives, eco-conscious tips and products, podcasts, books, what I've been watching on TV, routines that I've benefited from, restaurant recommendations and so much more.
Here are my 5 favourites for June 2021.
1. Low-waste table decorations for parties, weddings, christenings etc.
For Michael's 30th birthday I wanted to create a tablescape that was not only pretty to look at but low-waste. Whilst mood boarding I found a concerning amount of balloon decor – if you don't know, foils balloons aren't biodegradable – and now that I don't use them anymore I was a little stuck on how I could pull something special together. 
Then I saw a photo either on Pinterest or Instagram of a wine bottle with a tapered candle in it, like the ones on tables in Italian restaurants in rom-coms, and I thought now there's something! I had some tapered candles in the draw and I'd been collecting bottles to take to the recycling centre.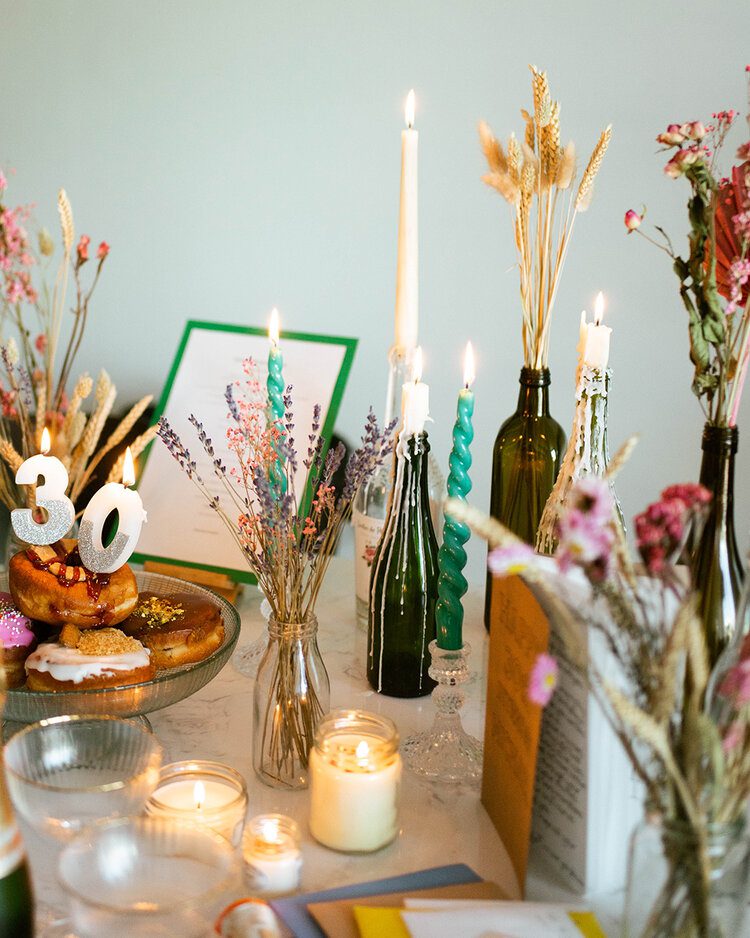 I'd also been collecting jars for food storage and remembered I have all I need to make candles from when I created a candle making tutorial for you over on Postcards from Home: my guide for taking a vacation to Hawaii from home when travel isn't an option for you.
If you want my step-by-step guide for making candles, subscribe to Postcards from Hawaii using the subscription box in the footer of this page below.
So I set about upcycling old jars by removing the labels from them, excluding a few wine bottles with pretty labels.
How to remove sticky labels from jars and bottles
Place the jars on an even and heatproof surface

Pour boiling water into the jars and leave for 4-5 mins

Tip the water out and peel the labels off

If you are left with a sticky residue, mix equal amounts of baking soda and cooking oil or coconut oil (if using coconut oil it needs to have melted to a liquid state)

Spread a layer of the oil and baking soda paste over the sticky residue and leave for 10-15mins

You will now be able to gently rub off the paste with a reusable cloth or wooden pot scrub and warm, soapy water to reveal clean and non-sticky glass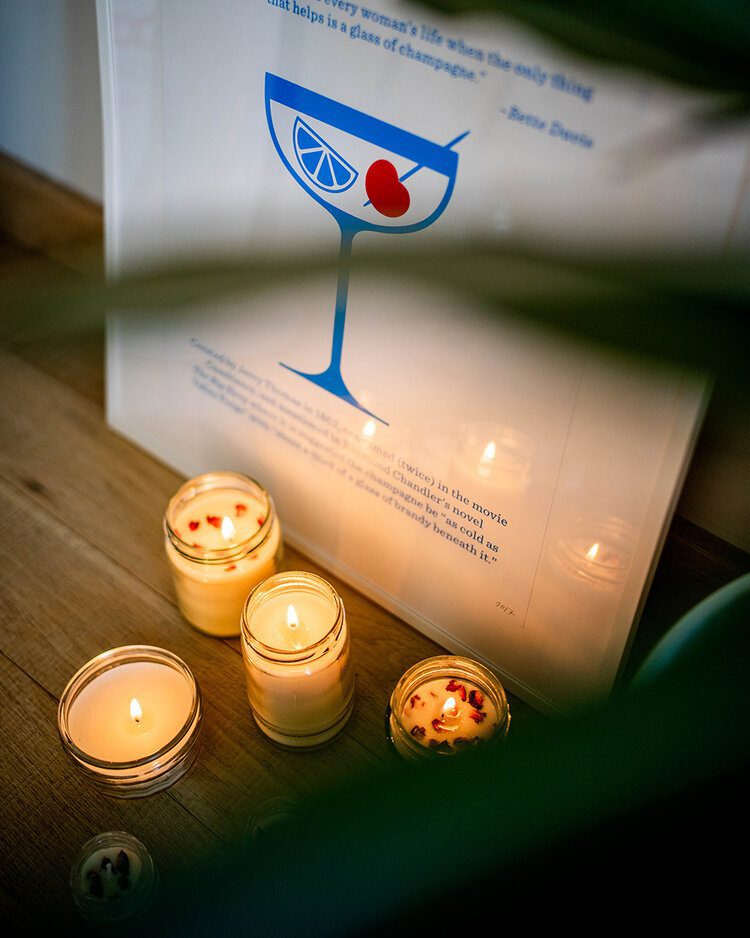 I filled the jars and bottles with tapered candles, homemade candles and dried flowers from Isle of Flowers so we could continue to use them long after his birthday. The only specific decorations I bought just for his birthday were the "30" candles but I just want to point out for the glitter, I'm not certain that its biodegradable so I would avoid glittery ones if you are inspired by my table display.
Another idea is to use dried petals as biodegradable table confetti.
Unlike the foil balloon display, upcycling jars and bottles into candle stick holders and vases means they can be reused over and over, there's very little waste involved and it's a wholesome project.
2. Little Black Book by Otegha Uwagba
The Sunday Times Bestseller, Little Black Book by Otegha Uwagba, is a handbook for creative working women who need guidance, encouragement and inspiration for making successful and lasting moves in their industry. Helping in areas such as talking money, networking, brand building and self care, this book will help any career womxn whether they're just starting out or have years of experience behind them.
Little Black Book was actually in my Christmas stocking from Michael and I read it before the Christmas holidays were over but I always refer back to it and for that reason and many more, it has made its way into my PFH June favourites list.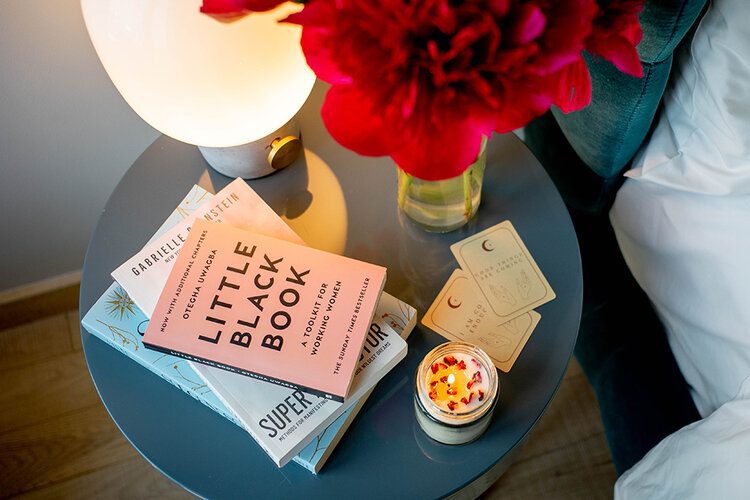 I enjoyed Uwagba's Little Black Book so much I have multiple notes scribbled in the margins (I didn't realise there's a dedicated space for notes in the back). Chapters are subcategorised and compact so they're easily digestible on your commute to work, lunch break or before bed if you are particularly short on time in your day. 
Even though not every part of Little Black Book applies to my current work as I no longer work in an office, I read it thinking how much I wish I had this book when my 23 year old self was trying to navigate office politics and how helpful it would have been for asserting myself under wildly sexist management.
It's also packed full of inspiring quotes from successful womxn and external resources for further reading and inspiration.
Purchasing this book also helps to support a Black female author, yay!
3. Loewe basket bag
My weakness is accessories and I fall hard for bags, these days I invest rather than buying more bags than I feel comfortable admitting like I have done in years gone by. One of my favourite purchases this year has been my Loewe palm leaf basket bag.
My Loewe basket bag has become an extension of myself at this point, I have worn it endlessly come rain or shine. It is the perfect size for nipping to the market, picnics in Hyde Park, a day at the beach, outfit changes (I can carry an extra pair of shoes and our camera in there) or you know just as a handbag without ulterior motives.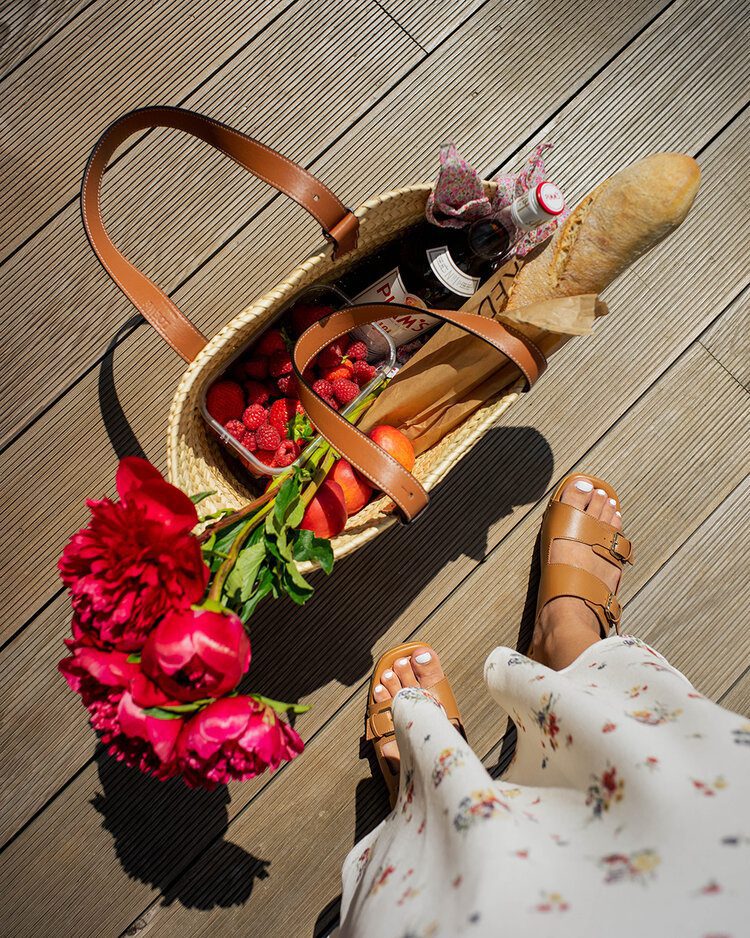 The handles are comfortable and durable and due to the nature of the palm leaves the bag is super lightweight. I very much look forward to taking it on holiday/vacation… one day.
Of course, budget pending it does't have to be a Loewe one, just about every brand has brought out a basket bag this year. If you are lucky enough to travel this year, maybe you can pick one up from a local artisan market.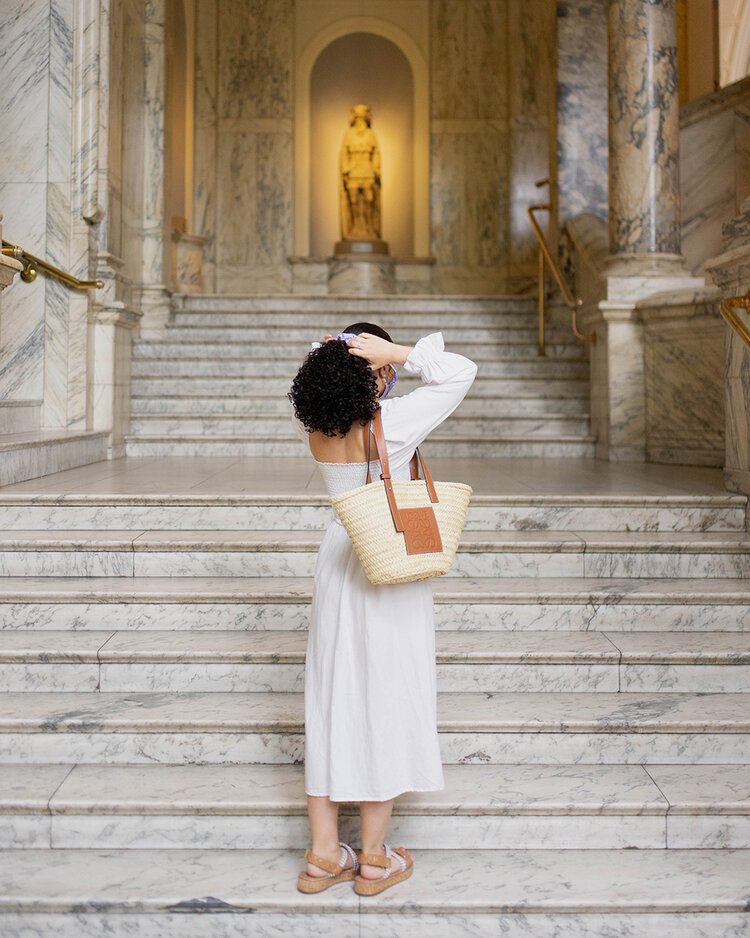 My Loewe palm leaf basket bag is size medium.
4. Garden Party cocktail at The Coral Room
Mentioned in my 14 most Instagrammable cafés & restaurants in London blog post is The Coral Room, the cocktail lounge at The Bloomsbury Hotel. Whilst there to celebrate Michael's 30th birthday we tried a few drinks from their new "A Sip of England" summer 2021 cocktail menu. 
Their "A Sip of England" menu has 14 cocktails inspired by various locations across England and use local ingredients such as Kentish cobnuts, rosehips and Bramley apples.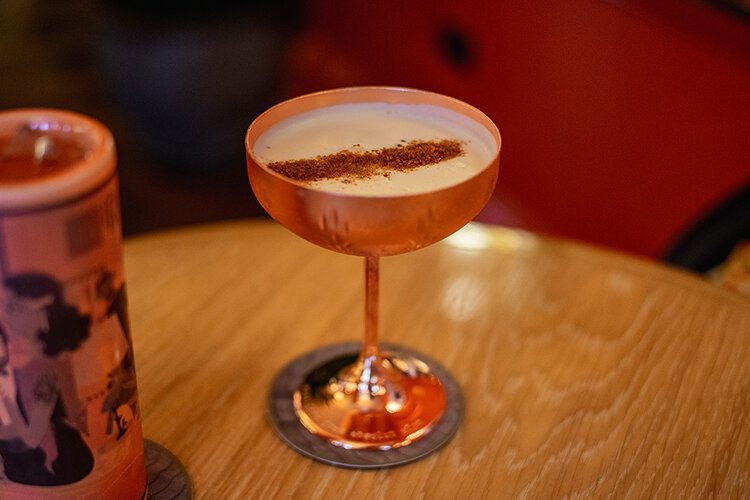 My favourite of the four we tried is the Garden Party cocktail, inspired by Charleston, Sussex and is made with Banana, Diplomático Planas Rum, Crème De Banana, Cream Caramel and Tonka Bean Bitters which makes it taste exactly like banoffee pie. It is the most wonderful cocktail I have ever tasted.
Take a look at their summer 2021 "A Sip of England" cocktail menu here.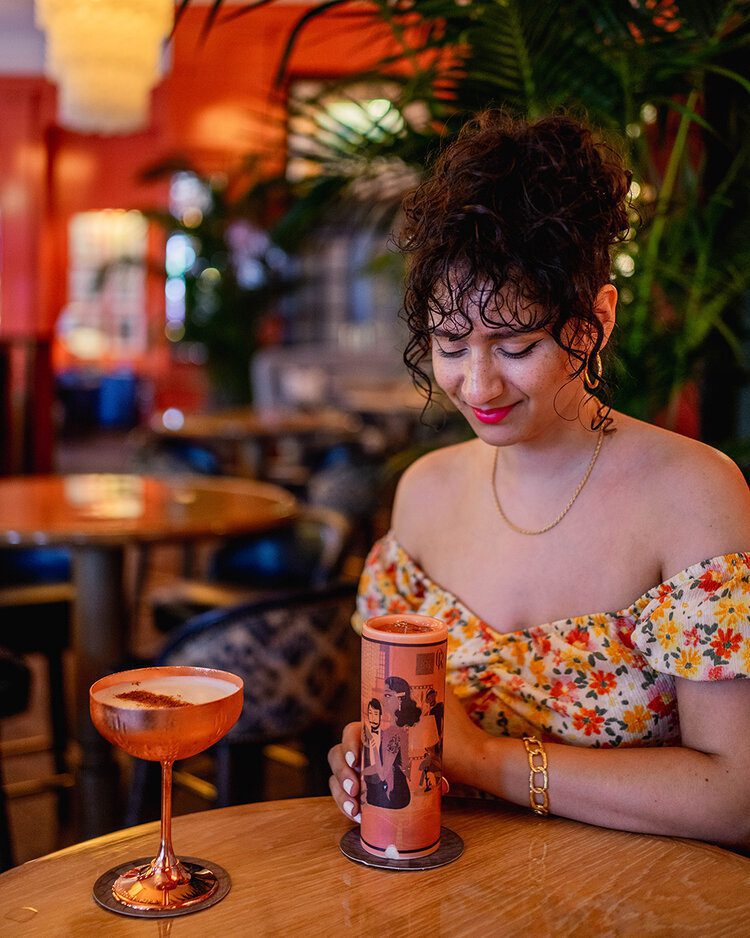 The Coral Room is located in Fitzrovia, London and is just a 7 minute walk from Tottenham Court Road station on the Central Line.
To read more about The Coral Room at The Bloomsbury Hotel in London, take a look at one of my most popular blog posts, 14 most Instagrammable cafés & restaurants in London.
5. Peonies
Tis' the season of peonies and what a beautiful time of year that is, right?
Peonies are sweeping across social media and for a good reason too, much like a good rose they open out in a spectacular fashion that leaves you wondering how they had so much beauty hidden inside such a small bud. In a way, we're all peonies just waiting for our moment to open up and reveal so much from within.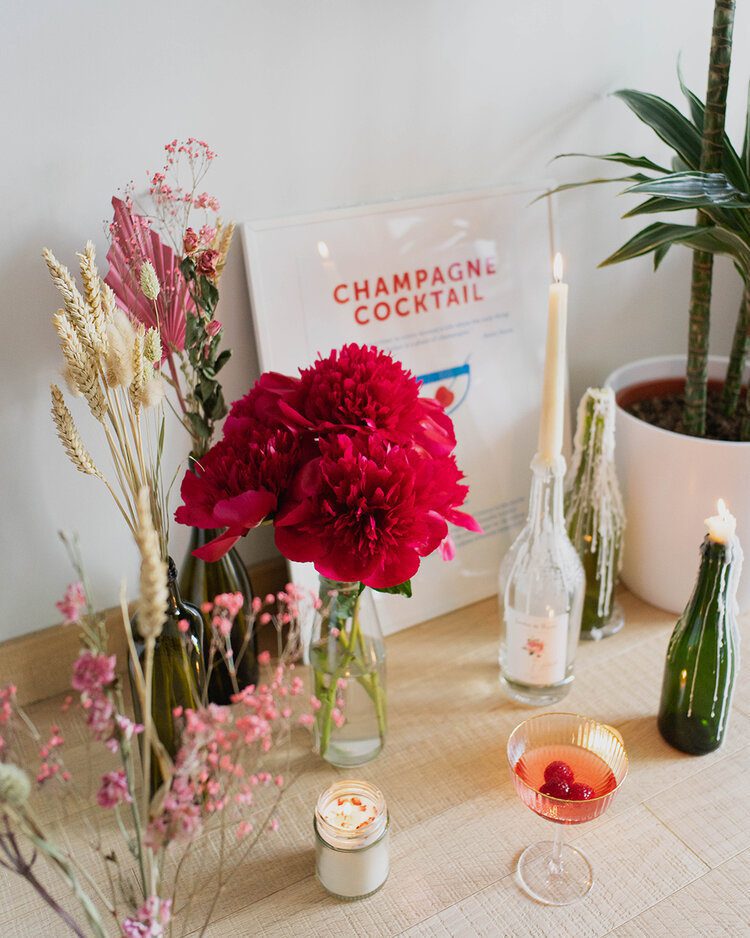 PFH fun fact: Peonies are native to eastern China and are the country's national flower.
These peonies are of the intersectional peonies known as Itoh hybrids, named after the Japanese botanist, Toichi Itoh, who first hybridised the tree and herbaceous peonies to create these much larger flowers.
Did you know that peonies are edible? Pop some of those fragrant petals on your summer salad and you've got something delicious and pretty.
Try to shop your peonies from your local florist or if you are able to, grow them yourself!
.
What are you loving right now? Let me know in the comments below.
Do more on & for the planet, Gabriella