Dubrovnik is not only a beautiful coastal city that looks out over the Adriatic Sea, but thanks to the old town's historically rich architecture that ranges in style from baroque to gothic, it became the ideal location for Game of Thrones' King's Landing: the capital of the seven (although now I suppose it's six) kingdoms in Game of Thrones.
Due to Game of Thrones' global success it's no wonder that people from all over flock to Dubrovnik to visit the filming locations featured throughout the seven seasons. For this reason there are many paid tours available that take you through the streets of Dubrovnik in groups. Now I'm not saying not to take one of these, especially if you're a super fan and want those extra tidbits, but if you want to save money, a quieter experience and time to take your own photos, why not do a self-guided tour? 
Rather than pay for a walking tour of Game of Thrones filming locations, which are operated in groups and on a timed schedule, we decided to wake up early before the tour groups started and do our own. Here are the spots we took ourselves to and what was filmed there.
Jesuit staircase
Start your day early at the Jesuit Staircase out front of the Church of St. Ignatius. These stairs were designed by the same architect as the Spanish Steps in Rome, Pietro Passalacqua, but despite being memorable in their own right, they are also the steps in which Cersei starts her walk of Atonement from season 5, episode 10, Mother's Mercy.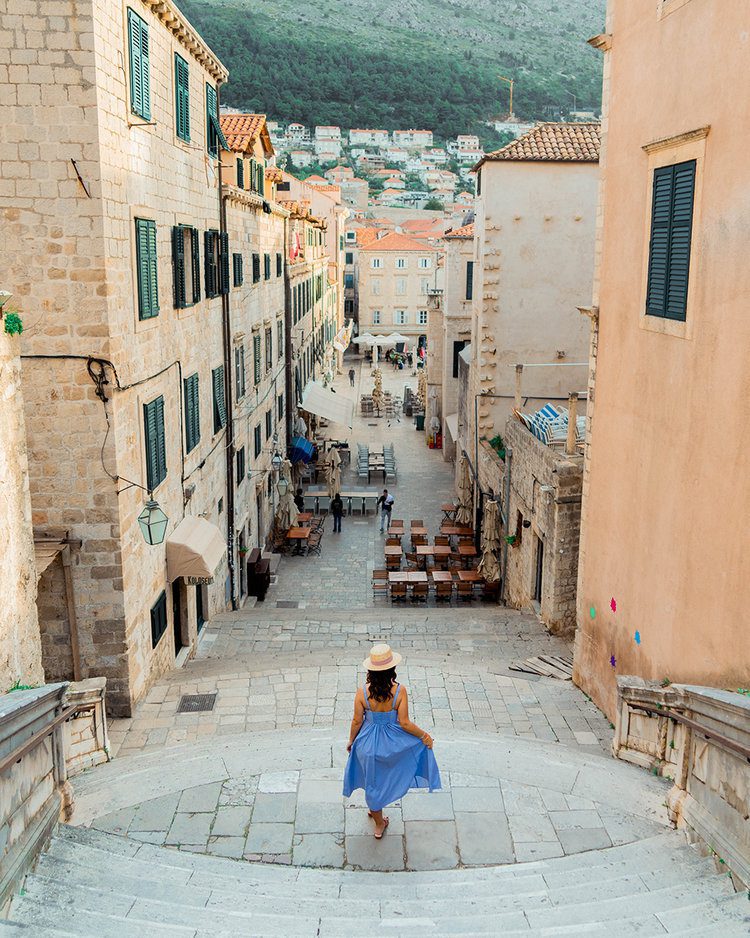 If you want photos here without anyone else, you will need to arrive between 6.30am – 7am and even then, you might be met by a few other hardcore fans. 
West Pier
In Game of Thrones, West Pier and harbour make up Blackwater Bay. West Pier is featured twice across the series: the first is in season 3, episode 1, Valar Dohaeris, where Sansa is watching ships and is approached by Littlefinger, but thanks to the final episode of the whole series, season 8, episode 6, The Iron Throne, it is now far better recognised as the place where John Snow says his goodbyes to Sansa, Bran and Arya before leaving to return to The Wall.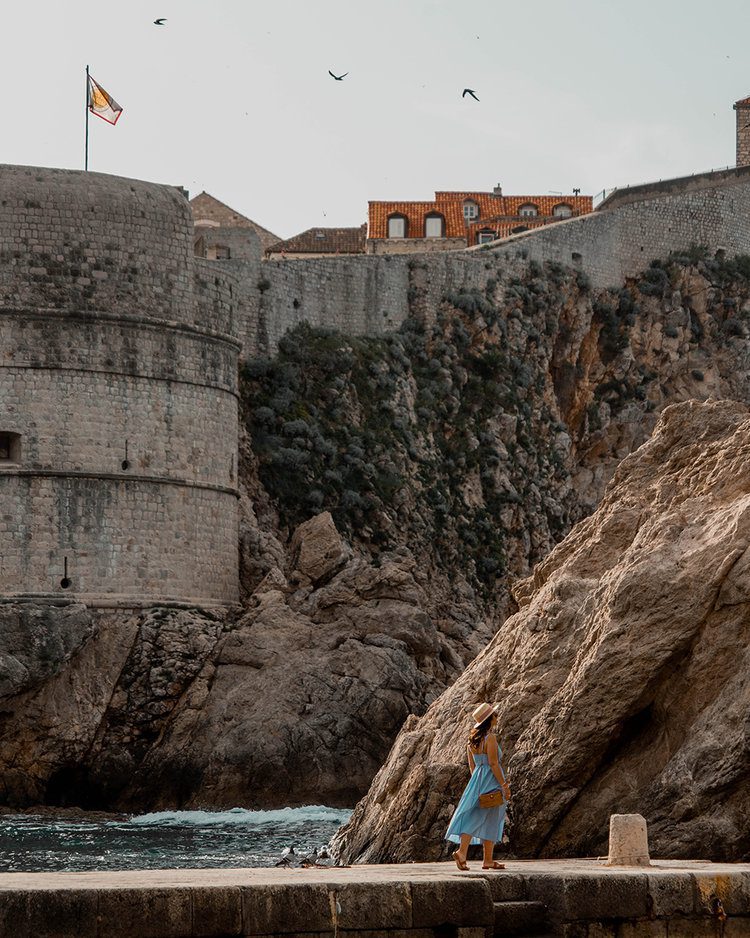 As you can image this is a very popular spot on the Game of Thrones tours operated in the city. I strongly suggest you arrive here before 8am if you want the place to yourself. The apartment we were staying in looked out on West Pier and we saw first hand how incredibly busy it gets once the GOT tours arrive.
West Harbour 
Whilst you stand on West Pier, you will also be able to see another filming location from season 2, episode 1, The North Remembers. If you face Fort Lovrijenac, you will see a couple of green doors in the rocks with steps leading down into the water. In the episode these doors are featured shortly after the Gold Cloaks were ordered to murder all of King Robert Baratheon's bastard children, one of whom is drowned in the water below these steps.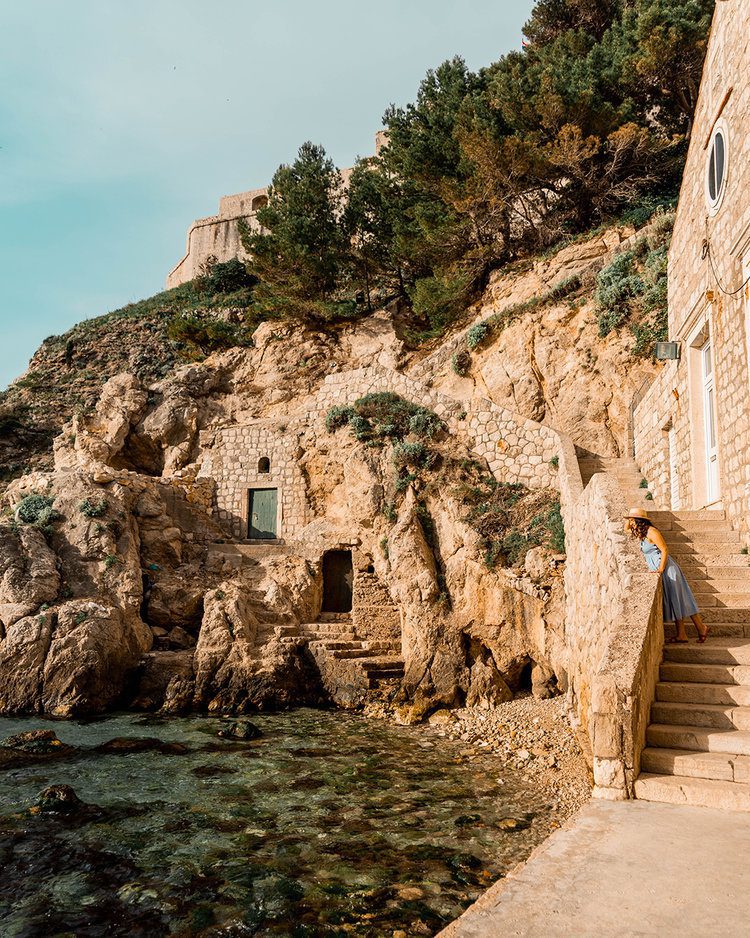 The steps leading up from here go to another filming location, Fort Lovrijenac or to Game of Thrones fans: The Red Keep. Although it makes sense to head up here first, I suggest doing the city walls walk first because as far as I'm aware you can only buy tickets for the wall and Fort Lovrijenac within the city walls.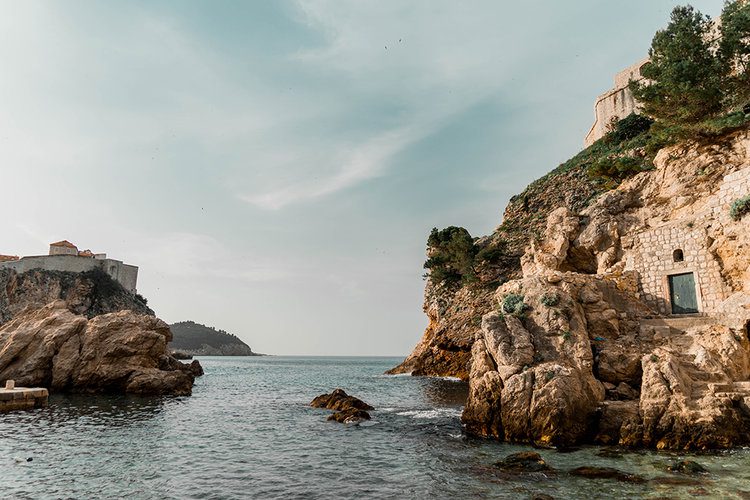 Dominican Monastery
This little but steep staircase out front of the Dominican Monastery was the location where the protest speech against the Lannister family was made in season 2, episode 5, The Ghost of Harrenhal.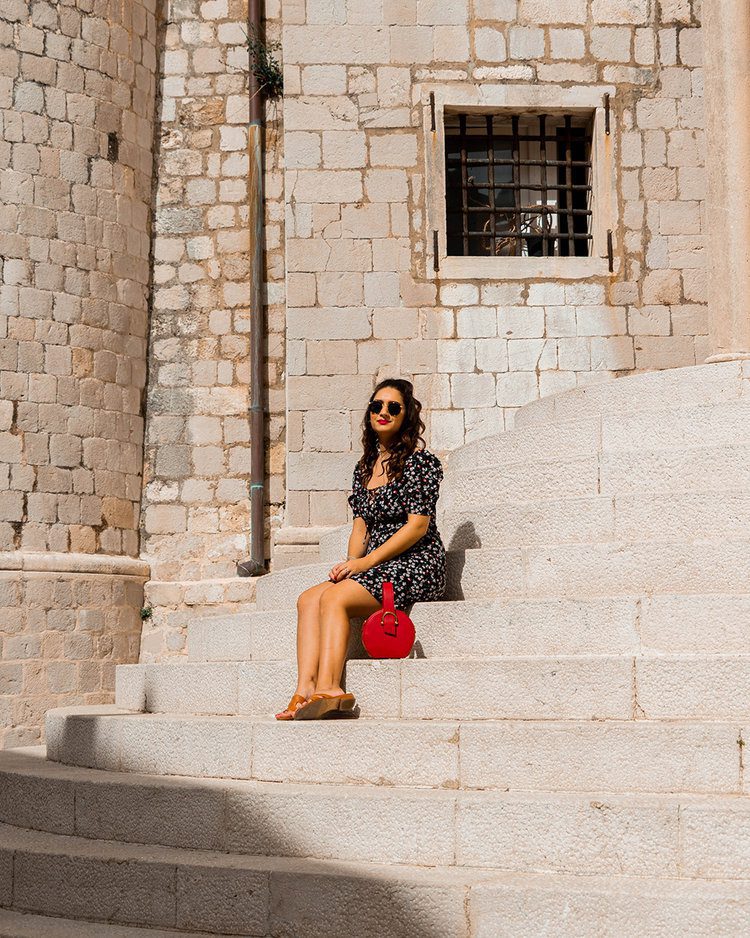 As this location is small, you don't really have to worry about it being busy, people will wait to get their shot.
Ploče Gate
This gate is used multiple times throughout season 2 and 3 as the entrance to King's Landing. The gate gets incredibly busy as it leads out of the old town so if you really want a clear shot I suggest returning first thing on another day.
City walls 
For the best views of the city, take a walk along the old city walls. There's no doubt in my mind that this is the best way to see the old city of Dubrovnik plus you get to visit a couple more filming locations whilst looking down on others such as West Pier and Fort Lovrijenac.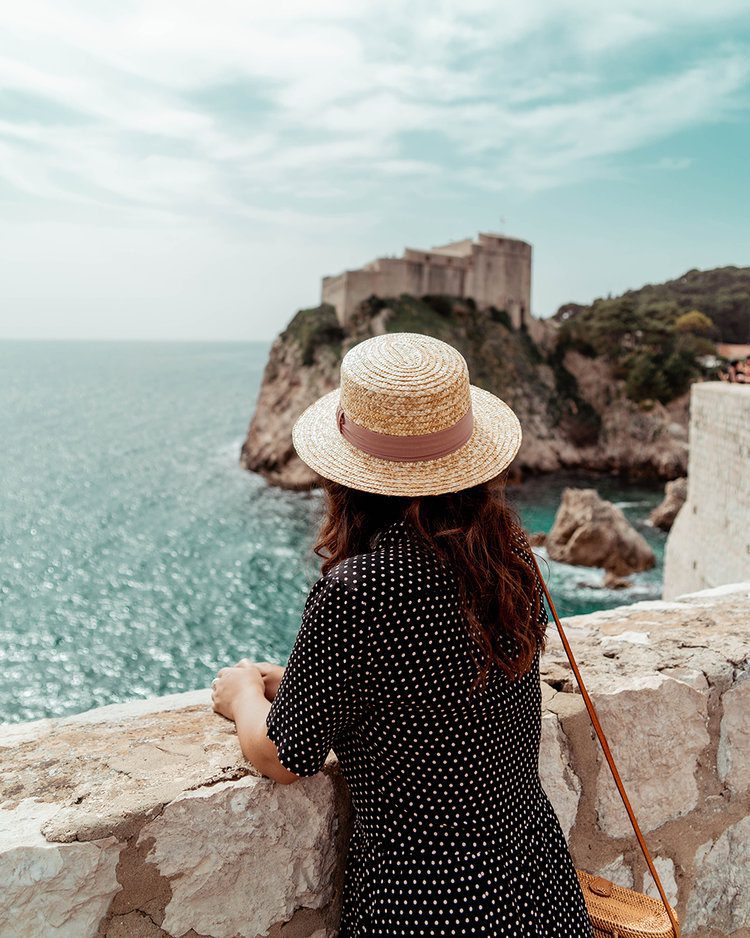 The following two filming locations are also included in the city walls:
Fort Bokar
Fort Bokar is featured in season 2, episode 8, The Prince of Winterfell for shots along the sea wall of Kings Landing.
Minčeta Tower
Minčeta Tower is used in season 2, episode 10, Valar Morghulis as the House of the Undying. Daenerys' dragons were stolen so she searches the tower for the entrance into the walls.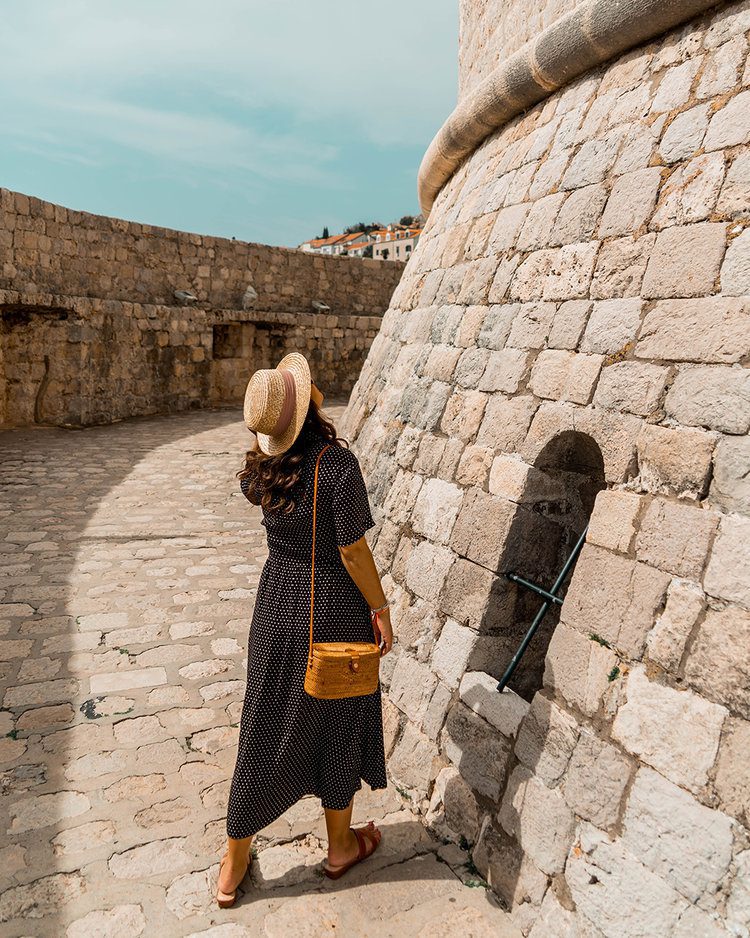 Cost
200 Kuna per adult
50 Kuna 5-18 yrs old 
Under 5yrs go free
Opening times
Jan – March 10am – 3pm
April & May 8am – 6.30pm
June & July 8am – 7.30pm 
August & September 8am – 6.30pm 
October 8am – 5.30pm 
November & December 10am – 3pm
Fort Lovrijenac
Tickets to the city walls also includes entrance to Fort Lovrijenac, or as it's known to Game of Thrones fans, the Red Keep. As I mentioned before, the steps leading up to Fort Lovrijenac start at West harbour. It's quite steep but should only take you about 5mins to get up.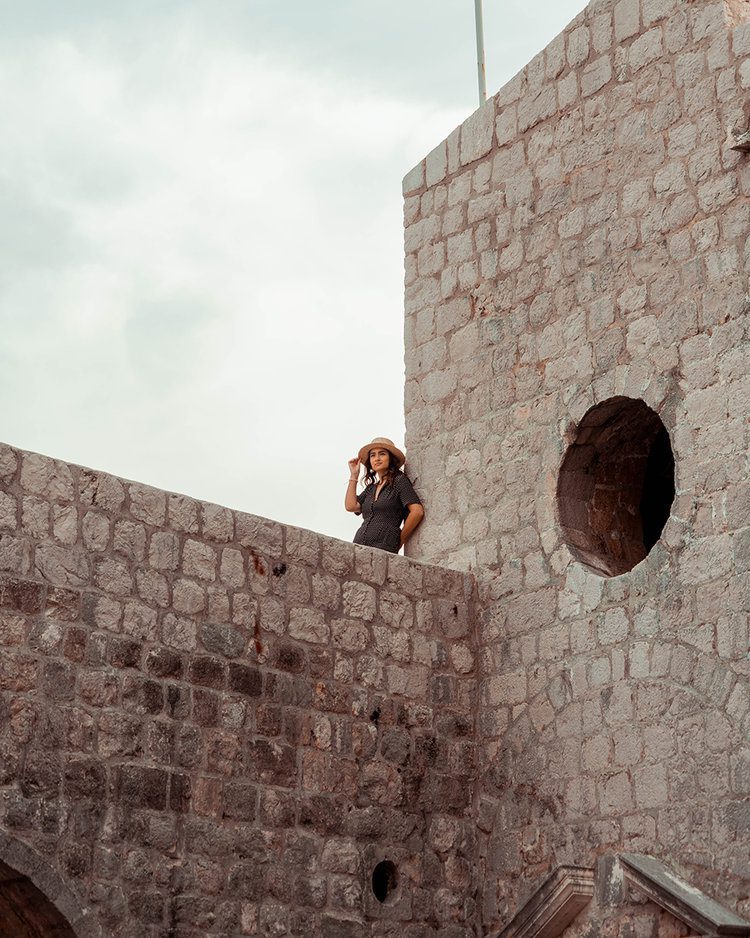 Fort Lovrijenac is used as the interior for the Red Keep in episodes season 3, episode 1, Valar Dohaeris and season 3, episode 5, Kissed by Fire, but it is best recognised in season 2, episode 1, The North Remembers, as the setting for King Joffrey's naming ceremony where a tournament is held in his honour.