"Caring for myself isn't self indulgence, it's self preservation" – Audre Lorde
Though holidays/vacations help towards reducing the feeling of stress that builds up in our everyday life at home, our stress triggers are not always something we can simply switch off just because we're taking a break. Recognising that you can still be stressed on your holiday/vacation is sucky but not something we should ignore, which is why I wanted to put together this list of products I travel with to help work through my anxiety when it makes an appearance. Here are a few important things that I use to give my body and mind a helping hand to relax when I'm on-the-go:
Rose quartz facial roller
I originally bought my rose quartz facial roller to help massage my moisturiser into my skin and de-puff my under-eye area, but what I wasn't hugely expecting was just how soothing using it on my face would be. Taking 5 minutes to roll my face at the beginning and end of my day has been such a luxurious act of self care that I didn't know I needed. It brings a sense of calm for my day ahead and relaxation for that night's sleep. Add a face mask in the mix and you're giving your self an at home facial.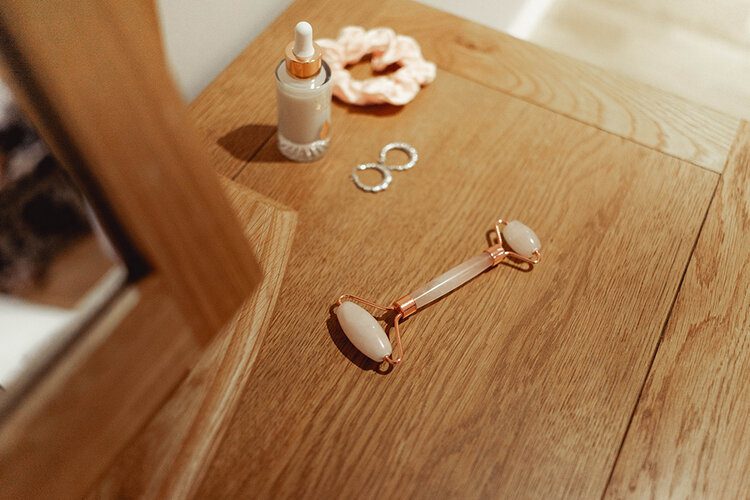 A useful guide on how to use a rose quartz or jade facial roller.
Face masks
Face masks are something you treat your face to at home with a cuppa or in the bath on a Sunday night but they can be a much bigger part of you life, especially whilst you travel. Between the recirculated air on aeroplanes and pollutants in built up areas, travel is taxing on our skin so it's the most important time to give it extra attention in the form of a face mask. These at-home facials in a bottle/tub encourage us to take time out of our busy schedules, to take care of ourselves and focus on what our skin is telling us about the effects the environment we are in is having on us.
Three face mask I love are:
Rosy Cheeks from Lush
This face mask is fresh and does need to be kept in a fridge so it's harder to travel long distance with but it's one of my favourites because the calamine in it is so soothing and is particularly helpful for treating sunburn if something went awry in mine (or Michael's, usually Michael's) suncream application. 
Rotorua Thermal Mud Mask
I became obsessed with Rotorua mud in 2016 after my first visit to New Zealand to see family. It is a natural cleanser from the geothermal springs of Rotorua, New Zealand, which is rich in minerals. It detoxifies by drawing out excess oils from the skin and leaves pores feeling smoother. I particularly love using this face mask when I'm travelling to cities because it works as an anti-pollutant.
Anatomicals
I love all of Anatomicals' face masks, they were one of my favourites long before I started working with them and would happily recommend any of them. There are so many options to suit different needs covering various complexion treatments. These two are from their newest Tear and Share collection. The sachets are useful for slipping in your travel toiletry bag and each one contains 2-3 uses.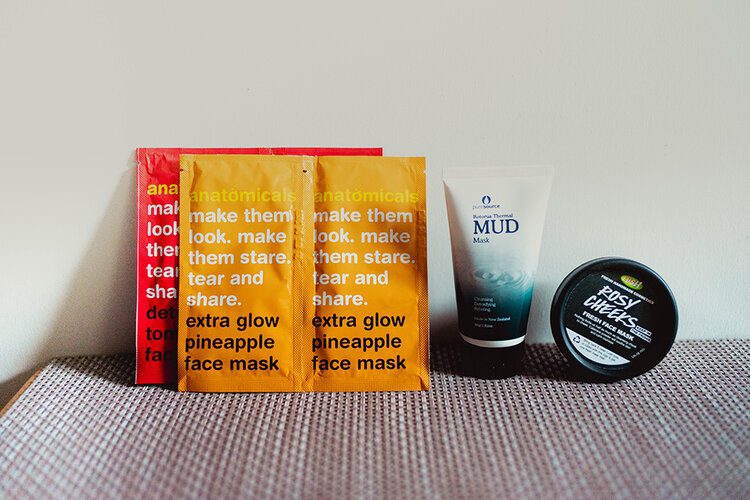 Lavender linen spray
When my anxiety is in full swing I find falling asleep the hardest part of my day. Whatever the trigger is for stressing me out, be it jet lag or a change of plans, it makes it harder for me to allow my mind to relax so my body can rest. The quickest aid for me is to spray my pillow with a lavender linen spray. My favourites are from Norfolk Lavender and Anatomicals.
For more lavender products to help you fall asleep, check out 10 lavender products for more relaxing travels and How to sleep on long flights.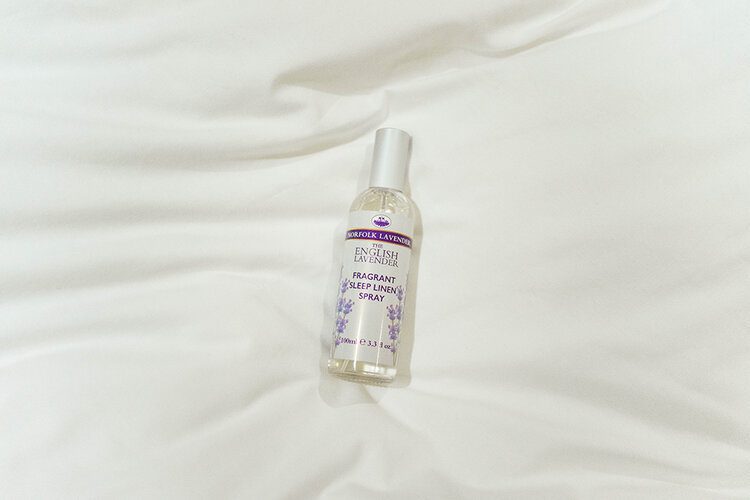 Essential oil roller
I turn to my Give Peace A Chance, anti-stress and relaxing roll on by Anatomicals when I feel like things are getting too much. Rolling a little of this essential oil concoction on the inside of my wrists and temples and taking a deep inhale of it, has helped to relieve tension in my mind and body. It's under 100ml so you can use it inflight should there be any triggers there for you and its compact size means you can slip it in your bag or pocket for when you're on-the-go. I've also noticed a little goes a long way, so you get a lot of usage out of it.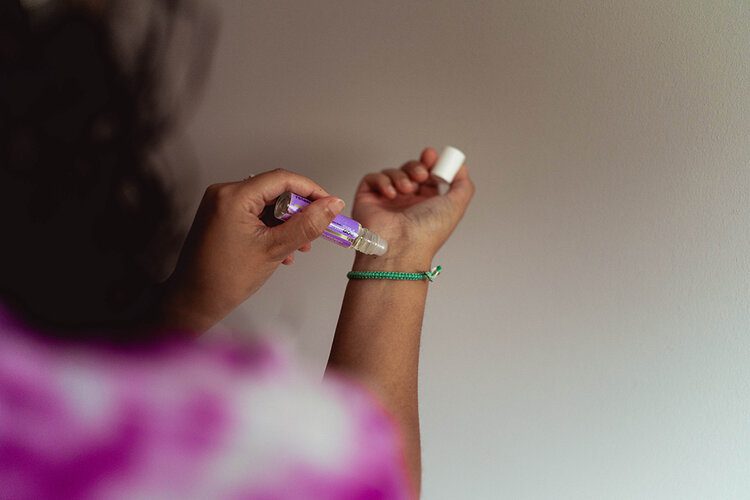 Hair masks
All hair benefits from regular TLC in the form of a deep conditioning hair mask. It doesn't matter what hair type you have, both you and your hair with feel good after treating it to some extra nourishment. Taking the time to do a hair mask is similar to treating your skin to a face mask, it cares for a part of your body which helps towards making you feel good on the outside and in.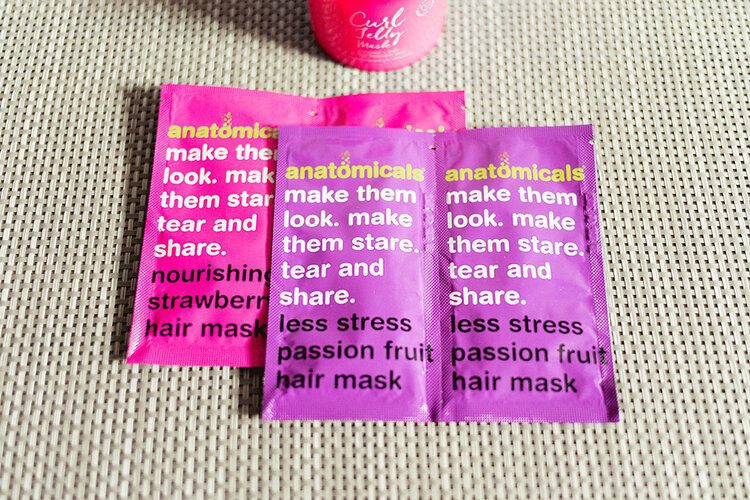 The hair masks I am loving at the moment are:
Passionfruit Stress Less hair mask by Anatomicals
Anatomicals hair mask sachets are particularly handy when you're travelling as they aren't heavy nor do they take up much room. The Passionfruit Stress Less hair mask is my favourite one not just because it smells incredible but it helps to treat dry and irritated scalps. Use it between your shampoo and conditioner for the best results. This set is also from their new Tear and Share collection.
Curl Jelly hair mask by Umberto Giannini
This deep conditioning treatment quenches my thirsty curls in moments! It's a quick treatment that only takes a few minutes and can be done in the shower as opposed to the hair masks from Anatomicals which can sit in for longer should you wish.
You can decant some into a travel pot to save weight in your luggage.
Journals
The best way to manage your anxiety is to keep to your daily routine, of course this is harder when travelling but it's not impossible. If journalling is a part of your regular routine then make sure you pack it and make time to fill it in. They also make for a great space to reflect on what you did on your travels. Here are the two that I use: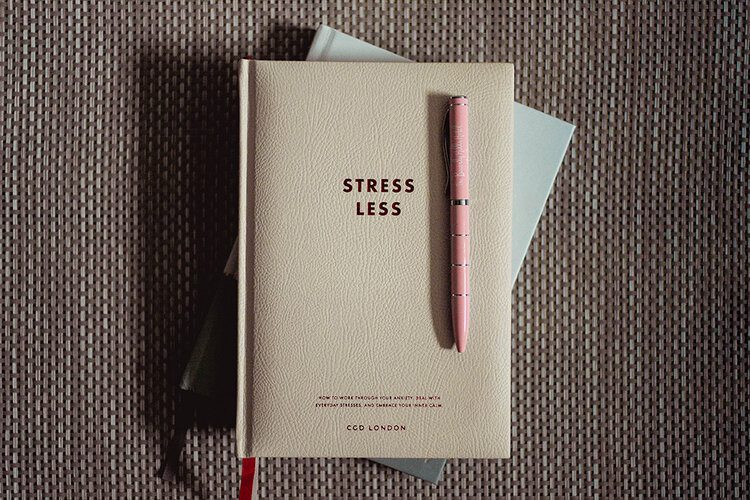 Stress Less by CGD London
After reading the 9 Guided wellness journals to inspire gratitude, mindfulness and big ideas blog post on Oui, We, I chose to purchase the Stress Less journal by CGD London.
As I write this I am only two weeks into the 7 weeks that it works across but I can say that it has been the very support that I was seeking from a journal and I'm so happy that Andi from Oui, We published the list of journals at a time that I really needed it and that I chose this journal from it. 
I had dismissed my anxiety for many years as just a little extra stress than your average person, but I am coming to terms with the fact that it's something I consciously have to work on, and this journal (along with sessions with my therapist) has really helped me bring structure to my days in these very complicated times.
The journal itself is a seven week process that includes reading material and written exercises for managing anxiety.
Weekly Inspiration Diary by Kikki K
I've used the Weekly Inspiration Diary by Kikki K for the last two years (2019 and 2020) and I really love it for being a first step towards writing out more than just your plans for the week. 
This diary is a hybrid between a calendar diary where you can plan out your week and a goals journal where you can reflect upon your prior year, each day and the month just gone plus there's the opportunity to set goals for the upcoming months.
It doesn't expect much from you each day like other journals do, which isn't enough for me on the whole, but I do love this diary because it gives you prompts for setting your goals and makes you check in on them regularly.
Unfortunately Kikki-K UK has gone into liquidation but you can still order their products from their AU website.
I know that between these two journals that when my anxiety gets the better of me, they have a space for me to write it out and encourage me to acknowledge how I'm feeling in the moment.
Books
For the longest time I just didn't make space in my day for reading. It's not like I never read a book, I just didn't regularly make time to read one from start to finish. It wasn't until the COVID-19 pandemic that I consciously made time to sit and read my book in my lunch break after thinking about how we take books to read on sun loungers on vacation/holiday to relax. Making time to read has made such a big difference to my overall mood for the week.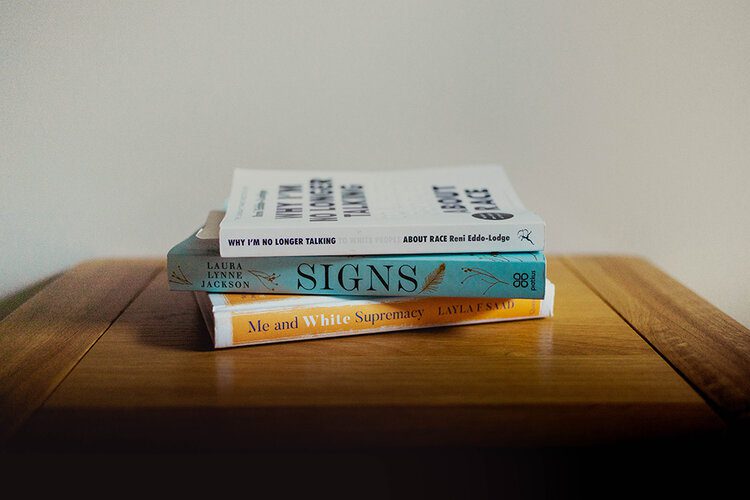 Upon further thought about how so many of us read on holiday/vacation, I have decided that instead of pulling out my phone for a mindless scroll on IG (outside of working on it), I would read a few pages of my book. I have found that this works when I'm not travelling to reduce the chances of my anxiety being triggered by something I see online, so this is something I intend to carry forward into my travels post COVID-19.
Resistance exercise band
Science supports that exercising releases endorphins in our brains which triggers a positive feeling throughout our bodies. Exercise will improve your mood, give you a physical outlet for your energy and it will contribute towards your body's health. 
Over the years I have found it difficult to keep down an exercise routine when I'm travelling because not every accommodation I stay in has a gym and though I am trying to run more (because it's free), I don't enjoy it. To keep exercise in my day, what I do like to travel with is an exercise band. An exercise band is lightweight, packs small and is adaptable to workout various muscles from arms to legs so I like to keep one on hand for travel days where I'm not on my feet a lot or haven't got more physical activities planned.
At the end of the day, it doesn't matter too much what I do for exercise each day, I just know that if I do some form of exercise I feel so much better about both my physical and mental health.
.
I hope these nine product recommendations and processes help you on your journey to managing your anxiety whilst you travel. If you often feel like your anxiety gets the better of you and interferes with exciting moments in your life such as travel, please take from this blog post that you are not alone. Let me know if you have any other recommendations in the comments below.
Safe travels, Gabriella