If you have curly hair and care for the environment then this is for you.
I have partnered up with Only Curls for this blog post to share who they are, why they're leading the way to a more sustainable curly hair routine, why I love using Only Curls products and which ones are my favourite.
I decided to stop straightening my curls during the first Coronavirus lockdown in the UK – early 2020 – which was a significant part of my decision but it was mostly down to my struggle with my mixed-race (bi-racial) identity, which surfaced not long after the world watched the murder of George Floyd and Black Lives Matter became a global focus. During this time I tuned in to one of Norwich's BLM live protests where I heard another Mauritian-English woman speak of her struggles with her mixed identity growing up in a white community in Norfolk. I listened to this empowered 19 year old step up to speak about straightening her hair to fit in with her friends, to avoid being called frizzy and escape hair-related microagressions because the skin tone ones weren't avoidable. She spoke my truth and I burst into tears.
I realised how significant my hair was to finding myself and owning my mixed race identity. That I had to stop trying to change my hair because the patriarchy decided straight is normal and everything else is not – I mean that's true across the board isn't it?
This confident teenager who had decided to stop straightening her hair affirmed that I had a choice and from that day I chose to stop hiding my curls and instead I began the transition to embracing my natural and beautiful curly hair by nursing my damaged curls back to health.
A big-time player in my curly hair transition was introducing sulphate and silicone free products to my styling routine. As someone who is actively working to reduce my carbon footprint and live a more low-waste lifestyle I sought out eco-conscious curly hair products and that's how I came across Only Curls.
Never had your curly hair cut by hairdressers who specialise in curls and don't know where to go? Only Curls have an interactive map featuring hair salons who stock their products, isn't that super helpful? Check it out here.
Who are Only Curls?
Only Curls are a London based haircare company who specialise in curly hair products. Founded in 2016 by a fellow curly, Lizzie Carter, Only Curls was created to care for curls and the planet whilst empowering people with natural curls to own their true beauty. 
"Only Curls are on a mission to encourage curly haired girls of all textures to ditch the chemicals, forget the straighteners and start loving their natural curls." – Only Curls.
All of their products contains natural ingredients and are free from silicones and sulphates. But Gaby, what are sulphates and silicones & why are they damaging to curls? I got you boo. 
Sulphates are used in regular shampoos because they help the product to lather up which expands it so you get more use out of the shampoo – it spreads further across your scalp when you wash your hair. The problem with sulphates is that they rid the hair of natural oils leaving it dry and as curly haired people know, curls dehydrate easily (hello frizz) and when they're dry they're more prone to breakage. This is why it's best to avoid products with sulphates in them if you have curly or dry hair.
Silicones are used in hair products to counteract the feeling of dry hair that the sulphates create and leave your hair feeling silky smooth. Unfortunately they aren't actually hydrating the hair, instead they're just coating it with a synthetic layer that builds up over time on the hair and scalp. Nasty right?
Whilst we're on the topic of nasty ingredients that Only Curls don't use in their products, they also avoid parabens. Parabens fight bacteria and are used in cosmetics to make the product last longer but they aren't natural ingredients and can be absorbed by the skin – EW DAVID! 
So the ingredients Only Curls use, and don't, already had them in my favour but that isn't all that makes them one of my favourite brands for curly hair.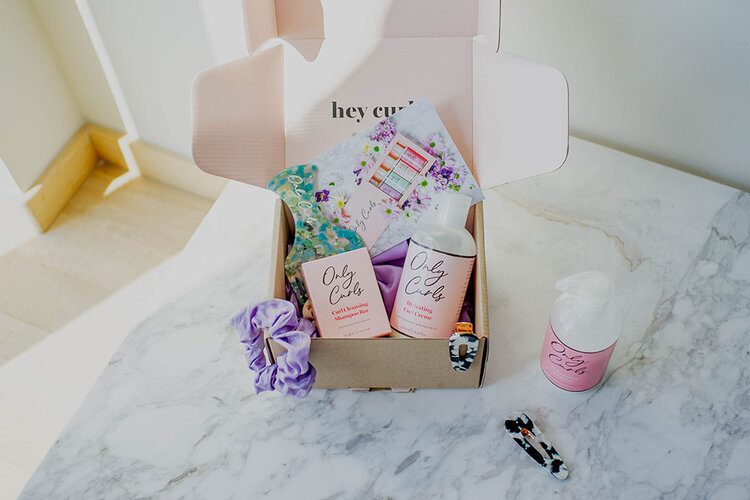 Only Curls cares for our planet and all who live on it. Their products are vegan, cruelty free and they are working hard to reduce the impact their products have here on earth for generations to come. I'll cover more on why Only Curls are a more sustainable choice for curlies who care for the environment below.
Before that, I also want to highlight how invested Only Curls are in your satisfaction and experience with their products. Once you receive your purchase you will also get an email asking you how you're getting on with them and should you be having any troubles with your styling – like I did when I first transitioned to my curls –  they are at hand to give you personalised styling tips. They also have a Curl Care space on their website with tutorials on brushing, styling, drying and refreshing.
Why Only Curls are better for the planet
Only Curls products are a better choice for curly people who care about the environment and the future of our planet because they are:
Cruelty free

Vegan

Bio-plastic packaging

Recyclable packing
In my experience, styling curly hair requires far more products, care and attention than straight hair, not that I'm dismissing caring for heat damaged hair but I used far less products on my hair when I was straightening it compared to my current curly hair styling routine.
Even though I have never felt better about my hair since I've embraced my curls, I found it extremely challenging to suddenly introduce plastic bottles into my haircare where there weren't before. At the start of 2020 I was feeling really proud of myself for reducing my single-use plastic consumption in the bathroom and when I switched to the Curly Girl Method I suddenly needed styling creams, hydrating hair masks, oil treatments and different strength gels, even my hair brush collection needed to expand!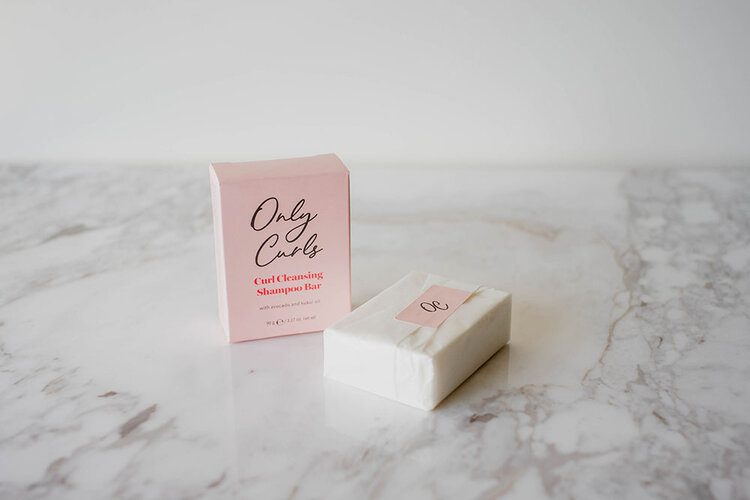 Then as every person with curly hair will know, your curls are as unique as your DNA and they won't take to every product you try and trying products can increase your single-use plastic consumption – to deal with this I passed down my products to other curly haired people to try.
This is why it's a deep sigh of relief knowing that Only Curls plastic packaging is made from bio-plastics derived from the bi-product of sugar-cane rather than fossil fuels. It's still plastic but it's plastic with a lower carbon footprint. 
Only Curls also offers the following products in 1L bottles to reduce the amount of plastic bottles you need to purchase:
All curl cleanser

All curl conditioner

Hydrating curl cream

Enhancing curl gel

Cleansing co-wash
On the other hand it's super frustrating not being able to try out products right? Buying full-sized products to find out the product doesn't work with our curls wastes money and adds to single-use plastic waste not to mention it's hella frustrating! Only Curls solution to this is selling their products in 100ml travel sized bottles so you can save money, save plastic and if you love them like I do, you can refill them with the full-sized product for your travels.
All of their bottles, boxes, packing materials and tape are recyclable.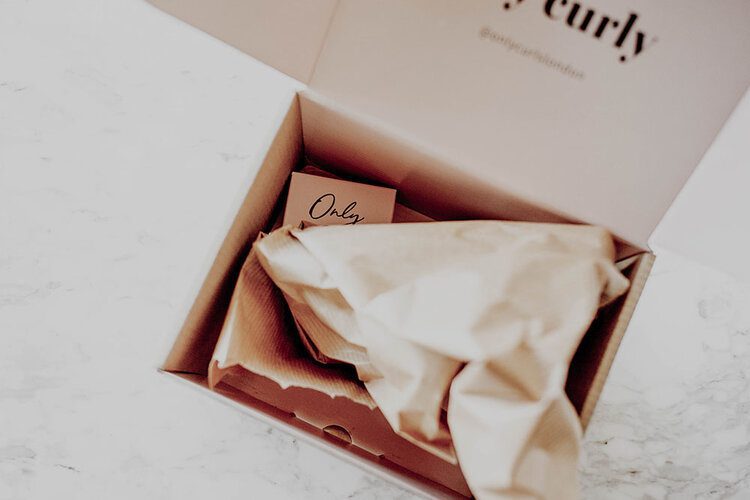 My favourite Only Curls products
I've been using Only Curls products for the same amount of time as I stopped straightening my hair – just over a year from the date this article was published – and in that time I've tried almost every product Only Curls has on offer. 
Aside from how environmentally-conscious Only Curls are, something I really love about them is their broad mix of products from styling products to help you feel your best self in your curls to accessories to protect your hair when your head hits the silky pillow at night.
Some of my favourite Only Curls products are: 
Only Curls Cleansing Shampoo Bar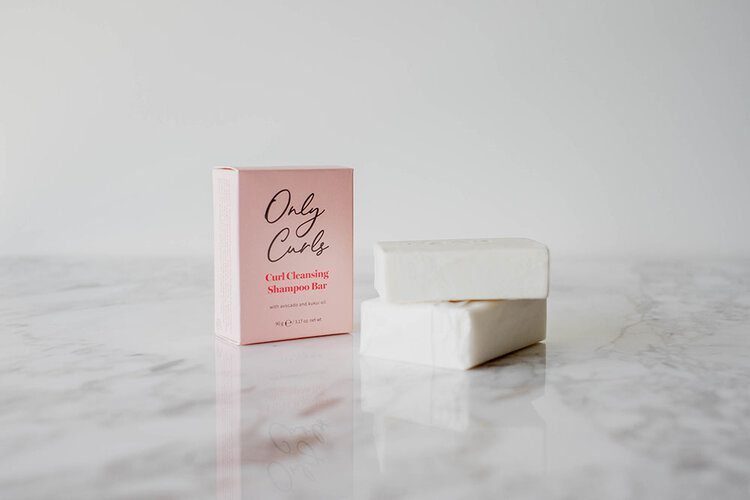 Once I decided to stop using shampoos with silicones and sulphates in them I found it particularly tricky to eliminate plastic from my hair wash routine. Previously I was using a shampoo bar from Lush (Honey I Washed My Hair) which I absolutely loved when I was straightening my hair because it made my hair feel silky and smooth and of course I loved it because it is a naked product – it has zero packaging.
Unfortunately it contains sulphate which wasn't doing my curls any favours (see above for why sulphates aren't good for curly hair) and as it turns out most shampoo bars contain sulphates as one of the main ingredients. So in my transition from damaged hair to bouncy curls I had to forfeit plastic packaging in my hair wash routine so I could use shampoo that was sulphate and silicone free. 
Then Only Curls came out with their cleansing shampoo bar that has no plastic packaging! It also has no drying alcohols, parabens or mineral oil, it hasn't been tested on animals, is vegan and is made in the UK. The packaging is made from FSC mixed card and is 100% biodegradable. Yay!
Wash day is way more exciting now that I have the Only Curls shampoo bar. It not only lathers up better than any other shampoo bar I've tried but it also lathers up immediately unlike many silicone and sulphate free shampoos.
Coconut, avocado and kukui nut oils work together to hydrate curls, eliminating frizz, and gives the shampoo bar Only Curls' signature tropical scent.
After washing with the plastic-free Only Curls shampoo bar my hair feels clean, nourished and soft. This is not only one of my favourite Only Curls products but curl products of all time.
Also it travels way better than a bottle of shampoo!
Only Curls Hydrating Curl Cream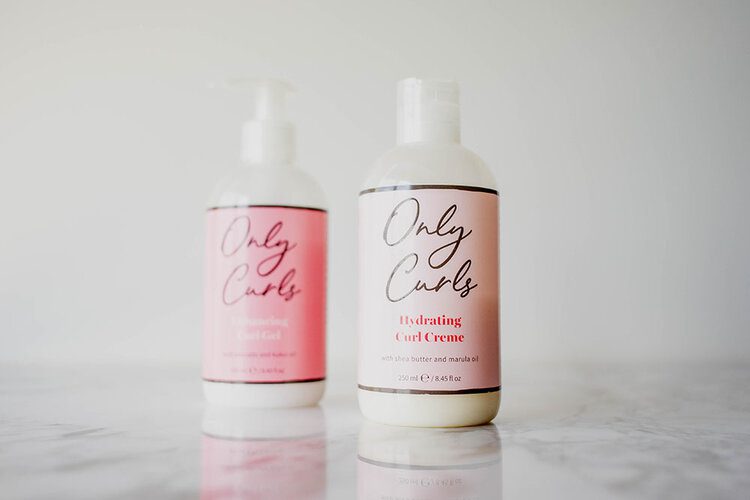 Something I was completely unaware of for so long when styling my curls was that they needed to be hydrated before applying gel or foam/mousse. I also didn't scrunch out the crunch which is another sin in itself…
The hydrating curl cream is a light, non-sticky formula which prevents curls from getting weighed down by too much product and doesn't leave them or your hands feeling tacky after application. Aloe, Shea Butter, and Marula Oil work together to leave your curls nourished, soft and defined. It's my go-to curl cream.
Only Curls Microfibre Hair Towel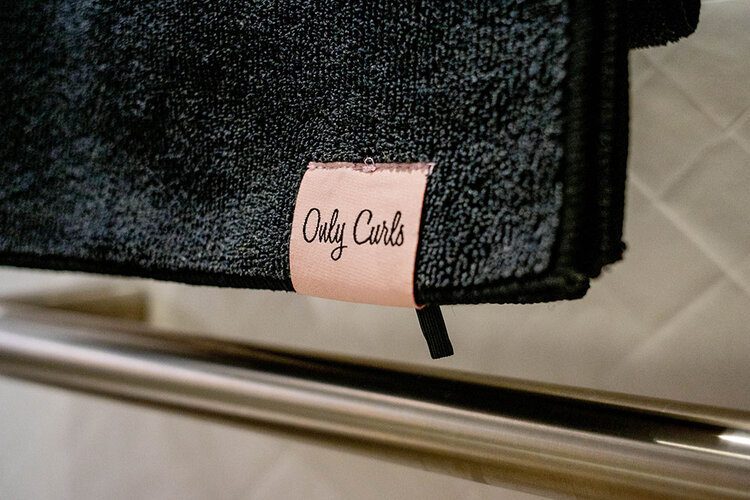 The rough surface of regular Terrycloth towels are notorious for causing damage to curls. They absorb surface moisture which leaves hair frizzy and more likely to break. Microfibre towels are made with smooth fibres that glide across the hair and dries faster without stripping curls of their moisture. 
Their microfibre hair towel has a button and two elasticated loops so you can fasten the towel neatly on your head without it coming undone the second you bend over to moisturise your legs.
To use the Only Curls microfibre towel simply use it to scrunch excess water out of your hair after applying the hydrating cream to your wet curls.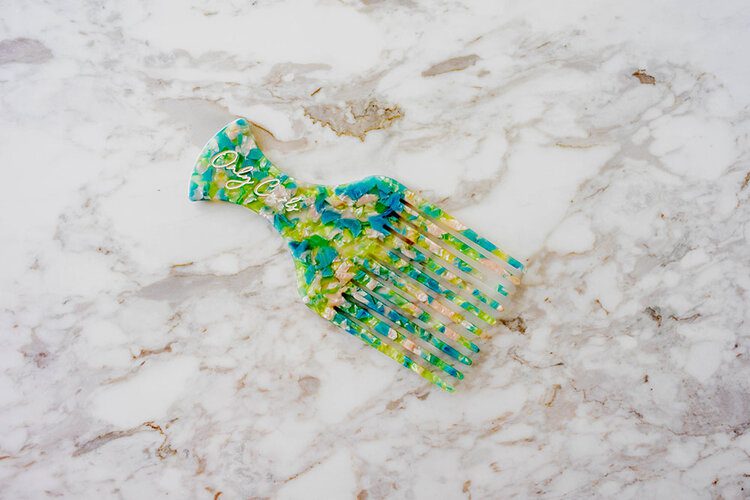 Some of my earliest memories of my Mum is her fluffing her curls with her afro comb, the same one has lived in the family bathroom all my life. There weren't many options back when she bought it, tortoiseshell or black was all she could get her hands on, which is why it's super exciting to see all of the beautiful colours and patterns that Only Curls has! 
I use my Only Curls Colour Splash Afro Comb on my dried hair to lift the roots which gives my curls more volume.
Look after your plastic hair combs well and they'll last you for years to come.
Only Curls Silk Scrunchies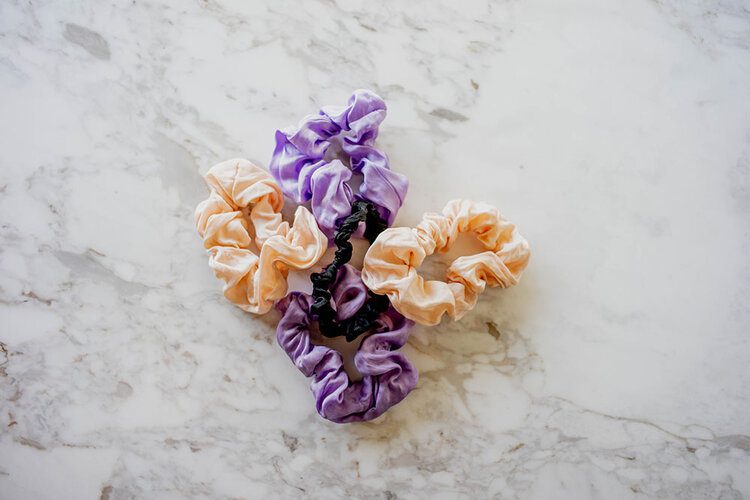 A major mistake I was making when it came to tying up my hair, worn curly or not, over the years was not using non-snag hair ties. Silk scrunchies are not only super cute accessories they also slide across hair without snagging or ripping the hair out of your head like the ones that leaving you cursing the day you bought them.
Only Curls has both regular and mini ones in so many colours. Aside from the scrunchies I make myself, these are my favourites.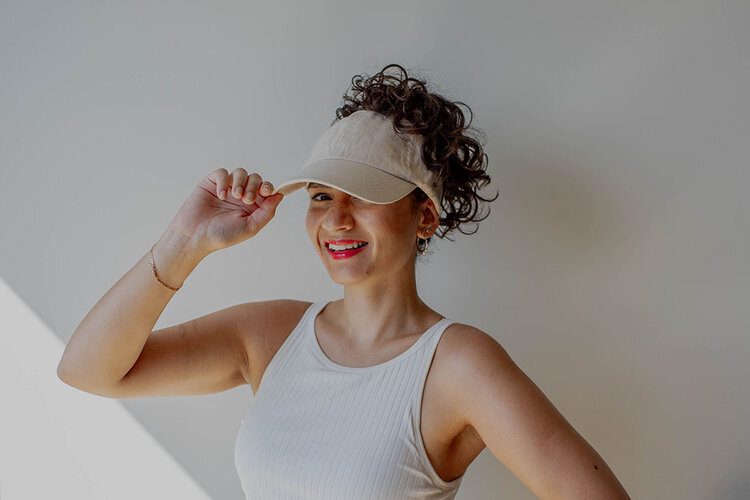 Their satin lined baseball hats are one of their newer products and has become my new favourite hat. The satin lining prevents curls from snagging or going frizzy while the open back mean you don't have to force them through a tiny whole to only get forgotten at the back of your head. With this cap you can wear your pineapple whilst keeping the sun out of your eyes! It's also way more comfortable to lay back on where you're at the beach working on your tan!
Only Curls Satin Bonnet and Pineapple Protector
Protecting my curls in my Only Curls sleep bonnet has been one of the biggest game changers in recovering the heat damage I had done to my curls over the years. Like silk, satin prevents hair from drying out which keeps them better intact for styling the next day. This satin bonnet is elasticated and has plenty of room for all curl types. To use my Only Curls sleep turban I simply pop my curls into a pineapple with one of their silk scrunchies and then pop all of my hair into the turban/bonnet.
During the summer a bonnet can be hard to sleep in when the room is hot – yeah, the UK doesn't have air-con – so on these sticky nights I pop my hair in a pineapple and prevent frizz with the pineapple protector. This one is their newer design which ties at the front into a sweet bow.
Where to buy Only Curls products 
Only Curls are currently stocked exclusively on onlycurls.com. 
Only Curls offers all sorts of discounted bundles that save you money and first-time shoppers get a 10% discount when you subscribe to their mailing list.
Keep an eye out on their emails for discount codes on holidays and when a new product drops. 
If you are ordering within the UK shipping is free if you spend over £40 or a flat fee of £4.
If you are ordering to the US or Canada shipping is free if you spend over £100 or a flat fee of £18.
If you are shopping elsewhere in the world, check the shipping costs.
All of their bottles, boxes, packing materials and tape are recyclable.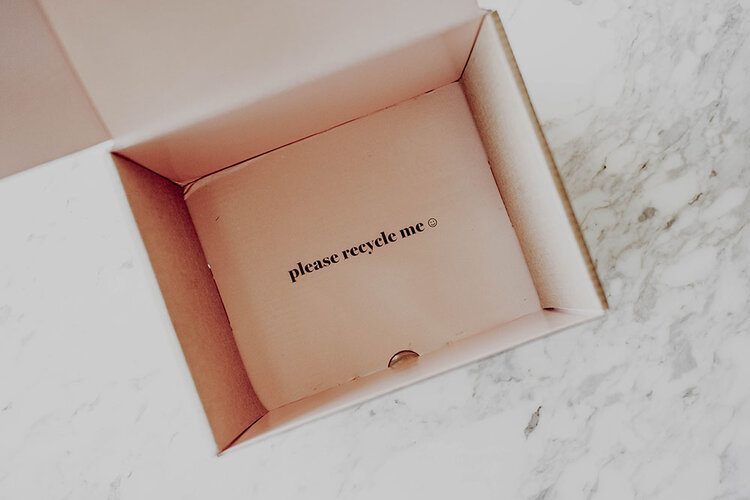 In summary
Only Curls products are made with bio-plastics that don't derive from fossil fuels. 
Their shampoo bar is sulphate, silicone AND plastic-free.
They have a wide range of products all designed to take care of your curls and look cute.
All Only Curls products are vegan and cruelty free.
The satin lined bonnet and baseball hat are perfect for keeping your curls soft and intact on your travels.
.
I just want to take a moment to express if you have curly hair and you care for the planet please listen to me when I say, don't feel guilty for using single-use plastic to care for your curls. Embracing your true self and your curls takes immense self-growth, especially in a society who has oppressed curly hair for centuries. Of course I encourage you to be mindful of how many products you use and to use more vegan, cruelty free and responsibly packaged products like Only Curls, but if those products don't work for your curly hair then they aren't sustainable for you, okay? You do you curly boo.
Do more on & for the planet, Gabriella
.
Some items in this post are PR samples from Only Curls, others have been purchased.