Putting together just 10 Insta-worthy spots in New York City seems nearly impossible, because every turn in this city presents a new spectacle; whether it's a world famous landmark, art installation, film location or simple street corner, New York will inspire you with every step. 
Of course eventually, after much consideration, I have put together 10 places that I think will make for the best shots of the city, but I urge you to check out my NYC travel guide, New York City, USA itinerary, to see what else you can do to experience New York to the max.
Tips for shooting
Unlike London (10 most Instagrammable places in London, England), to get the very best shots in New York City, you must arrive early. Which basically means like the city, you will never sleep between getting amazing photos at dawn and living that cosmopolitan life in rooftop bars at dusk. With 62.8 million* people visiting NYC in 2017, if you want the shot you're going to have some competition without an early start. Having places like the steps of The Met that have graced celeb royalty or Brooklyn Bridge at sunrise to yourself is entirely worth the early alarm though.
Remember to always experience the place you're at when you're taking photos. I understand the urge to just hit up one place after the other – I have been there myself – but I urge you to pause after getting your shots and take the time to explore. Get lost in Central Park, pay your respects at the 9/11 memorial and dare to have your fortune told by The Zoltar at Coney Island. I chose each of these places because they all have more than a photo opportunity on offer, so make sure you don't pass up on that.
With that said, here are the 10 best Instagram spots in New York City, USA:
1. Brooklyn Bridge
Brooklyn Bridge was the number one place that I wanted to get a photo and despite the weather being moody as storm clouds gathered over Manhattan, it did not disappoint. Rising early, and I mean super early for this one – seriously like be there for sunrise – was absolutely worth it here. At the crack of dawn, you will virtually have the bridge to yourself. Even though it's just for a moment because the cyclists and runners will start coming across about 20mins after, for those 20mins you get to watch the city emerge from the dark ready to take on the day, and if you're lucky you might get a few bands of peach across the sky as the sun comes up.
Admire the view from your pose of choice though because these fleeting minutes are your ultimate time to shoot, especially if you want a solo shot down the centre of the bridge's walkway. Anytime after 7am and you're really stuffed for that one.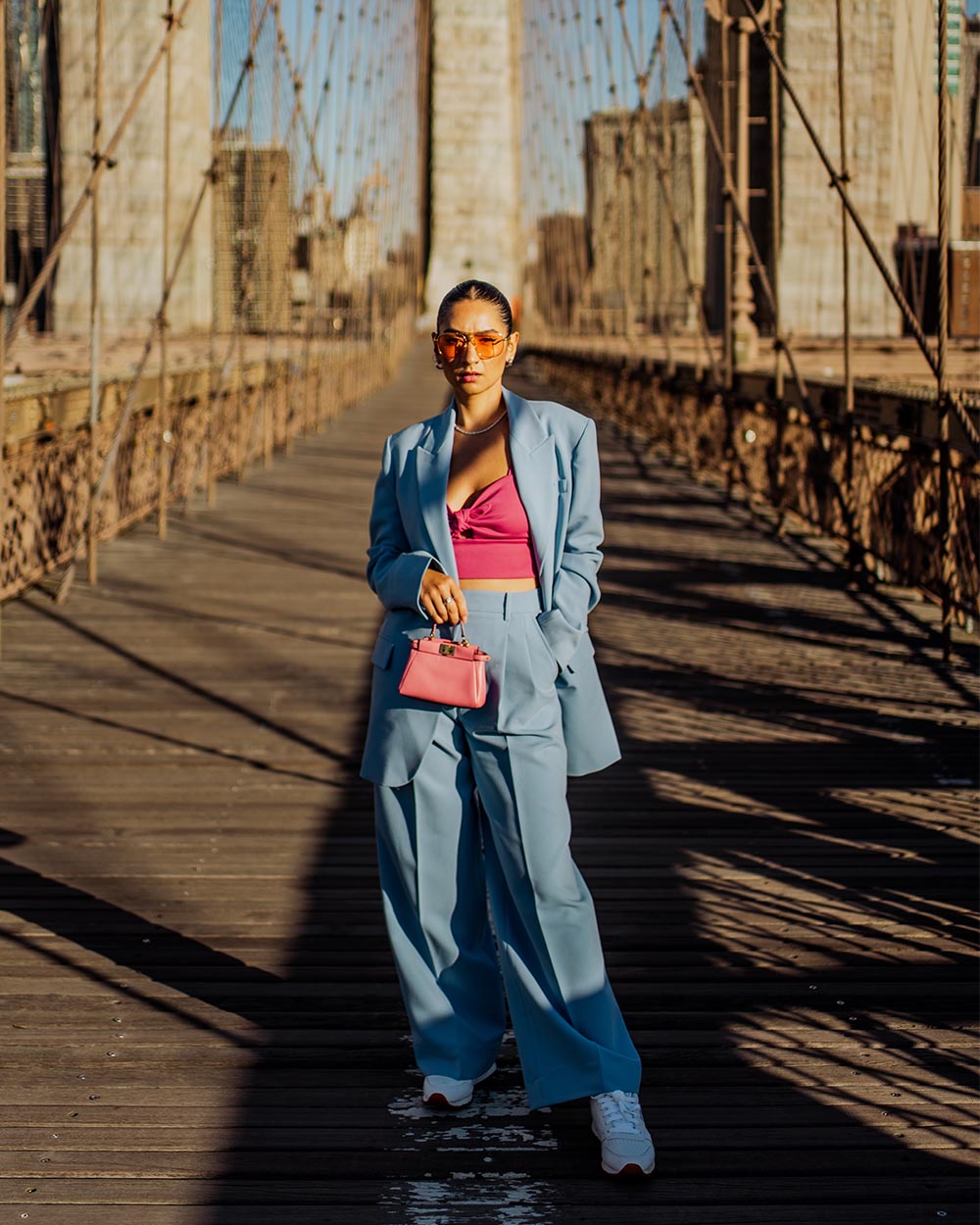 If you want to hop up on the side, please do it just before the arches, where the side begins to raise (look at my first photo for reference) it's wider and far less risky.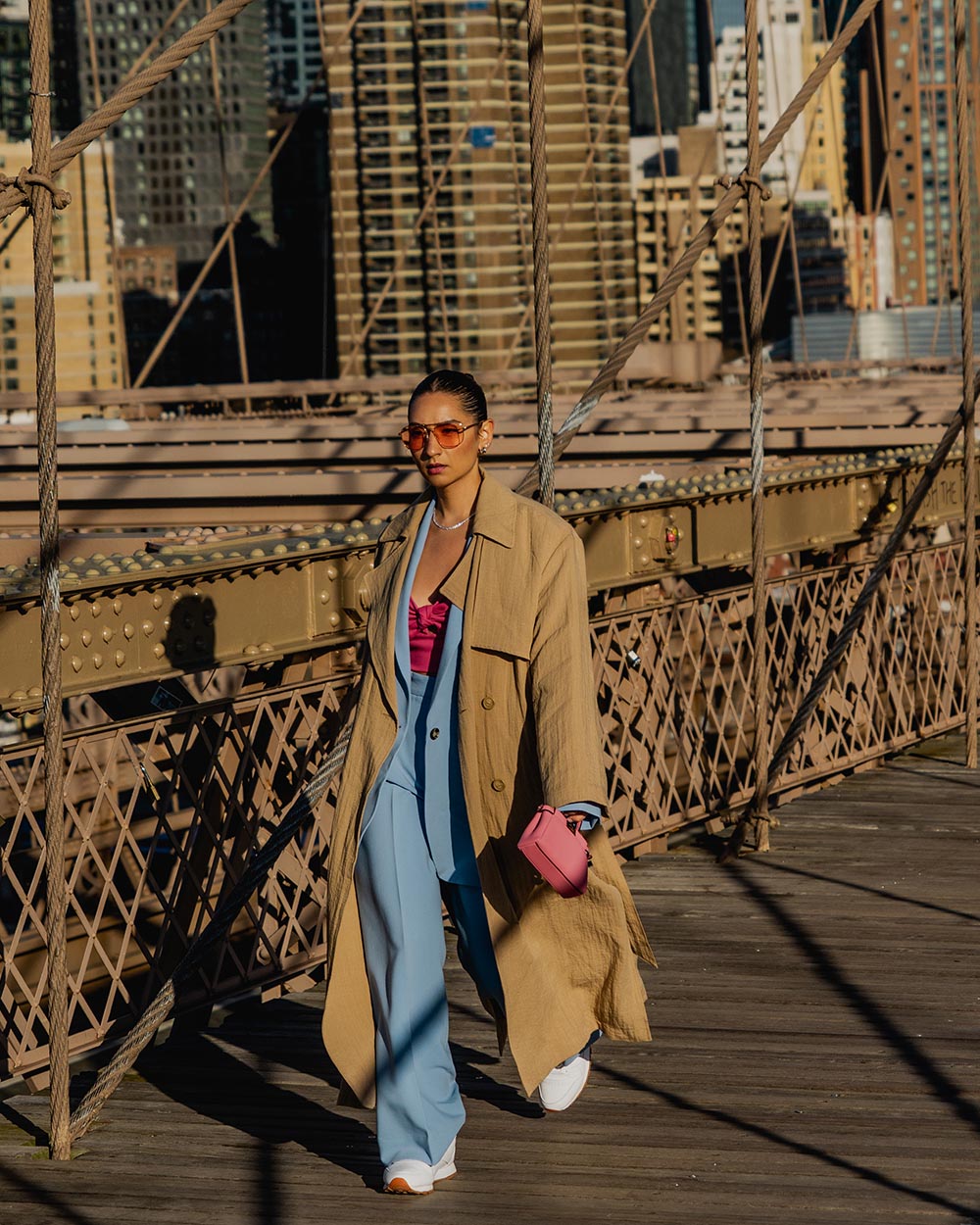 To find out the best spot for getting onto Brooklyn Bridge check out New York City, USA itinerary – oh yeah, I'm sneaky like that!
When you're done on the bridge, continue walking across it towards Brooklyn to get to the second Instagrammable place on this list.
2. Manhattan bridge view from DUMBO
When you reach the far end of the bridge in Brooklyn, keep an eye out for the exit on the left that says "Dumbo". Once you're at street level again, turn left out of the tiny dark exit/entrance from underneath the bridge, and walk out until you are at the crossing. The street crossing your path will be Washington Street, and if you look to your left you will see Manhattan Bridge poking out between the buildings. Take a left onto Washington and walk towards the bridge. When you reach the corner of Washington and Water Street, you will be looking up at the most iconic view of Manhattan Bridge and one of the most Instagrammable places in New York City.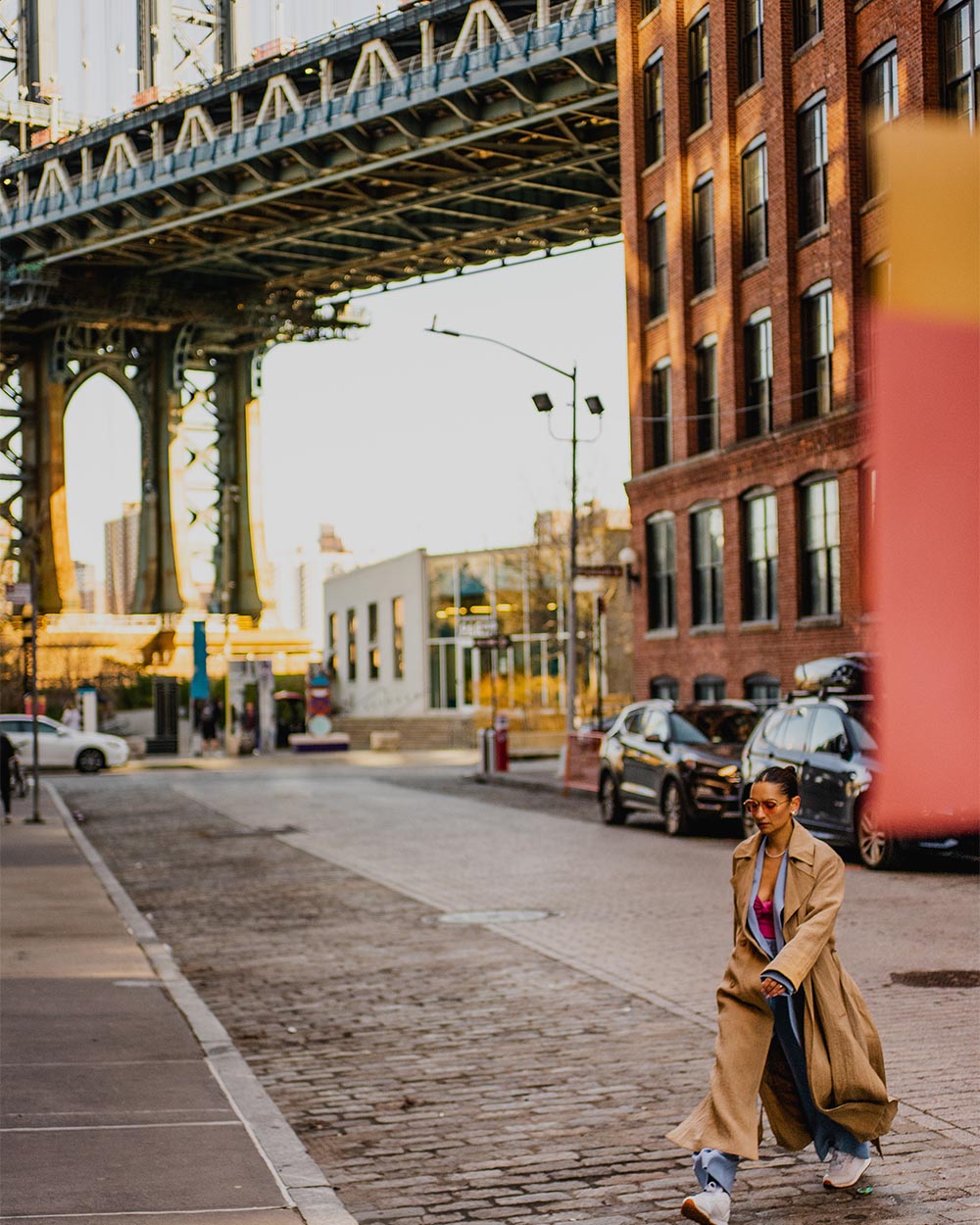 This is a particularly tricky one to shoot at because more than one person can't shoot here if it's a clear shot you're after, otherwise someone is blocking someone's shot. For this reason, don't take too long on the bridge and aim to be here before 8am. If you have the time, maybe plan for this to be done first thing on another morning so you can enjoy here and the bridge without having to keep an eye on the time. 
When you've got your shots at one of the most Instgrammed spots in NYC, continue walking towards the bridge to take a leisurely stroll around Brooklyn Bridge Park where you'll get some amazing views of the Hudson River, Manhattan and both Brooklyn and Manhattan Bridges.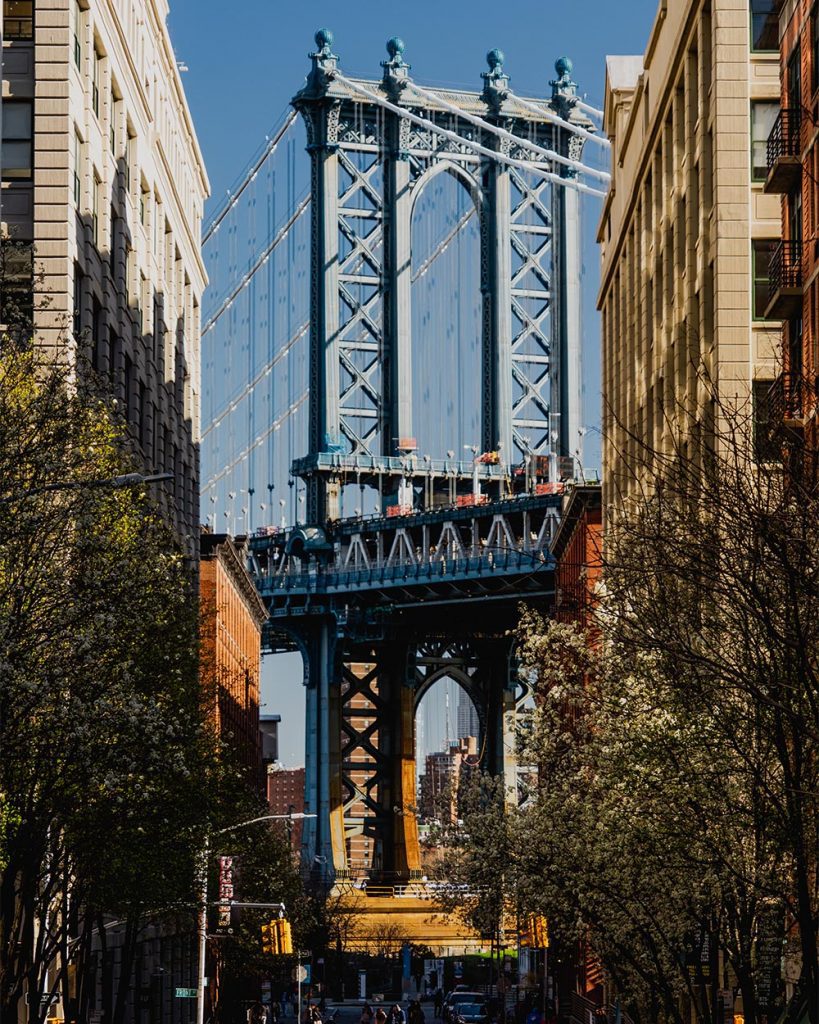 3. Times Square 
It's big, bright, bustling and the busiest intersection in New York City. Located in the heart of the theatre district at the junction of Broadway and 7th Avenue, a photo here screams "The City That Never Sleeps" with its encompassing screens lit up 24/7 with the exception of Earth Hour. 
We had the most success shooting here at 7am on a Sunday morning (in summer). Without commuters out or tourists up it made for the perfect time to get clear shots for the 'gram.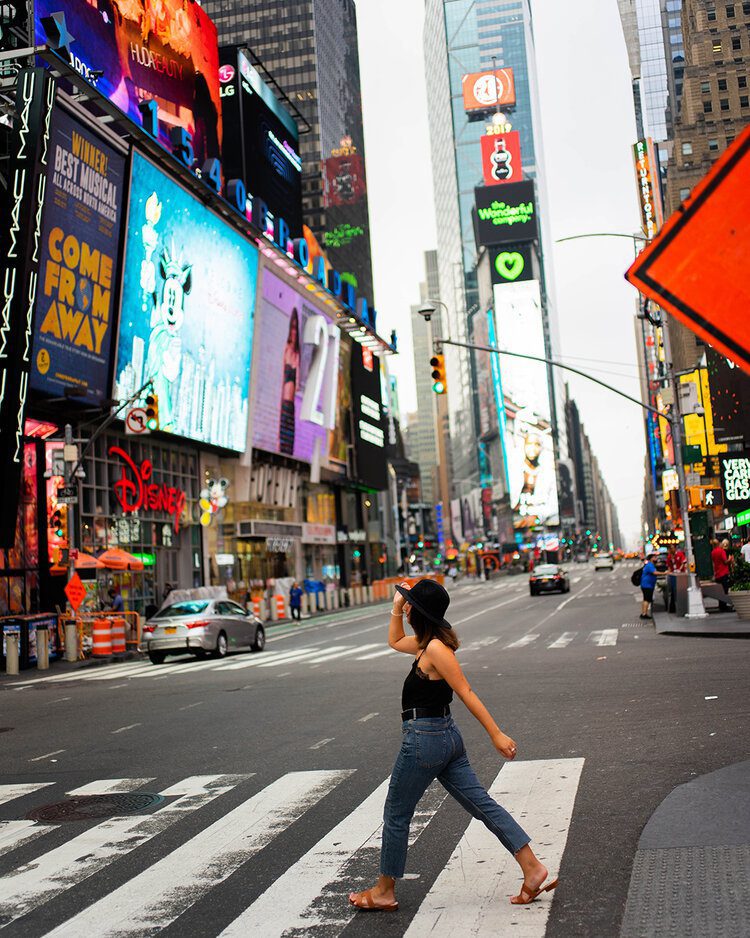 This is very important! As you will be able to see from my Instagram post my friend and I are in the road. If you do this, ONLY cross when the pedestrian light is green and leave enough time to walk back to the sidewalk. It is dangerous and inconvenient for both you and the drivers to be posing out in the road when their light is green. This might mean it takes a few tries to get a clear shot without other pedestrians crossing, but if this is the shot you want then that is the only way I suggest, especially as your focus will be on the camera or your pose and not on the road. Do not put yourself or anyone else at risk and lead by example.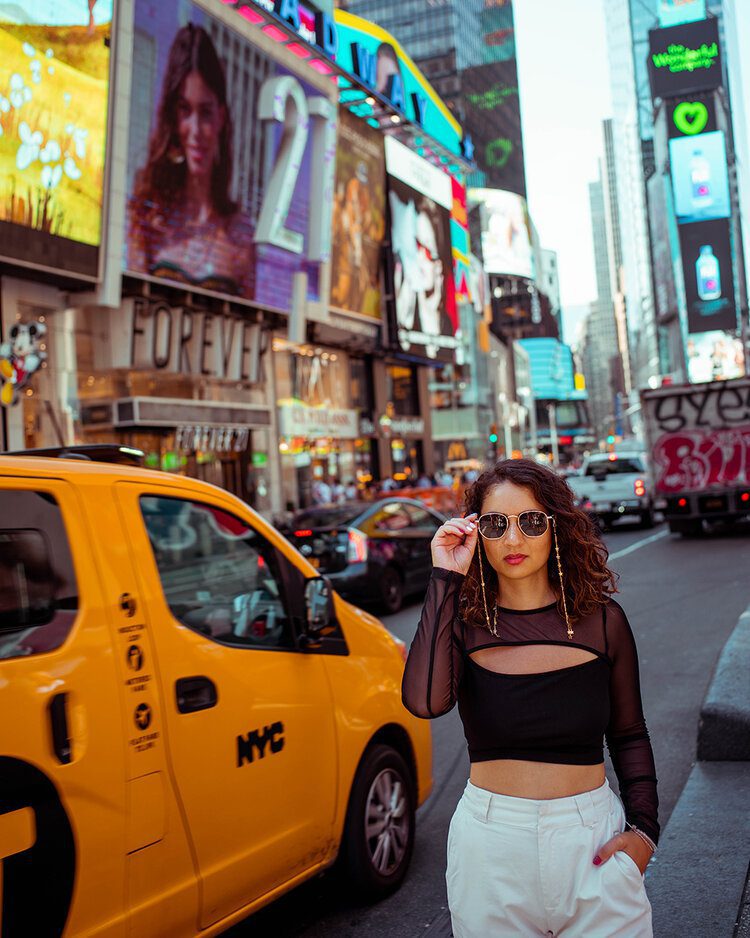 That one hour of lights out during Earth Hour will never compensate for the unfathomable amount of energy being used to light up Times Square, but we can each do something in Times Square at the crack of dawn to help protect our planet and that is litter picking. Being the hot-spot that it is, every morning the sidewalks of Times Square are layered in a blanket of trash from McDonalds wrappers to beer bottles. It's catastrophic, but if each person who visits could pick up a few bits and dispose of them correctly, it would go a long way. So keep that in mind (and hand sanitiser in your pocket) for when you visit.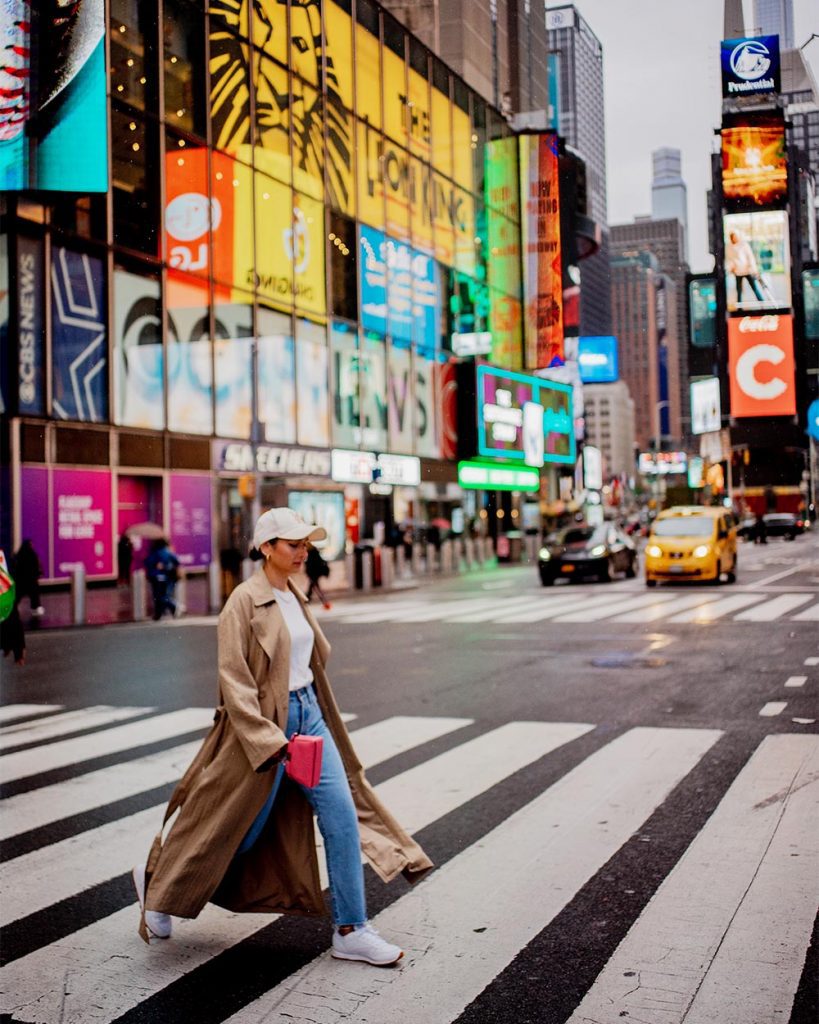 4. Top of the Rock with a view of the Empire State Building
For the best view of the city head up to the Top of the Rock in the Rockefeller Centre. Why? Because from here you can also admire the Empire State Building and all its fabulous Art Deco glory. Of course this doesn't mean you shouldn't experience NYC from the top of the Empire State Building, if you are able to then you must, but in terms of photos of the city, this is your best option. If you are only able to visit one sky scraper in New York City to get incredible photos for Instagram then let it be Rockefeller so you can get the Empire State Building in.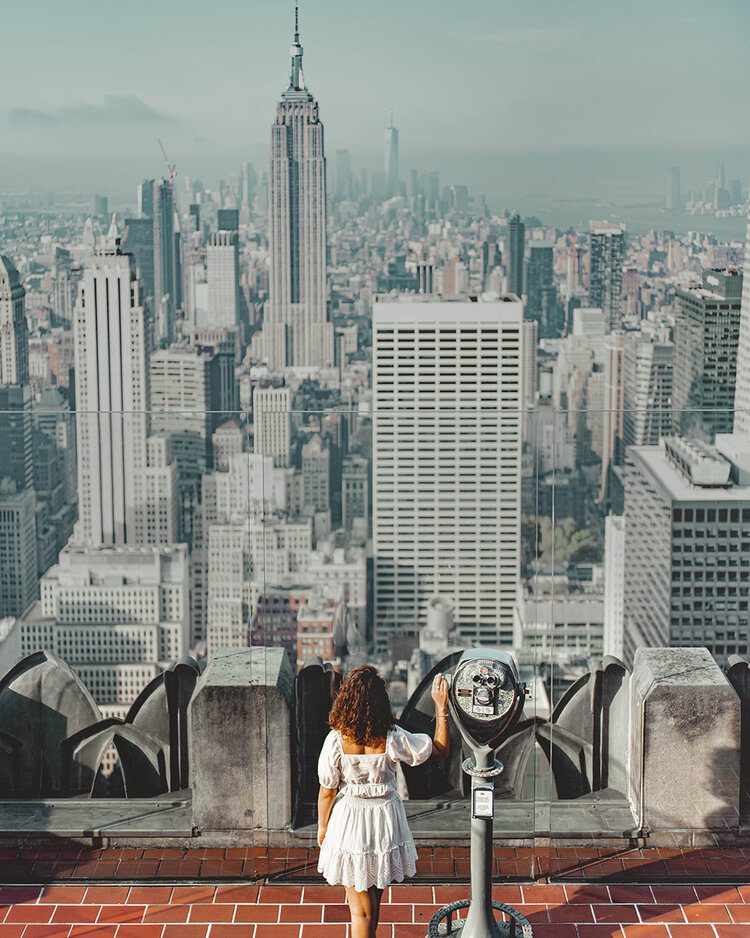 As with all good tourist spots this place gets jam packed pretty quick so if you are after a shot of just you and the City of Dreams your best option is to book an 8am ticket in advance to avoid disappointment. First, scurry on up to the top, in an orderly manner of course, with yourself heading out to the 2nd level and your photographer/insta-husband up to the 3rd (top) level. This is where you will get the Insatgrammable photo everyone wants and going there first will be your only window. You can then reunite after some undoubtedly confusing hand signals and get alternative shots, I suggest from the top level.
The most magical time to be there though is sunset, just as the lights come up, the sun goes down and the city comes to life. Of course it's not the easiest lighting to shoot and it won't by any means be quiet but if you don't intend on being in the photo, I strongly suggest going at this time. When you purchase your tickets online, the sunset slots will have a sunset icon next to it so you know you've got the right time for that day but please note there is an additional $10 fee. Book your tickets here.
Top of the Rock is open daily from 8am – 12am with the last elevator going up at 11.40pm.
5. The Flatiron building
The Flatiron building is a triangular landmark on 5th Ave in the Flatiron district. Shaped like a perfect right triangle, it measures only six feet across the narrow end which makes for a quirky backdrop.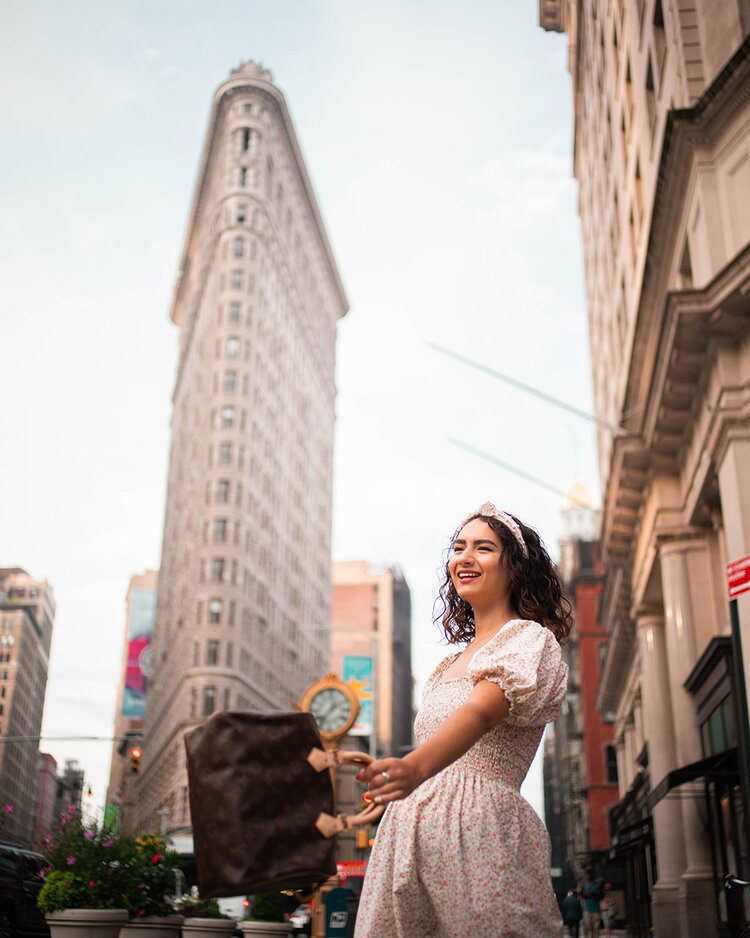 This is a super busy area with commuters weaving all morning, luckily there are multiple spots around the building where you can snap it from various angles. This one in particular is on the corner of West 24th Street and 5th Avenue. It's close to the road but not actually on it so you don't have to rely on crossing times to get your photo for Instagram.
We got here just before 8am (in summer), there were people around but that angle doesn't depend on a clear shot because of the angle you'll be shooting from.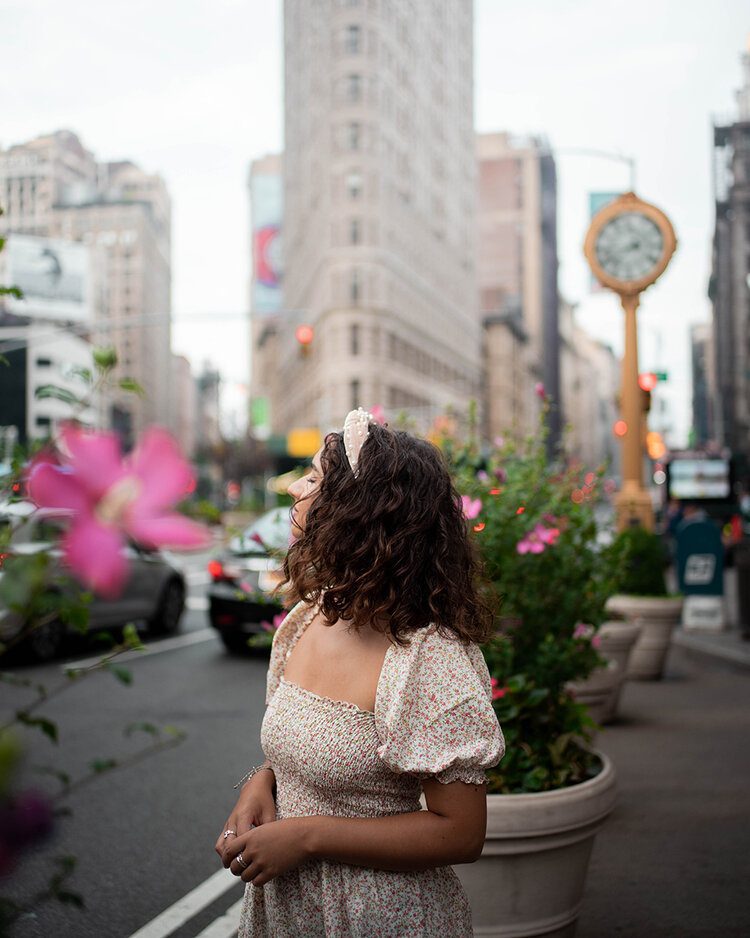 6. The Vessel at Hudson Yards
This rose gold beehive shaped structure, designed by Thomas Heatherwick, has become the centre piece of Hudson Yards and one of the most Instagrammed locations in the city of New York. It's an interactive piece of art with 154 interconnecting flights of stairs and 80 landings so you never have to fight for a photo opportunity when you're up there.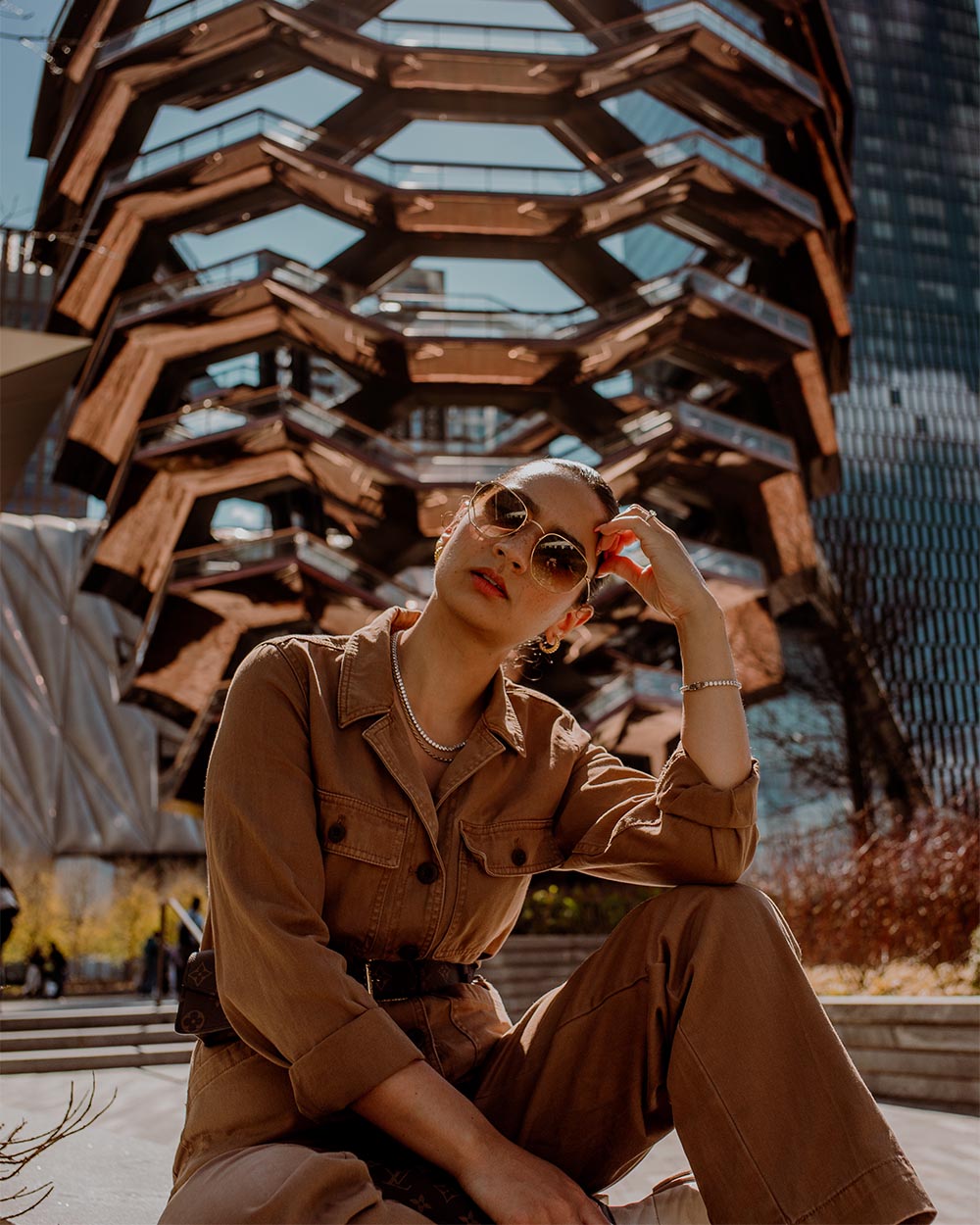 The Vessel is open Monday – Saturday between 10am and 9pm and 11am – 7pm on Sundays. Reserve your tickets for free online here.
If you're after the perfect pic for the 'gram outside it, aim to be in there just before 7am (in summer). At this point the only people you will be joined by are the gardeners.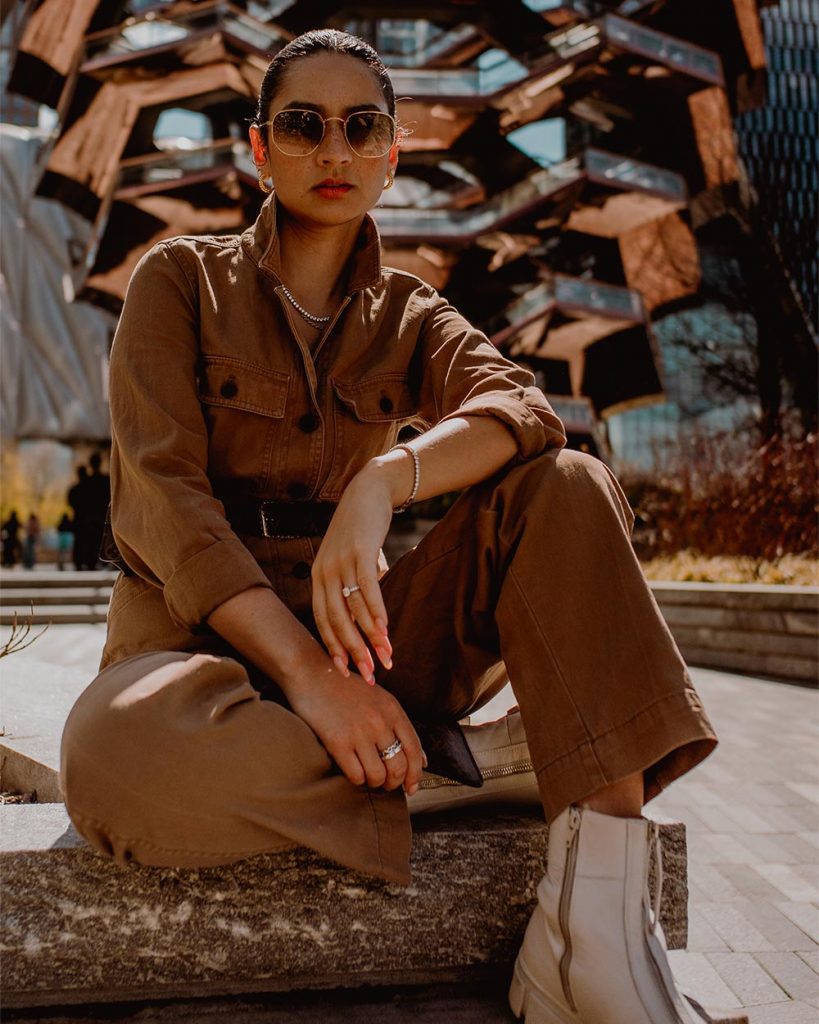 7. Coney Island
Believe it or not I got this shot on a busy Saturday afternoon in the centre of the park so the good news is you don't need an early start for this one, just a little patience.
There are multiple parks on Coney Island, entrance is free but check which park the rides you want to go on are in before you buy a pass.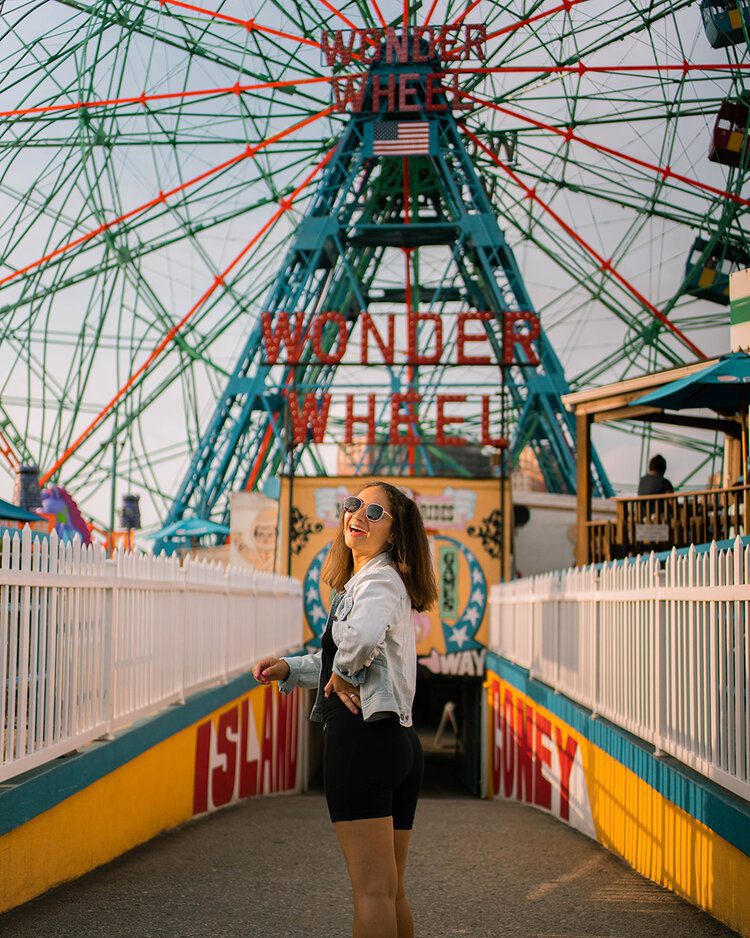 Coney Island musts once you've got your snap are: 
Ride the Wonder Wheel, specifically a swinging car

Get a hot dog from Nathan's

Let the Zoltar tell you your fortune

Visit the beach
Remember to have fun on your travels, it's not just about getting heaps of Instagrammable content!
8. The Oculus
The Oculus sits on top of the Westfield shopping centre and the World Trade Centre subway station. Designed by Santiago Calatrava, this unique structure has become a popular backdrop for the 'gram in New York.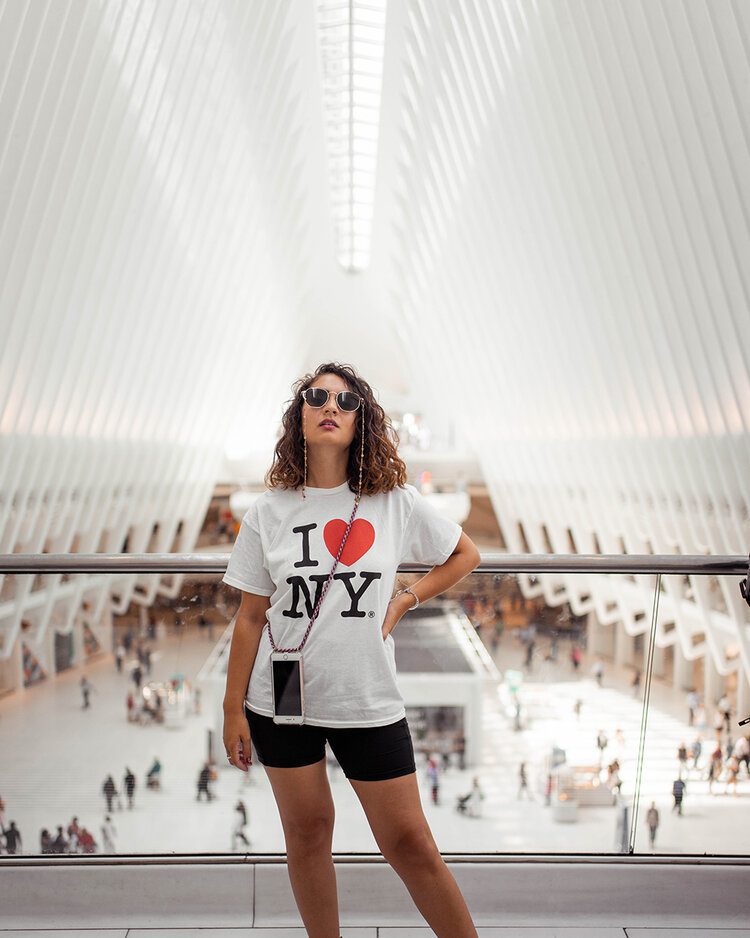 It shouldn't be forgotten that this beautiful structures exists sadly because of 9/11 so whilst you're here you can head around the corner to the 9/11 memorial to pay your respects.
9. The Metropolitan Museum of Art
The Metropolitan Museum of Art, better known as The Met, is the largest art museum in the United States, but let's face it, it's best known for being home to The Met Gala (formally called the Costume Institute Gala) where anyone who's anyone wears absurdly fabulous outfits whilst we all judge and adore from our sofa in our pjs.
To grab a solo shot on The Met steps like you're Blaire Waldorf aim to get there before 8am (in summer), XOXO Gossip Girl.
Shooting on the steps of The Met doesn't coincide with its opening times if you're planning on going early so they're empty, but I recommend you return to visit during open hours. The museum is open 10am – 5pm between Sunday and Thursday and 10am – 9pm on Fridays and Saturdays.
10. Central Park
Central Park is Instagrammable all year round, with every season offering something beautiful. In spring it breathes new life, in summer you enjoy it from a boat on the lake, in autumn/fall the transitional colours have jaws dropping and in winter the snow makes the whole park sparkle. You cannot go wrong in Central Park.
The park is open daily from 6am – 1am and there is no entrance fee.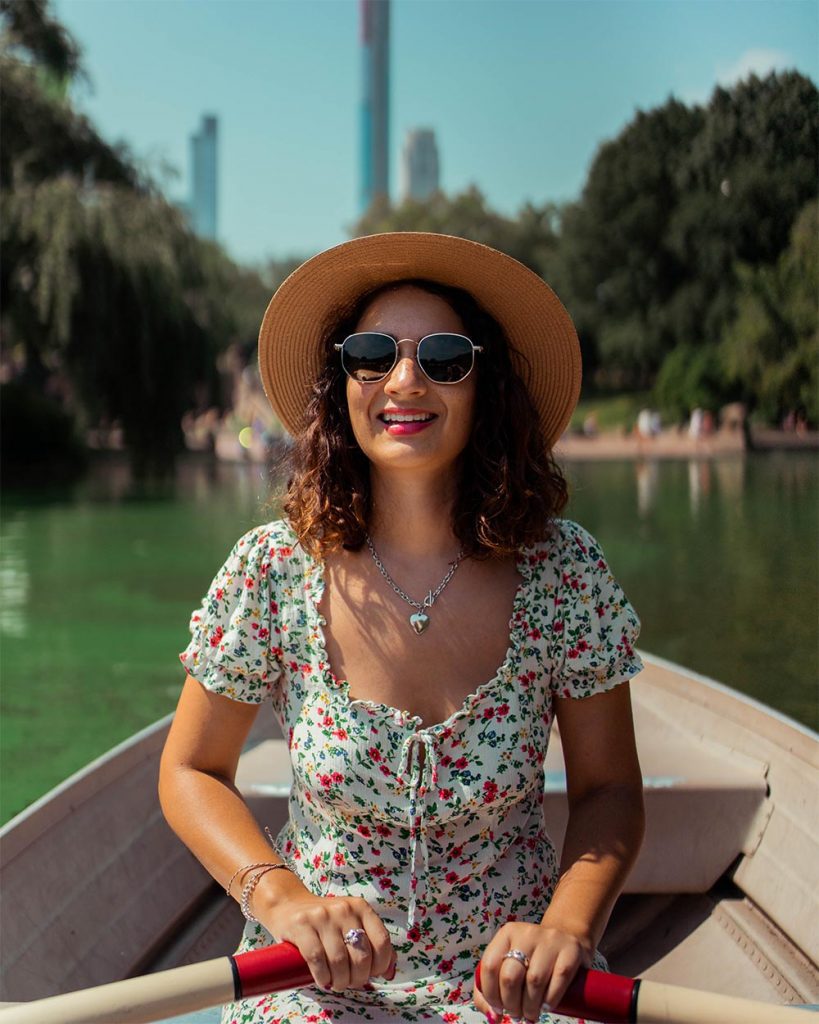 If you want to rent a boat from Loeb Boathouse it's $15 per boat for a 1 hour rental +$20 deposit which is paid back to you when you return the boat. The boathouse is open between April and November (weather permitting) from 10am to sundown.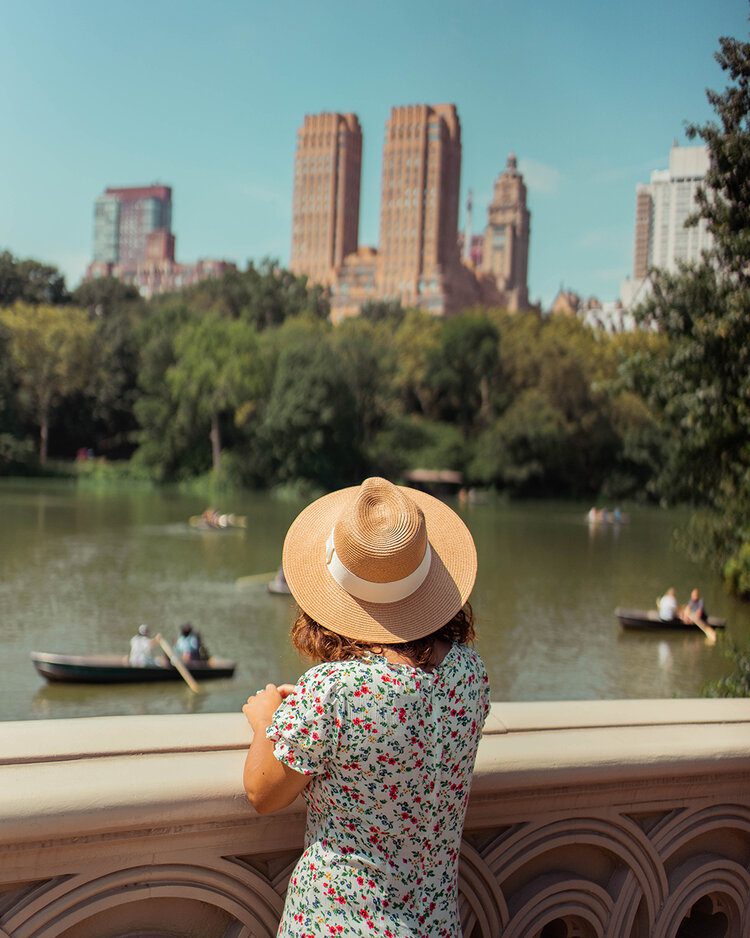 My personal favourite spot in Central Park is Bow Bridge which you may recognise from Café Society (2016), Keeping the Faith (2000), Glee, Ugly Betty and Gossip Girl – to name a few. It's a beautiful bridge with a lovely view over the lake so it makes for a great Instagram location once you've enjoyed a romantic row on the lake.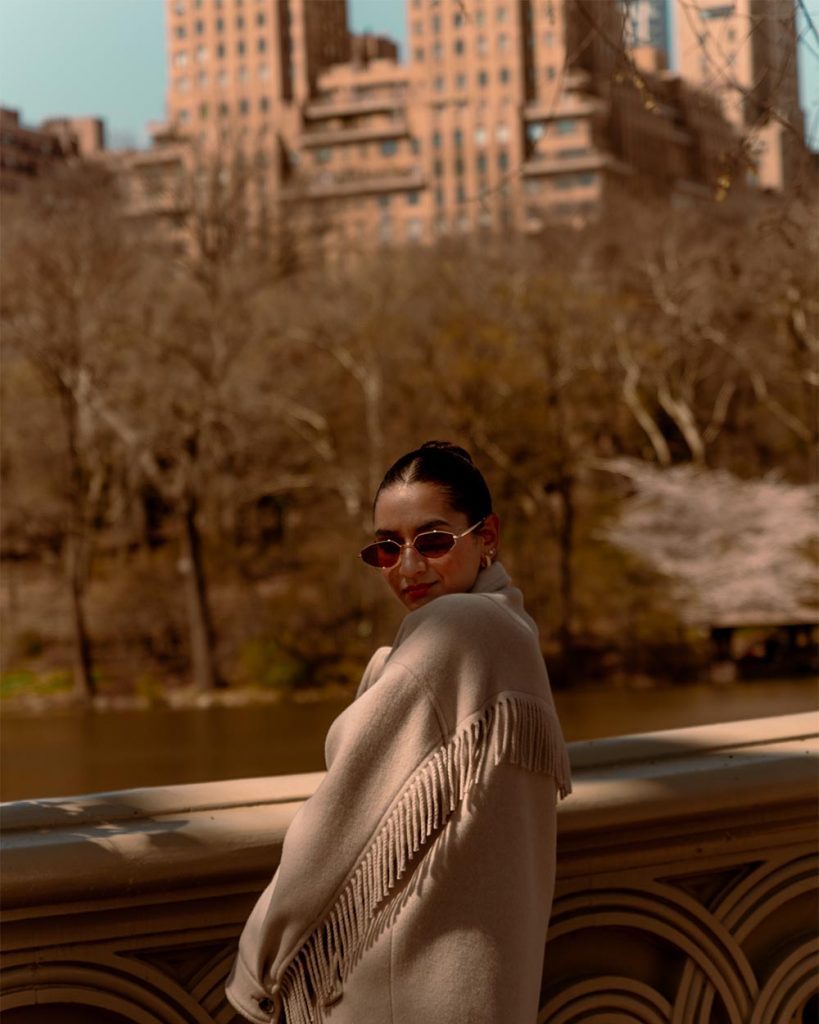 So there you have it, 10 of the most Instagrammable places in The Big Apple, The City That Never Sleeps, The City So Nice, They Named It Twice: New York City. 
If you find this guide useful and take photos at any of these locations, use #postcardsfromhawaiiblog and I will feature them on my Instagram stories!
Do more on & for the planet, Gabriella