London is one of the most magical places to be at Christmas, the whole city sparkles as everyone with rosey noses from the cold wishes you a merry Christmas, before they elbow you in the ribs squeezing onto the tube at Oxford Circus. I said magical, not perfect! 
Seriously though, it is one of the best places to visit around the holidays, there's so much going on that everyone can find something they'll enjoy doing. Don't believe me? Well check out my list of 12 things to do in London during the holidays below:
1. Marvel at the Christmas lights and displays
Central London's Christmas lights attract thousands of people every year. For the best displays head to:
Oxford Street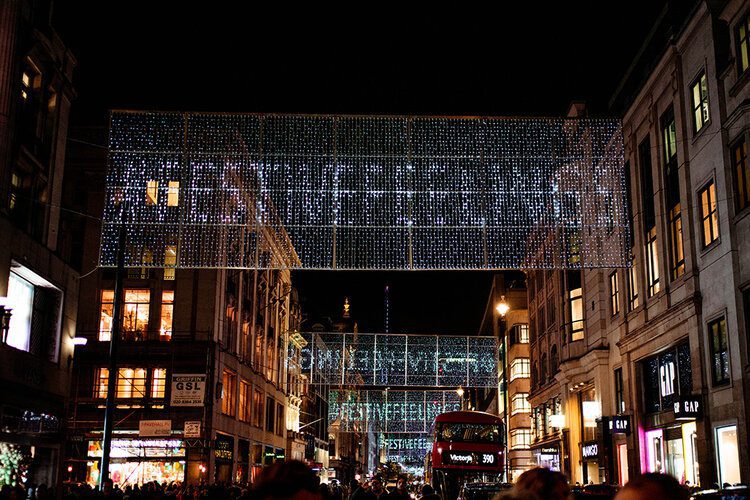 For the first time in six years, Oxford Street's Christmas lights have had a makeover and all the lights have been replaced with LED ones. The 2019 display is made up of 27 LED interactive "light curtains" made up of 222,000 lights. The theme is #festivefeelings and if that doesn't summarise the end of this decade I don't know what does.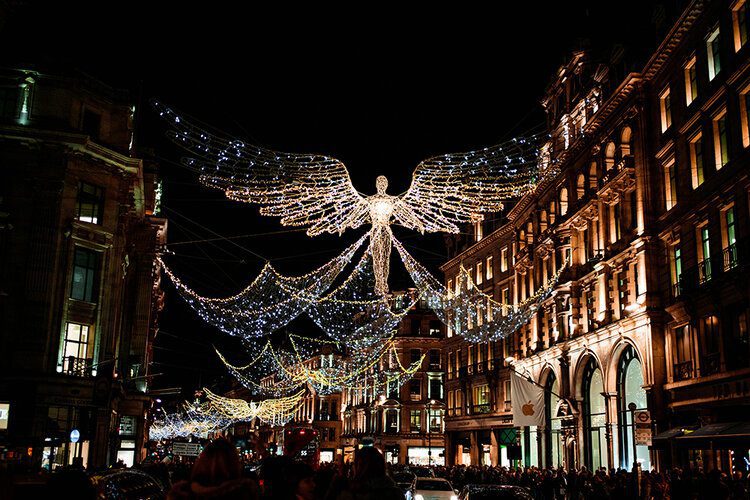 This year Regent Street is celebrating its 200th anniversary. Go pay a visit to the angels that float gracefully above this iconic London street. This year's "The Spirit of Christmas" lights are inspired by their 1954 Christmas light display.
Carnaby Street
The Christmas display at Carnaby Street always has a contemporary theme that captures compelling moments in time. Last year (2018) was dedicated to Queen's Bohemian Rhapsody celebrating not only the incredible success of the band but also the Academy Award winning film that loosely documented their rise to fame.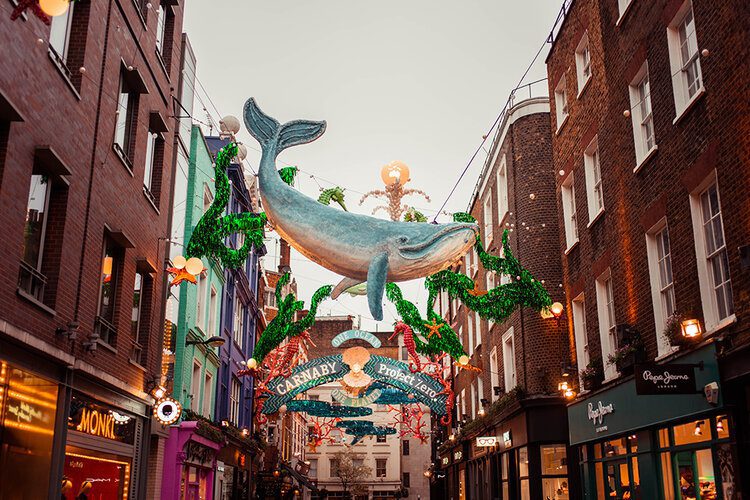 This year the theme of Carnaby Street's Christmas display is the plastic pollution crisis in our oceans. Carnaby x Project Zero has created a seascape featuring jellyfish, a whale, crabs and more and has various points where you can donate to the oceanic conservation charity, Project Zero. There are also recycling points for single use coffee cups and tips on how you can help the ocean today!
Covent Garden Market
Covent Garden market never disappoints as the quaint little spot in central London always shows off with an Instgrammable art installation. Last year a little green car stacked impossibly high with presents sat in the courtyard with pretty little benches all around. This year various companies including the Royal Opera House has sponsored various Christmas trees which you can stand amongst for that all important IG snap. From ballerina shoes to giant hanging candy canes, each tree is uniquely festive.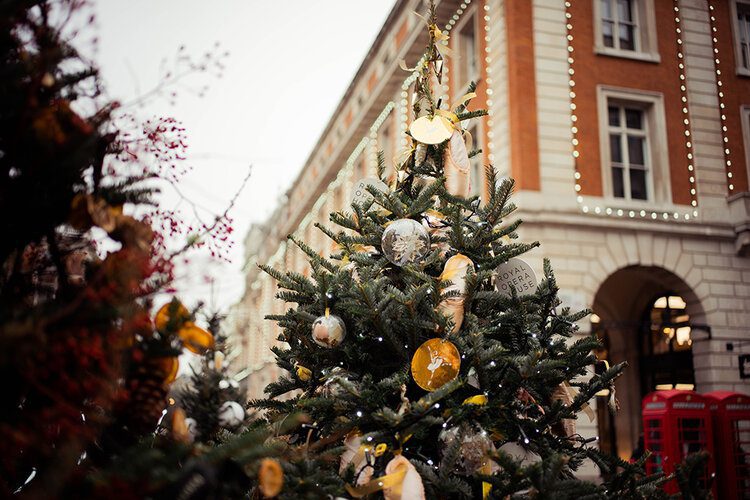 Tiffany & co. also pulled a fun festive installation out of the bag which you can also grab photos with.
2. Ice skating
Ice rinks pop up all across London from Canary Wharf in East London to the Westfield in West London. The two best ones to skate at though are:
Natural History Museum ice rink
If you're looking for the nicest rink with the best view then head to the ice rink at the Natural History Museum in Knightsbridge, opposite the V&A museum. From the ice you'll be able to look up at the museum's grand facade plus they have a giant Christmas tree in the centre which is sponsored by Viktor & Rolf this year (2019).
The Natural History Museum ice rink is particularly good to visit if you are bringing children because they offer little penguins to keep them upright, plus you can take them to the museum after your time on the ice.
Cost
Adult tickets start from £12.65
Child tickets under 12 years old start from £8.80 
Family tickets start from £39.60
Entrance to the Natural History Museum is free!
Opening times
19 October 2019 – 12 January 2020
Daily 10am – 10pm
Closed Christmas Day
Skate at Somerset House
Michael and I have been skating at the ice rink in Somerset House since we were at uni, nearly a decade has passed and I still cling to the wall whilst it zips off lapping me until I get bored waiting for him to fall and leave the ice to get a hot drink instead.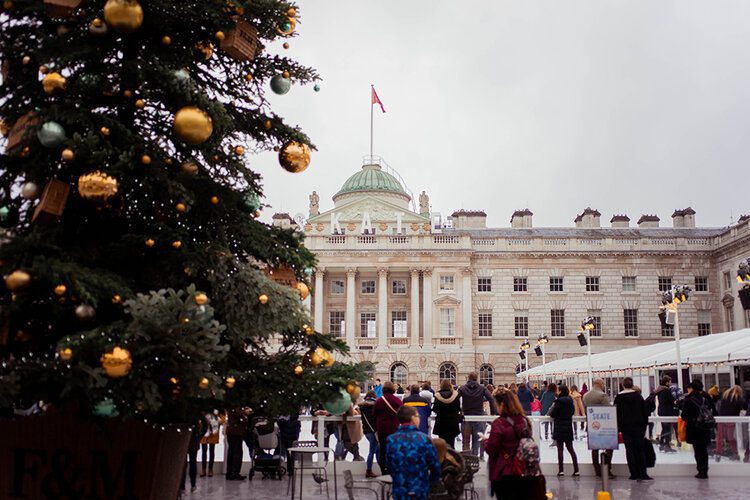 What I love most about the Skate at Somerset House is their sponsors and this year is no exception as it's sponsored by none other than Fortnum & Mason. For those of you who don't know, Fortnum & Mason is a department store, originally founded as a grocery store in 1707. It is by appointment to Her Majesty Queen Elizabeth II and the Prince of Wales and is the luxury that you never knew you needed in life, especially during the holiday season.
Take a snap in front of their Christmas tree, pick up some treats and stocking fillers in their pop up store which features everything they do best: tea, biscuits, coffee, jam, chocolate, sweets and more! They even have a little Christmas shop in there too! Once you've shopped, adjourn to The Lodge next door which is their pop up restaurant where you can crack your own walnuts and enjoy people falling on the ice from the warm with one of many festive themed drinks and an extensive menu of posh party food classics.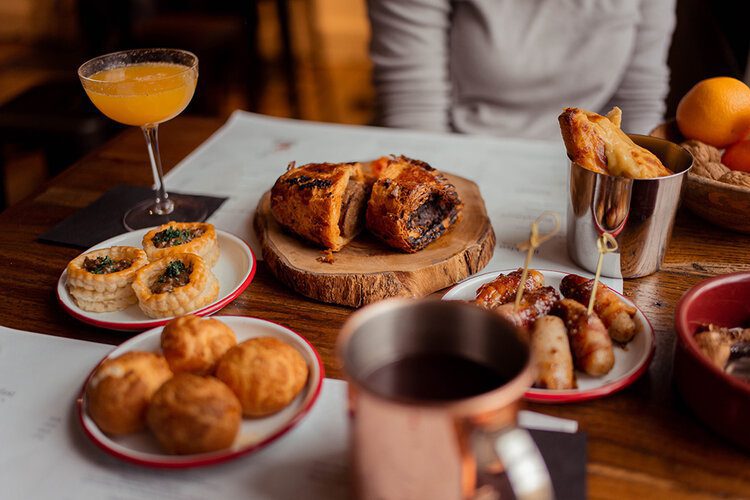 Cost
Adult tickets are £15
Children under 12 years old are £9.50
Opening times
13 Nov 2019 – 12 Jan 2020
Mon – Sat 9am – 9pm
Sun 9am – 8pm
.
Personally I would recommend the NHM ice rink if you want great photos and Skate at Somerset House if you want a good time off the ice.
3. Winter Wonderland in Hyde Park
Located in the centre of Hyde Park, Winter Wonderland in Hyde Park attracts over 3 million tourists a year (according to The Londonist).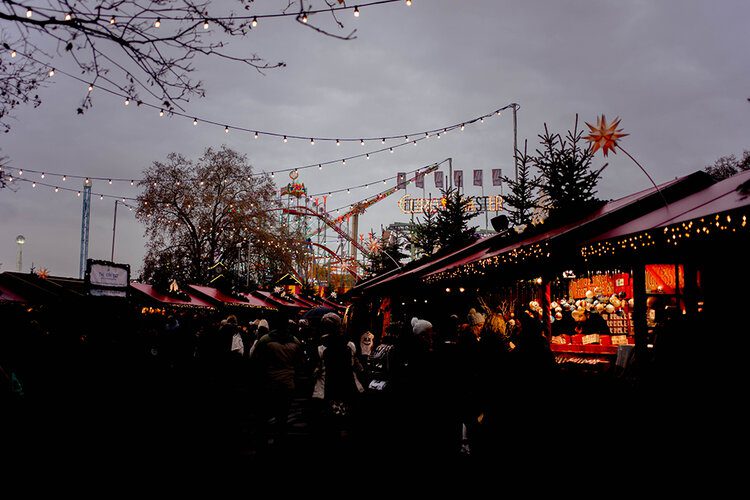 It's fun for anyone who doesn't mind loud noises and big crowds. I can't lie, although it's definitely something you should experience in London around the Holidays, it requires patience. It's best experienced with a large group of friends who are happy to stand around the Eastern European themed lodges and bars or with kids who want to ice skate and go on the rides.
As well as bars and rides, there's also plenty of eateries covering a multitude of cuisines and market stalls selling festive wares.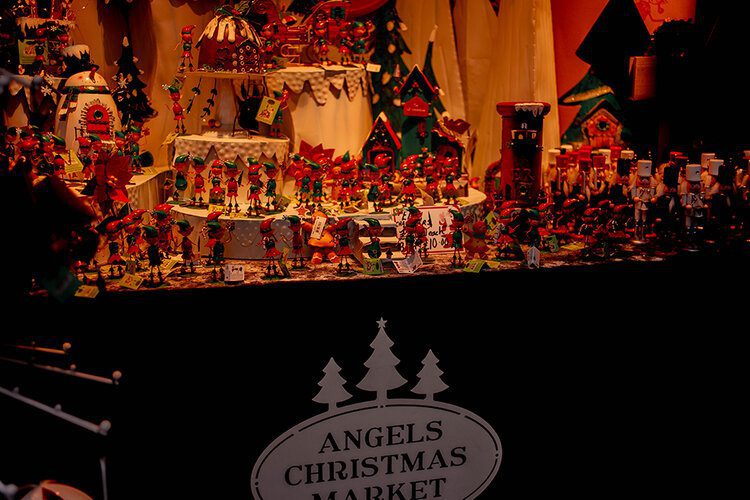 Cost
Entrance to Winter Wonderland is free
Opening times
21st November 2019 – 5th January 2020
Daily 10am – 10pm
4. Take a stroll through Hyde Park with a hot drink
If the shoulder to shoulder bustle of Winter Wonderland isn't your thing, and trust me no one blames you, take it easy in Hyde Park by going for a stroll with a hot drink instead. The park is surrounded by coffee shops and filled with multiple kiosks. Remember to bring your reusable cup!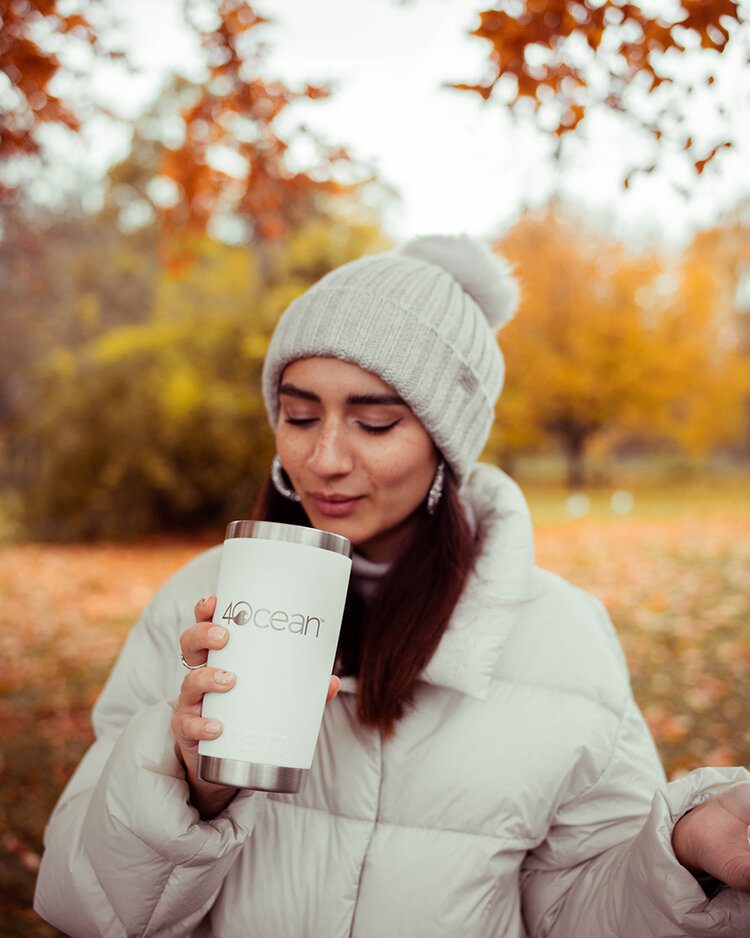 5. Visit the Liberty of London Christmas shop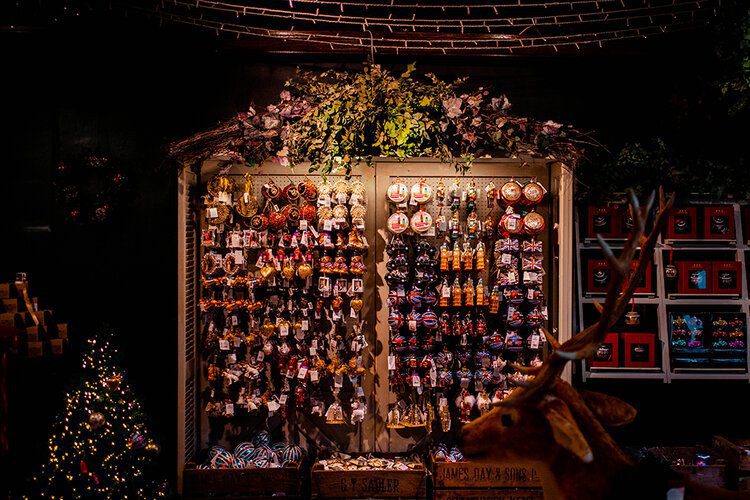 Liberty of London's Christmas shop on the top floor is the best Christmas shop you'll find in London. Two rooms are dedicated to all things festive from decorations big and small to crackers, candles and advent calendars. Not just any decorations either, if you're looking to theme your tree like you're a high-rolling-Kardashian then this is the place to come. A patriotic brit theme? Pick up an array of glittering Union Jack baubles and portraits of the Queen. A tropical theme? Brightly coloured hibiscus flowers and palm trees are to hand. You can even go for a Christmas dinner theme with felt sprouts, turkeys and pigs-in-blankets! Whatever you think of, you can most definitely pull off with a one stop shop at Liberty.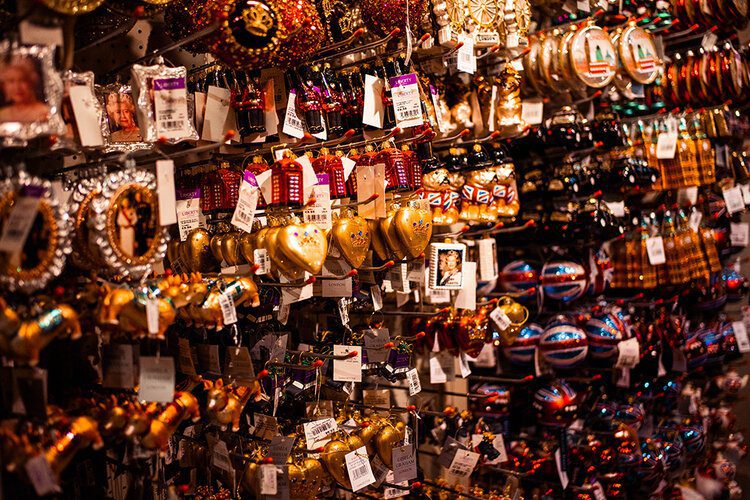 PFH Top Tip: Liberty of London marks up prices big time, I bought a candle in there for £27.95 only to find it elsewhere for £20. I would browse for Inspiration and search online for a better price.
6. Christmas window displays at Selfridges & co.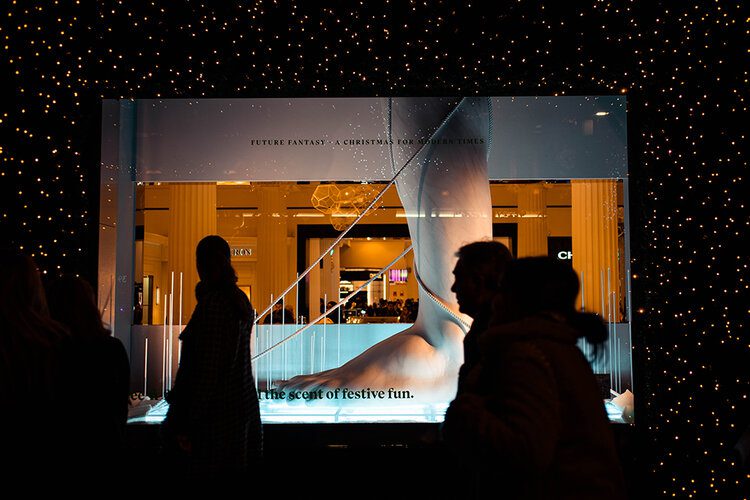 Before enduring some wildly expensive gift shopping in Selfridges, take a moment to marvel at their themed window displays. Another window display worth checking out is Fortnum and Mason's.
7. Shop in Fortnum and Mason's food hall
If you didn't fancy ice skating at Somerset House or want to expand on your Fortnum's experience then head to Fortnum and Mason's original store on Piccadilly Street. I am a big fan of their food hall and have bought stocking fillers and Christmas treats here for the last eight years. You can never go wrong with a treat from Fortnum's.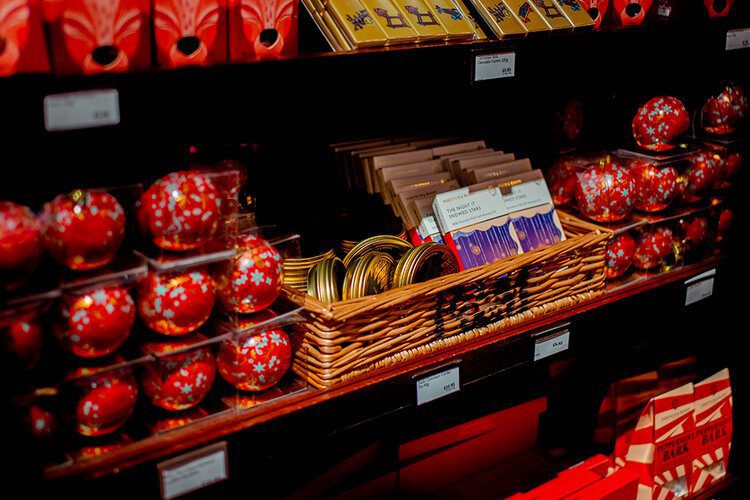 My top stocking filler picks for my family every year are:
Dark Chocolate covered ginger

Cinnamon dusted almonds

Tins of biscuits

Tins of loose tea

Chutneys

Welsh rarebit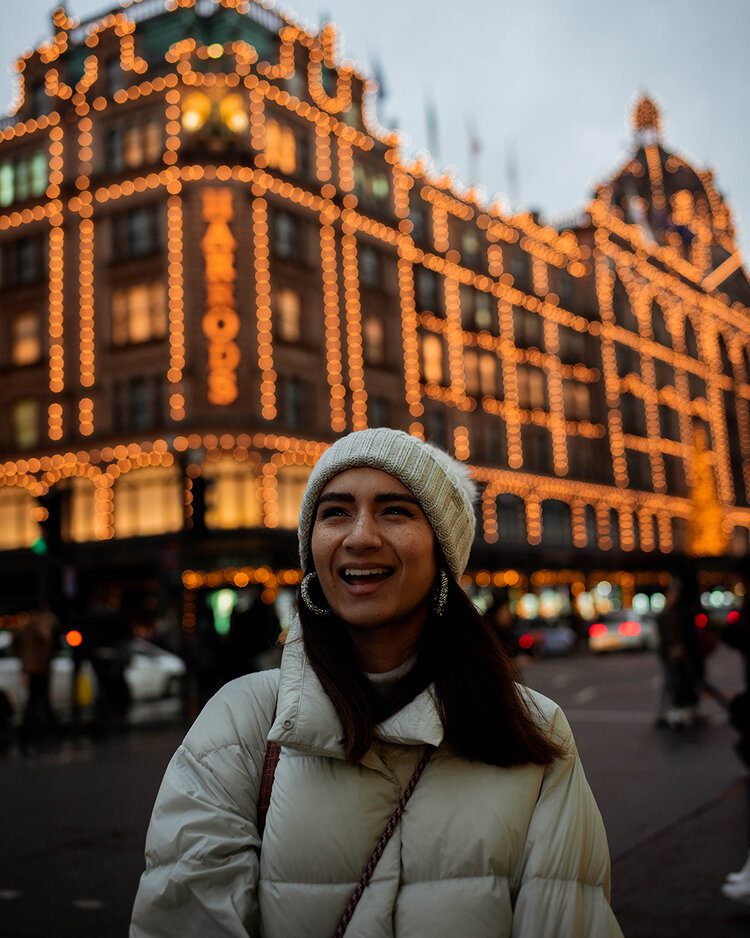 Harrods has the most impressive and iconic shop front. When the sun goes down its whole facade comes to life with the help of 12,000 light bulbs, a tradition which began 60 years ago in 1959. This has been a very popular Instagrammable spot this year so it's a great place to grab a snap for your 'gram.
9. Borough Market
Feeling peckish? Head to Borough Market near London Bridge.
Borough Market is one of the oldest food markets in London. A food market is known to have been at Borough Market as far back as the 12th century. Now with over 100 traders you're sure to find a snack, meal or stocking filler here.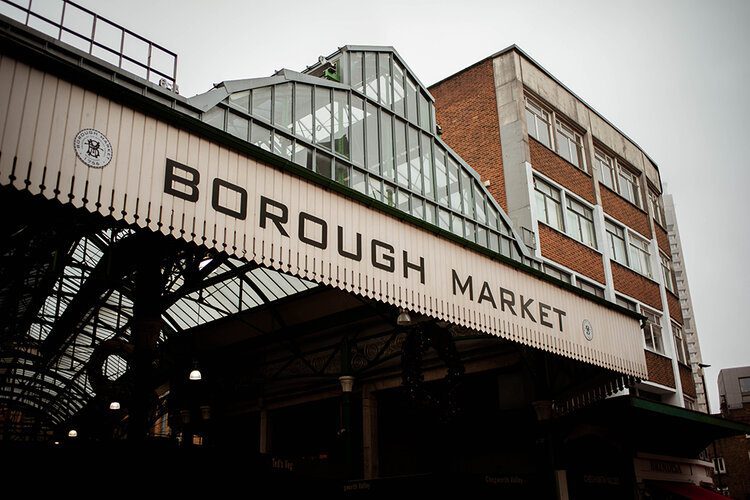 PFH Top Tip: The doughnuts from Bread Ahead are amazing!
Search the market map here.
Opening hours
Monday – Thursday 10am – 5pm
Friday 10am – 6pm 
Saturday 8am – 5pm
Sunday closed
10. Get dinner and watch a show on the West End
It's one of the most classic and cultured things to do in London: dinner and a show. With a multitude of theatres spread out across the West End you'll be best leaving yourself plenty of time before your show to grab dinner so that you can get there without rushing.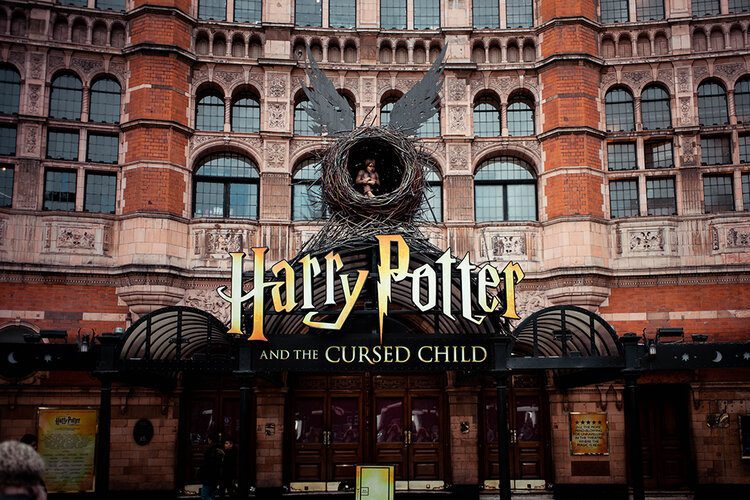 11. Grab a pint in a traditional English pub
These pubs in London boast the richest history but are often overlooked by tourists who either want pretty exteriors for photos or locals who want cheap deals in Whetherspoons. The ones I recommend are: 
Ye Olde Cheshire Cheese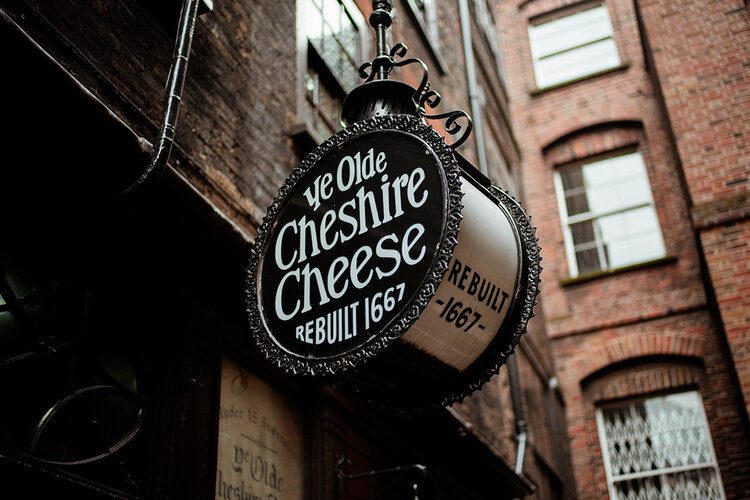 Ye Olde Cheshire Cheese deserves top spot just for the name. It's one of the oldest pubs in London having been re-built after The Great Fire of London in 1666 and still has all of it's dark and awkward character it did way back when. Head deeper underground as the light fades and the randomly shaped rooms shrink to enjoy a pint or two just as Charles Dickens often did way back in the 1800s.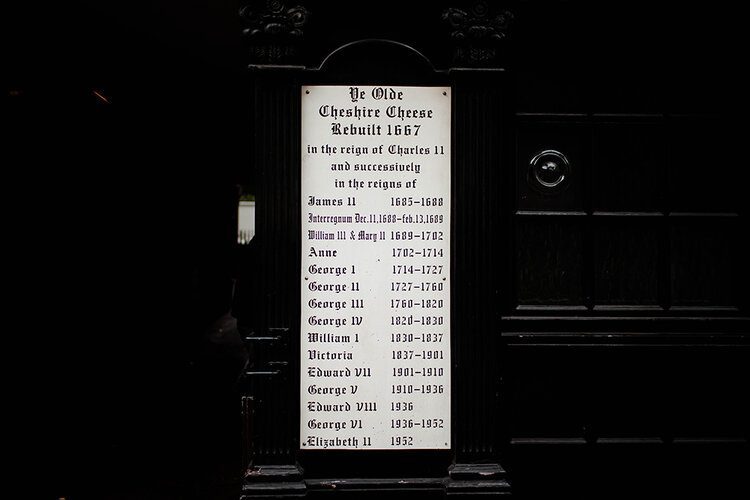 Where? 
Fleet Street
Opening hours
Mon – Fri 11.30am-11pm 
Sat 12pm-11pm
Sun closed
The Old Bell Tavern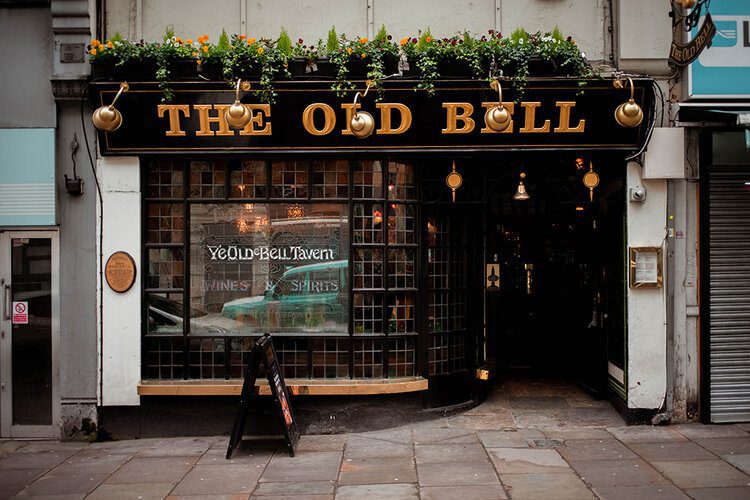 Famously built by Sir Christopher Wren (one smart cookie), The Old Bell Tavern has been a licensed tavern for more than 300 years. It was originally built to house Sir Wren's masons who were rebuilding the St Bride's Church after the fire of 1666.
PFH Fun Fact: The Old Bell Tavern is located on the same street as the infamous Demon Barber of Fleet Street, Sweeney Todd!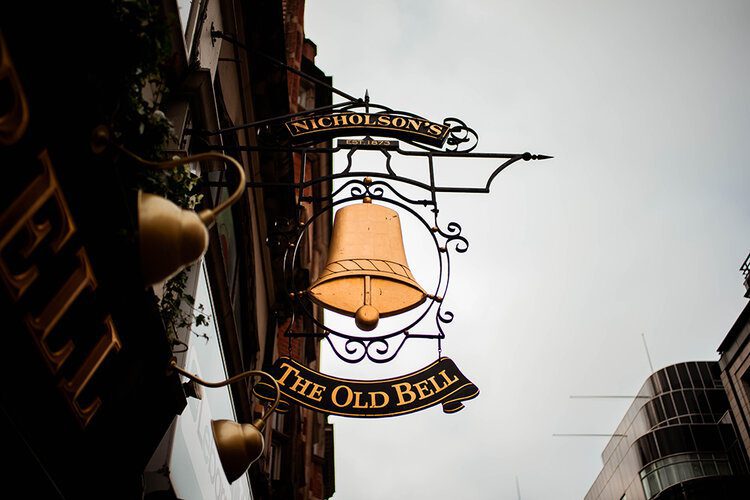 Where?
Fleet Street
Opening hours
Mon – Wed 11.30am – 11pm
Thurs – Fri 11am – 11pm
Sat 12pm – 9pm
Sun 2pm – 6pm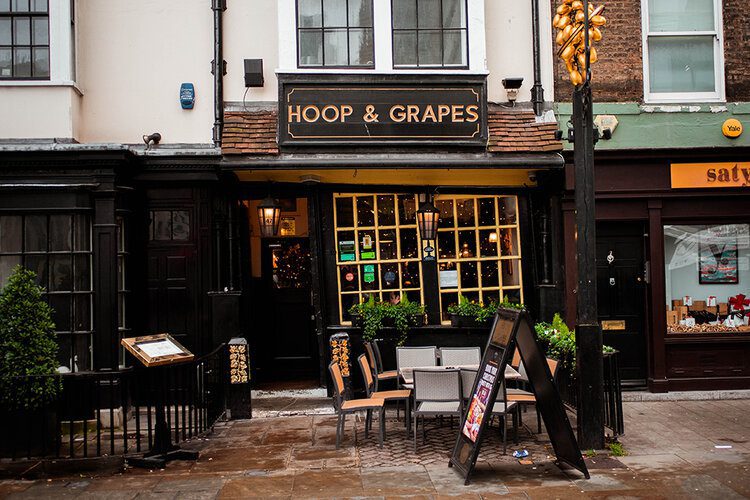 Not to be confused with Hoop & Grapes, another London pub. Though the interior doesn't give the impression, this building has been standing for the last four centuries and famously survived The Great Fire of London in 1666. The fire stopped just 50 yards from the pub and is one of very few timber framed buildings to have survived this period.
PFH Top Tip: Try a G&T from their extensive list of flavoured gins. Instead of those awful fishbowls pubs often serve them in, Hoop and Grapes serves your G&T in a tall crystal glass, classy. My tipple of choice is a single shot of Chase's Pink Grapefruit and Pomelo gin with Fever Tree's Mediterranean tonic… you can thank me later.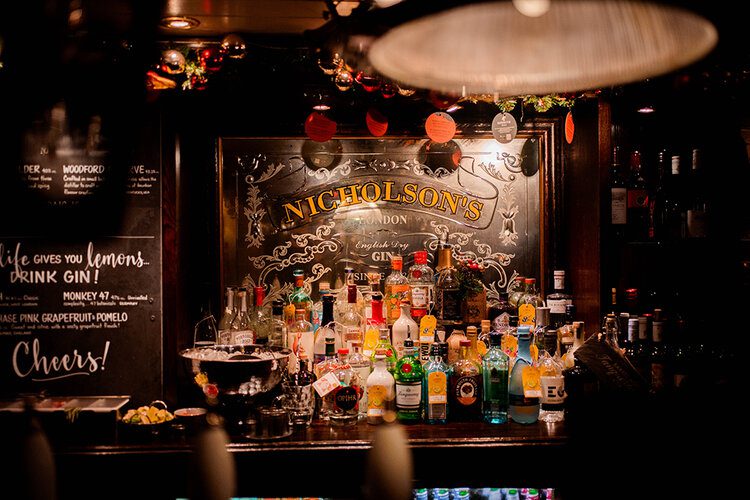 Where?
Aldgate 
Opening hours
Mon 12pm – 10.30pm
Tues – Sun 12pm – 11.30pm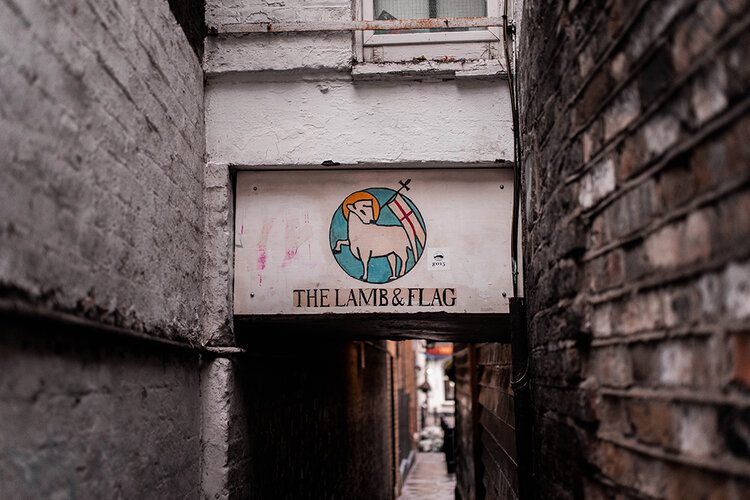 Tucked away into the back streets of Covent Garden just before you reach China Town is Lamb & Flag, yet another spot where Charles Dickens would frequent. They're better known for their bloody history though. During the early nineteenth century the pub was dubbed "The Bucket of Blood" as the tiny alleyway alongside the pubs side door used to host bare-knuckle prize fights. It's also known to be the location where Jon Dryden was attacked by thugs in 1679.
Where?
Covent Garden
Opening hours
Mon – Thurs 11am-11pm 
Fri – Sat 11am-11.30pm 
Sun 12pm -10.30pm 
The George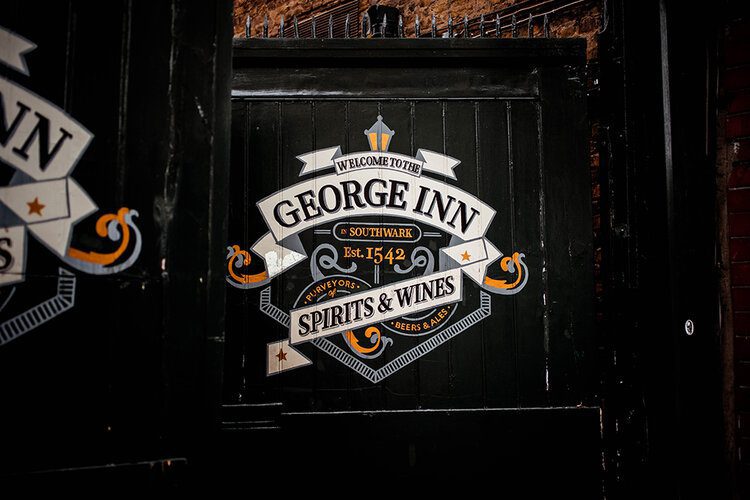 This 17th century medieval coaching inn is remarkably the only remaining galleried inn in London. What's a galleried inn I hear you say? Galleried inns have balconies looking out onto an inner-courtyard which would host Elizabethan theatrical productions.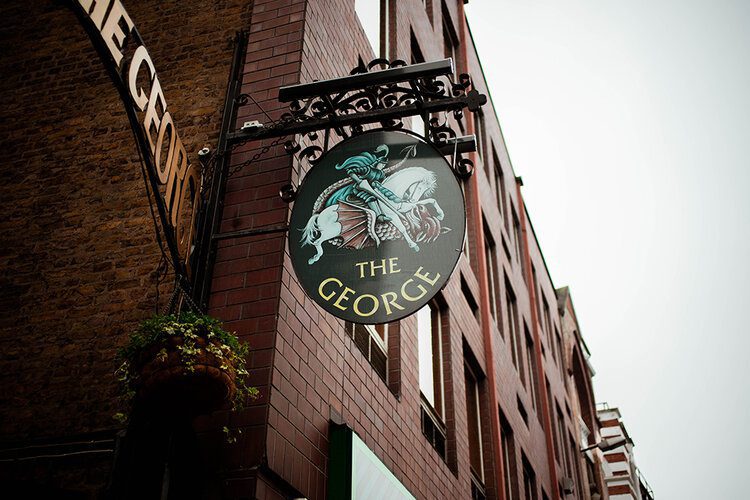 It's also another spot where Dickens would wet his whistle and was mentioned in "Little Dorrit".
Where?
Southwark
Opening hours
Mon – Thurs 11am – 11pm
Fri- Sat 11am – 12am
Sun 12pm – 10.30pm
PFH Top Tip: If you want any chance of sitting down in a London pub, avoid 5pm – 7pm when 99.9% of Londoners will be clocking off work and heading to their local watering hole. You can't argue against this time having the best atmosphere though.
New Year's Eve fireworks
Ok sorry, you can't do this all throughout the holiday season but if you're lucky enough to be in London to ring in the new year then this is an absolute must just once in your life. Line up along the river bank opposite the Coca Cola London Eye to take in one of the world's most spectacularly orchestrated firework displays, and you can guarantee that this year's display is going to be their best one yet as we welcome in the new decade! 
Unfortunately the tickets for the New Year's Eve fireworks have sold out but london.gov have ideas for other ways you can enjoy them here.
I hope you have a wonderful time if you're visiting London during the holidays. If you do anything on this list, be sure to tag me in your Instagram posts and stories using @gabriellawisdom and I'll share them!
Mele Kalikimaka, Gabriella
If you loved this post, check out my following London guides: