Despite being just a five minute walk away from the hustle and bustle of the vibrant souks, Riad Kaiss is a tranquil oasis, whisking you away from the commotion to embrace you into a serene haven. 
In 2017 we stayed here for seven nights from the end of May to the beginning of June. I must have trawled through at least 100 hotels online trying to find the right one. Originally I wanted to be outside of the Médina where I was sure it would be quiet, but mediocre reviews and standard room design was pushing me closer to the heart of Marrakech. I made the decision to find a riad mostly looking for the kind of interior design dreams are made of, but I was put off by iffy reviews until I found Riad Kaiss (and her sister hotel Dar Anika) and after reading endless glorious reviews I knew this was the one.
Getting There
Riad Kaiss uses a private taxi company and will arrange the airport transfer for you. It is a fixed price which is added to your bill at the end of your stay, so you won't need the money to hand. The journey takes 20 minutes, traffic permitting, so just sit back and admire the scenery as you ride in comfort. The hotel will also arrange for you to use the same taxi company should you want to get anywhere else without walking.
Location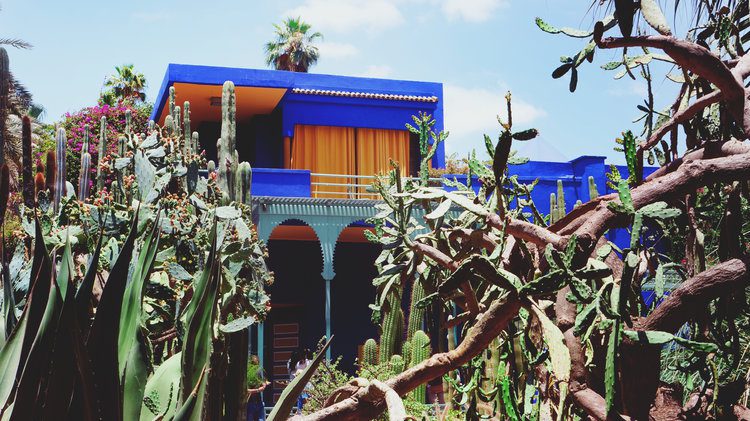 The location is perfect, it's just two minutes away from Riad Zitoun Lakdim, which is not only one of the main streets that takes you straight into Jemaa el-Fna, it is also lined with little independent shops, hammams and restaurants such as Zwin Zwin Café. The aforementioned Jemaa el-Fna and souks are less than 10 minutes away and it's no more than 20 minutes via taxi to further tourist hot spots such as Jardin Majorelle.
PFH Top Tip: The shops on Riad Zitoun Lakdim sell the same goods as the souks but often at a cheaper price than you would get bartering. This is because they set the barter price higher than the shops so that if you knock it down you think you're getting a good deal but you're actually still paying more.
Welcome
Before we had even arrived in Morocco, the hotel was already reaching out to us to make sure we could make the most of our stay. After booking via hotels.com, we received an email directly from Riad Kaiss packed full of attachments such as restaurant menus, their hamman and massage price list and so much information about excursions. I am aware this is to encourage you to spend more money with the hotel, but there was something endearing in them taking time to contact us directly.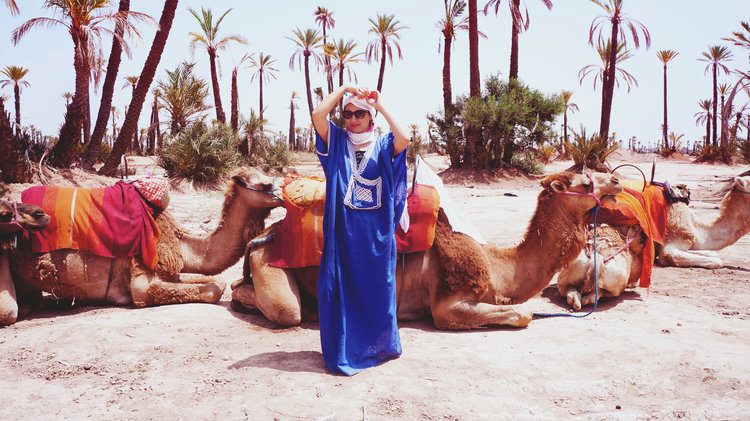 Camel ride excursion booked through Riad Kaiss
Upon our arrival we were offered rose water to cleanse ourselves after our travels, after which we were served milk and dates followed by traditional Moroccan pastries and sweet mint tea, a digestive served in abundance across Morocco.
After this generous welcome feast we were greeted by Abu, who is one of the two brothers that own and run Dar Anika and Riad Kaiss. He gave us a tour of the riad and showed us a couple of rooms so that we could pick our favourite one – each one had a different design. As our luggage was taken to our room he sat with us in the courtyard under a canopy of dangling vines surrounded by candle lit lanterns and proceeded to show us a map of Marrakech. He circled the best cafés, restaurants, evening entertainment, museums and so much more. 
The Room
The decor was so ornate and authentic down to the last detail. The thick wooden door was hand painted and opened with a gold key accompanied by a little tassel, inside stood a four-post bed from which hung huge white linen drapes. Surrounding the bed were wardrobes, tables and chairs all wooden with intricately carved patterns, even the window to the courtyard was a wooden carving. In the centre of the tiled floor lay a large worn rug resembling those in the souks and when you looked up the ceiling was painted to look like the zellige tiles featured on almost every wall and floor in Marrakech. There was so much detail to every inch of that room that even the complimentary bottle of water was presented in a hand cut metal case with a pattern similar to the lamps dotted around the room.
Fresh flowers were everywhere you looked and each day the bed was scattered with rose petals and the fruit basket was fully stocked with any fruit you desired from the market – we were assured they were all washed properly in advance. As if there wasn't enough to look at, in every corner sat hand woven bread baskets and painted plates, the likes of which you could buy in Jemaa el-Fna.
In terms of electrical amenities there were plenty of plug sockets and a fully stocked mini fridge stood discretely behind yet another very delicately hand carved door. Though there was complimentary wifi don't expect a TV, Marrakech is anything but shy of entertainment so there's no reason to stay indoors.
My only dispute with this incredible room was that it didn't have a full length mirror and the light was dim during the day which was an inconvenience when putting an outfit together, but they're not at all the worst problems for a hotel room.
The Bathroom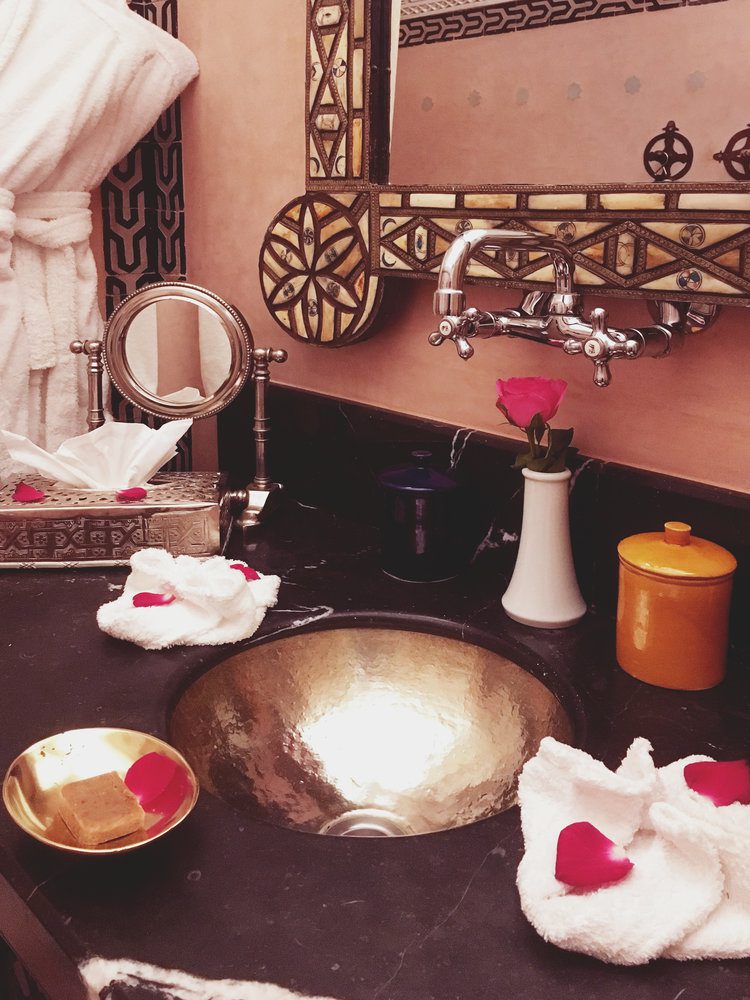 Our bathroom was just to die for, it was everything I expected a Moroccan riad bathroom to be. Every detail of our bathroom was not only instagram worthy but it was pure inspiration for how I want my bathroom to look at home. At one end was the toilet which was partitioned for privacy by yet another amazing door (I mean, those doors, drool!). At the other end was an enormous terra-cotta alcove shower framed by a colourful zellige, different to the one running across the rest of the bathroom walls. Within the shower was a further two alcove shelves containing little clay pots full of heavenly scented argon oil shower cream and shampoo.
Between the toilet and shower was the dressing area. Hung above the brass dome sink embedded in marble was a huge mirror with a zellige frame. Atop of the marble sat a vanity mirror, tissues encased in silver, clay pots full of cotton pads and ear buds, flowers, towels scattered with petals and a brass dish with argon oil soap wrapped in a leaf. Even the hooks were hand crafted and upon them hung fluffy rose sceneted robes with slippers sitting pretty beneath rose petals – yep, even the slippers were adorned with rose petals!
The Riad
A riad is a traditional Moroccan house which has an interior andalusian-style courtyard. If you are looking for a jaw-dropping and authentic aesthetic then you want a riad within the Médina over a resort hotel just outside the Médina. 
I don't think I could ever do the courtyard justice, there was so much to look at. The floor was tiled in bright colours, fountains were loaded with fresh flowers every morning, huge trees stretched up from the ground and draped multiple vines down all around you, big lanterns surrounded the base of the trees, tables and chairs were in-between them and at one end stood a big wooden swinging bench – It was stunning! Surrounding the courtyard were multiple little rooms, each more detailed than the last – in Marrakech more is more! You could have breakfast in any of these rooms as well as the courtyard.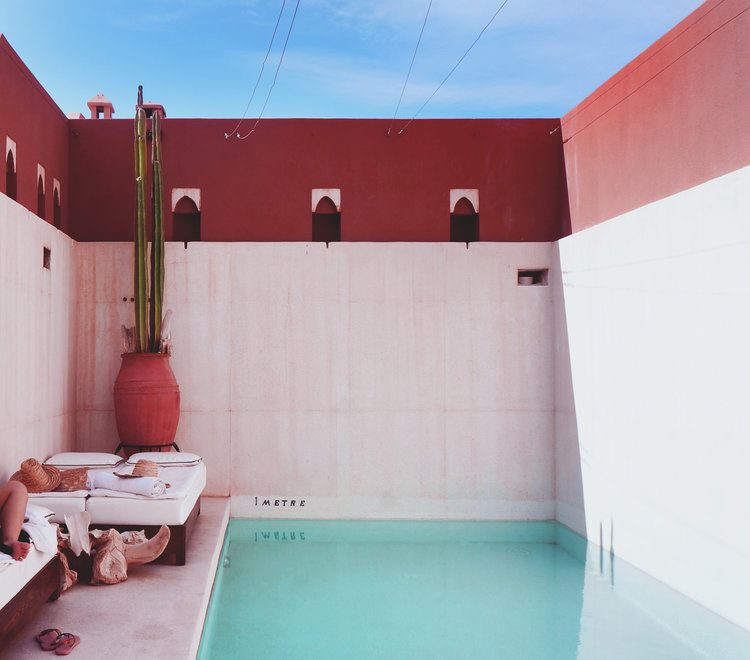 The rooftop divided into three sections. The first had the swimming pool, a small enclosed area with a pool suitable for no more than a paddle but perfect for a refreshing dip. Around the pool were sun beds accompanied by a straw hat, fan and a towel.
The second rooftop area featured covered seating should you want a change from the courtyard for breakfast. 
Finally, the third rooftop area was set just above the other two. A little staircase took you up to more sun beds, a few tables and chairs, and a double bed beneath an iron gazebo. This is where we spent our time chilling out with music and a cold drink when we weren't outside of the Riad. It was too hot to sit out directly in the sun so this provided shelter from the rays.
Like all good riad hotels should, Kaiss has a hammam. A hammam is a Turkish bath not unlike a dark wet room just with good interior decor. In this one there is a sink and a shower, used for cleansing you before and after your treatment, and 2 wooden slatted beds where you receive your treatment*. The best way to relax after your time in the hammam is a massage, there in a treatment room within the hotel that offers single and couples' full body massages.
PFH Top Tip: Be prepared for full nudity and boob brushing – all legitimate and not intended to be harassment, like almost all cultures excluding us English prudes, nudity in public baths is the norm.
Dining
The restaurant at Riad Kaiss wasn't open during our stay because the owners were still refining the menu so the only food you could eat was breakfast but boy did they make it count! Their breakfast immerses you into Moroccan culture by serving up a staggering six course extravaganza! You start with a very traditional harira soup – eating a hot vegetable soup first thing in the morning did take some getting used to but it was delicious. Then along side freshly squeezed orange juice and a hot drink of your choice, you are served yoghurt and a bowl of tropical fruit salad (Oh I nearly forgot, roaming the courtyard are the friendliest tortoises who are partial to a bit of fruit salad, should you want to share!). After this you are brought a crêpe and a slice of cake, similar to a madeira sponge. Following your cake, a selection of jams, butter, honey and peanut butter come out with a bread basket boasting a variety of freshly baked rolls. To finish it off you are offered eggs of your choice and a msemen which is a fried savoury pancake filled with either cheese or vegetables. This breakfast is not for the faint hearted but all courses are optional.
I should also note that we ate in the rooftop restaurant in Dar Anika, the sister hotel. It was so good we went twice. The view of the sun setting over the rooftops as the prayers for Ramadam are sung out on loud speakers across the Médina is a memory I hope to never forget. The food was outstanding too, their lamb shoulder tagine was the best tagine that we had the pleasure of eating.
Service
Every evening a tray of sweet milk and dates was left in our room, fresh juice was offered to us every time we returned to the hotel, and we were given a mobile phone for the duration of our stay should we need to contact the hotel directly for anything at all. We were escorted to the restaurants within walking distance in the evenings, all the staff asked us about our day and how we were enjoying Marrakech, and we were even offered help with bartering if we wanted to get the price down on something in particular.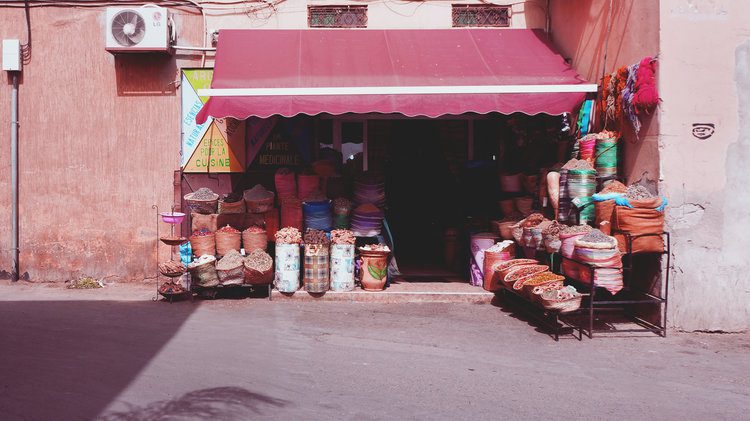 After checking out we took on one last trip into the souks before leaving. When we came back we were offered a room to shower in before our flight, and upon leaving we were presented with a hand written note from Abu and a packed lunch for our journey home. I've never known a hotel to do all of that, to me that is outstanding customer service.
.
If you're looking for a combination of luxury and authenticity I highly recommend staying at Riad Kaiss or Dar Anika during your time in Marrakech, rooms starts from £186 per night. If you're still not convinced I'm happy for you to email me here with any questions about my stay at Riad Kaiss.
Aloha, Gabriella
.
Full disclosure – I am not sponsored by Riad Kaiss and have no paid partnership with the hotelier, these are just my own opinions and reviews. Starting price per night was true at time of posting.