Having just come back from Mexico where it's hot, hot, hot and my skin tanned to the point where Michael stopped talking to me out of jealousy – #hatersgonnahate – I want to share the makeup I was using whilst abroad because, I hate admit it, I packed way too much makeup that I didn't need and barely used. So in the hopes that I can save you some weight and packing space I'll take you through what I didn't need and what I used everyday.
Out of all the items I packed, I really only ended up using about a quarter of it, if that! When you're somewhere hot it's not ideal to wear heaps of makeup because let's face it, you're going to get a little sticky under the sun and no one wants their face to look like a Dali melting clock. The items I barely used were:
Foundation
Not only did I tan past my usual shade but it also dried out my skin which needs to stay frequently hydrated when I'm out in the sun. I wore it for two days then it was just deadweight in my cosmetic bag.
Powder
You'd think that this would be one of the most useful things, considering how shiny the heat is going to make your face, well think again sister! Maybe I'm just gross with issues but no matter how often I applied my powder I couldn't control the shine, so I just had to embrace the shine. 
PFH Top Tip: If you want to control your shine but don't want to use too much makeup, grab a pack of blotting sheets, they're inexpensive and can be bought at most stores selling makeup.
Liquid lipsticks
I love lipsticks, they brighten up and add colour to your face but I definitely didn't need the amount I brought. The ones I could have done without were the liquid lipsticks.
Staying hydrated is very important but it's critical when you're somewhere hot. Funnily enough though liquid lipstick with its ability to give a matte look and water with its ability to wet your mouth don't exactly go hand in hand. So I don't recommend bringing them, you'll be reapplying more than your suncream.
Mascara & Eyeliner
I did actually use mascara, but only in the evenings and a few selective shoots. There's really not much point in wearing it, or eyeliner for that matter. What with being in and out of the sea and pool, it's only going to give you panda eyes. Before you ask, no it's not worth bringing waterproof mascara. I've tried so many brands and I've never gotten on with it – it's a bitch to take off and it only stings your eyes. Still need convincing? You'll be wearing sunnies most of the time anyway, so your eyes will be covered up!
.
Now then, let's get into the products I loved to use everyday. These babies really focus on enhancing your tan, boosting your complexion and giving your sun kissed face that extra glow. Plus they have multiple uses, so these few products actually give you a variety of looks when you wear them in different ways.
Charlotte Tilbury – Hollywood flawless filter, 4 medium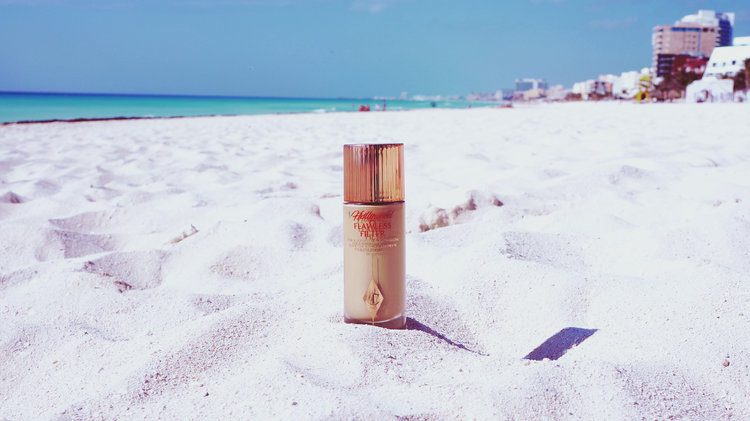 I only started using foundation this year (shocking I know, what have I been doing with my life?!). Taking it on holiday – somewhere where you'll be in the sun – is pointless because you will tan past your shade and you don't really want a full face because your pores will only clog as you sweat it off. I don't wear it that often so I'm pretty used to going out bare skinned, but if you're not feeling it I have the perfect product for you: Hollywood Flawless Filter! 
This glorious product is a complexion booster that can be worn four ways: under your foundation, blended with it, as a highlighter or on it's own – on it's own is obviously what I'm focusing on here. It will smooth your pores and lines, give you an all over glow that illuminates and boosts your tan and it's lighter on the skin than foundation so you won't feel caked. There are seven shades, and unlike concealer and foundation, I found the shade to suit me at my lightest and after my tan, bonus!
Dior – Diorskin forever undercover concealer, 20 light beige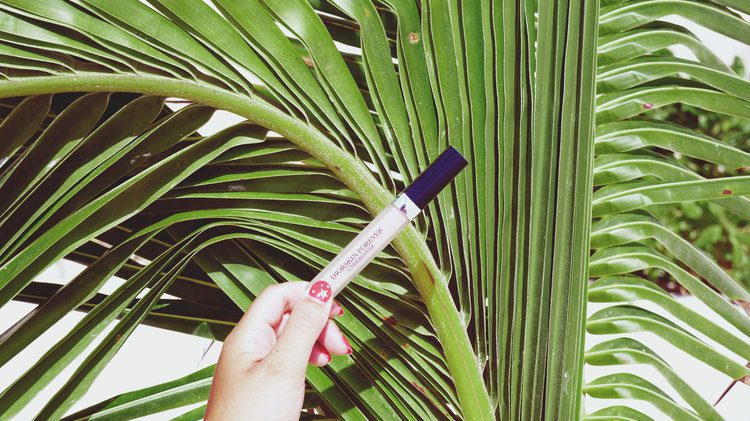 I ended up tanning past this shade by the end but I used my concealer almost every day to cover the dark circles under my eyes. It's a full coverage product so the darker my face got the less product I used so it wouldn't show up too light. Like most of these items, it's waterproof which is always good when you're sipping cocktails in the pool. 
PFH Top Tip: At the end of your holiday, when your skin is nicely tanned, get your concealer matched at the airport duty free on the way home so you have one for the next time you tan past your usual shade.
Giorgio Armani – High precision brow pencil, 2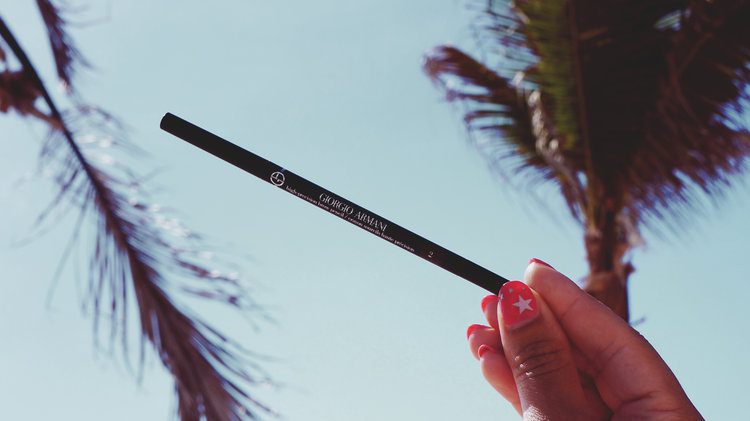 My eyebrows are quite patchy and need a little help filling out. I have a few eyebrow pencils but this one is my favourite to travel with because it's so tiny but still has a brush attached. The pencil itself is so fine that it allows for a very precise application, hence the name, plus it's waterproof which is great when the heat starts to melt your face.
Charlotte Tilbury – Instant look in a palette, beauty glow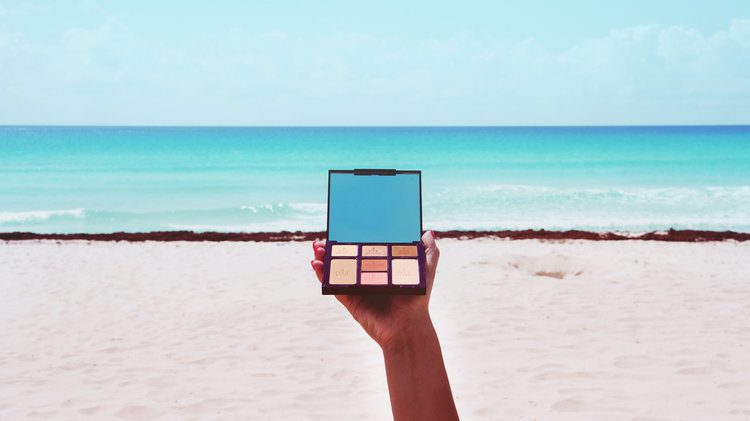 This palette was my saving grace in Mexico. I absolutely love it, it has all the basics in one place and gives such an amazing glow #glomo! It has three eyeshadows which can be worn individually to brighten the eyes during the day time or combined to create a smoky look for the evening. There's a bronzer which can be used to bronze or contour. Two tones of blush give you a rosey glow and finally the highlighter is my favourite because it's so pigmented that it gives an incredible high shine across the top of your cheekbones. 
I definitely recommend getting one of these palettes if you're on the go often. Just slip it into your bag and you can apply or touch up no matter where you are. The mirror is nice and big so you can see your whole face when applying but the palette size as a whole isn't so big that it's inconvenient. A lot of our excursions involved swimming in cenotes before heading on to something else, I took this palette with me so I could brighten up my face in-between and it was perfect.
I can't pretend it's not expensive, I had hummed and hawed over it for a while because it retails at £49, but I feel like I have already got my money's worth. I used it every day because it's so easy to apply and wear.
Dior – Diorshow cooling stick, 003 fresh pink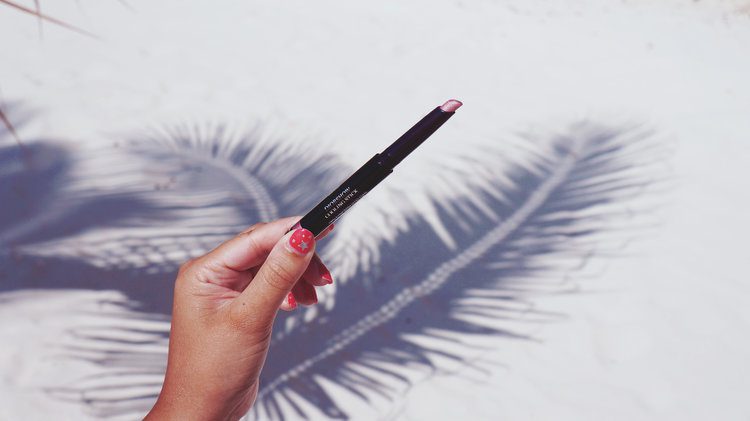 This was a new buy for me at the airport duty free on the way to Cancún. It's part of Dior's Summer 2018 Cool Wave collection, and the moment I found out its nifty little trick I was sold! The formula is 40% water and is designed to cool the eyes upon application, it's basically a soothing eye gel that applies colour. It's genius and actually works so well, perfect for spending time out in the sun and it's waterproof.
It comes in three shades, pink, gold and bronze – I went for the pink because the CT Beauty Glow palette was made of gold and bronze tones so I wanted something different. Its creamy texture applies so smooth which means it can actually be worn three ways: on the eyelid, along the lash line or as a highlighter.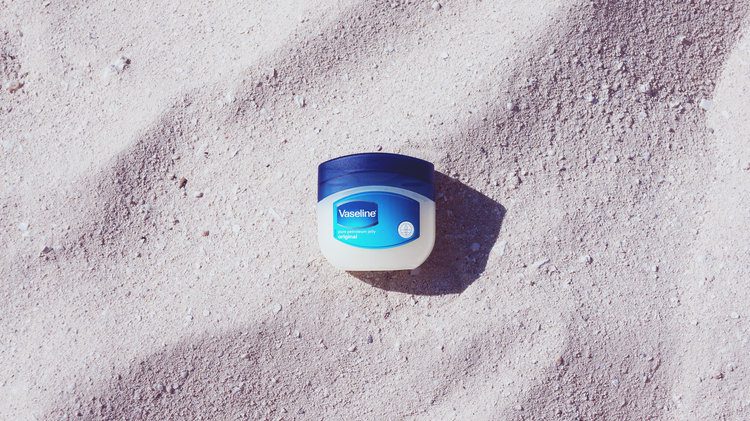 I take great care of my lips because they dry out easily and not only is it uncomfortable but it also makes wearing any lipstick difficult. As much as I love a bright lipstick, it's not really convenient if you're in and out of the sea and pool, drinking cocktails and eating. 
So that way I look after my lips on the beach whilst giving them a glossy sheen is with old reliable Vaseline. It's cheap and nourishing!
Dior – Rouge Dior lipstick, 520 feel good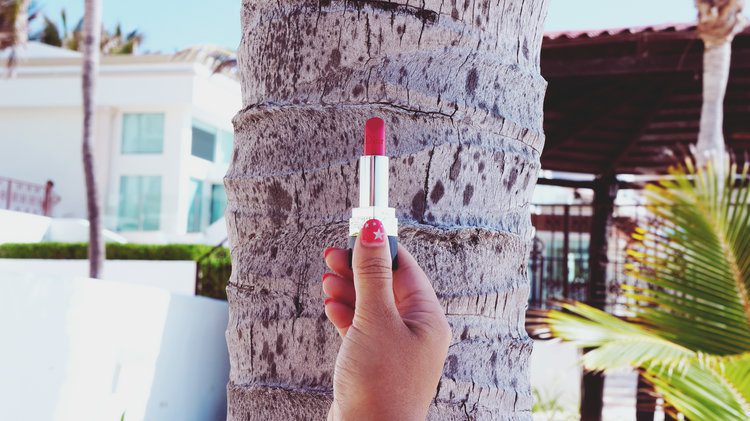 Of course I don't really go anywhere without lipstick, and there will be moments to wear it, such as for photos. One of my favourite holiday shades is this Rouge Dior, it's a punchy pink which really complements a tan.
.
Most of the items I'm talking about above are quite pricey, I know, but I tend to get my makeup at the airport in duty free to save money. 
PFH Top Tip: When you make an account with Feel Unique, you can choose one brand that they sell to receive 5% off for a whole year. They sell all of the brands I've mentioned except Vaseline.
Do yourself a favour, embrace your natural beauty and leave most of it at home. Just bring some items that will enhance your sun-kissed glow rather than cover it up.
.
Aloha, Gabriella
.
Shout out to Pops Beauty who did a killer job with my manicure! Check them out if you're based in Norfolk.