Mexico! The land of siestas, tequila and some damn good food! Originally we were looking at Cabo on the Pacific side, but in the end we chose Cancún for its turquoise waters and Maya history. Only the Caribbean side has ancient Maya ruins, the most famous of course being Chichen Itza. 
May is out of season for Cancún, but unlike some destinations like Amalfi where it can be freezing out of season, it's probably the best time to go: it's after "spring break woo hoo hoo" (not only is that a Friends reference but I'm also very grateful that it's after Spring Break), before the summer holidays when the prices get jacked up and the weather is supposedly the best of the year according to locals.
This was mainly a beach vacay, which you'll be able to tell from my itinerary and the length of the trip compared to my previous posts, but we did some amazing excursions that I really want to share with you.
Day 1
11.20 flight from London Gatwick airport to Cancún International Airport.
Hotel transfer from airport via Hoppa operated by Best Day.
Check into Hyatt Zilara.
Day 2
Breakfast.
Walk to Flamingo + La Isla shopping malls.
Dinner.
Day 3
Breakfast.
All-inclusive Cozumel snorkel trip with Aquaworld.
Dinner.
Day 4
Breakfast.
Book excursions at the Best Day desk at the hotel.
Lunch.
Walk to Kukulcan plaza shopping mall.
Teppanyaki dinner.
Evening cocktails.
Day 5
Breakfast.
Walk along the beach.
Lunch.
Beach.
Dinner.
Day 6
Watch the sun rise from the beach.
Breakfast.
Beach.
Lunch.
Beach.
Dinner. 
Hotel's Mythology show.
Day 7
Breakfast.
Chichen Itza tour with Cancún Passion. 
Dinner.
Day 8
Breakfast.
Beach.
Lunch.
Walk along the beach.
Walk to La Isla shopping mall.
Dinner.
Evening cocktails.
Day 9
Río Lagartos and Las Coloradas tour with Cancún Passion.
Dinner.
Day 10
Breakfast.
Beach.
Lunch.
Dinner.
Enquire about renting a car from Hertz.
Day 11
Breakfast.
7am pick up rental car at Hertz.
Cenote Dos Ojos.
Drive to Tulum.
Smoothie bowls at Matcha Mama.
Lunch at Akiin beach club.
Drive back to Hertz in Cancún.
Dinner.
Day 12
Watch the sun rise from the beach. 
Breakfast.
Beach.
Lunch.
Walk along beach.
Dinner.
Evening cocktails.
Day 13
Breakfast.
Last 45 mins on the beach.
Check out of hotel.
Souvenir shopping at Flamingo mall.
Lunch.
Transfer from hotel to airport.
17.15 flight from Cancún International Airport to London Gatwick.
Shopping malls
Flamingo
The Flamingo mall was located on the other side of the road to our hotel. This is a great one for souvenir shopping because it is full of them, all competing with each other with prices and deals; it's here that you can find ridiculous offers such as buy one get one free on everything. Aside from souvenir shops there's an abundance of pharmacies and two restaurants: Outback Steakhouse and Bubba Gump.
La Isla
The La Isla shopping centre is about a 20min walk south of Hyatt Zilara. It is full of restaurants, coffee shops and clothing stores ranging from Zara and Roxy to designer shops such as Louis Vuitton and Gucci, down at the Fashion Harbour end. Also here are rental car offices and the brand new Gran Rueda ferris wheel which opened this spring.
Kukulcan Plaza
Kukulcan Plaza is the furthest away of the three, taking about 30mins to walk from our hotel. For a more scenic route I suggest walking along the beach, the public beach offers the perfect exit as it takes you right up to the entrance of the mall. Here you can find clothing shops, duty free, mini-marts, a tequila museum and souvenir shops.
Cozumel snorkelling trip with Aquaworld
We booked our Cozumel Snorkelling all inclusive day trip with Aquaworld online. It includes the bus from Aquaworld to the ferry port in Playa del Carmen, the ferry ticket to Cozumel, snorkelling trip to Columbia Shallows reef and El Cielo reef, lunch in downtown Cozumel, the ferry back to Playa del Carmen and the bus which will take you back to your hotel. Tickets cost $122 USD per adult and $61 USD per child.
There's soft drinks, water, beer, cookies, crisps and plenty of fruit onboard to last you up until lunch. Lunch is served on land after your snorkel trip at La Mission in downtown Cozumel. When you are seated you have a choice of many classic Mexican dishes such as tacos and fajitas. Soft drinks are included but you have to pay for alcohol.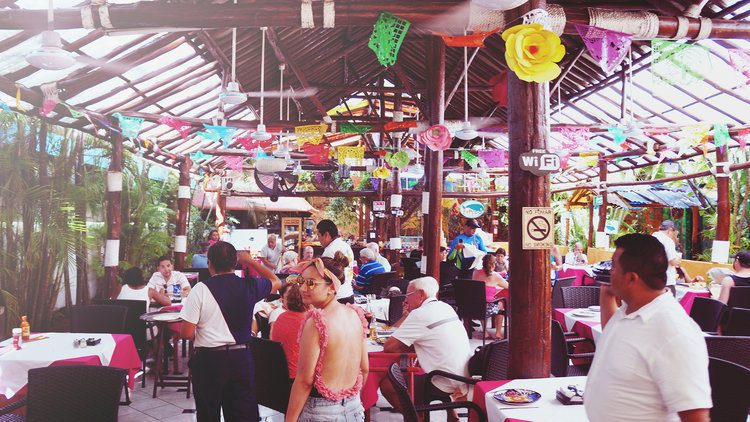 PFH Top Tip: Reapply your suncream between each swim, the Mexican sun is very hot and the water reflects it onto your skin. Please be careful and look after your skin, I am mixed race and tan very well but even I wore SPF 50 and still got tan lines that day.
P.S. The snorkel you are given onboard is yours to keep, so don't leave it behind!
Colombia Shallows reef
The first stop is a 30min guided swim in the Columbia Shallows reef. It's teeming with wildlife which will all be pointed out to you, within the first five minutes of us being in the water a sea turtle swam right beneath us! I've swam in many reefs around the world but I don't remember being in one where the fish are so curious, they all come right up to you, it's hard to not feel like a Kardashian being swarmed on Rodeo Dr.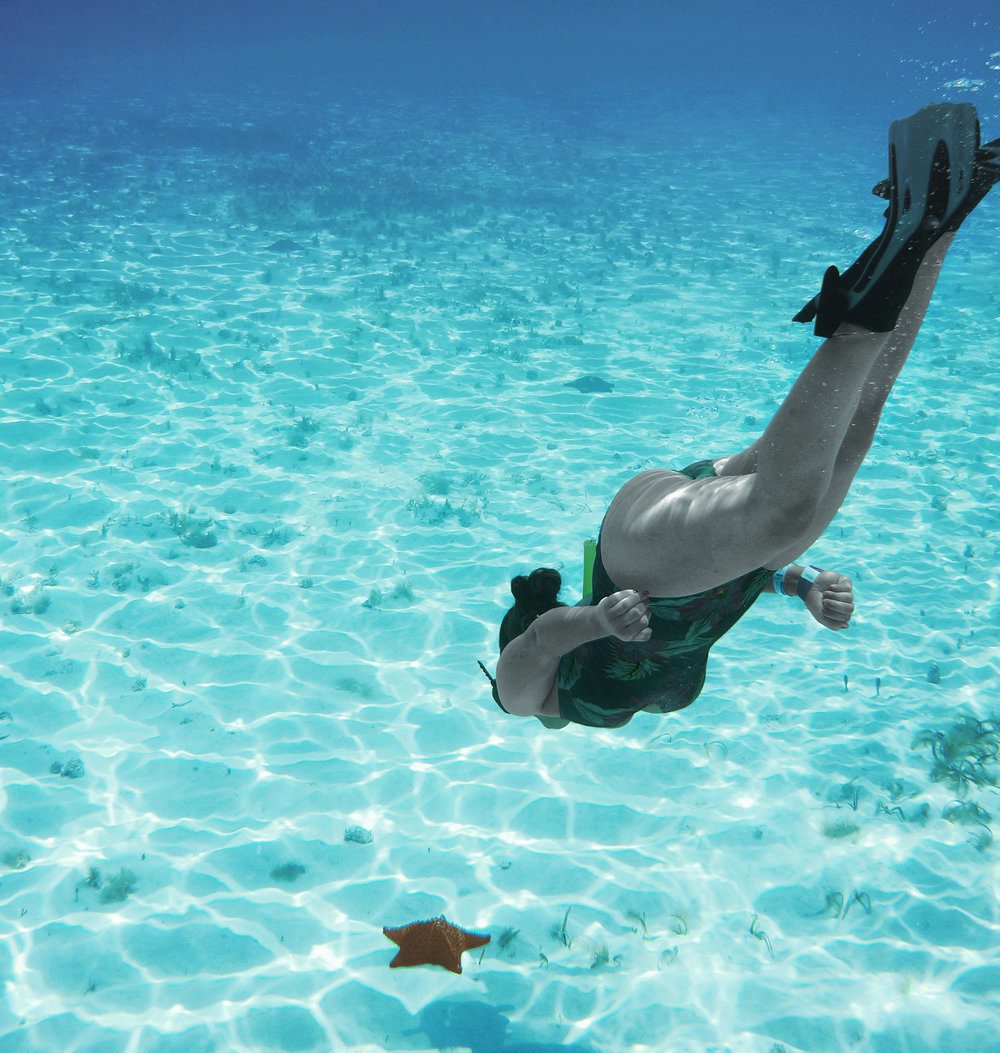 El Cielo
The tour description on the website was a little misleading, we did make three stops but instead of going to Palancar like it says, we actually went to two different areas of El Cielo. 
The first stop is where you will find starfish dotted across the seabed. This was one of my favourite photo destinations, the water is crystal clear and the starfish are huge compared to the ones I'm used to in the Norfolk rock pools back home! There are very few tours that stop here so those that do are pricey, but it's definitely worth it.
The second is where you stop to chill out in the shallows by the beach. You have about 45mins here to bob around with a soft drink or beer whilst listening to the music blaring from the surrounding party boats. Or… you can do what we did which was stray from the crowds to swim with the wild rays that surround the boats.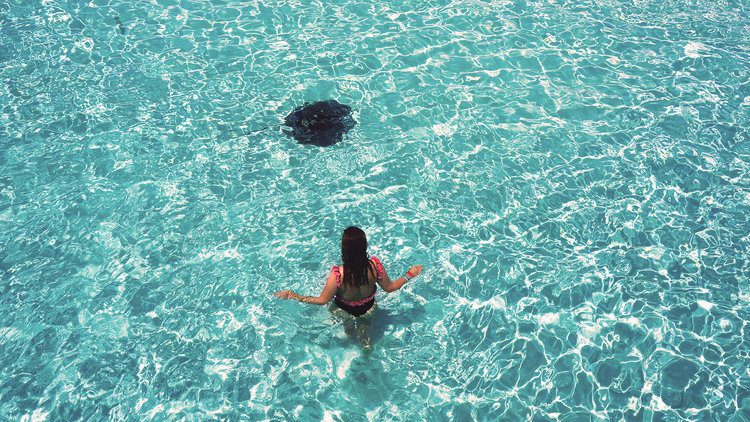 Chichen Itza tour with Cancún Passion
We booked the Basic Chichen Itza tour with Cancún Passion. It's a 12hr trip which includes transport, a swim at a cenote, lunch, souvenir shopping and a guided tour around Chichen Itza. Tickets cost $75.65 USD per adult and $51 USD per child.
Pick up from our hotel was 7.30am but this varies depending on how many pick ups they need to do, ours took quite some time because there were 50 odd people on our tour. On the way home though, they split the group in half, loading them into a second bus based on hotel location, this way the drop offs are much quicker. Despite there being 50 plus people, the coach was very spacious and had air con, comfortable seats and a toilet.
PFH Top Tip: Bring a travel pillow for the journey, it's a long drive and you are able to leave items on the bus whenever you stop to get out.
Cenote Samaal
A cenote is a naturally formed sink hole which you can swim in. The ancient Maya used it as a sacrificial well, whereas nowadays they are predominantly a tourist destination to escape the heat.
The cenote we went to on this tour was the Samaal cenote which is 40m deep and icy cold. As it is so deep, it is mandatory to wear a life jacket, this is included in your tour ticket along with the use of a locker. You are required to shower off suncream before entering the water so be mindful of how much you are in the sun. This tour allows for an hour here but it will go by quicker than you think, so make sure you leave enough time to get dressed afterwards. 
PFH Top Tip: Should you wish to swim you need to bring your own towel. I highly recommend getting a microfibre towel because they dry quickly and take up very little space. I got mine from Mountain Warehouse.
The Cancún Passion tour runs back to front compared to most of the others, they go to the cenote first because they found all the tour buses went after Chichen Itza which meant it was over crowded and lockers weren't available. My advice for this is, have your swimsuit on already to save time and, if you wear it, pack your makeup so you can touch up your face for photos at Chichen Itza. To see what makeup I was bringing on excursions check out My travel makeup must haves.
PFH Top Tip: If you need the toilet before getting in, race there first once your tour guide lets you go because the queue gets long quickly and you don't want to lose swimming time.
Lunch
A buffet lunch is provided at Pueblo Maya, they do a Mexican spread and an international one – it's not the best food but it's edible, also drinks are not included. After lunch you get time to wander through their souvenir shop which is divided into sections: pottery, lava rock sculptures, alcohol, hammocks, sombreros, clothing, silver jewellery and trinkets. I picked up a pair of silver hoop earrings for just £15 and I have worn them pretty much every day since!
Chichen Itza
Upon arrival the tour group is split into two, English and Spanish speaking, you then have a 45min guided tour which is followed by an hour of free time for you to take photos before returning to the bus.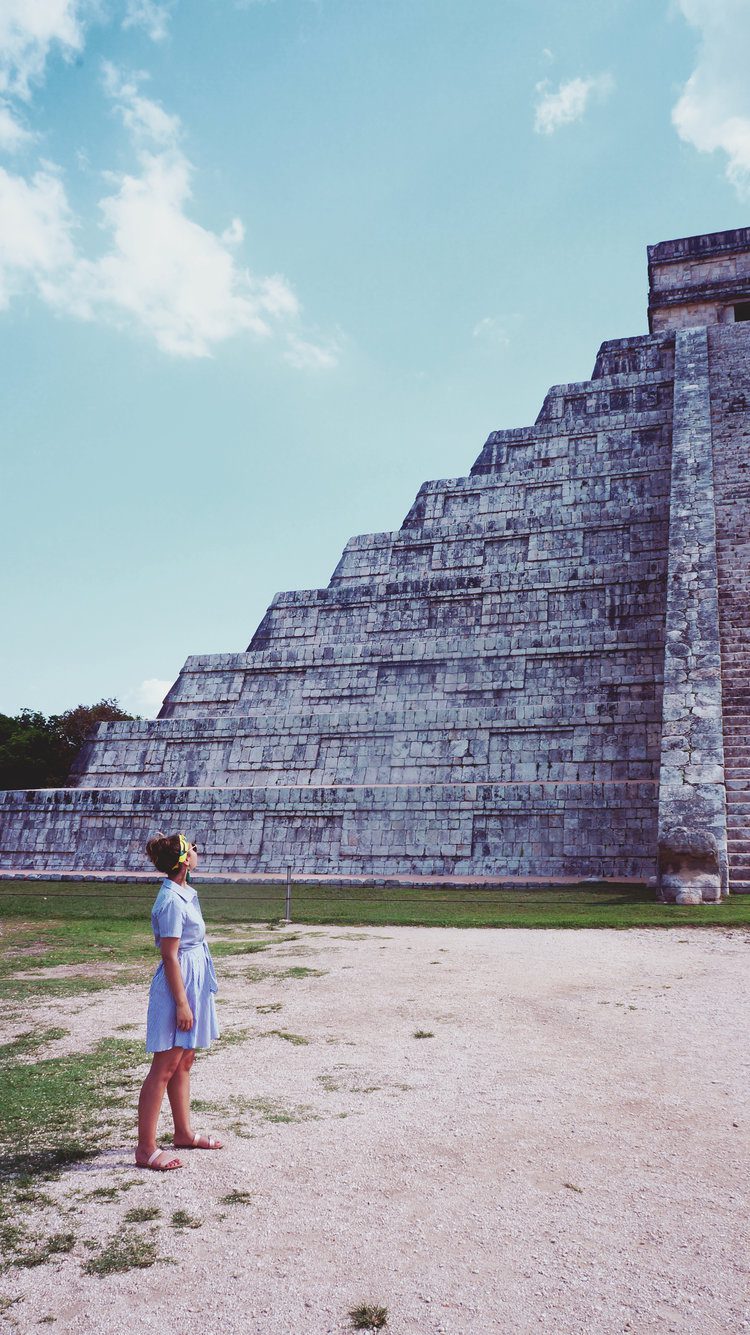 Chichen Itza is the name of the ancient Maya complex, there are many buildings/ruins to see, the most popular one being the High Temple. I read that you have to get there upon opening to be able to take photos with no one else in them, but honestly even though the grounds were swarming with people we still managed to get our shots, it just requires a little patience, which will be difficult under the sun, but it can be done.
It is INCREDIBLY hot at Chichen Itza, it was reaching 40 degrees when we were there plus there's no breeze like Cancún. Luckily for us we were warned by a new friend we made on our snorkel trip a few days before. He advised us to cover our heads and the back of our necks, and trust me that's good advice. I also advise you to top up your suncream regularly, the tour guides do their best to keep you in the shade but it's not always possible, so be safe. Make sure you bring plenty of water too.
If you don't want to visit Chichen Itza via a tour, parking costs 10 pesos and the entrance ticket is 111 pesos per person which includes a light show when the sun goes down. I would recommend reading up about the ruins before heading out on your own because there are so many neat quirks that you don't want to miss out on. For example, when you clap in close proximity to the high temple, it actually echos back the sound of the national bird's call. What's even more fascinating is no one knows how!
Rio Lagartos tour with Cancún Passion
Just like the Chichen Itza tour, we booked this one with Cancún Passion. When I was enquiring about a tour to Las Coloradas and Rio Lagartos with Best Day, we were told that the only way you could do this was to pay $500 USD for a private tour. This however, is not true, Cancún Passion runs a tour on Tuesdays and Thursdays which includes: transport, breakfast at a hacienda, a guided tour around Las Coloradas, a boat trip to see crocodiles and flamingos in Rio Lagartos, a chance to try a Maya mud mask and lunch.
This Coloradas tour costs $126.65 USD per adult and $89.25 USD per child.
Pick up from our hotel was 6.35am but this varies depending on how many pick ups they need to do, it's a small tour though – ours only had nine people including us – so it won't take long.
PFH Top Tip: Bring a travel pillow for the journey, it's a long drive (longer than Chichen Itza) and you are able to leave items on the bus whenever you stop to get out. The bus is small and has little to no comfort so I strongly recommend you do this. Also the ride is very bumpy so if you get travel sick make sure you take something.
Breakfast
A continental breakfast is served at a 16th century Hacienda, Kaan Ac, it's about a 2hr drive from the Cancún hotel zone. After breakfast you are given a very quick tour around the Hacienda –  which is a working hotel – before heading on to Las Coloradas.
Las Coloradas
The salt extraction lakes of Las Coloradas have been on my bucket list for a while now, and they did not disappoint. The cotton-candy pink lakes are the final stage of the three part solar salt evaporation process. Micro-organisms such as red plankton, algae and brine shrimp – who we all know as our beloved childhood pets, Sea Monkeys – are all minding their own business within the lakes, unfortunately for them though as the water evaporates under the sun, these amigos become more concentrated giving the salt lakes they're iconic and spectacular pink colouring.
PFH Fun Fact: Flamingos actually have white feathers but they turn pink after feasting on all the little red micro-organisms!
I'm afraid unlike the many photos you can see on Google images, times have changed and rules have been implemented, you can no longer get into the water for risk of contamination. To be fair, that does make sense, ain't no one who wanna be sprinkling feet infused salt on their guacamole. So to stop this, you can now only get access with a tour guide and the same goes for trying the salt. 
A guided tour is included, they will explain to you how the extraction works, show you the three lakes/stages, fish out some Sea Monkeys for you to take a look at, show you what the larger salt flowers look like and let you pick out your own salt flower from the water's edge to try yourself. After the 20min tour we had an extra 30mins to get photos before heading on to our boat ride.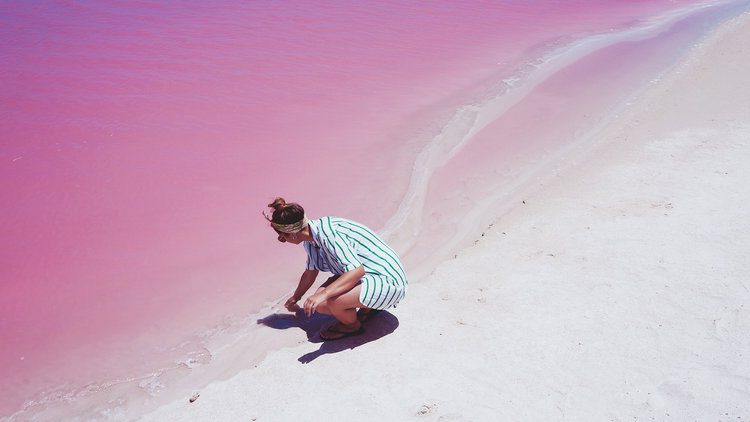 Rio Lagartos
After Las Coloradas we got on a boat which gave us a tour through the Rio Lagartos mangrove area. On this trip we were taken just metres away from a crocodile and flamingos. Please note that though the river is swarming with flamingos it isn't likely that you will be able to see them without a boat tour so I would recommend booking one.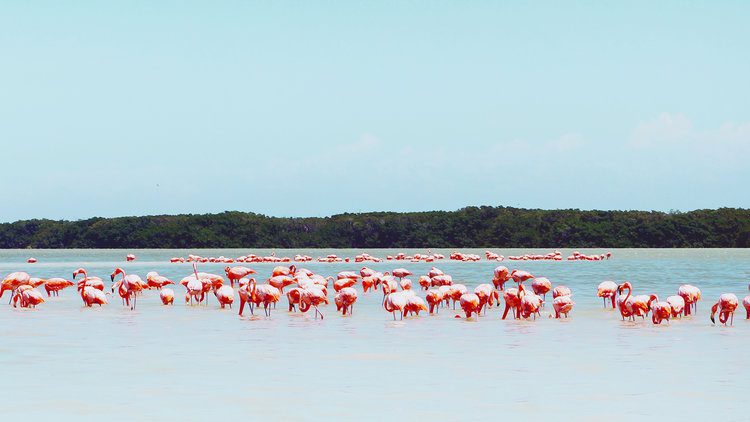 After gawping at the wildlife we made a stop along the river bank for a baño Maya which is a traditional mud mask. The ancient Maya used to cover their skin with this high sulphur mud, it has been known to treat skin conditions, so you are encouraged by the tour guides to put it everywhere. Watch your step though, it's incredibly slippery! Once we were covered and back on the boat where the mud could dry out, we pulled up on a little beach to wash it off before lunch.
Lunch
After the boat ride, we docked outside a seafront restaurant, El Perico Marinero, for lunch. Your order is taken on the bus before you get on the boat so that the food is ready when you arrive. There's a choice of Chicken Fajitas, "Mexican style" chicken and fish which was either breaded or grilled. Soft drinks were included but alcohol was extra.
After lunch, we had about 10mins to take photos with the "Rio Lagartos" sign – which is just around the corner – before getting back on the bus to go home.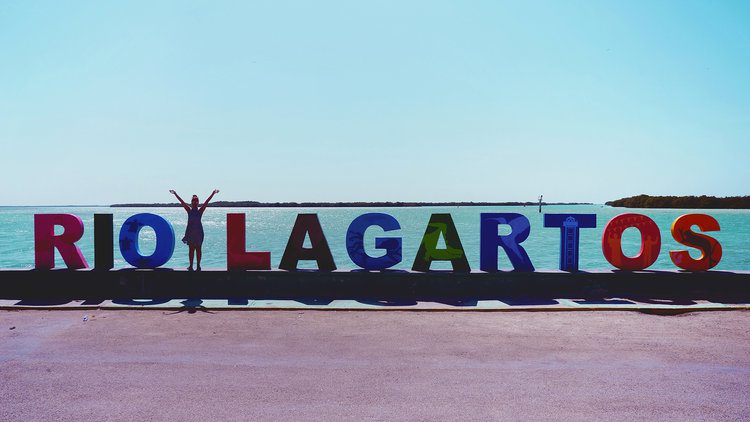 Dos Ojos
Dos Ojos is the cenote entrance to a flooded cave system and is approximately a 1hr 45min drive from the Cancún hotel zone. When you turn into the entrance you have to stop at the ticket office. There are multiple cenotes within these grounds, the most popular one being Dos Ojos where you can either scuba dive through the cave network or simply swim around the entrance. The latter option is 350 pesos per adult, there's only one cenote but it actually has two eyes (hence the Spanish name "Dos Ojos") so there are two pools included in your ticket.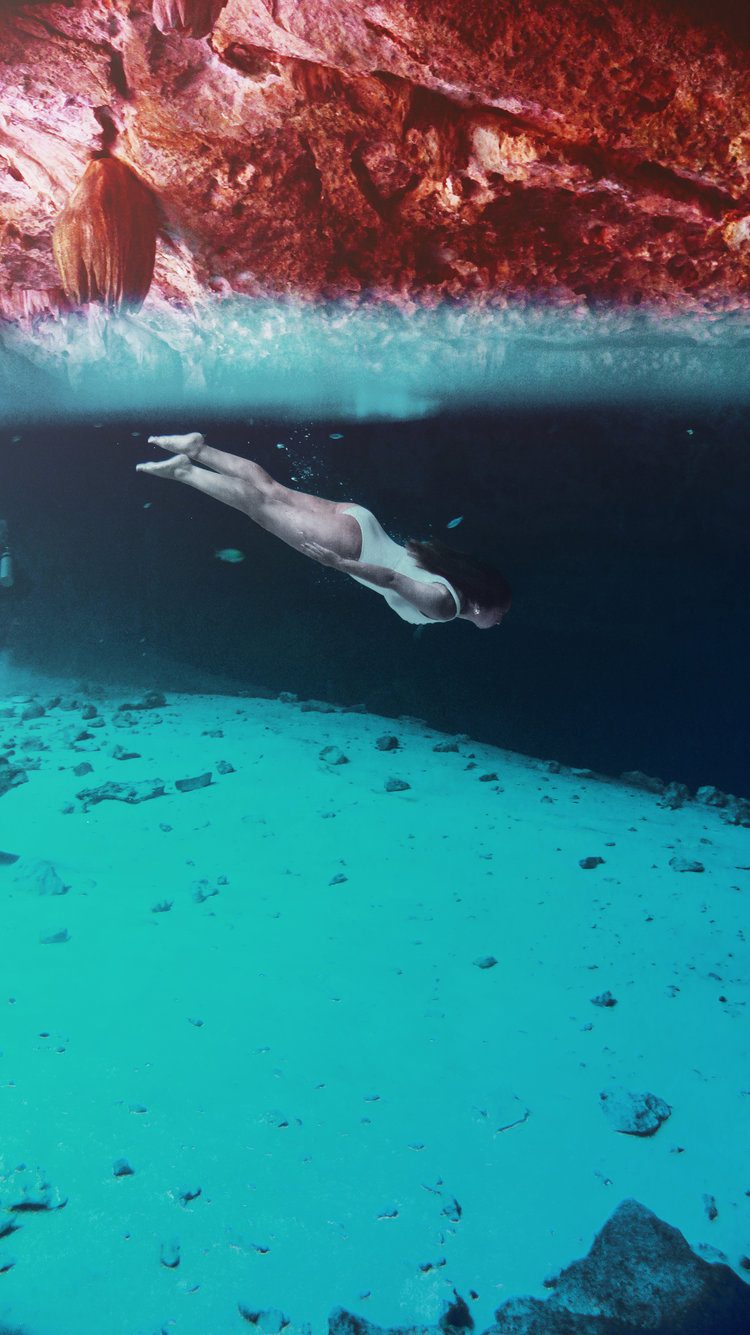 PFH Top Tip: Use the toilets at the ticket office rather than the ones by the cenote. The ticket office toilets are proper ones whereas the cenote ones are seats over a pit.
It's a 2km drive from the ticket office to the cenote car park. Once you are there you can change in one of the two changing rooms but it's easier if you're already in your swimwear. Once you're ready, take your belongings over to the locker room which has life vests hanging out front. You can hire out any extra equipment such as a snorkel or life jacket here. Lockers cost 50 pesos each but they're big enough for two people to share.
PFH top tip: Wear your flip flops for the walk down to the cenote, the path is covered in gravel and trust me you'll be grateful you did. We didn't and it was like walking on a path of Lego bricks, seriously wear them.
Unlike the Samaal cenote, it's clear and for the most part you can stand on the rocks. Though it doesn't have a dramatic drop like others, it is beautiful and much better for taking photos. Originally we wanted to go to Gran Cenotes but after reading that tour buses arrive from 10am, I found Dos Ojos which is only reached by personal or public transport.
Tulum
It's approximately a 2hr drive from the Cancún Hotel Zone or 40mins from Dos Ojos if you want to do it in the same day like we did.
We went to the hotel zone, which unlike Cancún's, is a single skinny road entirely enclosed by a tunnel of palm tree and foliage, one turn right and it's like you've entered the jungle. This part of Tulum has a boho chic vibe; it's full of boutique hotels, shops and restaurants all flaunting that #veganlife. Come with deep pockets though, it's not cheap.
PFH Top Tip: Wear Insect repellent! We realised after a couple of days that there was no mosquito bite risk in Cancún so we stopped wearing repellent. Tulum is very different however and was swarming with them! Within half an hour we each had at least 10 including one on my cheek! Do yourself a favour, wear repellent and bring a remedy such as Germaline, calamine or Lucas Paw Paw for if those little suckers do get you.
Car Rental
We rented our car with Hertz because 1. We have the Gold Plus Five Star loyalty card with them and 2. They had an office close to our hotel at La Isla mall. The minimum rental is 24 hours but if you don't need it for more than a day and don't want to pay parking charges the hours for this Hertz is 7am-10pm. We paid $35 USD (which included basic insurance) for the lowest category car which was an automatic VW Polo but our loyalty scheme does mean we get an upgrade to the next category so we had an automatic VW Jetta instead. 
If you're interested in their Hertz Gold Plus Rewards to earn points with every rental, I've included a link here.
When we returned the car, the closest gas station for filling up was Pemex, located next to McDonalds, which is just 2.9km from the Hertz office.
We were a little apprehensive about driving in Mexico because we had read stories of the Police stopping people and demanding they pay dodgy fines that they wouldn't get a ticket for. I don't know how common this is though because we had no problems driving. If you're worried, the advice we read online for if you do get stopped to pay an illegitimate fine is to say that "I don't have any money but I will drive with you to the Police Station", and apparently they will let you go because they're really just in it for the easy money. Of course this isn't to say they're all corrupt and obviously it won't work if it is a real fine – know the speed limits and drive on the right!
Parking
The majority of beach clubs along the hotel zone offer free parking if you eat there so I recommend doing this.
Matcha Mama
The highly instagram-able vegan café which will have appeared on every blogger's account if they've recently been to Tulum. To be perfectly honest, I have mixed feelings about this place. On the one hand it looks great in pictures, you get a free shot with every order and the food is delicious! However, the service isn't great, the smoothie bowls are overfilled and the place is riddled with ants – which are no doubt attracted to the leaking smoothie bowls. Never mind the fact that you wait ages to sit on the swings only to be asked to move every two minutes so someone can take a picture, despite the fact that you're eating and they haven't ordered anything! 
My advice would be to order your food to takeaway and get your photos whilst you wait, but be mindful of the people that are trying to eat…
What to carry in your bag for excursions in Mexico
Mexico is becoming an increasingly popular destination to travel to – it's the full package: sun, sea, food and culture. I highly recommend going if you can, what I will say though is that Cancún is a very touristy area, as one tour guide said whilst we were there " Cancún is not a true represntation of Mexico. When we're in Cancún, we feel like we're in Miami". If you do go, please try to venture outside of the all-inclusives, there's just so much to see! 
.
If you have a trip planned soon and have any questions please don't hesitate to ask me here. 
Keep an eye out for next week's post where I will be sharing my Cancún packing list.
Aloha, Gabriella