I first came across This is Ground in 2015 when Michael – for anyone who doesn't know he is both my partner in life and travel – begged for a Mod Tablet 2 for his birthday. I filmed him opening it because the pure joy on his face was just short of those videos of kids freaking out over their Christmas presents. I posted it on Instagram and it was reposted by TIG and thus the relationship began. From that point on his Mod came everywhere with us and his photos from around the world were reposted. About a year later they approached him to do some animations of their products and I swear he just about burst with excitement. Fast forward to now and he has a good relationship with the brand and a collection of products about as unhealthy as my handbags.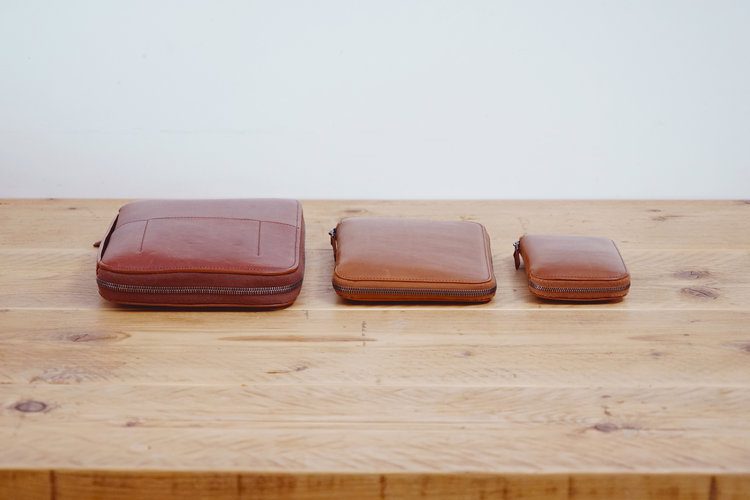 Since launching in 2013, the L.A. based company has become a global phenomenon and has revolutionised the world of luxury leather organisers bringing the need for Filofax diaries into the 21st century (she says whilst acknowledging her still lovingly used Filofax next to her!). They now sell 30+ products that cover technology, toiletries, handbags and jewellery. 
Though they are designed in L.A. the final products are produced in Italy and are made with high quality vegetable-tanned Italian leathers. Despite my Fashion background I was pretty unaware of the processes for colouring leather, it wasn't until my visit to TIG and further research that made me aware of the damaging effects and health risks that come with chemically tanned/coloured leather. The vegetable-tanning process has no health risks and is the most ethical way to produce coloured leather, which I find very admiral that not only does TIG want the best for their customers, but they also have their health in mind. This process also means that the leather is individual, more durable and it ages well. Also because it's such a specialised technique it can only be carried out by experts which means each cut is crafted with the upmost care and attention, which in turn means you are purchasing some of the very best leather when you buy a This is Ground product.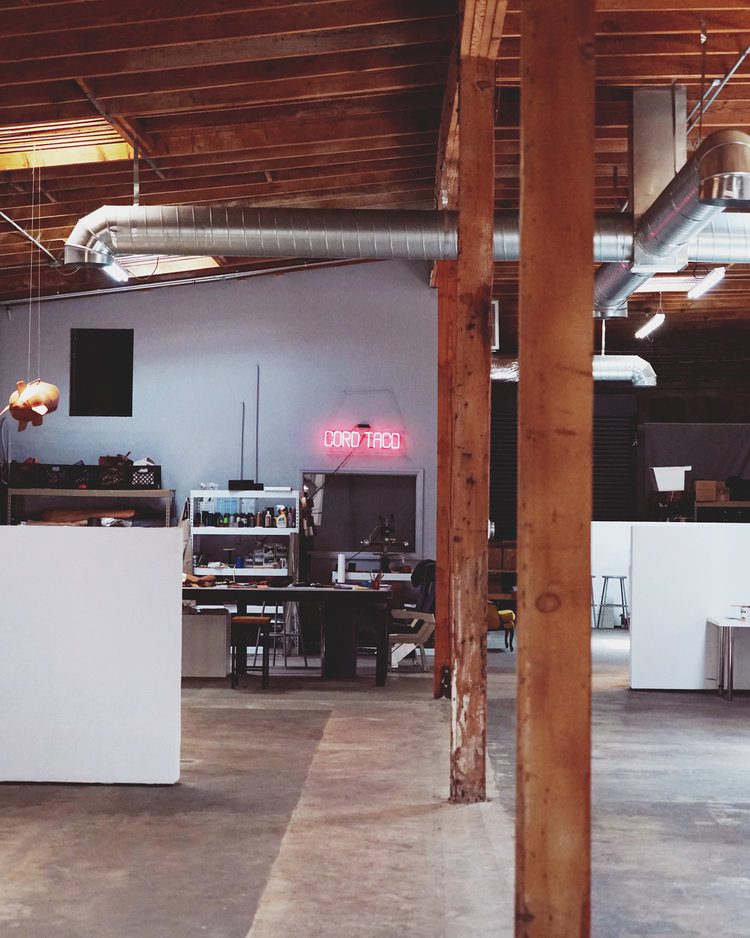 This Is Ground Headquarters, Los Angeles
During our recent trip to L.A. we stopped by to take a look at their showroom and studio which is located at 2449 Hunter Street B, Los Angeles, CA 90021, USA and open to the public by appointment only. You will be able to see and handle all of their current products and purchase whichever one takes your fancy (provided it's in stock).
Inspired by this visit and our usage of their products I decided to share with you both mine and Michael's five favourite TIG products, why they are loved, what we use them for and why we recommend them to any creative individual looking for luxury leather goods to keep you organised.
Cord Taco
Price
£22.44 for a pack of 5.
Usage
To store small cables, wires and headphones, preventing them for getting knotted and tangled up.
Size
3.25' in diameter.
Colours
Currently available in Charcoal and Bomber. 
There is an option to sign up for an email notification for when the Toffee and Mixed colour sets come back in stock.
Features
This crazy simple design of a single circle of leather with a popper closure has rocked the world of cable storage. Don't be discouraged by how wired headphones are being phased out, the taco is still useful for your USB wires and as virtually every piece of technology is charged by those, a pack of 5 will come in very handy. 
On a daily basis I will opt to carry my apple headphones because they're compact. I used to wrap them in a loop and keep them in one of my multiple pouches in my bag, but they would always get knotted and wrapped around everything else in there. Since being given my taco I haven't wasted any time trying to untangle them!
Mod Tablet 4
The photos of Michael's Mod in use are of the Mod Tablet 3. He received it a few years ago so they are no longer produced by TIG but fret not, they have been replaced by the Mod Tablet 4 which I'll be giving specifics on so I'm not enticing you with a product you can't actually purchase anymore.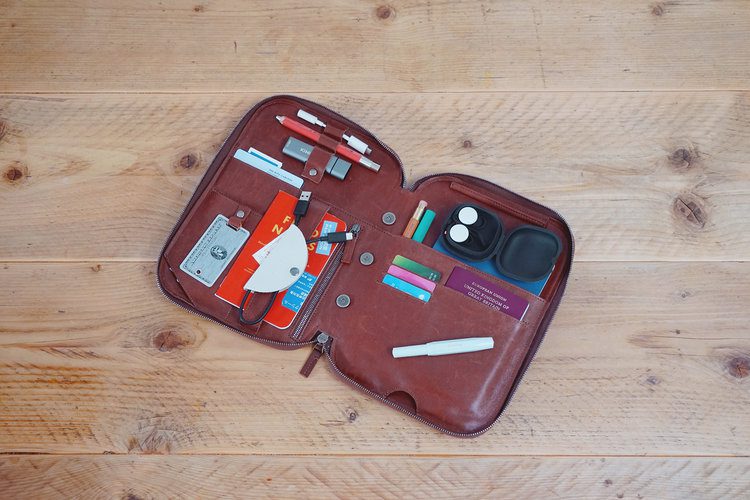 Price
£297.46
Usage
A tablet case with additional storage for your everyday items for when you're on the go.
Size
W 8" x H 11"
Capacity: 88 cubic inches.
(Fits the latest iPad 10.5).
Colours
Cognac, Toffee, Bomber, and Black.
Features
The Mod Tablet 4 has the most storage space and organised sections out of all the products Michael and I collectively own and you'll be able to see from our images just how much you can get in there. It's main use is to carry a tablet when you're on the go but Michael's tablet was too big for it so he used it to carry everything he uses on a daily basis. As you can see from his images, it's beloved and has been taken all around the world with us. I must admit I actually admire how he fills it with so much colour and character no matter where we go. 
A few things have changed between the Mod 3 and 4, mainly the way in which the tablet now slides in from the side rather than the top, and a few smaller differences such as the placement of slots, size and the zip pocket, but in general the same variety of storage options exist. 
There are three card slots which you can fit at least two in each, two larger slots suitable for a phone, passport or notebook, one large pocket designed to fit a tablet, a second large pocket for documents or a notebook, six loops in variable sizes (two of which have a popper for easier release an alternate storage), a zipper pocket which provides extra security for lose change and an external slot that could be used to store your phone for quicker access, a notebook or travel tickets.
"My Mod goes everywhere with me! It's my mobile office while I'm on my travels. What I love about it most is how flexible the space inside it is, I'm constantly rearranging it, changing inserts and switching up what I carry inside it to suit my trip. I also use it as a space to collect things while I'm travelling, I love watching it get filled up with travel ephemera." – Michael Lester, This is Ground addict.
Inserts
With the idea that each person is individual, TIG has produced 15 different inserts ranging in size, colour and functionality so that you can accessorise your Mod to cater to your own specific and creative needs.
If you're sentimental to the core the Memento insert is the one for you, if you have creative fingers the Sketch insert will be right up your alley and if you're an old soul then you will probably appreciate the Hemingway insert – it's a real niche. Of course these aren't all of them and there are so many ways to adapt them to your needs.
Inserts range from £5.41 – £69.54. Click here to see more.
Mod Mini
During my visit to This is Ground's HQ I was gifted the Mod Mini prototype to experiment with and use along my travels. The Mod Mini is their latest release and has proved to be a very popular product. As I don't have a tablet I adapted mine to be a travel document wallet and I have to say it's pretty perfect for carrying all the essentials: passport, boarding pass (if there isn't an option for paperless), bank and loyalty cards and tickets, you can even slip in your phone where I have my passport, plus there's room for a notebook, small headphones, sweets, pens and other bits and bobs.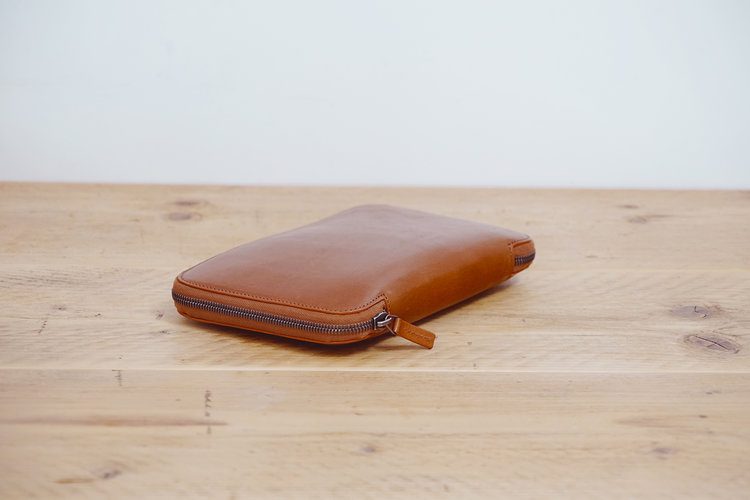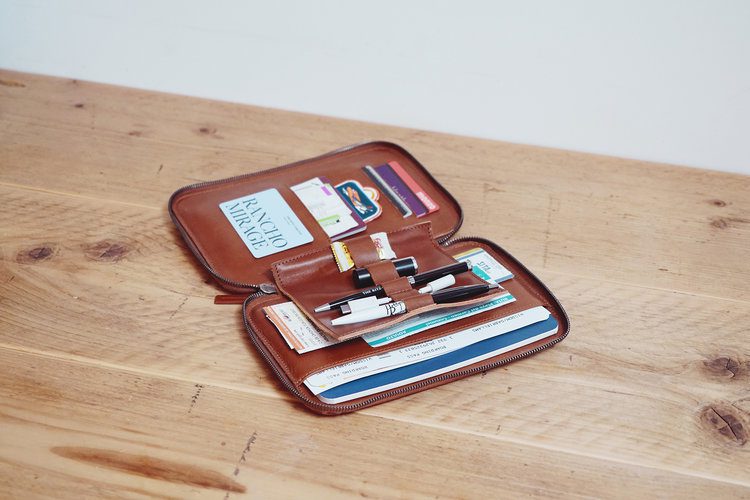 Features
As my Mod Mini is a prototype there are a few differences between it and the final product which has only recently been released. The difference between them is that the final product has a zip pocket running parallel to the tablet slot and it only had one loop fastening with a popper, whereas mine has 3 loops rather than a zip pocket. It goes without saying that the zip pocket is far more useful than the extra loops as the insert that it comes with already has five loops.
I've used my loops to hold pens, a mini lipstick to brighten up my face after long travels and ginger sweets for Michael when his ears pop during flights. It's actually quite surprising what the loops can hold. Keep in mind that as they're leather they will stretch so don't be discouraged if something doesn't slot in straight away. 
Given it's title, it's pretty clear that the Mod Mini is to hold an iPad mini or any similar sized tablets, but as I mentioned I don't have a tablet and have adapted mine to hold travel documents and a few go to items whilst I'm travelling but it could easily be used the same way as Michael uses his Mod Tablet 4 in terms of how directed towards a creative on the go; pencils, pens, notebooks galore etc.
Inserts
Just like the Mod Tablet 3, the Mod Mini can be modified with their smaller inserts such as the Pencil 2 insert or the Express insert. As I have customised as a travel wallet/document holder, the Express insert would be perfect as the zip pocket would be ideal for holding currency.
Stash 2
Price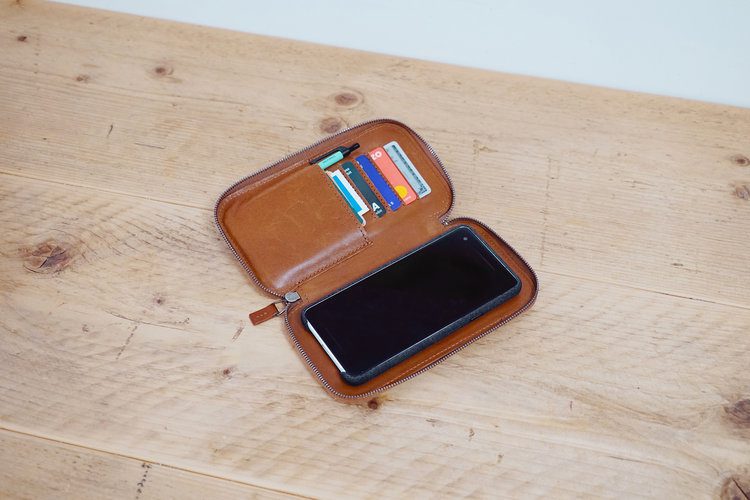 Stash 2 large with Google Pixel 2
£135.44
Usage
Mobile phone holder and wallet.
Size
Regular: W 3.375" x H 6.375
Large: W 3.75 x H 6.75
The Stash 2 comes in Regular and Large. Most current phones are released in two sizes for example Apple's iPhone 8 has a bigger size called the plus and Google's Pixel 2 has a bigger size called XL. So TIG has accounted for these and has two sizes to provide a good fit for alternative screen widths. What's also quite admiral is that unlike the phone itself you don't have to pay more for the larger case, both sizes have the same price tag.
Colours
Heads up everyone, stock is limited on these as they have just been released, but they do offer the option (under the one you want) to receive an email when it gets re-stocked.
Features
It's designed to be held like a book which at first I didn't hugely appreciate until I borrowed Michael's phone and I realised how this design actually alleviates hand cramps whilst you're scrolling. You know what I'm talking about, that burn that comes from trying to stretch your fingers more than humanly capable – even with the accessibility feature on apple I need two hands! My point is, this is super creative seeing as phones only seem to be getting bigger and our hands aren't.
To prevent your phone from slipping out of the Stash, there are magnets concealed within the product and you receive a couple of magnets with your purchase to insert between your phone and case. 
PFH Top Tip: You will need a phone case to be able to use the magnets, I suggest not purchasing a clear one so that you can keep the magnets concealed.
There are four card holder slots which will easily fit at least 2 cards each, so you will able to carry a fair few of your most used cards, and there's a larger slot which is great for holding bank notes, receipts and a pen. 
This product wouldn't work for me as I have a selfie ring on the back of my phone for filming stories for my PFH Ohana (that's you lovely people) but Michael is obsessed with his and literally takes it everywhere when we're on the go. 
As gender boundaries are blurring and society becomes more progressive with how we identify between masculine and feminine, men are being encouraged to carry around (incredibly) helpful accessories to organise and protect their belongings. The Stash is definitely the answer to smartphone wristlet pouches which are marketed towards women. Of course this is not to say it's just for men, it's to highlight the beauty of minimal and functional design.
Ritual Wash Kit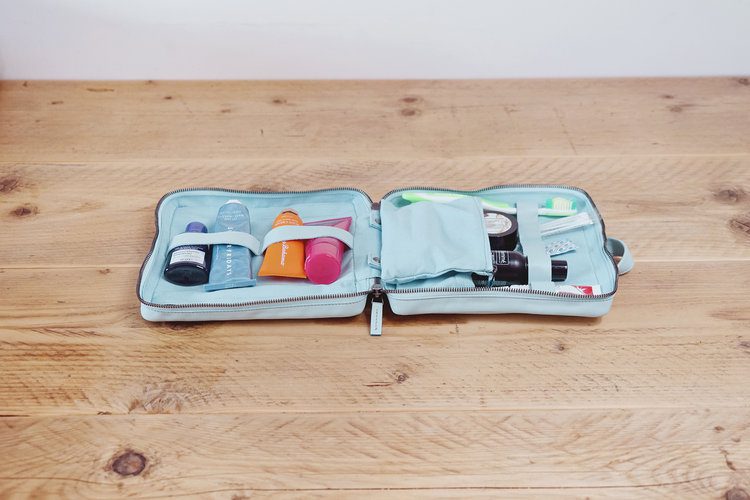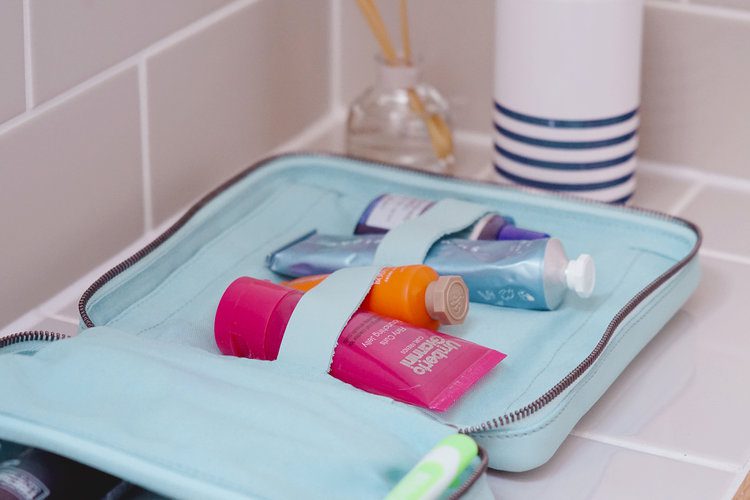 Features
It's designed to lay out flat or to hang from a hook to save surface space. This is honestly so handy when you have multiple wash bags and cosmetic cases. I like to keep surface space clear for my Flat Lay makeup bag so it's so handy that the Ritual Wash Kit hangs up and out of the way.
Leather loops hold items in place both in transit and when it's hanging up, and the elastic pouch can be used to either prevent items from slipping or to hold smaller products. How much you can fit in really depends on the size of the products you use, but it holds a decent amount and will definitely will see you through a weekend trip.
The lower section has a concealed full-size flat pocket that can be accessed by velcro from both sides. Personally I like to keep my face masks and gel eye patches in here because they're flat products, but it can also be used to hold smaller products that are likely to fall out of the elasticated pouch in the top section.
Insert
The Ritual Wash Kit doesn't have the option to purchase inserts but it does come with one. There is a small zip-up fabric pouch that attaches the same way as other inserts, with poppers. This is a great feature because it means you can detach it and slip it into your bag if you want to carry around any items for touch ups throughout your day. Since using it I carry a nail file, lip balm, lipstick, hand cream and tissues in there. The really great thing about this pouch is that it's water-resistant as is the lining of the kit, so you don't need to worry if it gets splashed near the sink.
.
I won't pretend like the price of their items isn't on the higher end, but it's easily justifiable when you consider that these items are hand crafted and made from premium quality leather. Each product has gone through a very lengthy design process to make sure that needs are met and every feature is practical. If you purchase an item from This is Ground, you won't be disappointed by their quality or function.
Just an FYI This is Ground has a sale* on now if you're looking for items with a lower price tag.
Aloha, Gabriella