I've done many road trips over my adult years, but my most recent trip around the West Coast of America has really opened my eyes to how draining and uncomfortable they can be after a while. It all seems good in theory, plotting out routes to get to spectacular destinations. You say to yourself, "it's only four hours away from this, that's nothing in comparison to that, we can do it easily!" but eventually it adds up, especially if traffic gets involved, and before you know it you've spent 10 hours in the car for one hour's worth of sight-seeing. 
It was days like that that made me think about bringing certain items to make the trips more bearable, so with you in mind I've put them all together into a check list so that you can road trip in comfort from now on.
Phone
Have a whole bunch of playlists downloaded for when the radio gets repetitive, along with your route so that you can get offline directions for where you're heading. For a great summer playlist check out PFH California road trip mix tape.
Cables and adapters
If you're using your phone to play music, or you have maps up for directions, the battery is going to drain quickly, not to mention if you're documenting your journey on it too. Most rental cars have a USB port so make sure to bring along your phone charger cable to keep it going on long journeys. If there isn't a USB port you can buy alternative adapters that plug into the cigarette lighter.
Water
Stay hydrated (she says for the one millionth time!). If you're likely to be in the car for a long time you won't want to be drinking warm water, so I recommend you get a thermal bottle. To read more about the water bottle I have and why it's amazing take a look at 7 items to buy to become a more sustainable traveller.
PFH Top Tip: Ask drive-throughs to fill up your water bottle en route. 
Reusable coffee cup
If you've read my blog post from the beginning of this month, 7 items to buy to become a more sustainable traveller, you'll know exactly why it's so important to stop or cut down on single use plastics. It's not unreasonable to expect a few coffee stops on long journeys so just think of how much plastic/paper you've saved by using your own coffee cup!
Snacks
Try to be prepared with food so you can pack up some healthy options. You'll find it difficult to leave your car to eat when it's full of your luggage which makes drive-throughs and gas station snacks your best option. Unfortunately they're not synonymous with healthy options so I urge you to be as prepared as possible.
PFH Top Tip: Pick up a cheap cool bag to preserve sandwiches etc.
Heartburn relief
Gaviscon, Tums, Rennies – take your pick, trust me you're going to need them if you succumb to those drive-throughs.
Travel sickness preventatives
Neither Michael nor I suffer from travel sickness during long car journeys but my brother did when we were young so I am fully aware of the consequences of not being prepared. If you or anyone partaking on your road trip does suffer, you'll want to bring the medication they usually take for it, Sea Bands (for a non medicated alternative) and paper bags just in case the worst happens – to this day I still can't get over my brother hurling in my beloved Burt and Ernie backpack.
Toilet roll
Grab a toilet roll from your hotel room, you never know how well equipped gas station toilets will be so take some in with you. Plus it's handy to mop up any accidental spills in the car.
Hand sanitiser
Speaking of ill-equipped toilets this will keep the situation sanitary plus you can clean your hands before eating.
Tissues
It's always a good idea to keep tissues in the car not just for blowing your nose but to clean up any unfortunate spills.
Breath mints
If you're stuck in the car for a long time it's a good idea to have something available for freshening your breath, especially if you're not driving and are likely to fall asleep it's a good idea to spare everyone else from your morning breath. I encourage mints over gum here because gum has a higher choking risk, which isn't ideal if you're driving. 
Travel pillow
On the topic of sleep, if you are the passenger or are taking it in turns to drive, it might be ideal to bring a travel pillow so your neck is supported if you need a nap. To read more about travel pillows check out Travel pillows – who you should be sleeping with.
Sun cream
You might be thinking "what is she talking about, how can I can burn inside the car?!" I know it sounds a little crazy at first but humour me for a moment. The sun can still get to you through the windows and unlike when you're out and about, you can't escape it in the car once it's on your side. Studies show that commercial vehicle drivers have worse sun damage on the right side of their face (or left, depending on which country they drive in) from being exposed to the sun whilst driving. To prevent sun damage and any unwanted tan lines make sure to frequently top up your suncream.
Sunglasses
To save you from squinting on bright days but also to help you see better when the sun is low in the sky and your visor is too high to block it out. I always keep at least two on me because Michael is terrible for leaving his somewhere unreachable. Of course I have my fun with his forgetfulness and make him wear the novelty ones!
Towel
This really depends on where you're going. If it's somewhere hot or where it's likely to rain/snow I suggest keeping a towel to hand to lay over your seat to soak up any excess moisture. It's not a pretty thought I know, but driving on a hot day can be a sweaty ordeal, especially if the sun is on the driver's side. A towel will prevent extra discomfort and also protects the seat. I suggest a microfibre towel because a) they are compact and lightweight which is perfect for travel and b) the fabric is super absorbent and quick-dry. I got mine from Mountain Warehouse.
Change
Keep a decent amount of change in the car (out of sight to avoid break-ins) for parking and toll fees.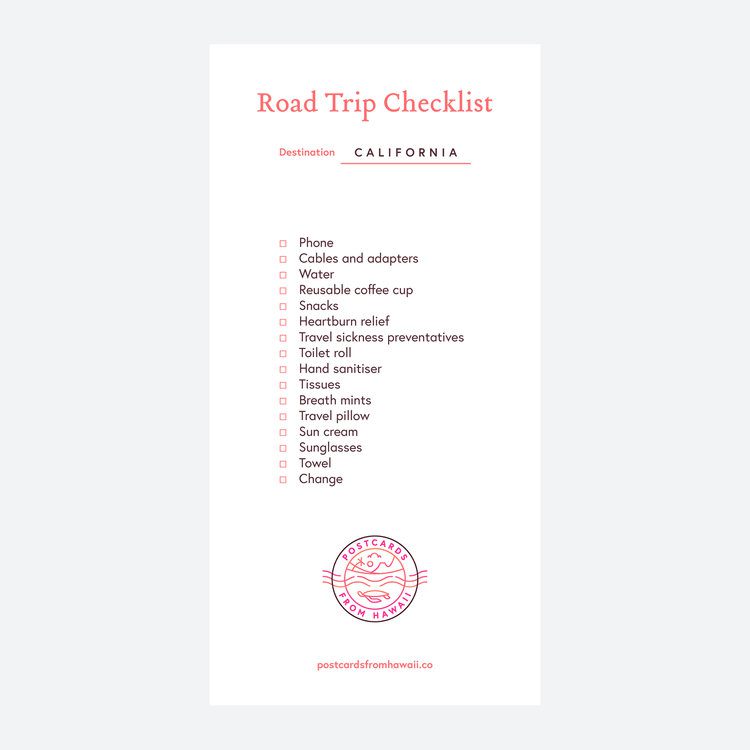 .
I hope this checklist proves helpful for any road trips you have coming up. It might seem like a lot to take at first glance but (depending on how many snacks you pack) it will all fit into one bag so it's not really inconvenient, and trust me it will make those long car journeys a lot more enjoyable/bearable. 
For inspiration on where you can road trip all around the world, take a look at Your Parking Space's article The Best Destinations For A Road Trip: Expert Round-up. You might recognise number 22!
.
Aloha, Gabriella