Rio de Janeiro is one of the most culturally immersive countries I have ever visited. It is also one of my favourite places to travel to and I would go back in a heartbeat. You might be thinking, "But Gabriella, I've heard it's dangerous." Well like all places that have wealth and poverty side by side, there will be more trouble than if that wasn't the case, but that doesn't mean you're going to be at the epicentre of it! Of the two times I have been to Rio, I have never felt scared, at risk or uncomfortable. No matter where you travel to, you must always be conscious of your surroundings, don't strike somewhere off you travel bucket list because you have heard other people's stories, you must make your own.
In 2016 we went on a round the world trip that ended in Rio. We only went there for 3 nights because we were scared to stay longer. We had been told awful stories and everyone warned us not to go, plus the media was have a frenzy over stories of the Olympic Games being too dangerous. In those three days we never left Copacabana or Ipanema and boy did we miss out! We had a great time and never felt at endangered. As much as we loved Rio, the feeling that we had missed out on something magical by not exploring further was overwhelming. So when we returned October 2019 we decided that we would do everything we could fit in, from indulging on street food to getting up close and personal with Christ the Redeemer, and I couldn't be happier we did. Now to make plans to return for Carnival!…
PFH Fun Fact: Rio de Janeiro means River of January, it got its name because the city was first colonised by the Portuguese on 1st January 1502 and became the colonial capital of Brazil until it was moved to the city of Brasília in 1960.
With that said, hopefully you mind is at ease about visiting and I we can move on to the good stuff, I know most of you are here just to look at the pictures for Instagram inspiration anyway! So, here are 8 of the best things to do in Rio de Janeiro, in my opinion: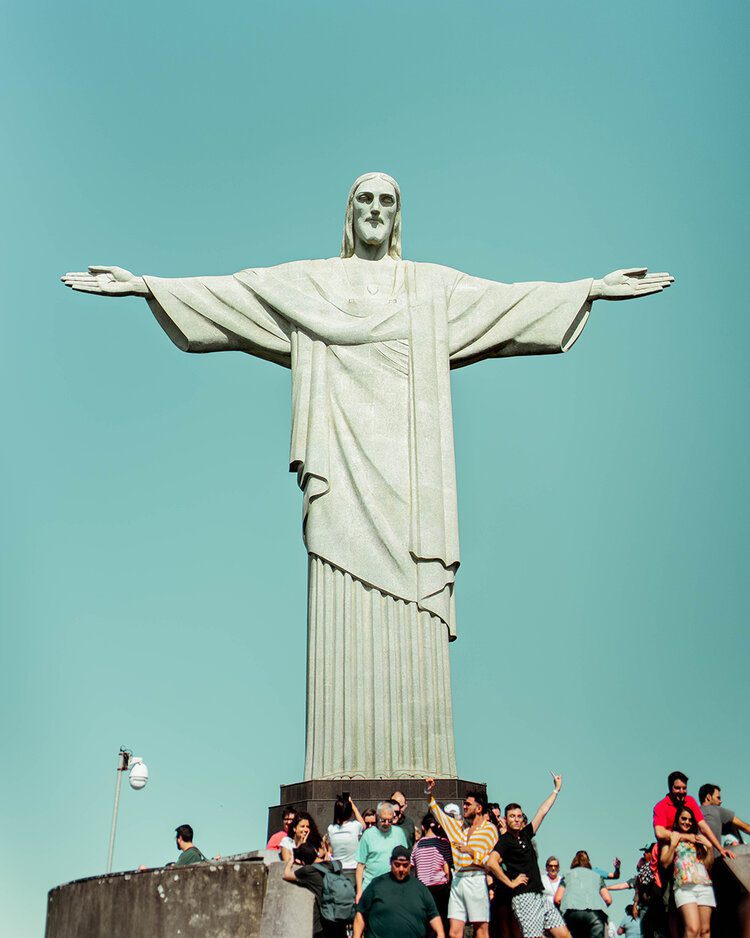 Standing tall at 98 metres (not including the pedestal which is 8 metres high) Cristo Redentor, or Christ the Redeemer in English is one of the most iconic landmarks in the world. He stands atop the peak of Corcovado Mountain some 700 metres up looking down on the coast of Rio de Janeiro. 
Construction started in 1922 and ended in 1931 and was created by Paul Landowski, built by Heitor da Silva Costa and Alb art Caquot and Gheorge Leonida sculpted the face.
There are two ways to get up to the viewing platform and they are to drive up to the car park located in the Tijuca Forest where you can take a mini bus up to the top or you can get a train from the bottom of Corcovado Mountain in Cosme Velho. The latter is the best option because the train takes you all the way up whereas even if you arrived to the minibus early, it won't head up until it's full. Plus the train is electric so it's the most responsible option.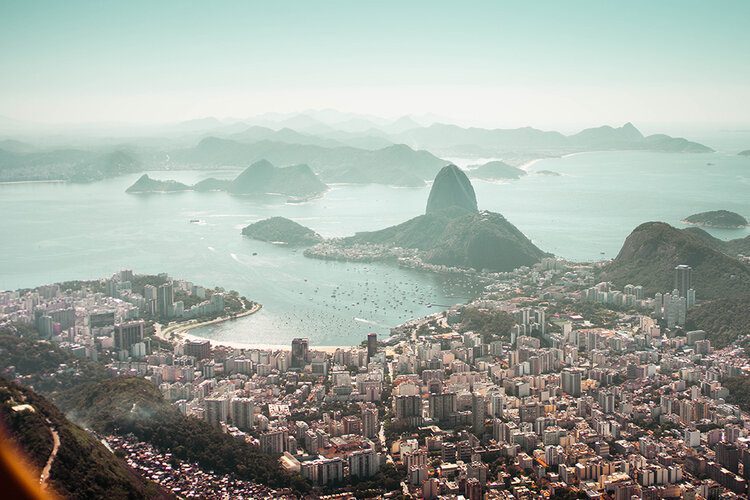 The train winds up through Tijuca Forest and every now and then the forest opens out to reveal spectacular views of the city.
PFH Fun Fact: Cristo Redentor is listed as one of the new 7 wonders of the world.
Price 
The following ticket costs include the train and admission to Christ the Redeemer.
R$82 per adult in the high season.
R$67 per adult in the low season.
R$26 per adult aged 60 years and over.
R$52 per child aged 5-11 years old.
Children aged 4 years and below have free entrance. 
To find out when the high and low season are and to buy your tickets click here.
Open times
Every day from 8am – 7pm.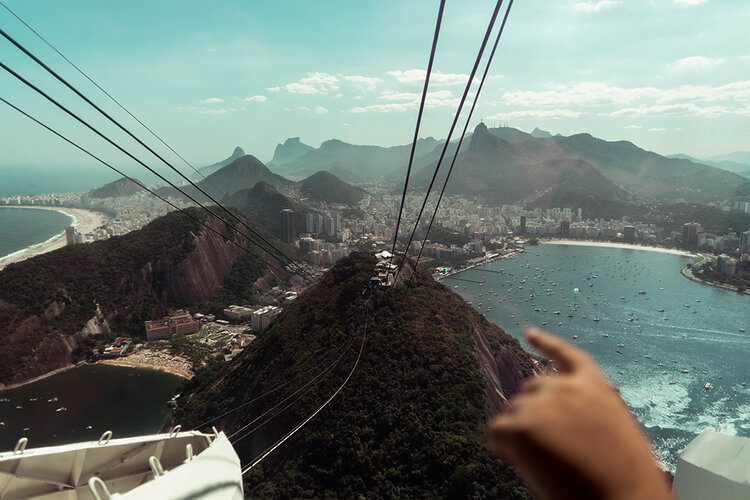 Translated into English, Sugar Loaf Mountain got its name from the Portuguese settlers who would use the mountain as a point of reference when entering the port. The mountain resembled the old sugar loaves of their time and was hence forth named Pão de Açúcar.
To reach the 396m high summit of Sugar Loaf Mountain you need to take two cable cars up, stopping at the top of Morro da Urca to transfer over. At the top of Morro da Urca there is a small shopping centre that even has a Havaianas store, plus a few cafés.
From the top of Sugar Loaf Mountain you will have 360° views of the city of Rio de Janeiro including Christ the Redeemer, Guanabara Bay and Copacabana beach.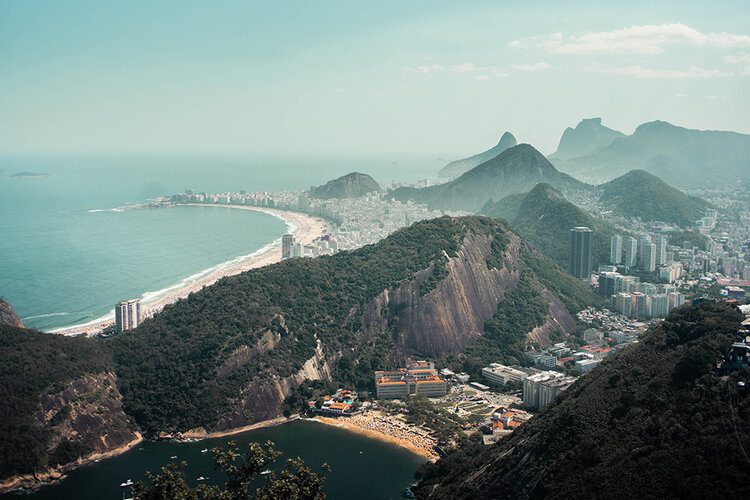 Pop-culture reference: the cable cars up to Pão de Açúcar feature in Moonraker (1979) in quite possibly one of the most ridiculous action scenes ever, where James Bond for some incomprehensible reason thinks that climbing out on top of the cable car as it swings some 300m above ground is the best option when their cable car breaks down…
PFH Fun Fact: Both the first and second generation cable cars are on display including the one which Bond was messing about on in Moonraker (1979).
Heads up, one of the leading supermarkets in Rio is also called Pão de Açúcar so don't get confused!
Price
Buy your tickets online for the following 10% discount prices.
R$104.40 per adult aged 21 – 60 years old.
$52.20 per adult aged over 60 years old.
R$52.20 per child and young adult aged 6 – 21 years old.
Children aged 5 years and below have free entrance.
All Brazilian and foreign students will receive half price tickets at $52.20 upon presentation of their student ID.
Should the weather be less than desirable you will have a window of four days to use your ticket from the date it was booked for.
Open times
Open daily from 8am – 9pm.
The ticket booth on the ground is open 8am – 7.50pm and the ticket booth on Morro da Urca is open 8.30am – 8.30pm.
The first trip up to Morro da Urca leaves at 8.10am and the last one up leaves at 8pm.
The first trip up to Sugar Loaf from Morro da Urca leaves at 8.20am and the last one leaves at 8.20pm.
The last trip down to Morro da Urca from Sugar Loaf leaves at 8.40pm.
The last trip down the ground from Morro da Urca leaves at 9pm.
Departures are every 20 minutes or when full capacity is reached (65 passengers).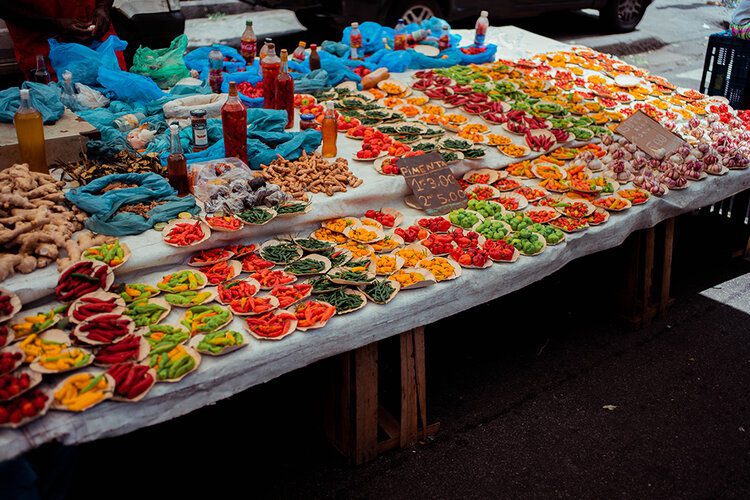 Next to Mauritius, Brazil has some of the best street food I have ever eaten, and the best place to try it all in Rio de Janeiro is at the organic farmers market in Glória. It is only open for half a day on Sundays so it would be wise to head here first before continuing on your day, see number 4 for a recommendation on where to go after the farmers market.
Whether you're vegan, dairy free, gluten free or none of the aforementioned, there is something for you. With that said, if you have life-threatening allergies, I would advise you don't take the risk.
To find out exactly what you should be eating here take a look at my best Brazilian street food guide. It features savoury and sweet foods and both alcohol and non-alcoholic drinks.
The market is cash only so make sure you get some out before you go. There are a couple of banks located along the shops opposite the market on R. da Glória.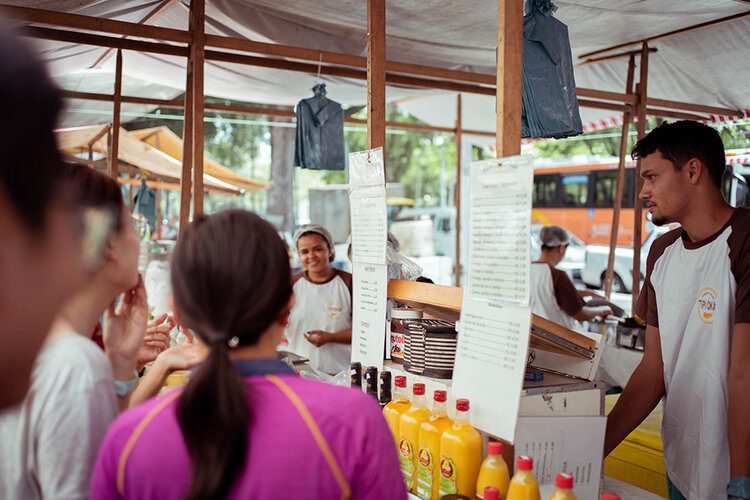 Price
Free
Open times
Sunday: 8am – 2pm.
Feira Livre da Glória is only open on Sundays.
4. Feira Hippie de Ipanema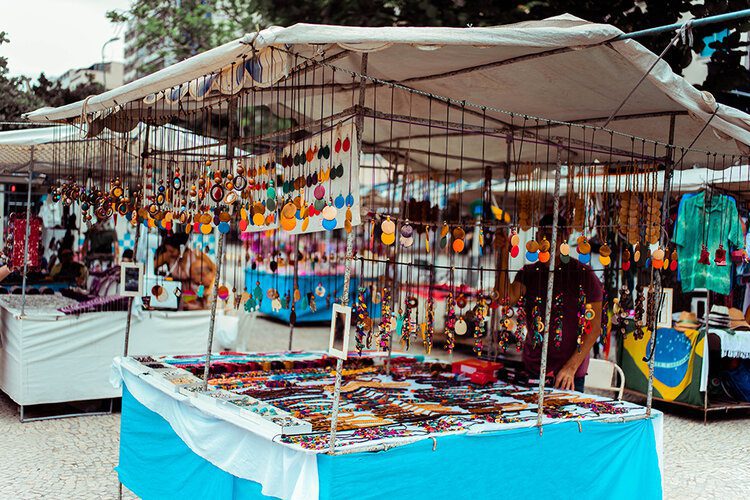 Feira Hippie de Ipanema is the flea market in Ipanema. Directly translated it means Ipanema hippie fair.
Located in the park, Praça General Osório, it is the best open air market around for souvenirs and handmade local goods. The market is made up of three loops of stalls encompassing the fountain in the centre of the park with the local artists gathered in the centre.
This is a craft market so you can expect handmade bracelets, wood carvings, paintings, bags, clothing, sculptures and more.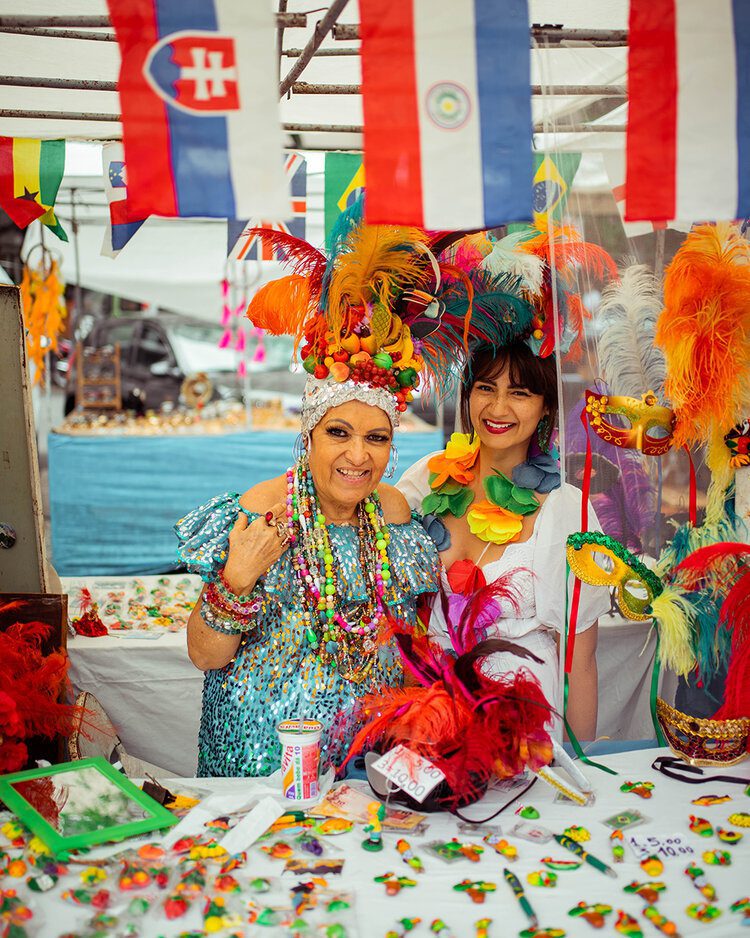 This wonderful lady sells magnets and headpieces inspired by carnival. She is so sweet and loves her photo being taken. You must visit her, if not to take home your very own headpiece but to play dress up with her.
The market is less than a 10 minute walk from Ipanema beach and surrounded by eateries. I would suggest visiting Feira Orgânica in Glória first so that you get the freshest food, and then getting an Uber or using the metro to get to Feira Hippie de Ipanema.
Feira Hippie de Ipanema is cash only so come prepared. You can get money out of the ATM in Bradesco on R. Visc. de Pirajá. Also bring some reusable shopping bags to prevent using plastic ones.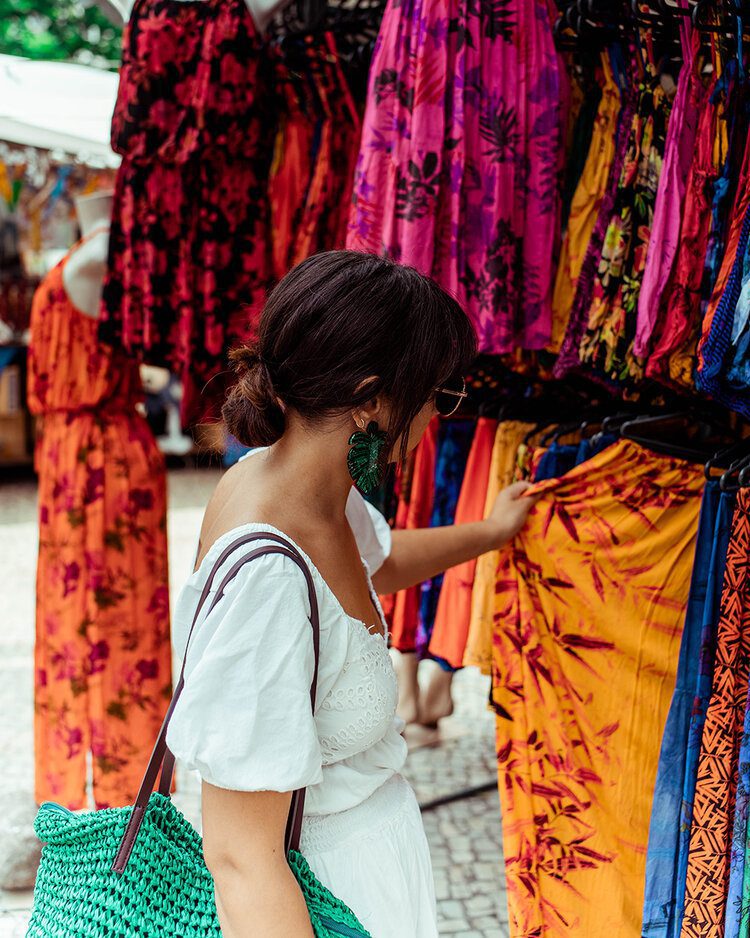 Price
Free
Open times
Sunday: 7am – 7pm.
Feira Hippie de Ipanema is only open on Sundays, however it has been open every Sunday since 1968, no matter the weather.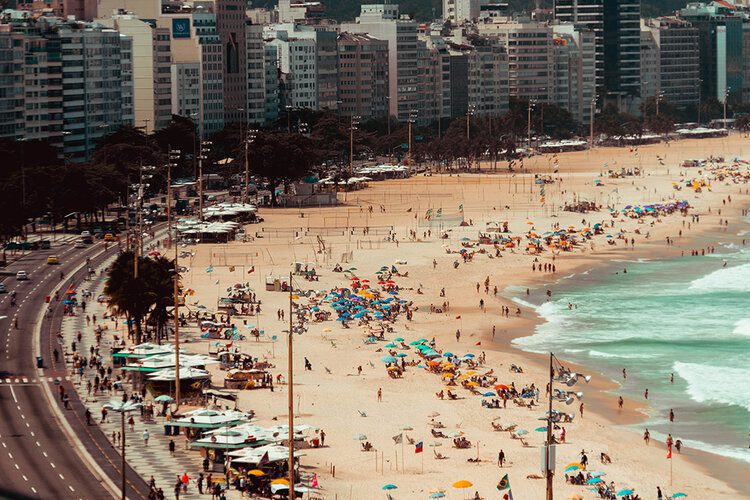 With its 4km/2.5miles of white sand, mountainous backdrops encompassing the bay, colourful characters and endless vendors selling amazing street food and its iconic Portuguese tiled promenade, it's no wonder that Copacabana Beach is one of the most famous beaches in the world.
Every year Copacabana Beach hosts millions to watch Rio's New Year's Eve fireworks, but on every other day of the year it hosts what feels like the same amount of people as they catch rays in the tiniest of swimsuits (all genders), kids football/soccer and frolic in the waves.
Most of the high end hotels along the beach have their own staffed spots on the beach where you use their deckchairs and parasols and order from your hotel's bar menu which will be brought out to you. If your hotel doesn't have this option then you can rent deck chairs for the day or just lay out on your own towel.
There will be multiple people coming around selling their wares from bikinis and sunglasses to caipirinhas and shrimp. If nothing takes your fancy they will leave you alone, don't be alarmed by them. Their food will be a lot cheaper than your hotels so if you're hungry they're not the worst choice, but maybe avoid the shrimp.
It will be crowded, that's a given, unless you get there just after sunrise, but it's worth it just so you can experience the vibrancy and passion for life.
PFH Fun Fact: Copacabana Beach was one of the four locations used to host the 2016 Rio Olympic games.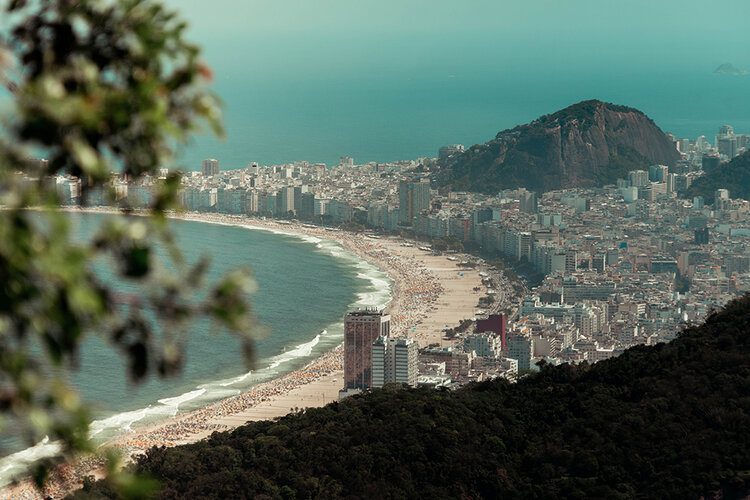 PFH Top Tip: Unfortunately Brazil hasn't cracked down on their use of single plastics so you will see a lot of waste on the beach. There are designated cleaners but unfortunately they don't get everything, do your part to help protect our oceans from the heaps of plastic cups and straws left behind every day and do a little beach clean when you visit. It won't take long and you can incorporate it into a stroll along the beach. Thank you.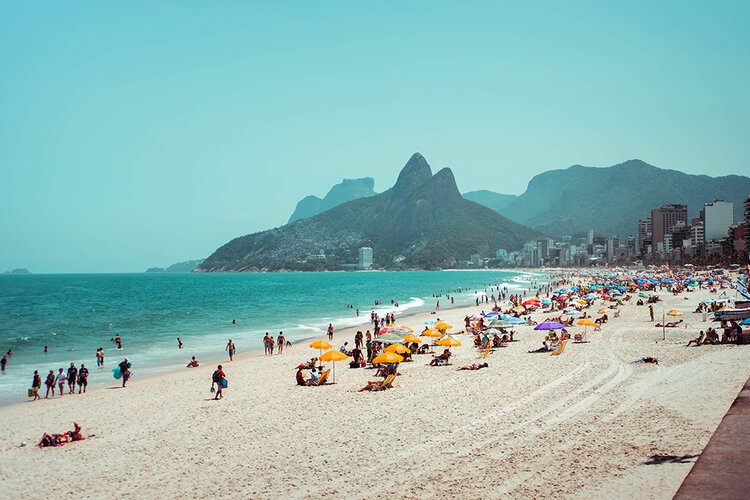 It might be half the size of Copacabana at 2km/1.2miles but it's by no means any less significant. Ipanema Beach became famous thanks to the song written by Antônio Carlos Jobim and Vinícius de Moraes, "Garota de Ipanema" or as known in English "The Girl from Ipanema" – you can listen to it along with many other great Brazilian songs that Michael compiled into the ultimate Rio de Janeiro inspired playlist here. You can find a statue of Antônio Carlos Jobim at the eastern end of the Portuguese tiled promenade which was erected as a tribute in honour of the 30th anniversary of his death.
Ipanema Beach is very active, you'll see many surfers and kite-surfers out at sea and people playing football/soccer and volleyball in the sand. Plus every Sunday, the road closest to the beach is closed to vehicles so that the  local residents and tourists can ride their bikes, skate and walk free on the open road. This also happens along Copacabana beach.
Ipanema is also known to be one of the world's best LGBT hangouts!
Just like Copacabana, most hotels offer their own sun beds, or you can rent one or lay out your own towel.
7. Escadaria Selarón
Escadaria Selarón is a staircase located in both the Lapa and Santa Teresa neighbourhoods, that became a functioning art installation in 1990 when Chilean artist Jorge Selarón started covering them in tiles. He sourced the tiles from over 60 countries around the world and he worked on it consistently up until his death in 2013.
Selarón claimed it was his tribute to Brazil which is why they are made up of the colours of Brazil: yellow, blue and green.
215 steps lead up from  R. Joaquim Silva to Ladeira de Santa Teresa, and together they are covered in over 2000 tiles. The tiles are mostly coloured but many feature designs, patterns and even pop-culture references such as The Simpsons.
Escadaria Selarón gets very busy during the day so to see it at its best, head there for 8am to avoid the crowds. To do this, I suggest getting an Uber from your hotel.
If you're taking photos, start at the bottom where its says "Escadaria Selarón, Rio de Janeiro" because when people start arriving, with them forms a queue to take photos here. The best photo spot on the staircase is towards the top where it splits and there is a big Brazilian flag mosaic. If you do visit early, keep in mind that this is a residential area so try to be respectfully quiet.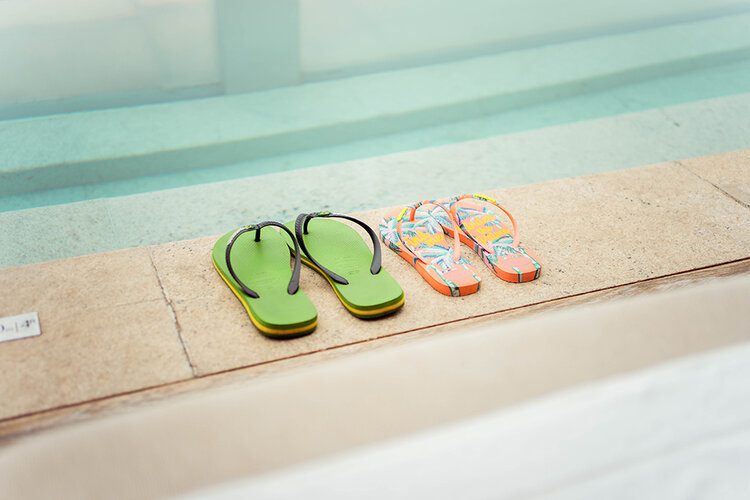 So this one is the odd one out, you're right. Everything on here is an experience from eating to visiting landmarks but how could I leave out shopping for a pair of the most iconic flip-flops in the world in the country they originated in?
There are Havaianas stores located ALL OVER Rio, like I mentioned earlier, there's even one located at the top of the first cable car on the way up to Sugar Loaf Mountain.
You won't find a better selection of flip-flops than in a Havaianas store. There's glittery, plain, kids, adults, skinny, wide, patterned and you can get them in just about every colour under the rainbow. The prints even vary from their own colourful designs to branded designs from the likes of Disney. What's better is the price is insanely good! I picked up a pair of these for my friend's little girl for just £4 as opposed to the £18 they're selling for in the UK. The price goes up depending on the design you go for but they are significantly cheaper than the UK and US and a great idea for gifts to take back home.
Open
The Havaianas stores in Copacabana are open from 9am – 8pm on weekdays and 9am – 6pm on weekends.
There you have it, 8 of the best things to do in Rio de Janeiro that covers shopping, eating and visiting the most iconic landmarks in the city which just so happen to offer incredible views. When visiting Rio be sensible but please do it with an open heart. These are all popular tourist destinations so you won't be alone. They are all safe to visit, provided you're not hanging around in the middle of the night. When going to places that have a bad reputation for safety, please just be smart. Here are my tips for travelling somewhere you're unsure of:
Be aware of your surroundings

If you're going somewhere less affluent, don't flash around expensive items

Don't make it obvious when you're lost or looking at a map
If you want to learn more about Brazil and haven't already, take a look at my Best Brazilian street food guide and my PFH Rio de Janeiro mix tape playlist.
Aloha, Gabriella
.
Disclaimer: All the ticket prices were correct at the time this blog post was published.