This year we decided to make more trips to Europe. We realised that most of our trips are to far-flung places and that we are missing a lot of what is right under our noses (well, and a channel away). So on the hunt for cheap flights, the Algarve Coast in Portugal came up with budget airline easyJet.
Our trip was only five days (though it was actually four because our arriving flight was very late). We wanted long enough to enjoy Portugal and nip over to Spain while keeping it short and cost-effective. In this blog post I have listed what we did each day and then gone into detail with certain activities, sharing tips, costs, opening times etc. I should note here though that the Algarve, Lagos in particular, is known to be a party destination and a very popular location for British summer holidays. We noticed that where we stayed, despite it being a small town away from Lagos, lacked Portugal's cultural identity and was instead geared up for family holidays and British tourism. For example there were very few shops and they were all packed with plastic beach toys, and the majority of restaurants boasted a large variety of pizza, pasta and sandwiches: ideal for family holidays on a budget.
With that said, the Algarve is incredibly beautiful with its hidden beaches and huge caves and rock formations. The weather is beautiful and the sea is all shades of turquoise. My itinerary mostly covers exploring the beautiful beaches and a day in Seville, Spain, rather than bar recommendations, so if that's what you're looking for, you've come to the right place!
Day 1
Park at Luton long term car park 
Flight from Luton to Faro
Pick up rental car from Avis
Check into hotel: The Prime Energize, Monte Gordo
Day 2
Praia do Camilo
Ponta da Piedade
Rooftop lunch at The Prime Energize
Praia de Monte Gordo
Dinner at Fuel
Day 3
Drive to Seville
Park at Puerta de Jerez
Setas de Seville
Plaza de España
Sangria break 
Reales Alcázares de Sevilla
Souvenir shopping
Dinner at Osaka
Day 4
Breakfast at hotel
Morning by the rooftop pool
Praia de Monte Gordo
Dinner at Osaka
Day 5
Check out of hotel
Praia dos Estudantes
Praia de Benagil
Kayak to Benagil Caves and along the coastline
Praia do Camilo
Ice cream from O Camilo
Lagos
Souvenir shopping
Pasteis de nata from Padaria Central
Return to hotel to shower and pick up luggage
Return rental car to Avis
Flight from Faro to Luton
Luton long term car park
I have only flown from Luton a handful of times, and this is the first time I have parked in the long term car park. Though I believe you should try something more than once before you knock it, I have to say I do not recommend parking in Luton's long term car park. The buses are small and come few and far between so they fill up quickly. Imagine the tube at rush hour. 
On the way back we waited at the front of the queue for the bus back to the car park for 45mins. At 1.30am when the bus eventually arrived, I had counted 60 people in the queue behind us. Not everyone got on, and goodness knows how long they had to wait.
I understand that our flight was delayed and that there wouldn't be a reason to have as many buses at that time as you would in the afternoon, but a 45 minute wait that should have been 20mins is too much. Their buses need to be more regular. My advice is to book an airport car park where the pick up time runs more regularly than 20mins.
Rental car
We chose to rent a car with Avis because we have a loyalty membership with them. We rented the lowest category to keep the cost down which got us a Toyota Aygo at £95.13 for four days, which isn't cheap, but it is necessary if you want to explore more of the coast.
Though there were many tolls along coast and over to Seville, they were cheap so with all of our trips out in the car our toll bill came to just €8.26. They are electronic, so you don't have to worry about having cash on you, just check with your rental company how they expect you to pay for them so you know in advance.
We only had to fill up the tank twice before returning it which cost just €30 each time. There were plenty of petrol/gas stations on the way to the airport.
The Prime Energize, Monte Gordo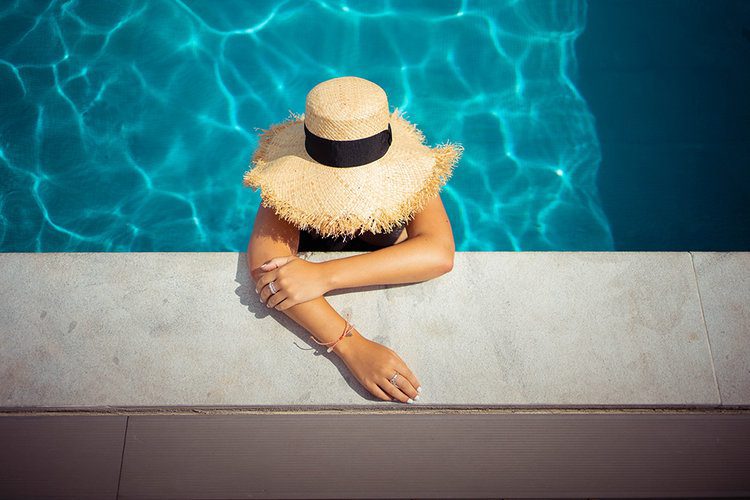 The Prime Energize hotel in Monte Gordo is a health-conscious hotel located just seven minutes from the beach by foot. 
There is a rooftop pool with a bar and restaurant, a spa pool, a gym, stand alone restaurant and the parking is free.
We paid £418.60 for four nights which included an extensive breakfast buffet. Breakfast ran from 7.30am – 10am but if your plans for the day involved an early start you could order a breakfast box which would be ready for you at the front desk before you leave. Heads up, you must order your breakfast box before 8pm the day before.
PFH Top Tip: If you have a late flight, pick up dinner either at the airport or somewhere close to the airport as most of the restaurants will be closed and unfortunately, our hotel did not offer late night room service.
One of the best things about The Prime Energize is that you can use their spa to freshen up before your flight should you have a later one. They have two private showers with complimentary use of toiletries (which are refillable and not little single use plastic minis) and towels, which is ideal for a late flight – the cheapest flights in and out of Portugal are typically the very late ones.
As for their restaurant, Fuel, scroll down to read more.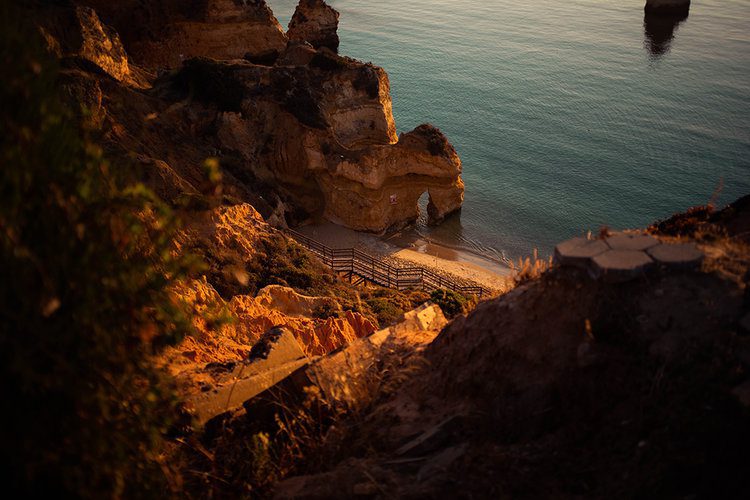 Praia do Camilo was my favourite beach to visit in Portugal. We went for sunrise on our first morning and returned in the afternoon on our last day after we rented kayaks at Benagil beach. 
Sunrise at Praia do Camilo was amazing! There were only two other people on the beach for the hour we were there, it was very peaceful.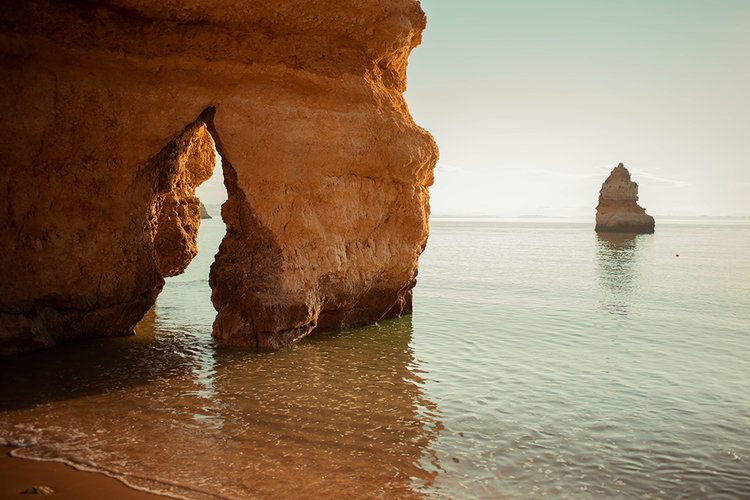 The second time we went to Praia do Camilo was for lunch at the clifftop restaurant O Camilo, but unfortunately we didn't know that you had to have a reservation due to its popularity, so instead we bought ice creams from the little shop attached and went for a walk.
The clifftops at Praia do Camilo offer incredible views of the coast, but it is unclear as to whether it's an official footpath or not. Along the main road, left of the beach entrance, there is a space between the fence to walk through to the path. The path is clear and full of people walking it so it seems like it's an ok thing to do, but the gap in the fence doesn't look official. So I can only say proceed at your own caution. 
Parking at Praia do Camilo is free but will become more and more limited the later you arrive. The first time we went, there were only three other vehicles; both of the car parks were empty and so was the road leading to them. The second time we visited the car parks were full, the road leading down was lined with cars and the top road was also lined with cars for as far as the eyes could see. With that said, the beach was significantly packed the second time around too. You may notice that we didn't stay in many destinations for long, but it's because they get so busy, so we opted to do our sunbathing at Praia de Monte Gordo (see below) because it was close to our hotel and we didn't have to fight for space.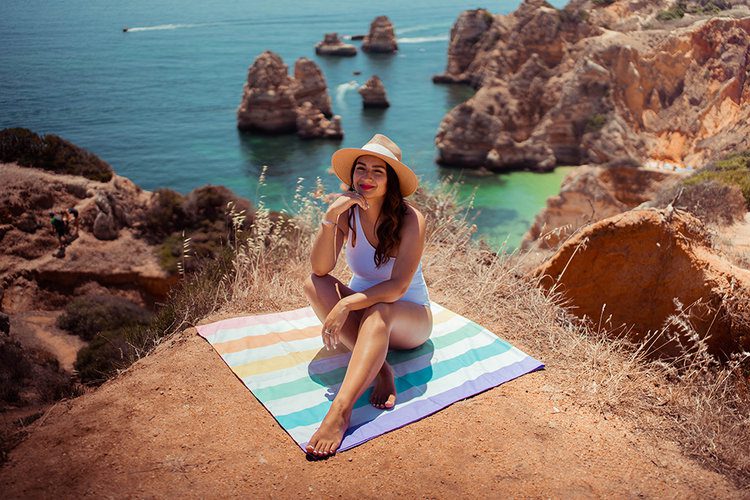 Ponta da Piedade
Ponta da Piedade has one the most beautiful rock formations along the coast. Though it doesn't have a beach that you can spend the day at, it is worth a visit just to walk down the stone steps to admire the views. We arrived at 8am and there were only a few other people but when we left an hour later, a few more had started to arrive.
Please be careful, the stone steps are worn and can be very slippery, so watch your footing.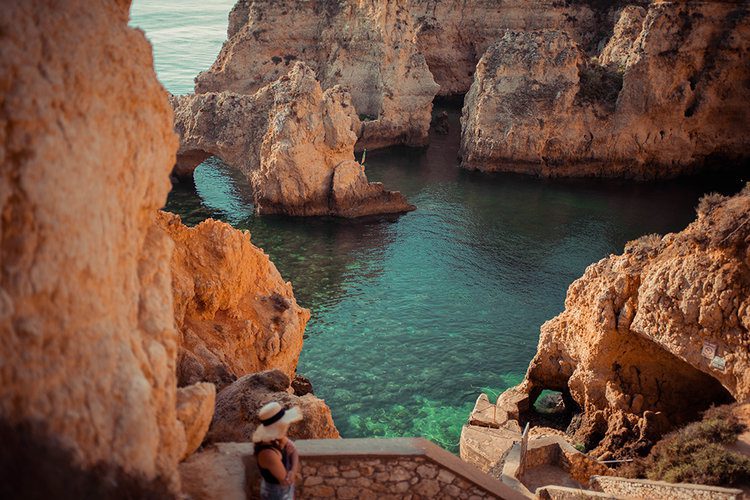 Praia de Monte Gordo
Monte Gordo beach was only a 7min walk from The Prime Energize hotel. It's an ideal beach for a holiday because its golden sand stretches out along the coast for miles, it's wide and the waters are safe. It's big enough that even in the height of summer you won't have a problem finding a spot to set yourself up for the day. Plus, animals aren't allowed so you can lay back assured that wet dogs aren't going to come bounding over to you.
The raised boardwalk is dotted with many bars and restaurants which offer views of the sunset, but personally I recommend watching it from the beach whilst searching for some of the prettiest shells I've seen for a long time.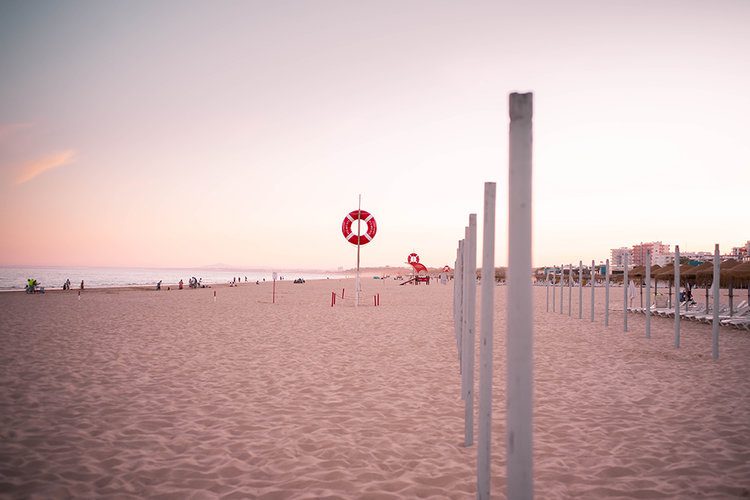 Fuel restaurant
Fuel is the restaurant at The Prime Energize Hotel, where we stayed. I have to say it was the most impressive part of our hotel. The à la carte menu has a wide range of health-conscious dishes, whilst the buffet looked incredible. 
Unfortunately I am trying to figure out a food intolerance issue so the buffet wasn't suited to my current dietary requirements, but had I no problems, the buffet would have been my top choice. Instead I had the Roasted Sea Bass fillets with sweet potatoes & sautéed asparagus and it was absolutely delicious and so reasonably priced at just €16 and Michael had the Superfood Wonder salad at €13. Both were great, nutritionally balanced dishes and for that reason I highly recommend eating there whether you are staying at the hotel or not.
Check out the menu here.
Seville
After realising how close to the border of Spain we were in Monte Gordo, we decided to take a friend's recommendation and drive to Seville for the day. Seville, or Sevilla in Spanish, is the capital of Spain's Andalusia region, and is most known for its oranges, olives and flamenco dancing. We only spent half of the day in Seville so we didn't see everything it has to offer, but we definitely got a taste for Andalusian culture in that time.
Puerta de Jerez parking garage
As Seville is quite big, we chose to park in a central underground carpark so we could leave the car there for most of the day knowing it was safe. The car park was just a 18min walk to Setas de Seville in one direction and 11mins to Plaza de España in the other, so it was pretty ideal.
It was €15.80 for +8hrs.
Setas de Seville
Had I not been trying to get to Setas de Seville for when it opens I would have enjoyed breakfast at our hotel but as it was 1hr 45mins away by car and there is a +1hr time difference, we left the hotel with a breakfast box. If you're in no rush, I recommend you have the breakfast buffet before leaving for Spain. 
Setas de Seville is an interactive sculpture with walkway that offers sweeping views of the city. It is 150 x 70 metres and is approximately 26 metres high, and though it doesn't much seem to compliment the city's architecture, its design is based on the arches of Seville's cathedral and Plaza del Cristo de Burgos.
Though the full walk of the structure won't take you long, there is no shade away from the starting point so come prepared with suncream and water.
Opening hours
Sunday -Thursday: 10am – 10.30pm
Friday and Saturday 10am – 11pm
Ticket costs
€3 per adult
Free admission if you are born in or a resident of Seville
PFH Fun Fact: Setas de Seville translates to Seville Mushrooms in English which makes sense given the structure, but the city wants you to think of it as silk billowing over the city: setas also translates to silk.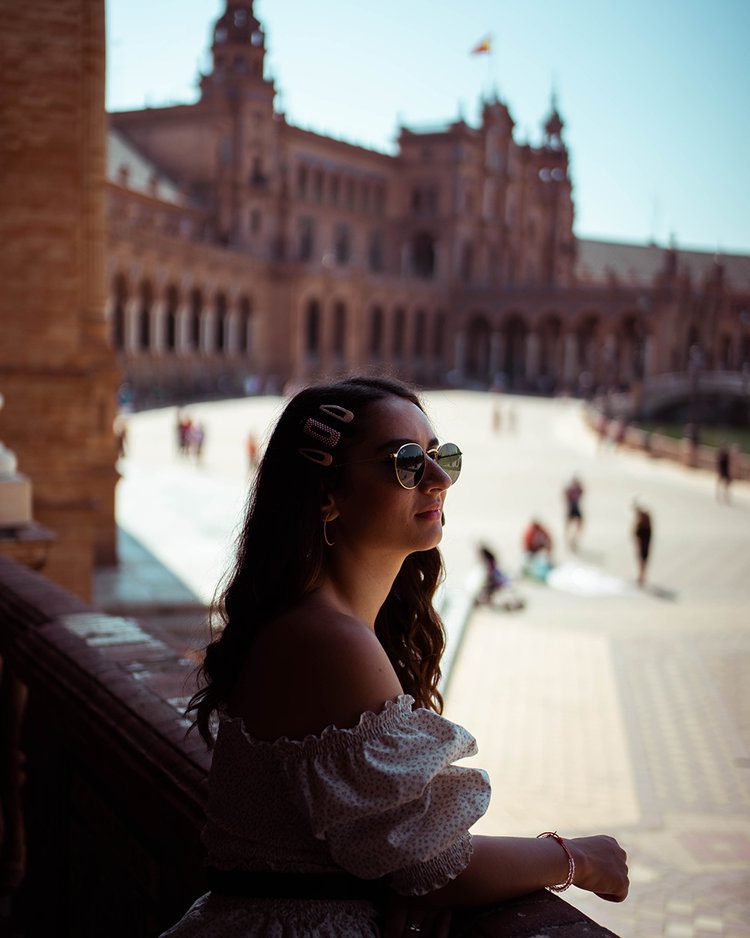 Built in 1929 for the Ibero-American Exhibition (world fair), Plaza de España is one of the most important landmarks in Seville. At 50,000 square metres it is the size of six football pitches and has its own canals, north and south towers, four bridges to cross the canals which represent the four ancient kingdoms of Spain (Castille, Aragon, Navarre and Leon), and 48 alcoves: one for each of the Provinces in Spain. 
You can rent a rowing boat on the man-made canal for €5 for 45mins but personally the best thing to do there is to watch the flamenco street performers in the square. With so much passion, they will put on a show for you in return for a simple tip. If you aren't staying in Seville for the evening, it might be your best chance to see traditional flamenco dancing.
Reales Alcázares de Sevilla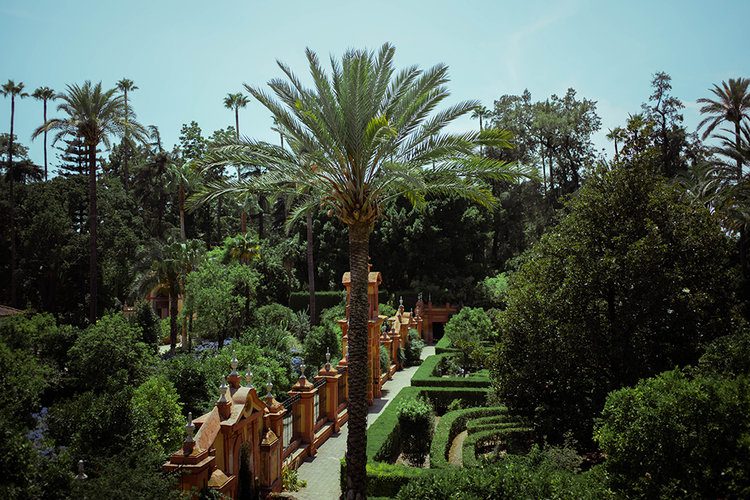 The Royal Alcázar is a palace in Seville and is a UNESCO World Heritage Site. It was originally built in the 10th century by Muslim leaders and has a very distinct Moroccan Berber design with many beautiful tiled floors and walls and ornate carvings. As the years went by and each Monarch took over, they continued to expand the palace adding period elements from gothic to renaissance, making the palace a diverse exhibition of architecture throughout the years.
Opening hours
Sunday -Thursday: 10am – 10.30pm
Friday and Saturday 10am – 11pm 
October – March, every day 9.30am – 5pm
April – September, every day 9.30am – 7pm
Closed on 1st and 6th of January, Good Friday and 25th December 
Ticket costs
€11.50 per adult
€3 per adult 65+
€3 per student aged 17-25yrs
People with disabilities go free (but do have limited access)
Free admission if you are born in or a resident of Seville
Souvenir shopping
The souvenir shops in Seville were far greater than those back in Portugal (see below). In hindsight I wish I had bought gifts from Seville rather than Lagos. Of course there's a plethora of your usual tack (I'm not judging, I collect pencils and the ugliest photo frames I can find) but between that is your Spanish silver jewellery, espadrilles and hand-crafted lace flamenco fans. I picked up a beautiful silver ring and pair of hoop earrings for the best prices I've seen since Mexico and wish I had bought more.
Unfortunately I can't name the store I bought my jewellery in because we found it after getting lost in the back streets surrounding Real Alcázar, but I can say that you are guaranteed to find one by just exploring the streets of Seville.
Osaka restaurant
My dietary restrictions made eating out a little difficult and limited on this trip, but we did find Osaka, a sushi restaurant, down Alameda de Índia in Monte Gordo. Despite being a sushi restaurant, unlike many of the other surrounding restaurants it appeared to be genuine and very popular with the locals. The menu isn't extensive but it is all fresh and delicious.
Praia dos Estudantes
On our last morning we rose very early to catch the sunset from Praia dos Estudantes. We arrived at 5.30am and made our way over to the beach.
The best place to park is in the bays on the right of the hill leading down into Lagos. There is a set of concrete stairs that takes you straight down to the beach with the most dramatic rock formations, rock tunnels and the Roman Bridge. By taking this route you will avoid all of the drunk adolescents stumbling out onto the street from their night out, but unfortunately you will need to keep your eye out for discarded condoms on the steps (there are some things that I just won't pick up to dispose of).
Parking charges apply from 9am for these parking bays along Av. dos Descobrimentos.
If you want to find the Roman Bridge, turn right at the bottom of the stairs and pass through the rock tunnel and it will be right in front of you. Please make sure you check the tide times before you visit. The tide was out when we visited but it can come up quite a way onto the beach past the bridge.
PFH Top Tip: the shells on Praia dos Estudantes are amazing so be sure to collect a few (they're the best souvenirs I brought home from Portugal).
Praia de Benagil and Kayak rental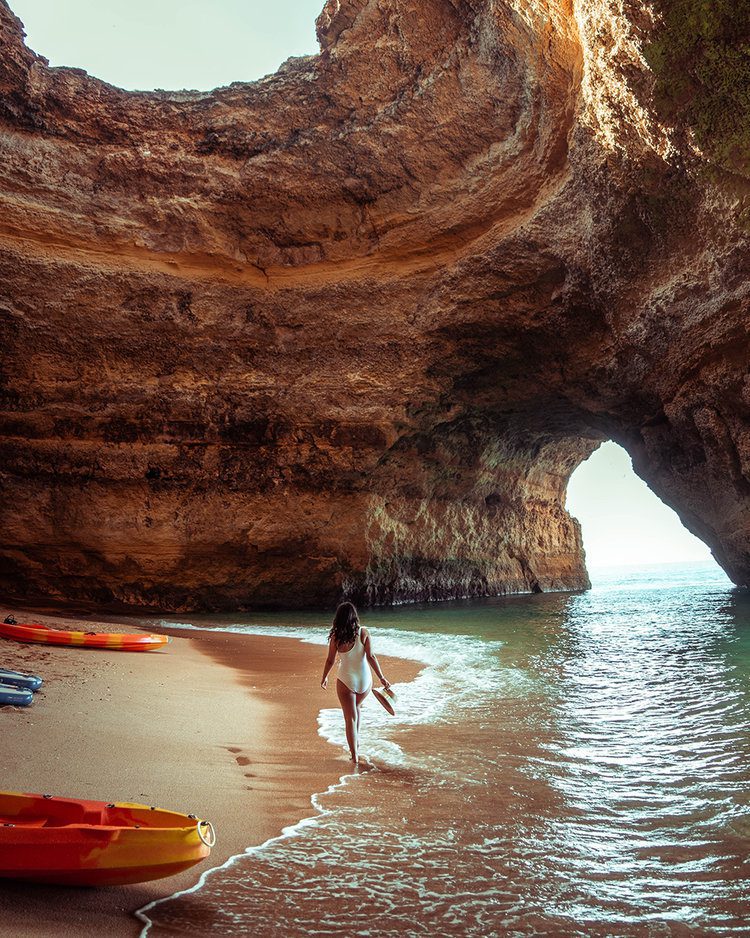 Visiting the Algarve in the first week of July meant that it would be quieter than the end of July and August when the children have broken up from school for the summer. However, it is still a busy time because everyone who is able to visit during school term time are making their trips there. Benagil Caves is a popular destination and this small space gets filled with people very quickly. 
Now there are four options for getting to Benagil Caves: 
Swim – it's a short swim but the water is deep and it's not ideal for young children or camera equipment.

Paddle Board – if you aren't in much of a rush, enjoy the exercise and have very good balance (the tour boats are reckless and create less than ideal wakes). You can rent a paddle board from 9am.

Boat tour – they are the quickest way to see many of the caves along the coastline, but this is because they don't stop to let you off. If you want to get out and explore the caves, do not book onto the boat tour. Boat tours depart from 9am.

Kayak – unlike swimming you are limited to leaving at 9am, but you can keep your belongings dry. The kayaks are available from 9am.
We chose to kayak as it was the fastest solo option where you could keep belongings dry and actually get out to explore the caves.
The kayak rental booth is on the right hand side (if you are looking out to sea) of the concrete slip way. They open at 9am but the queue builds from 8.45am so arrive early. Annoyingly they are rented out per 45mins but if you pay for 90mins you will get 2hrs which is plenty of time to get out and take photos in the caves and then paddle further along the coast and back to the beach.
Single and double kayaks are available but it's cheaper to rent a double. Unfortunately both Michael and I didn't seem to document the cost and cannot remember what we paid. The only figure we can come up with is €35 for 45mins for a single and as they only take cash, we don't have a bank statement to help us. I am aware that they bump up the prices during peak seasons so this might not even be what you pay depending on when you go.
The parking is free however and there is a cash machine outside the restaurant at the top of the hill not far from the car park entrance.
PFH Top Tip: Use a dry bag to keep your belongings from getting wet. The kayaks can take on water and the tour boats can get a little too close for comfort causing a lot of splashing.
Souvenir shopping in Lagos
As I mentioned before, the souvenir shopping in Lagos was not ideal. Unlike Seville there weren't many authentic gifts. The Algarve Coast is known for its cork, so there are plenty of items made from cork, but aside from that, you are looking at your usual worldwide selection of souvenirs.
Pasteis de nata from Padaria Central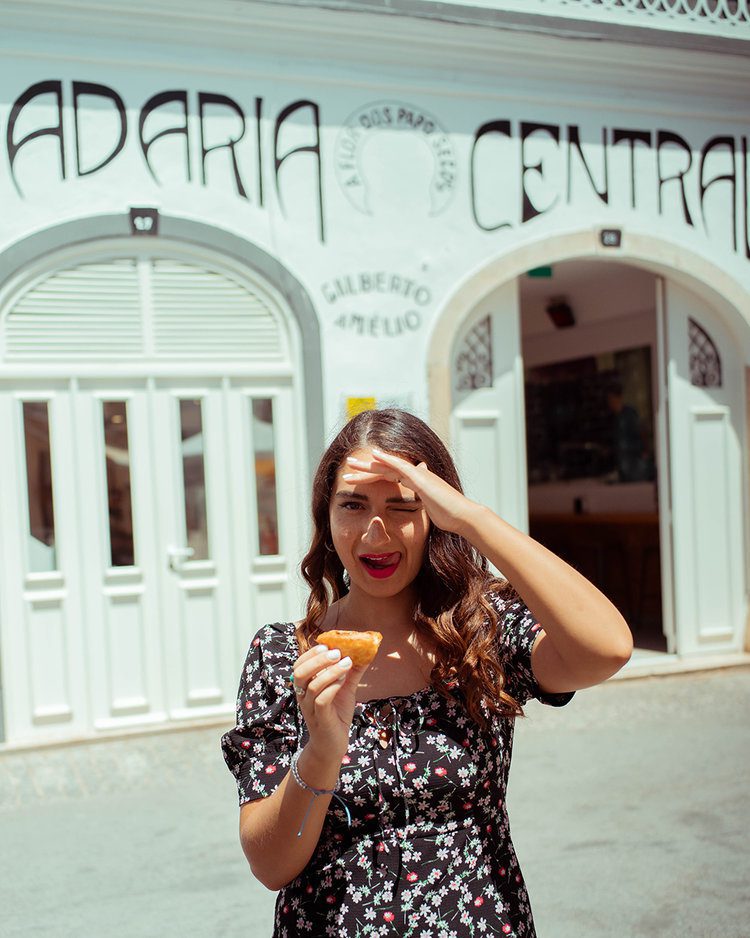 Of course we couldn't leave Portugal without trying one of their world-famous egg custard tarts: pasteis de nata. I couldn't eat more than a bite of mine because of the ingredients, but I can say that I know why they are loved by so many. The pastry casing is flaky whilst the filling is much creamier and sweeter than an English egg custard tart. 
Like I mentioned, the Algarve is incredibly beautiful and I definitely think it is worth a visit but keep in mind that it won't be a quiet holiday during the summer months. I strongly recommend hiring a car so that you can explore the beaches along the coast, and go with the understanding that you will have to hunt down good food.
If you have any questions, send them to me here.
Aloha, Gabriella 
.
As an Amazon Associate I earn from qualifying purchases.