Buttermilk pancakes are thick, fluffy and savoury American pancakes that are best known for being stacked up and served with butter, bacon and heaps of maple syrup. They can be served as a sweet or savoury dish and for that reason they themselves are not sweet. Made with very little sugar, this breakfast staple can be eaten with eggs, sausage and bacon or with fruit, cream and chocolate.
Why buttermilk? The acidity of the buttermilk activates the bicarbonate of soda to make the batter rise and become bubbly, so that when the batter is cooked it creates a light and fluffy texture on the inside despite being so thick.
When I say this pancake recipe is easy, I really mean it. For years I struggled to make pancakes. In fact, they never even resembled pancakes, I basically made what looked like scrambled eggs. Crêpes were out of the question, I just couldn't get the batter to pancake ratio right or the technique down. Buttermilk pancakes however, well, they're a game changer! Thanks to the thickness of the batter and weight of the cooked pancake, flipping them doesn't end in carnage and really if you go a little over with the batter to pancake ratio you just end up with a bigger and bolder pancake, you can't lose! I would rather make a stack of buttermilk pancakes over crêpes because they are always a hit.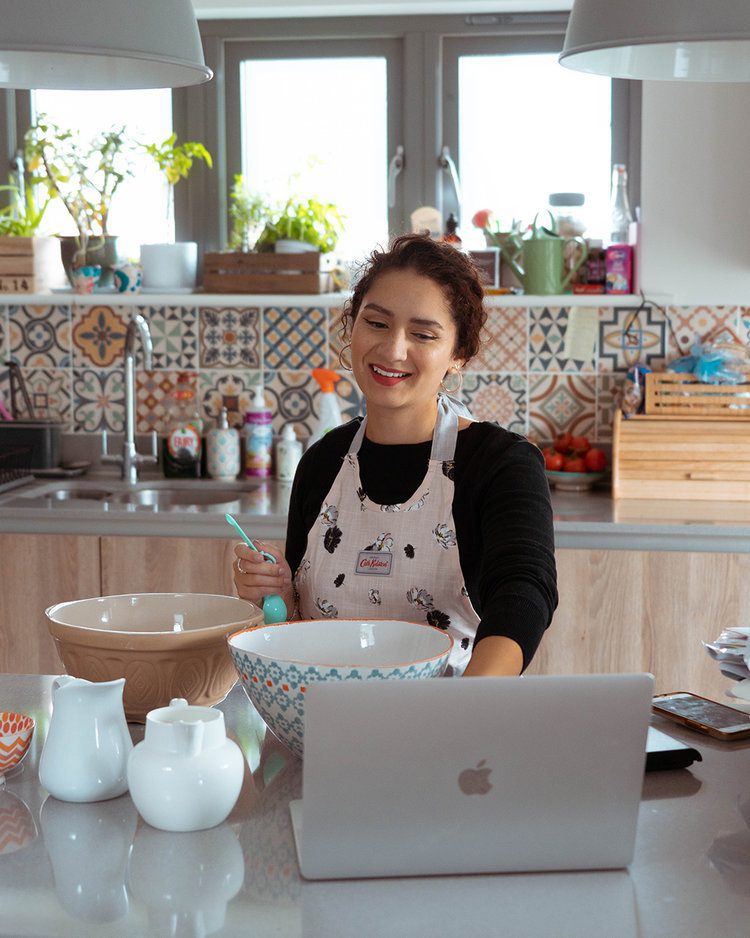 Having not long come back from the States where I enjoyed a few pancakes for breakfast and brunch, I wanted to share this simple, versatile and delicious recipe for the perfect weekend brunch. As the sugar content isn't high, this recipe is suitable for children and adults, it's up to you how to you want to serve them!
This recipe will make approximately ten thick and fluffy pancakes. Estimate making 2-4 per person, depending on appetite.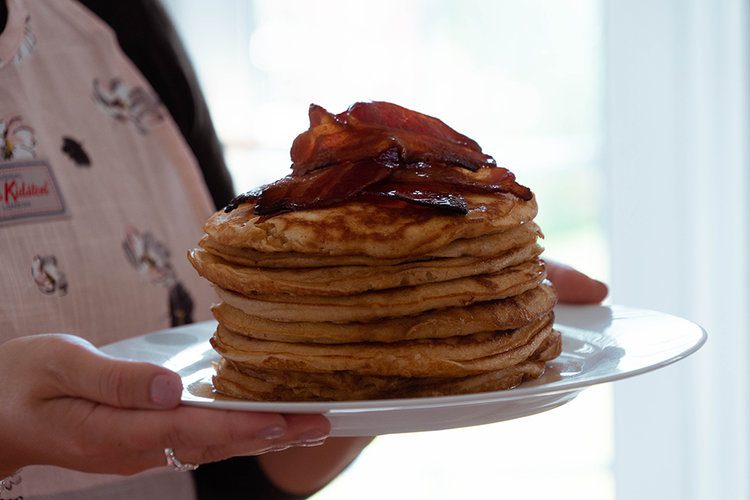 Ingredients
350g self raising flour
1tsp bicarbonate of soda
1/2 tsp salt
2 tbsp caster sugar
200ml buttermilk
400ml semi-skimmed milk
2 eggs
85g unsalted butter (plus extra for frying)
12 rashers smoked streaky bacon
50ml maple syrup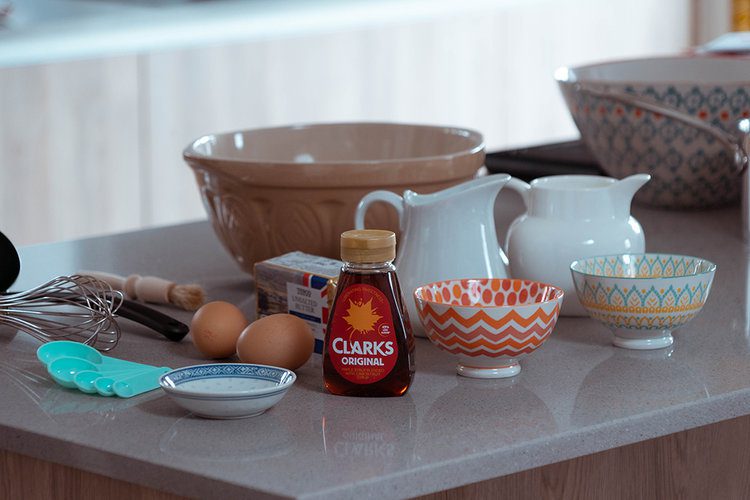 Equipment
Scales
Saucepan
Butter-knife
x2 Mixing bowls (one large, one medium)
1/2 tsp measurement
1 tsp measurement
1 tbsp measurement
Whisk
Wooden spoon
Ladle
Frying pan
Fish slice
Baking tray
Pastry brush
Method
1. Turn the oven on to a low heat, I have an AGA which you will see in the photos, but it makes no difference other than not needing to preheat or switch on anything.
2. Sift the flour into the large mixing bowl and add the salt, sugar and bicarbonate of soda.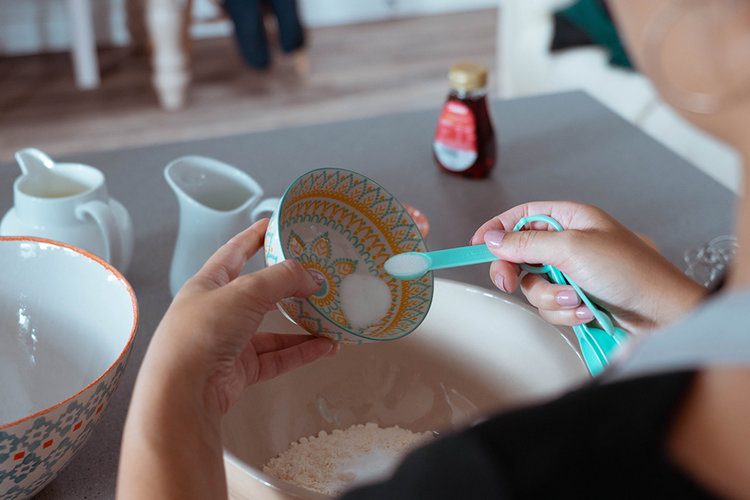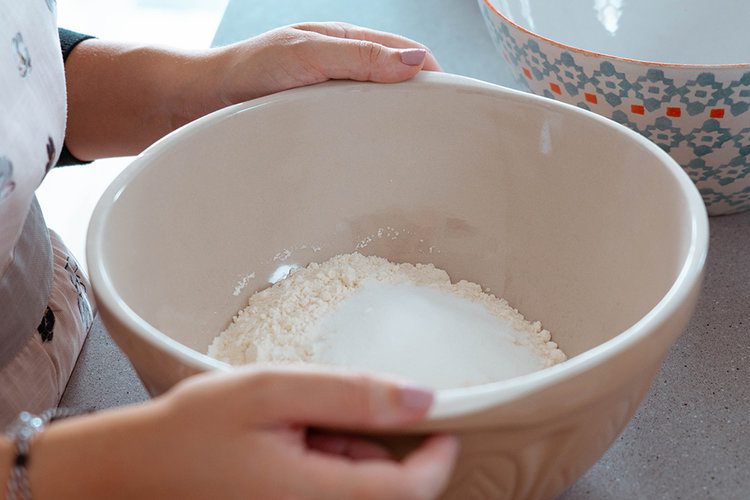 3. Melt the butter in a saucepan over a low heat.
4. Hand whisk together the buttermilk, milk, eggs and butter in the medium mixing bowl.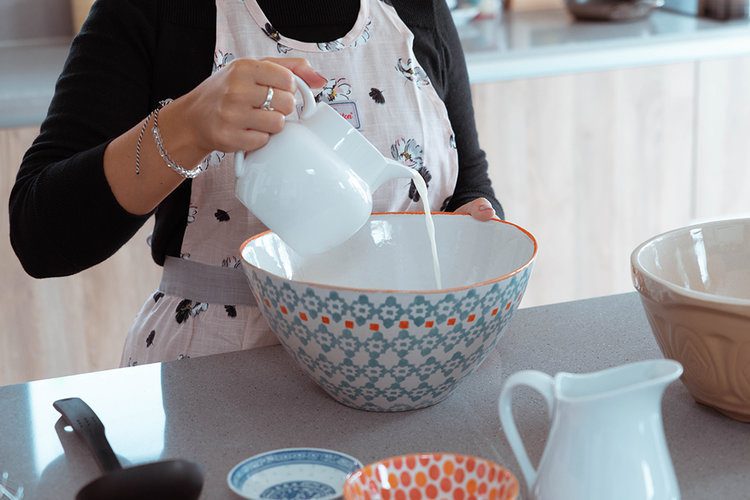 5. Pour the wet mixture into the dry whilst stirring to combine. The mixture will be thick and gloopy.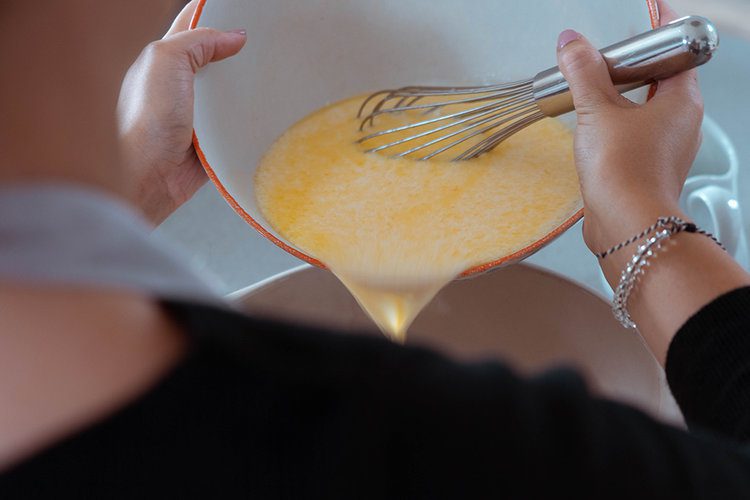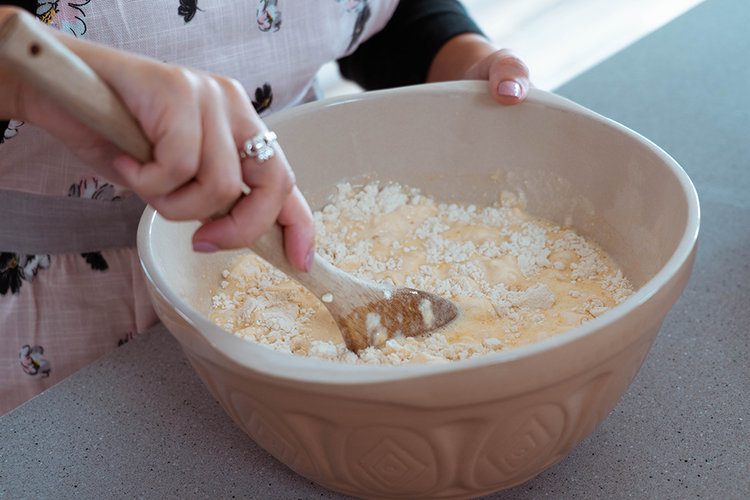 6. Melt a small knob of butter in the frying pan over a high heat, making sure to cover the base of the pan.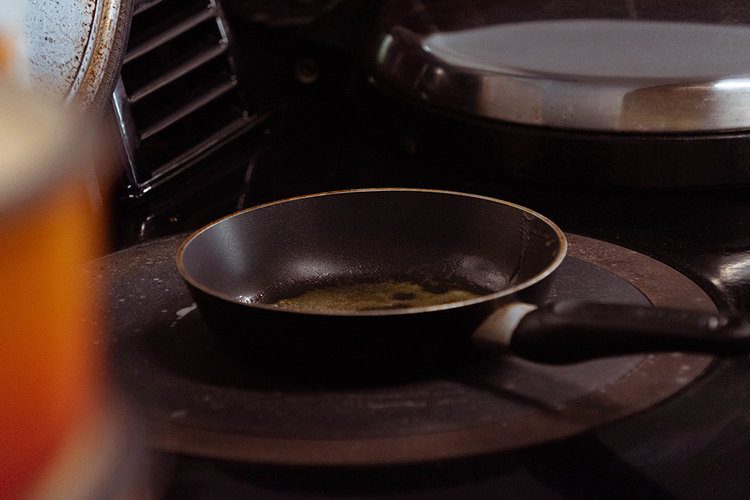 7. Using a ladle, pour about a ladle and a half's worth of batter into the saucepan, making a circle that fits almost to the edge of the saucepan.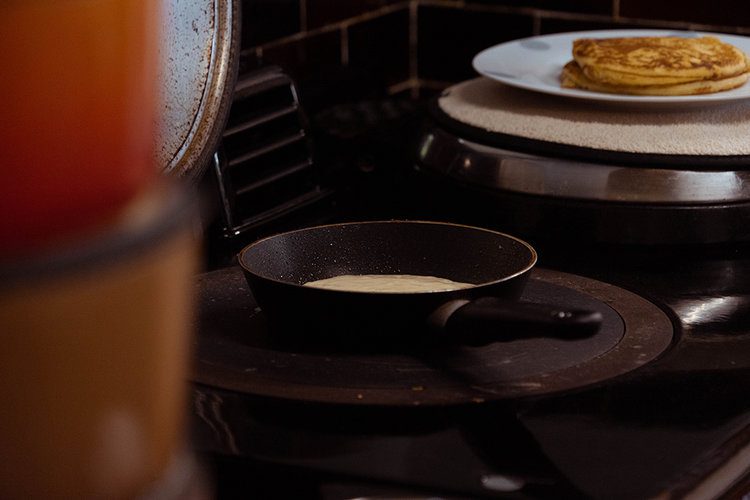 8. Cook the pancake for about a minute, until the sides stop sticking, the underside is golden brown and the top is bubbling.
9. Using a fish slice, lift the edges of the pancake and gently flip it over to cook for another minute. Heads up, the first one is always a disaster because the pan hasn't reached the optimal temperature. Remove from the pan once both sides are golden brown.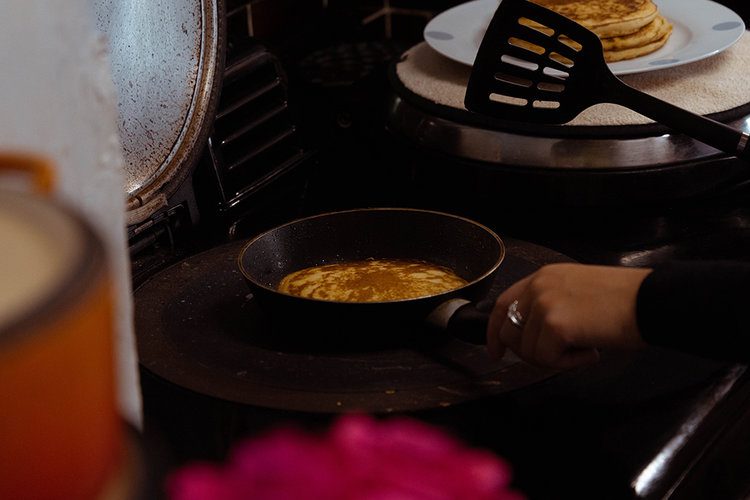 10. Continue to cook each pancake the same way, melting a small knob of butter between each one. Keep the cooked pancakes warm in a plate in the oven.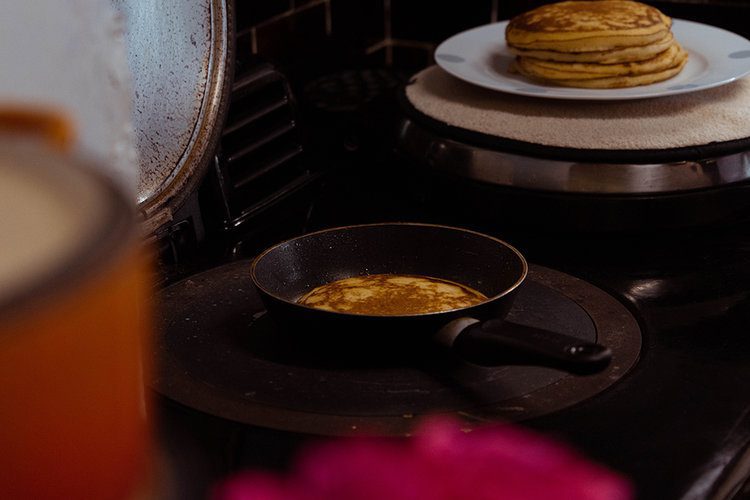 11. Once all of the pancakes are cooked and keeping warm in the oven, you can cook the bacon. Preheat the grill whilst you line a tray.
12. Lay the strips of bacon onto the tray and grill until the top side is crisp, then turn the strips over and grill until crisp.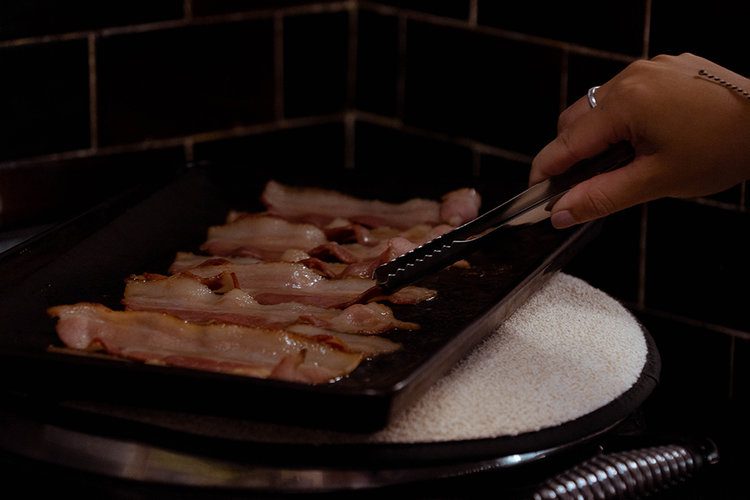 13. Serve the pancakes stacked on top each other, topped with the bacon and drizzled with maple syrup. Or, if you prefer a healthier alternative, they taste great with sliced banana, strawberries and mango with a light honey drizzle.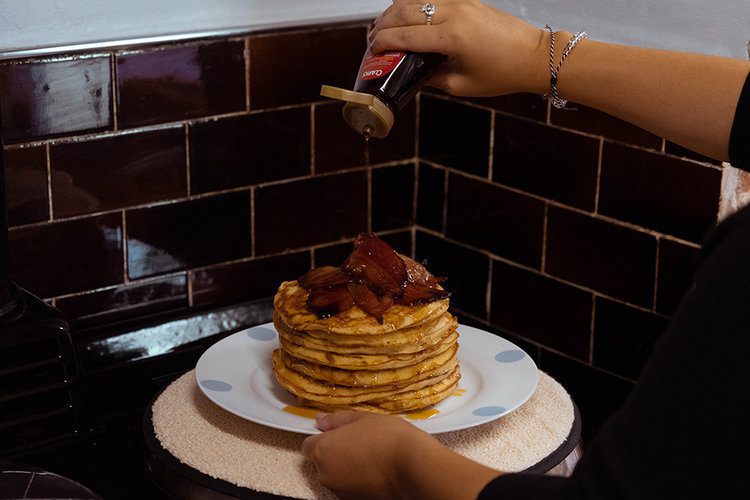 .
If you give them a try, let me know how it goes. Use the hashtag #postcardsfromhawaiiblog so I can see it! 
Why not accompany your stack of pancakes with a zingy matcha shot to wake up your tastebuds. Take a look at my Matcha shot recipe to know how to make one.
Enjoy!
Aloha, Gabriella