Reflecting on my staycation to Cornwall I have put together a two part guide that shares some of the most beautiful places to visit in the county of Cornwall. This first part of my Cornwall travel guide focuses on the Instagram-worthy southern tip of the county and explores beautiful seaside towns, a legendary castle, white sandy beaches and the very ends of the country. So if planning a trip that involves taking a dip in an Art Deco lido, dining in restaurants that look out to cute harbours and hiking dramatic coastal paths excites you ,then you're in the right place with the first part to my Cornwall travel guide. 
Planning a staycation in Cornwall? Take a look at 8 beautiful places to visit in Cornwall part 2 for more on visiting the top half of Cornwall where I share about visiting the incredible Eden Project, which company to learn how to surf with and where to find a secret restaurant on the beach.
1. St Michael's Mount near Marazion
St Michael's Mount is a very small rocky island, just off the shore of Marazion, that is home to a medieval castle and gardens and a village with no more than 53 houses that can only be accessed by boat during high tide. During low tide St Michael's Mount can be accessed from the beach along a cobbled pathway that becomes partly submerged during mid tide and non-existent once the tide has rolled all the way in. To bare witness to the path disappearing I suggest booking your tickets a couple of hours before the tidal cut off, by the time you get onto the island and have taken a leisurely stroll around the castle and gardens the water will be creeping up onto the path.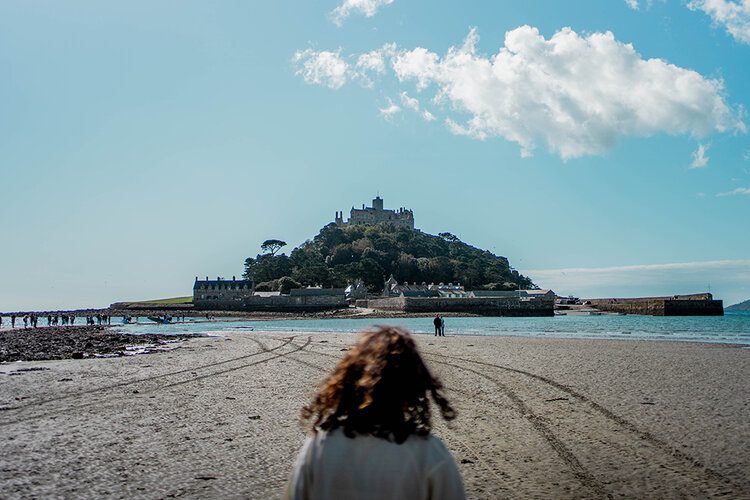 Michael miscalculated how long it would take us to get to Marazion and by the time we made it on the St Michael's Mount we only had 40mins to get around the castle and back down before the tide came in and trust me when I said we had to run to make it round and down in time. The tide comes in fast too, so don't dawdle as you make your way back along the path unless you want wet ankles.
Once you've made it back to the beach, turn back to take some Insta-worthy photos of the St Michael's Mount as the tide creeps over the path.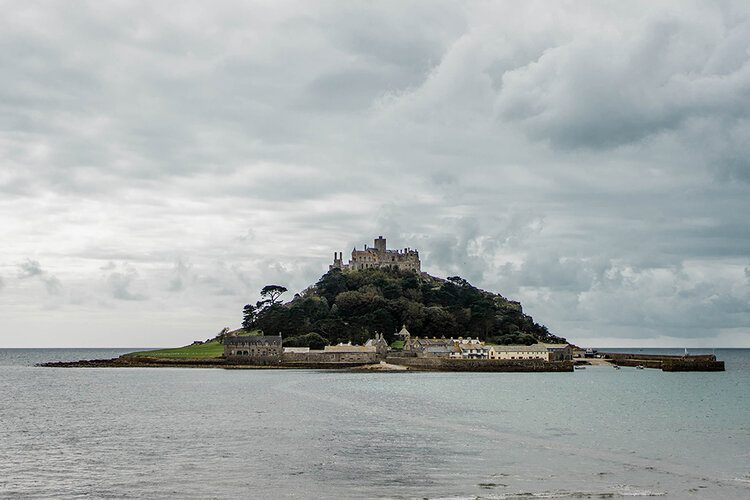 St Michael's Mount off the coast of Cornwall came into the possession of the monks who also owned Mont St Michel, its sister isle, in Normandy in 1066 but it wasn't until the 12th Century that the church and priory still seen today on the mount was constructed. The actual castle wasn't built until the 14th Century but has been heavily involved in centuries of rich history including the War of the Roses, the Civil War and the Spanish Armada. Legends surround the island from a giant to mermaid sightings to spiritual miracles including a tale of Saint Michael – the patron saint of fishermen – appearing on the island to ward fishermen from certain peril. 
The castle had been home to the St Aubyn family since the 17th Century and with the National Trust the family have been able to open the castle grounds to the public between the months of April and October. As you weave through each room you'll come across peculiar relics brought to the castle by various family members over the years.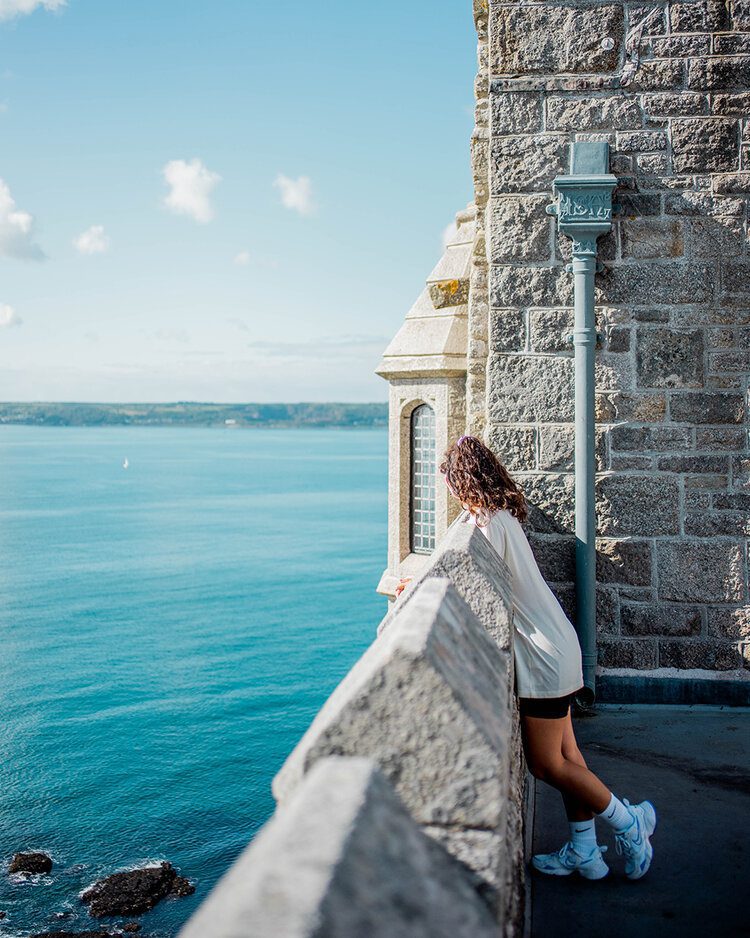 Once you've explored the hallowed halls of the castle grounds make your way to the gardens. Due to the location of St Michael's Mount, the island has its own microclimate that allows for the gardens to bloom the likes of Agave (best known for making Tequila), Puya, and Agapanthus (better known as Lily of the Nile or African Lily). Take the winding path down from the castle through the gardens and out to the lawn where you can enjoy a picnic or at the very least an ice cream.
You must book your ticket to St Michael's Mount in advance as it's a very popular location and visiting times are entirely dependant on the tide times which limits entrance every day.
2. Penzance 
Whilst in Penzance book a swim in Jubilee Pool, an Art Deco lido that opened to the public in 1935. Holding 5 million litres of water, it is the largest seawater pool in the UK and only goes 1-2 degrees Celsius above the temperature of the sea. Its unique triangular shape is to protect it from large swells when storms roll in. 
Entrance to the main pool is less than £5 per person, book your tickets here.
If you just want to visit Jubilee for a photo because it's too cold for you then you can enter the terrace where the Jubilee Pool Café is located for free.
Where to stay in Penzance
For most of our staycation spent exploring Cornwall we were based in an AirBnb in Plymouth, Devon but we did stay in a couple of hotels and one of them was Artist Residence in Penzance. Artist Residence is a boutique hotel tucked away into a Georgian house on a quiet street in Penzance, you wouldn't believe it has 16 rooms, 3 suites, a restaurant, bar and outdoor terrace within. Mix-matched decor bring an eclectic vibe to these airy rooms that are moments away from Jubilee Pool, the town centre and opposite the oldest pub in Penzance, The Turk's Head.
PFH Top Tip

Artist Residence uses full-sized toiletries that they refill so you can pack less in your wash bag knowing that they've got you covered.
3. Porthcurno
When planning a trip to Cornwall you must visit Porthcurno, it's one of the most beautiful and photogenic beaches I have ever seen and what makes it even more special is that it's in England. Now I know that the majority of Brits knew we had beaches like Porthcurno but having grown up on the east coast with the North Sea it blew my mind to see white sandy beaches with the kind of calm, turquoise waters you associate with far flung tropical islands. I mean I'm beyond grateful to have grown up and worked my teens – early twenties on the beach but Porthcurno is operating on another level to my beloved West Runton. 
From Google Maps it doesn't look like there's much going on at multi-award-winning Porthcurno beach, in fact it doesn't actually seem like a beach is there but it has to be my favourite beach in Cornwall and if you get the chance to visit you'll understand why. The combination of soft white sand and crystal clear water that is sheltered by tall rugged cliffs makes for the ideal beach day. Try your best to visit on a sunny day because when the sunlight hits the water it becomes almost electric in colour.
To really take in the glory of Porthcurno take the South West Coastal path up to the Minack Theatre – an open air theatre built into the granite cliff – as you ascend take a moment to pause and admire the beach from above, it's where these photos of Porthcurno were taken.
Lifeguards are usually on duty between May and September but check the RNLI website to be sure.
4. Land's End
A visit to Cornwall should include a trip to Land's End if for nothing more than to say you've been to Land's End: the most westerly point of England but unlike most of Cornwall, Land's End appears to have become more of a gimmick than a place of wonder. 
There's plenty to keep children amused including the interactive Aardman and Arthur exhibitions but in general you won't need to spend too much time here once you've passed through the End to End exhibit, seen the iconic Land's End sign, admired the rugged granite cliffs that drop down into the wild waves of the Atlantic and maybe purchased a souvenir or two from The First and Last House. Not to say Land's End isn't worth visiting, it wouldn't be on my list if not, but it might not be as fulfilling as hiking the coastal paths, catching a wave or soaking up the sun on golden beaches so don't schedule a whole day here.
5. Sennen Cove
On a windy day, park up facing the sea at Sennen Cove and watch as enormous waves roll in and crash upon the rocks in such a dramatic fashion you'll have your eyes peeled to spot the Little Mermaid hanging out on them.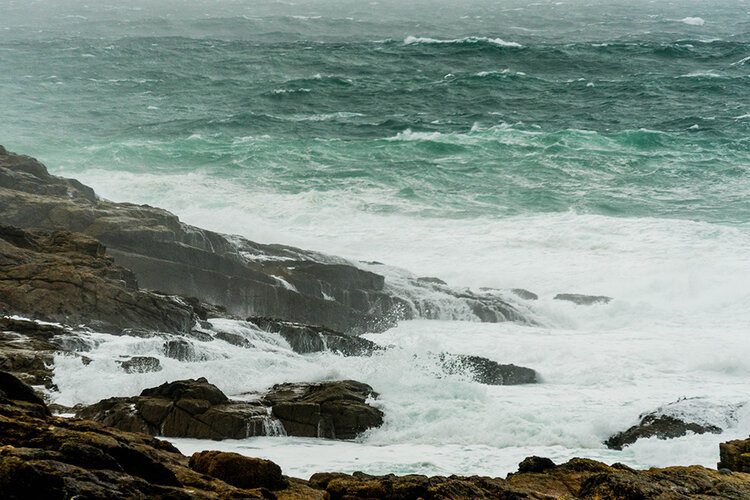 PFH Top Tip:

Save money by visiting during off-peek times where there won't be anyone charging you to take a photo with the official Land's End sign.
6. St Ives
St Ives is one of the most idyllic and Instagrammable seaside towns in Cornwall. Once a fishing village, the harbour makes for the most wonderful photos and view to enjoy with an ice cream from Moomaid of Zennor.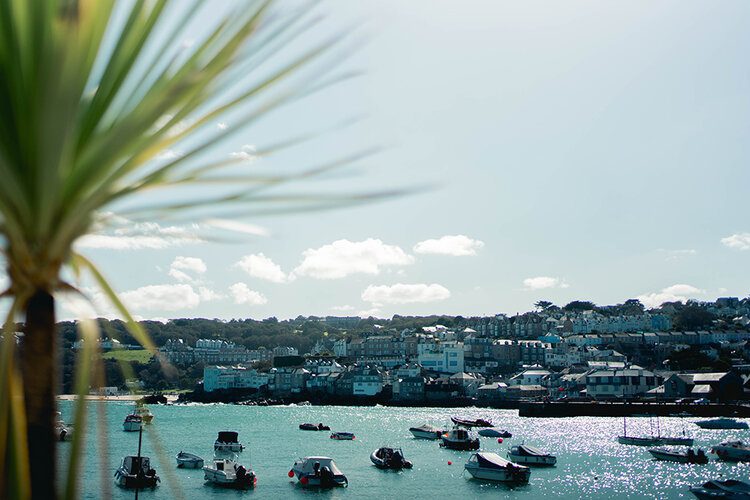 I won't say more about St Ives because I have a full guide on visiting this beautiful coastal town which I want you to read as I so kindly made it for you, so click here for 10 things to do in a day at St Ives, Cornwall. It covers everything from where to get your morning coffee to kick off the day to where you can go to spot seals.
7. Lizard Point
Right at the end of the Lizard Peninsula, Lizard Point is the southernmost point of mainland Great Britain. Take the South West Coastal Path from Lizard Point to Kynance Cove for sweeping views of the craggy coastline. The walk will take 45mins – 1 hour one way and will offer plenty of spots to take beautiful photos whilst giving you a healthy dose of exercise.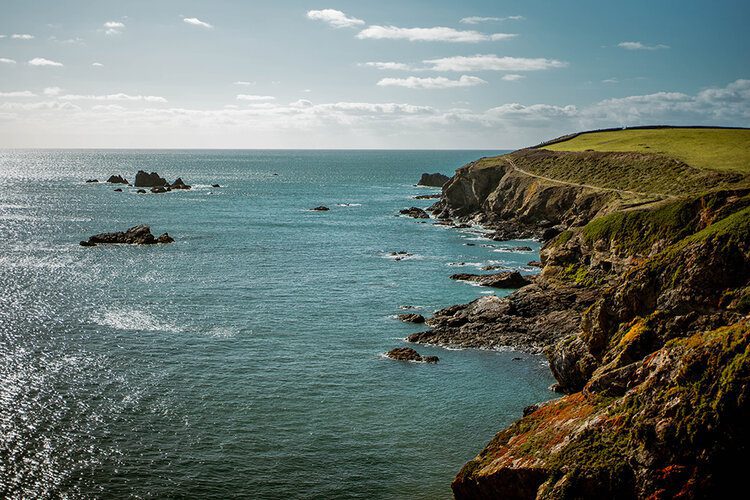 PFH Fun Fact:

The biggest rescue made by the RNLI was made here in 1907 along with three other lifeboat crews. Over 16 hours they rowed back and forth to return 456 passengers from SS Suevic safely to shore.
8. Kynance Cove
Kynance Cove is known for it's array of serpentine rock formations that create a complex coastline of sea stacks, islands and caves. At low tide a white sandy beach is revealed, which unfortunately we did not get the chance to see, and when the sun touches the water it lights it up to a glassy turquoise similar to that of Porthcurno on a sunny day.
Even if the tide is in you can still roam the cliffs and enjoy the view.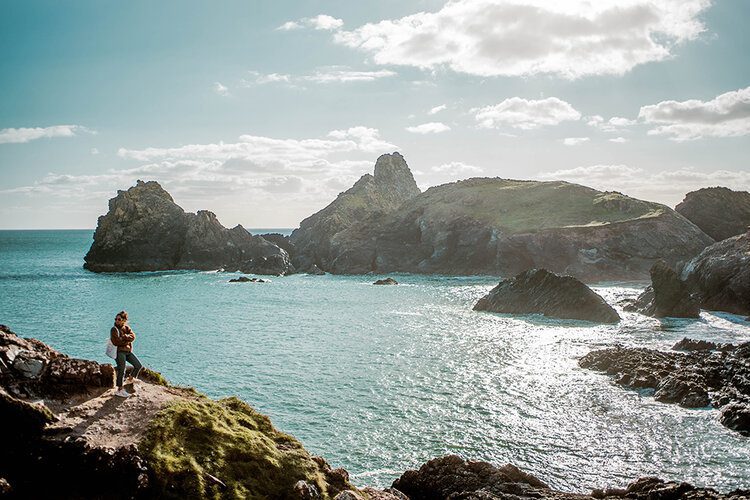 Do more on & for the planet, Gabriella