The one question I receive in my DMs every week aside from whether I'm looking for a sugar daddy is which camera or lens do we (my partner/co-photographer, Michael) use to create our content.
In this blog post I will take you through:
Which camera we shoot with

Which camera lenses we use

Technical specifications

What the difference is between the lenses including photography samples for comparison

Where we bought our camera and lenses from

How much our lenses cost

Which accessories we use
I'll also be sharing what type of content creation we like to use each of our lenses for.
New to photography and don't really know what it means when people start talking in mm or aperture? Yeah me too, I only truly picked up photography in 2020 during the pandemic so when people start chatting f-stop I'm more like please stop because I'm still getting the hang of it all. What I'm saying is, even without the technical knowledge (Michael has that covered for me here) I am still able to use our following camera lenses to take pretty pictures and I know they're pretty because you keep asking me what lens I use.
Before we get into it I do want to express that although we are proud of our content creation and get paid to create photography content for brands to use for their marketing campaigns, neither Michael nor I claim to be highly knowledgable photographers. We both picked up the hobby after launching Postcards from Hawaii (2018) and are constantly learning. So as much as I'm sharing our lenses here because you have been asking what we use to capture our beautiful photographs we also have made mistake purchases and are still evolving our photography skills and quality of content as we gain more experience.
Oh on that note I actually want to point out that we didn't purchase our camera until 4 months after launching my travel blog so take that a lesson that you don't need all the fancy equipment to create a successful blog. Before then we were just using my Sony Cyber-shot DSC-WX 500 which is basically a cute digital camera.
With all of that said here's how we levelled up our photography content for Postcards from Hawaii.
Refurbished Sony a7ii camera
The Sony a7ii is the 2nd generation in the Sony a7 (Alpha 7) family.
We made the decision to get a Sony camera because they have affordable mirrorless cameras that are exceptionally adaptable to a wide range of lenses, they have great reviews on various websites and are known worldwide for being accommodating for all levels of photographers.
We bought our Sony a7ii camera second-hand and refurbished from Amazon via Camera Centre UK in 2018 for £899.95. We made the decision to buy second-hand as buying something pre-loved over brand new is the better choice for the planet and because at the time the a7iii had not long come out so getting an a7ii meant we could save about £500 purchasing a second-hand previous generation.
From our understanding the differences between the a7ii and the a7iii are minimal but the a7iii has better video quality. I will say that over the years that we've been using our a7ii we've met videographers and vloggers who use it and love it so we still stand by our decision not to spend more on the a7iii.
We have no desire or need to change our camera any time soon so we still highly recommend this camera.
Technical specifications for the Sony a7ii camera
Some key tech-specs for the Sony a7ii camera that we think are important are:
The Sony a7ii is an E-mount camera which refers to the type of lenses that can mount onto it.

It's a full-frame camera which means it has no crop factor. Cameras that don't have a full frame sensor will crop your image and you won't be able to use your lenses to their full potential.

It was the world's first full-frame camera with 5-axis image stabilisation which is great for low-light photography and video.

The battery life is up to 350 still image shots.

High 50Mbps bit-rate XAVC S format is amazing for recording Full HD video, we only dabble in videography but it has been amazing for us so far.

The 3.0″ type TFT LCD (Thin-film-transistor liquid-crystal display) monitor has a sharp display which is key for playback when shooting video or checking if the photo was in focus. The monitor also tilts which has been incredibly useful for shooting in challenging angles.
For the full tech-specs for the Sony Alpha a7ii camera check out the Sony website.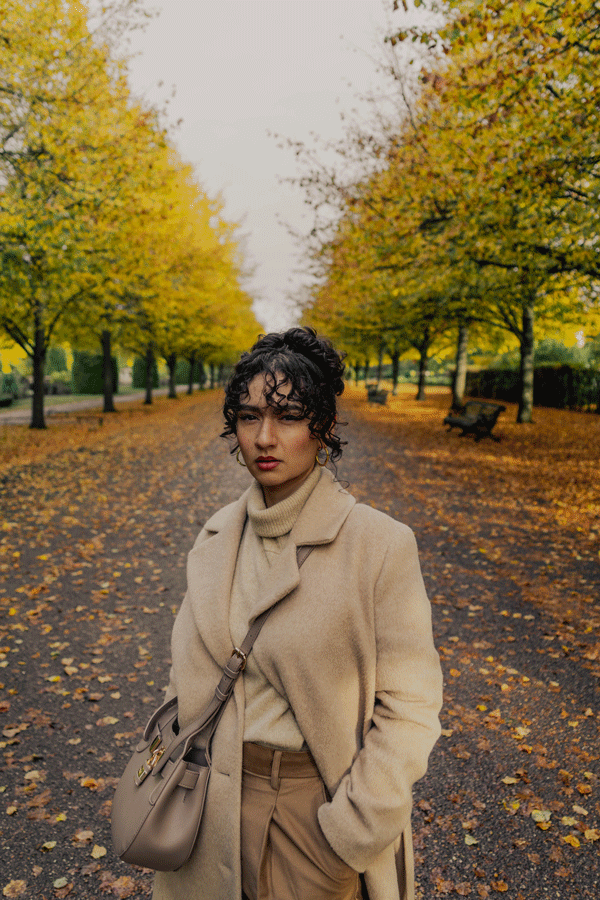 Camera lenses used to create Postcards from Hawaii content
Before I take you through each of our lenses and share photography samples of what they're capable of and the differences between their focal lengths (mm) I first want to give you a brief breakdown of some of the vocabulary I'll be using within each one so you can better understand what makes each lens different.
How does mm translate to focal length (and what is focal length)?
The lower the mm number the shorter the focal length is. This means that lenses with a lower mm number will have a wider angle and therefore be capable of capturing more of your surroundings in frame.
What does aperture mean (and how does it relate to f-stop)?
F-stop is the measurement of the aperture and the aperture is the opening within the camera that lets the light in. The larger the aperture the more light that gets let into the camera. But Gaby, what does that mean for me? I got you boo.
A larger aperture is ideal for shooting in low light (at night or in poorly lit restaurants for example) and it also relates to depth of field which you can read about in better detail next.
Now this bit's super confusing but really important for understanding the aperture range of a lens. A low f-stop number means a larger aperture so more light is let in. A high f-stop number means a smaller aperture so less light light is let in.
What is depth of field (and why is it such a big deal)?
The depth of field affects how "blurry" the background or foreground of your subject is. Most of the time it's our depth of field in our photographs that leads to people asking what camera or lens we use.
Depth of field is the distance between nearest and furthest objects in focus and you can either have a narrow or larger depth of field.
If you have your lens set to the lowest f-stop number (a larger aperture) the objects other than your subject (for example, the background and/or foreground) will be the most out of focus that they can be with that lens. Read on for photography samples and comparisons of how our lowest f-stop numbers perform on our different lenses.
Prime vs zoom (not part of the Transformers franchise)
As you'll learn within this blog post we own four lenses. Two of those lenses are prime lenses whilst the other two are zoom lenses.
A prime lens is a fixed focal length lens which means if you want to "zoom in" on a subject you need to physically move your body closer to the subject.
A zoom lens offers the opportunity to shoot at different focal lengths within one lens. A zoom lens when extended will bring everything within your frame closer to you and if you retract your zoom lens everything will zoom out fitting more in frame.
Voigtlander 35mm f1/.7 VM ASPH Vintage Line Ultron Black lens

Our Voigtlander 35mm f1/.7 VM ASPH Vintage Line Ultron Black lens was our first prime lens and second lens purchase after our Sony FE 24-240mm f/3.5-6.3 OSS zoom lens. We bought it for better performance in low light and to achieve a more narrow depth of field.
The Voigtlander 35mm f1/.7 VM ASPH Vintage Line Ultron Black lens is our go-to lens for lifestyle photos as 35mm is a versatile focal length that's great for macro-shots of food and products whilst still being wide enough to capture our surroundings when one of us is in the photos.
We purchased our Voigtlander 35mm f1/.7 VM ASPH Vintage Line Ultron Black lens from WEX for £699.
Leica 28mm f/2.8 elmarit-m asph lens

Our Leica 28mm f/2.8 elmarit-m asph lens is our most recent lens purchase and was made when we had to send our Voigtlander 35mm to be repaired (general wear and tear). We needed a prime lens for an important campaign for Dune London and decided to level up to a Leica lens.
Leica are globally recognised as the best camera brand in the world and are used across all industries so this was a dream purchase. We chose the Leica 28mm f/2.8 elmarit-m asph lens as the 28mm focal length provides a wider frame than our Voigtlander.
The aperture isn't as high on our Leica lens as our Voigtlander which means the depth of field isn't as impressive however the colour reproduction is the best on the market. This means we spend less time in post production when editing the photos – super useful for working on big campaigns when you have to work through a lot of content. Also none of our lens have a sharper focus than the Leica so it's ideal for high quality product photography.
We purchased our Leica 28mm f/2.8 elmarit-m asph lens second-hand from MPB.com for £1,599.
Sony FE 24-240mm f/3.5-6.3 OSS zoom lens
Our Sony FE 24-240mm f/3.5-6.3 OSS zoom lens was our first lens purchase for our Sony a7ii camera.
We got this zoom lens because of its versatility. The widest angle (24mm) is perfect for landscape photography whilst zooming all the way in to 240mm is wonderful for portraits that give a film-like depth that brings all the drama.
In all honesty we did not appreciate the full potential of this lens for the longest time. When we first got this lens back in 2018 Michael was the only one of us who was taking our photos and as he was developing his photography talents he shot with autofocus. As I mentioned we got our Sony FE 24-240mm f/3.5-6.3 OSS zoom lens for its versatility but we weren't full exploring the type of content we could create by zooming in. I pin this down to the fact that when I first started blogging we were always eager to get all the background in so we didn't experiment much with a longer focal length.
In fact it was only in 2021 after Michael had developed his photography skills from using manual focus, I started to develop mine and the content I shared on my Instagram took a shift during the pandemic (I stopped posting only photos of me) that we returned to our Sony FE 24-240mm f/3.5-6.3 OSS zoom lens to learn that when using the higher focal length we could actually create a new variety of killer content.
Our only gripes with our Sony FE 24-240mm f/3.5-6.3 OSS zoom lens is that the aperture is pretty low so it's not ideal for shooting in low-light settings and it's much heavier than our other lenses which makes it tiring to use for extended amounts of time.
We purchased our Sony FE 24-240mm f/3.5-6.3 OSS zoom lens from Jessops for £699.
Sony FE 28-70mm f/3.5-5.6 OSS zoom lens

We bought our Sony FE 28-70mm f/3.5-5.6 OSS zoom lens for one purpose and that was because our Sea Frogs Waterproof Camera Housing for our Sony Alpha a7ii camera requires an auto focus lens and our Sony FE 24-240mm f/3.5-6.3 OSS zoom lens was too big to fit into the case.
Really I don't have much to say about this lens because we purchased it and the watertight case right before the pandemic and haven't had a chance to test it out other than one SUP excursion in Cornwall. You can read more about our waterproof case below under our list of camera accessories.
Camera accessories used for Postcards from Hawaii travel blog content
Camera grip/battery pack
Michael insisted on buying our Sony VGC2EM.CE7 Vertical Camera Grip when we bought our camera back in 2018 because he was new to photography and found it a struggle to support our Sony FE 24-240mm f/3.5-6.3 OSS zoom lens. The battery pack creates a larger surface area for better grip during use as well as carrying two batteries that the camera will automatically switch between for power source when one battery drains.
However, as we don't shoot a lot of video we have never had a real need for it as a back-up power source. I will say it helped build Michael's confidence with the camera (I wasn't using it back then when the Sony FE 24-240mm f/3.5-6.3 OSS was our only lens) so you know, it wasn't a wasteful purchase.
As we expanded our collection of lenses and bought prime lenses which are much smaller and lighter we removed the battery pack.
We purchased the battery pack from Amazon via the Sony Store for £229.
Waterproof camera case
We bought a waterproof case for our Sony a7ii camera so we can take high quality photos during activities where we wouldn't want to get the camera wet, such as paddle boarding, or if we wanted to take it under water say for snorkelling. Our Waterproof Camera Housing for Sony a7ii is from Sea Frogs and has a maximum diving depth of 40m/132ft.
We did have a GoPro with a waterproof case during our pre-blogging travel days and though it was amazingly compact and great for documenting our round the world adventures, GoPro footage is not the type of content we like to create so we bought the Sea Frogs waterproof camera case.
Another important thing to note about our Sea Frogs Waterproof Camera Housing is that it's better to use an auto focus lens because not all lenses will have their manual focus accommodated within the system. We had to purchase our Sony FE 28-70mm f/3.5-5.6 OSS zoom lens to be able to use the camera in the waterproof case as our Voigtlander lens had no auto focus and the manual focus ring was not compatible.
We haven't had many opportunities to use it as we purchased it the same year as the pandemic but I do look forward to using it more as the world continues to reopen for travel. I have included a photography sample from paddle boarding in Cornwall, England (summer 2020) for you to see the quality of the photo taken with the Sony FE 28-70mm f/3.5-5.6 OSS zoom lens within the Sea Frogs Waterproof Camera Housing.
Tripod
Our tripod is a Velbon Tripod EX-mini, 30172 that measures a height of 19-41.7cm and weighs 467g. It has a two-way pan and tilt mount and has a weight limit of 1.5kg.
We chose this compact Velbon tripod as it takes up less room in our luggage on our travels and it's easy to pack into a backpack when we're out exploring.
Though we've found it super useful I do believe there are pros and cons to a compact tripod with the main pro being that it;s easy to travel with but the hardest con is that this makes it more difficult for portrait photography unless you are able to prop it up which kind of defeats the purpose of a tripod.
Lens adapters
We have two lens adaptors, Voigtlander VM-E Close Focus Adapter and an Urth Leica M Lens Mount to Sony E Camera Mount adapter.
Voigtlander VM-E Close Focus Adapter
The Voigtlander VM-E Close Focus Adapter will allow you to secure any M-mount lens to an E-mount camera (read about our camera above) whilst also providing the option to shorten the minimum focusing distance of your lens, allowing you to get closer to your subject matter.
The Voigtlander VM-E Close Focus Adapter cost us £259 from WEX.
We bought this adapter when we bought our second lens, the Voigtlander 35mm f1/.7 VM ASPH Vintage Line Ultron Black lens and – in all honesty – because we were still new to photography and didn't know that it was possible to get an adapter for under £30. However, we cannot express how useful it has been for product and food photography which is a very integral part of travel blogging photography content and is definitely one of the small but mighty factors that sets our content apart from others. I mean the CEO of Aubaine, a French restaurant franchise in London, invited us to eat in and photograph 4 of their restaurants across our last 2 months in London based on our food and lifestyle photography so this gives you an idea of how important the Voigtlander VM-E Close Focus Adapter is to our work.
Urth Leica M Lens Mount to Sony E Camera Mount Adapter
The Urth Leica M Lens Mount to Sony E Camera Mount Adapter will allow you to secure any M-mount lenses to an E-mount camera (read about our camera above).
We bought this adapter when we bought our most recent lens, the Leica 28mm f/2.8 elmarit-m asph. We actually already had the Voigtlander VM-E Close Focus Adapter which is able to fit our Leica lens to our Sony camera but we didn't know it would (poor research on our part) so when we bought the Leica lens we bought the adapter.
Luckily the Leica M Lens Mount to Sony E Camera Mount Adapter was only £25 and all purchases  made on URTH will plant 5 trees so at least we have a back-up adapter whose purchase did something good for the planet. If you are looking to convert other lenses to cameras from different brands then take a look at URTH as they have a great reforestation programme and are dedicated to minimising and offsetting their impact on the environment, plus their packaging is recycled and plastic-free.
Lens filter
We have an URTH 72mm Circular Polarising (CPL) Lens Filter (2Peak) lens filter on our Sony FE 24-240mm f/3.5-6.3 OSS zoom lens.
To be perfectly honest neither of us know exactly what our URTH 72mm Circular Polarising (CPL) Lens Filter (2Peak) lens filter does but it claims to prevent polarised light caused by silvery reflections from water, glass and metallic surfaces which reveals bolder colours. So the filter helps improve your editing process but possibly because we haven't done much in the way of water photography we haven't recognised a difference as yet.
Currently we use it to protect the lens from Michael's clumsiness. Like I mentioned at the start, we are still learning and developing our photography skills.
The URTH 72mm Circular Polarising (CPL) Lens Filter (2Peak) lens filter cost £31 and came with a protective travel tin case, a recycled cleaning cloth, and is delivered in recycled and plastic-free packaging.
Strap and camera bag
We actually are in need of a new camera strap and bag as the bag we have doesn't offer much support and the strap doesn't distribute the weight very well. Once we have found better alternatives I will update this.
If you have any questions regarding our camera or lenses that haven't been answered in this post then please ask them in the comments section of this blog post and I will be sure to answer them and add them into the post for others to find.
These photography samples were taken on The Broad Walk in Regent's Park, London, England and Cornwall, England.
Do more on & for the planet, Gabriella
All pricing and availability may have changed since the time of publishing on 4/11/21.
This post contains Amazon affiliate links where I can earn money from qualifying purchases. As I can appreciate it's hard to avoid Amazon, all profits made through my Amazon affiliate links will be donated to an organisation helping to protect our planet.