This loaded creamed corn side dish recipe makes for a great accompaniment to a Thanksgiving meal (Turkey Day), a Sunday roast dinner, Christmas Day lunch or it could even accompany a BBQ in the summer.
In October 2022 Michael and I celebrated our first Canadian Thanksgiving since moving to Canada by hosting an intimate Friendsgiving the Friday before.
If you don't know already, your girl loves a theme. I had no idea what typical dishes accompany turkey in a Canadian Thanksgiving meal so I took to Pinterest. Little did I know, Pinterest did me dirty and started filtering in American Thanksgiving dishes. Happily for me, my dear friends found it humorous to eat American Thanksgiving dishes on their Canadian Thanksgiving weekend and the confusion over the corn bread muffins and creamed corn that I'd made turned to excitement to try something new!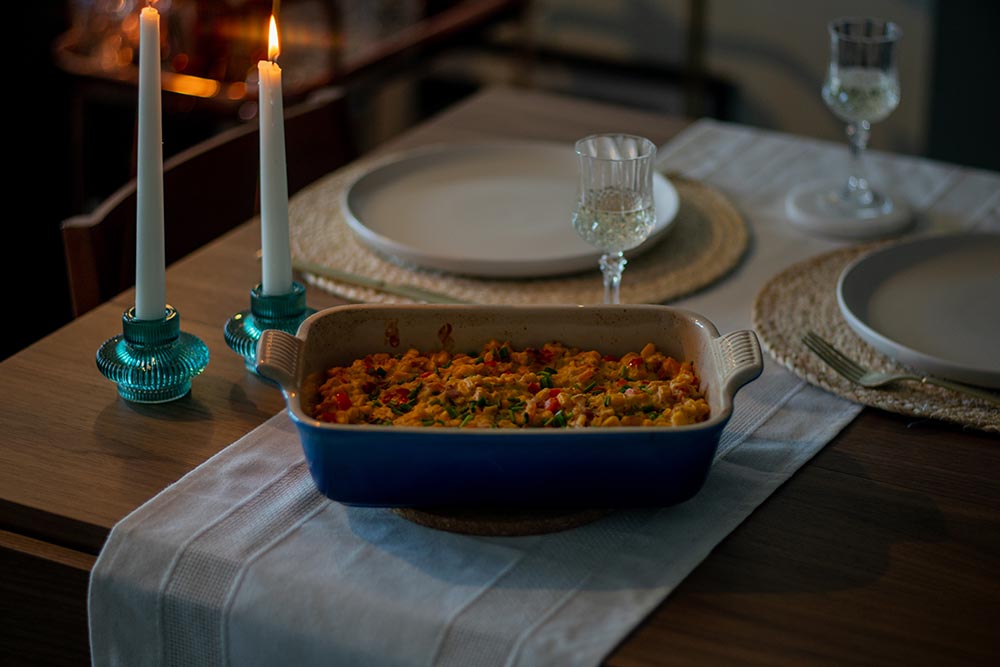 Thinking corn was a regular Canadian Thanksgiving dish I decided to lean into it. North Americans loves their food loaded: potato skins, nachos, fries! So I figured I'd pay tribute to that by making loaded creamed corn filled with bacon and chives.
Despite my total fluff up of cooking creamed corn, this recipe ended up being the most popular dish on everyone's plates, with everyone taking seconds. One friend – who's a Holistic Nutritionist and co-founder of @verilykitchen – even took some home to eat for breakfast the next day. So I'm pretty confident in saying it was well received. 
It was upon request from everyone at the table that I share this loaded creamed corn recipe on Postcards from Hawaii, so here we are. 
It's an easy way to include plenty of colour on your plate in what is usually quite a beige meal (turkey, potatoes, stuffing, yams…) and though it's not healthy what with the bacon and cream cheese and all, it's a fun way to get veggies on the plates for those who may be reluctant to it.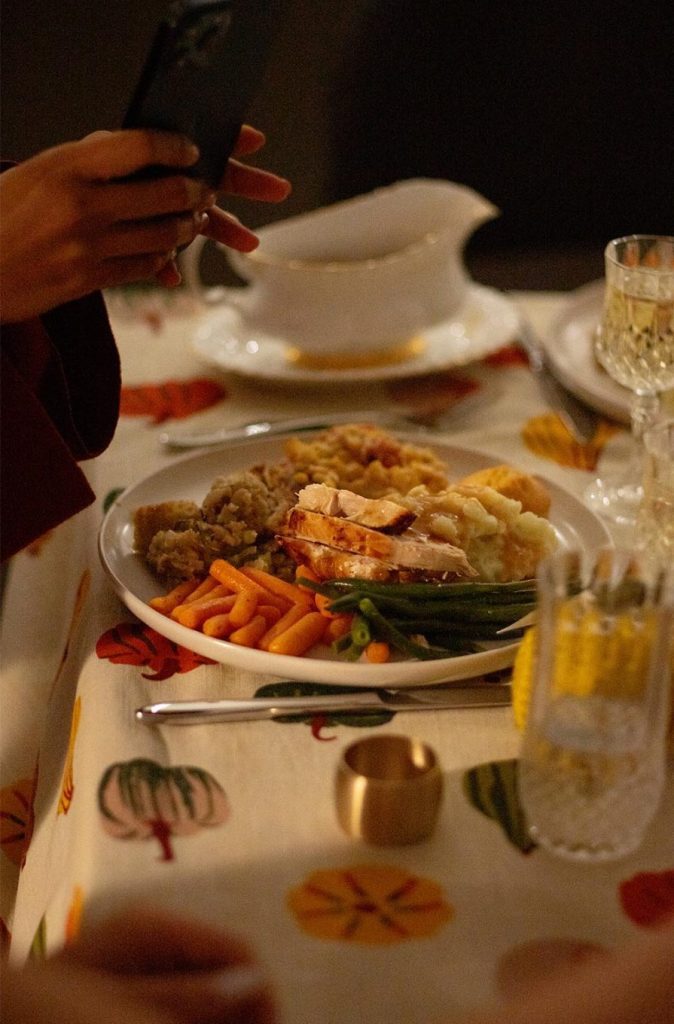 Which cream cheese is best?
In my opinion, unless you're making cheesecake, any flavoured cream cheese is superior to plain.
The first time I made it I used Boursin because it was on offer but the second time I went to make it the Herb & Garlic Philadelphia Cream Cheese was on offer. Using Boursin made this loaded creamed corn dish more rich in flavour but as there is more Philadelphia Cream Cheese in the 227g it made this corn dish creamier. The choice is yours.
You can just use plain cream cheese and season the dish yourself of course. It will also make this loaded creamed corn side dish cheaper to make.
I had never heard of "peaches & cream" corn until I moved to Canada and from what I've gathered it's just a hybrid of yellow and white corn. Our sweetcorn in the UK is the same as what's labelled as "niblets" here in Canada. 
It really doesn't matter which one you use, I actually used both. 
If you want to extra and go for the brownie points you could use corn off the cob, but who's got time for that when you're preparing a whole roast dinner. 
Is this loaded creamed corn recipe vegetarian?
No this loaded creamed corn dish is not vegetarian but if you removed the bacon it would be. 
Use a dairy-free nut cheese alternative to make it vegan.
Can this loaded cream corn dish be prepared in advance?
Yes, you can save time on the day by preparing this creamed corn side dish in advance up to a day before. You can go through steps 1-7 in the recipe below then store it covered in the fridge until you're ready to pop it in the oven. I did this on the day I hosted Thanksgiving and popped it in with the stuffing about 15mins before I boiled the carrots and green beans.
How much does this recipe make?
This recipe will make enough to serve 8-10 people. I made it for 6 people and had leftovers for a few meals after.
What you need to make loaded creamed corn
Skillet (sauté pan)
Chopping board
Sharp knife
Wooden spoon
Oven dish (8"x11")
Ingredients to make loaded creamed corn
This loaded creamed corn recipe will serve 8-10 people.
X1 540ml can of cream style corn
X2 341ml cans of corn (niblets or peaches & cream or one of each)
X8 rashers of smoked streaky bacon
227g tub of Herb & Garlic Philadelphia cream cheese or a wheel of Boursin
X1 shallot
X1 red pepper
X1 orange pepper
X1 tbsp chives

 

X1 tsp oil
Recipe for how to make loaded creamed corn
Pre-heat the oven to 170°C/325°F.
Finely chop up the bacon and add to a skillet over a medium heat with a tsp of oil. Cook until crispy. Once the bacon is cooked remove it from the skillet and set aside but leave the oil and grease in it to use again (no use wasting it and it adds flavour value).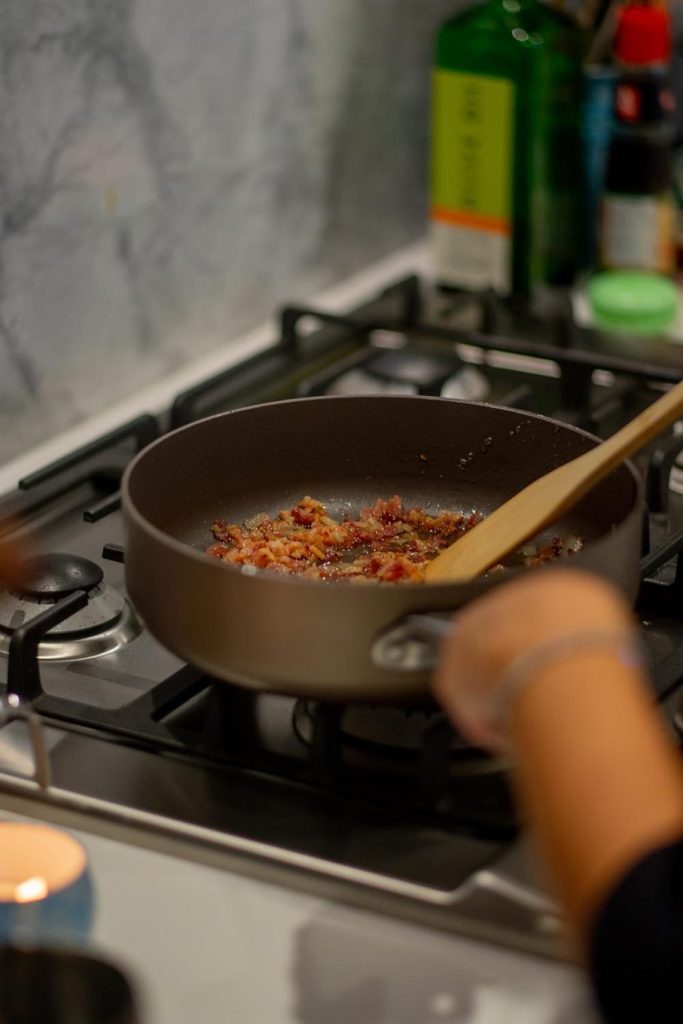 3. Thinly slice the the shallot and add to the skillet that still holds the bacon grease over a medium heat. Cook until translucent.
4. Dice the red and orange peppers and add to the skillet. Cook them down until they soften, stirring frequently.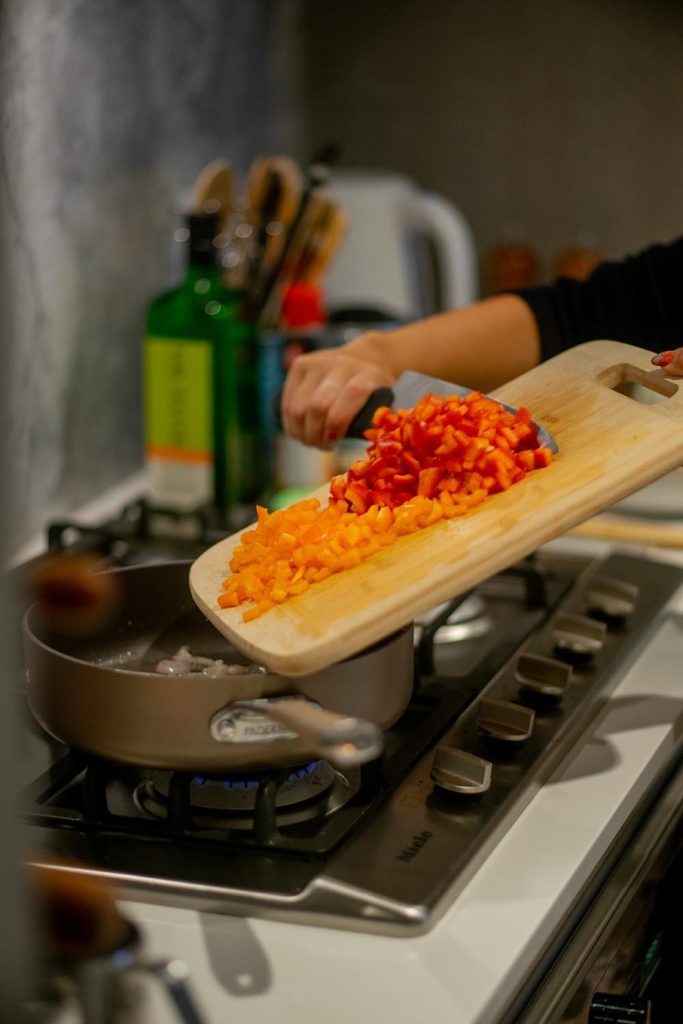 5. Drain the cans of corn and add both to the peppers. Cook until the veggies start to catch on the bottom of the skillet and turn brown.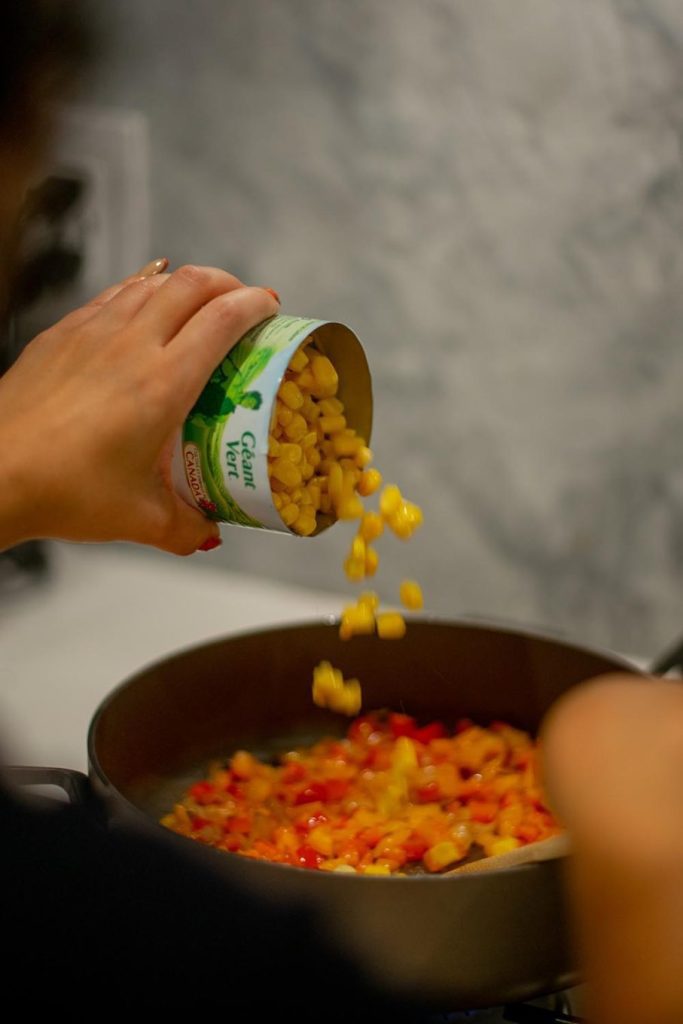 6. Turn off the heat and stir in the cream cheese and cream style corn.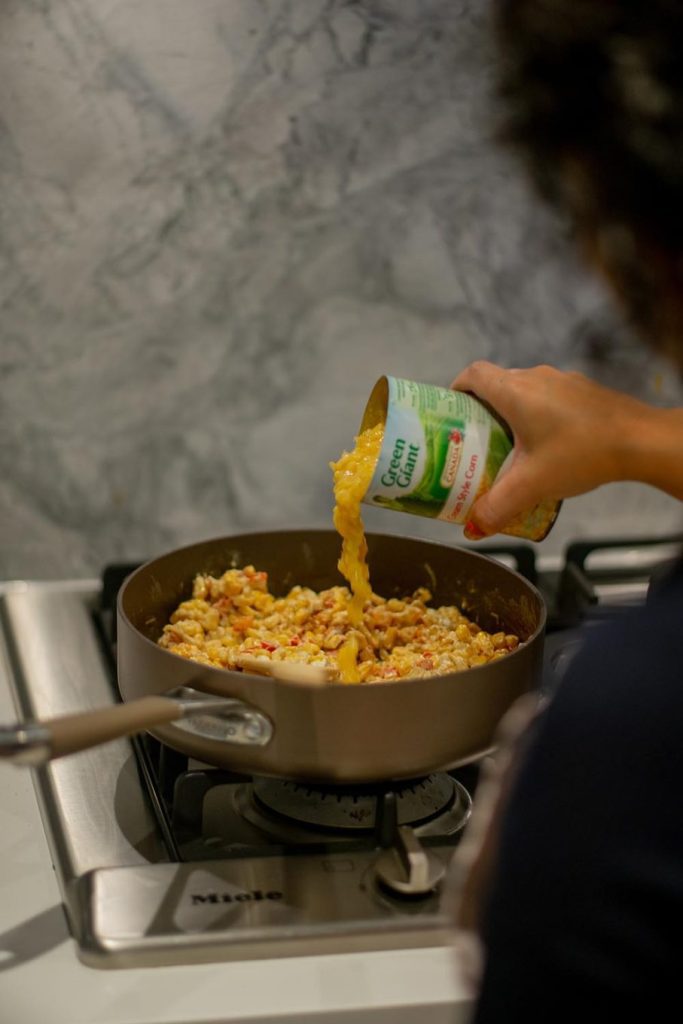 7. Add the bacon and season with salt and pepper.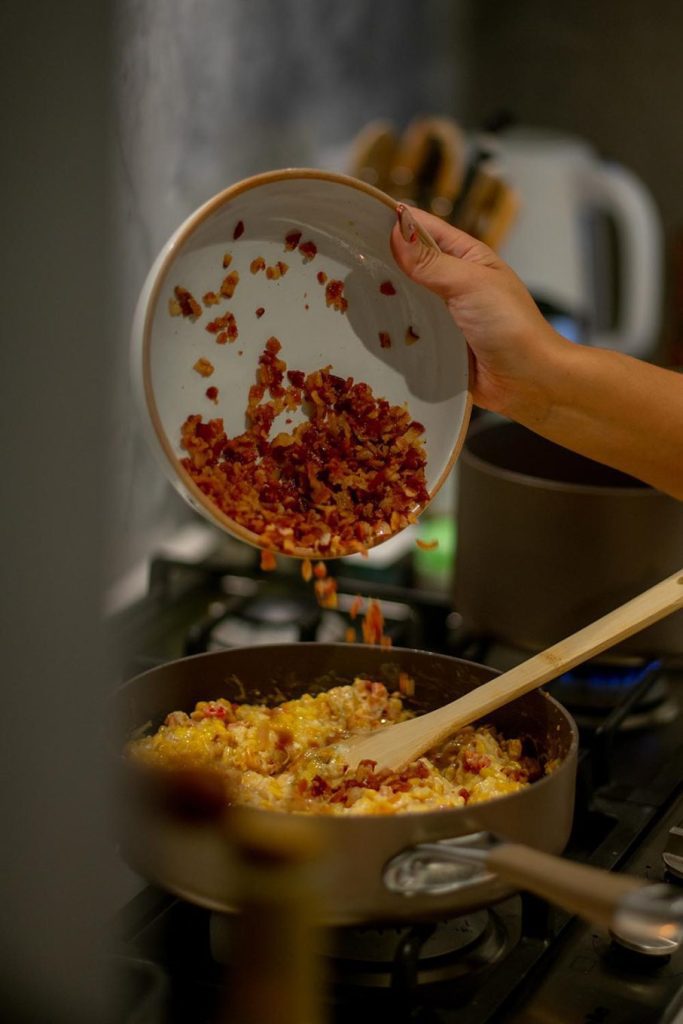 8. Turn the mixture out into an oven dish and put on the middle shelf of the oven for 25 minutes until the mixture starts to brown on top.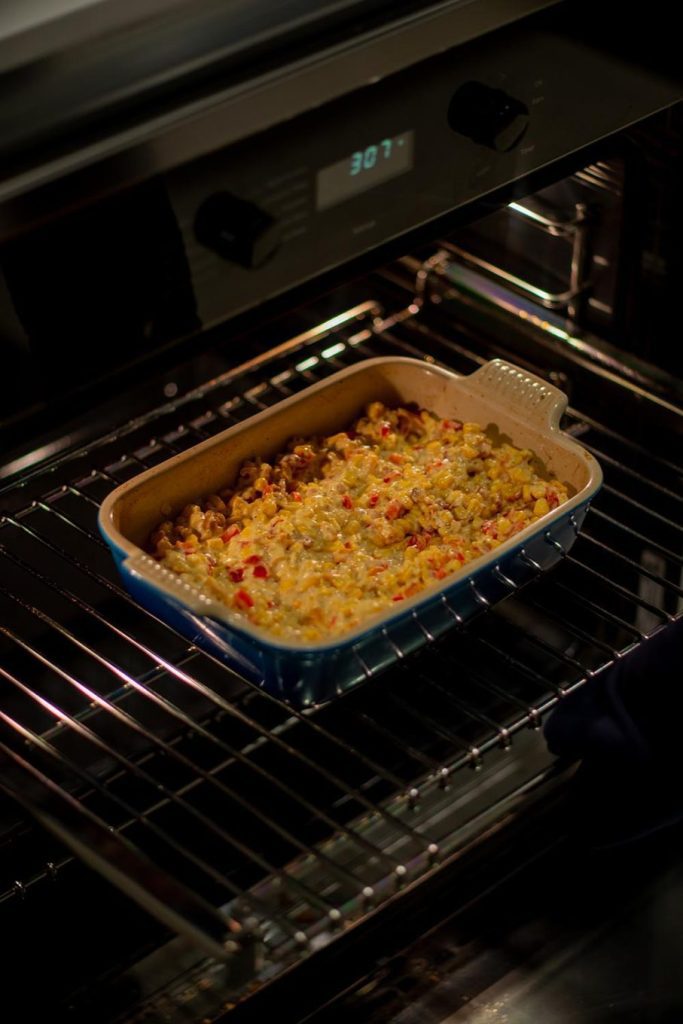 9. Before serving, garnish with a sprinkling of chopped chives.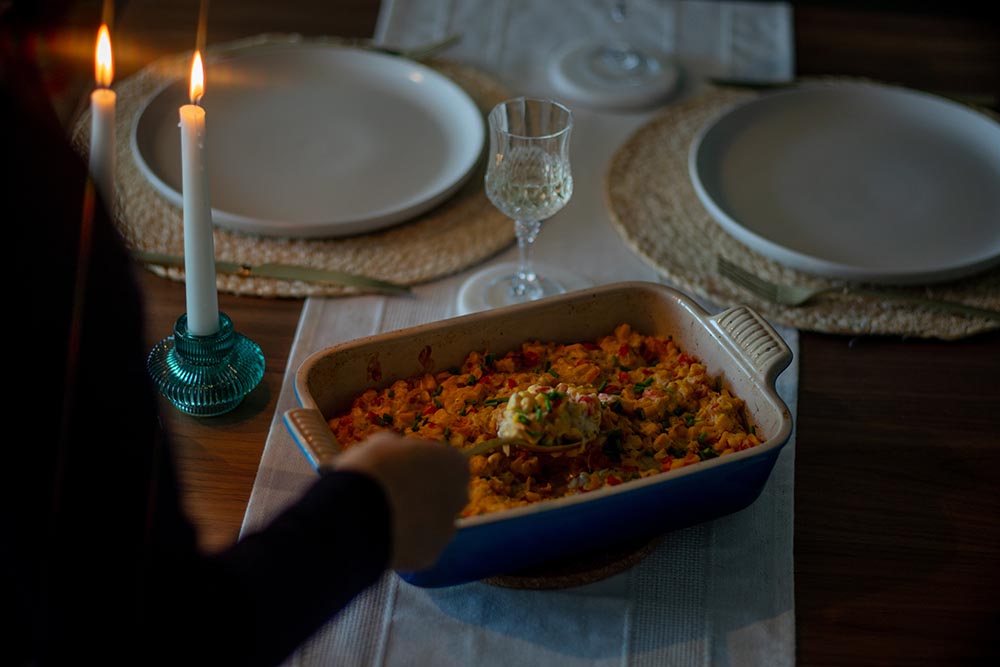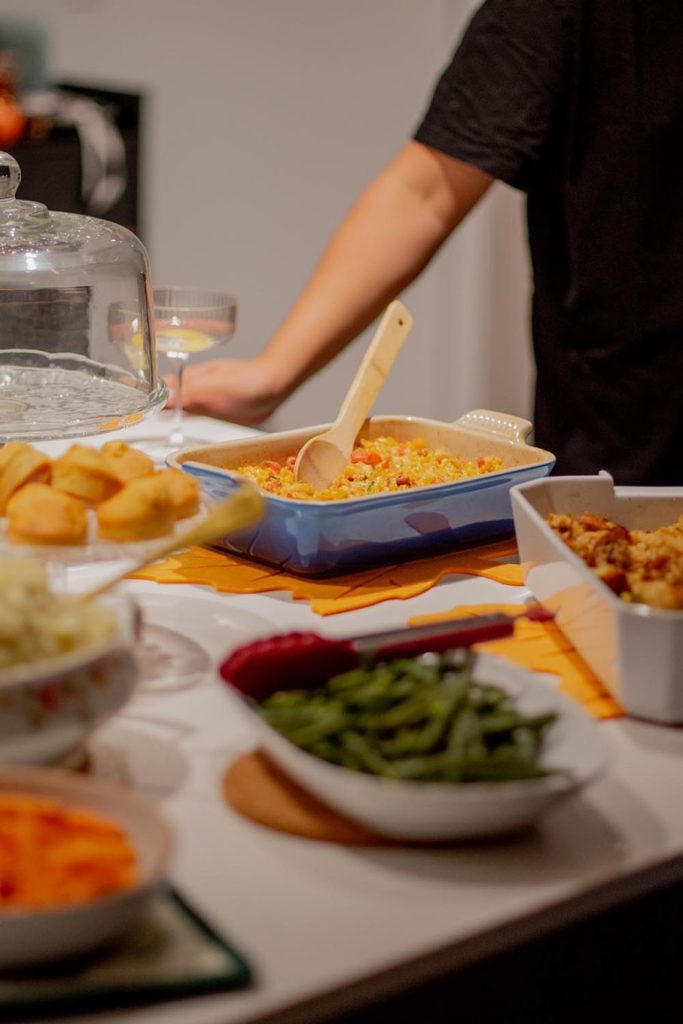 Do more on & for the planet, Gabriella