In this mini guide for the 5 most Instagrammable places in Las Vegas for content creators I have listed 5 of the best and diverse places to take photos in Vegas that aren't directing you to themed hotel gimmicks. 
Instead I'm sharing a colourful art installation just outside of the city, a neon graveyard of some of the most iconic hotels in Vegas history, converted motels with their original signs and how to experience the Bellagio Fountains from behind without having to shelling out for a room.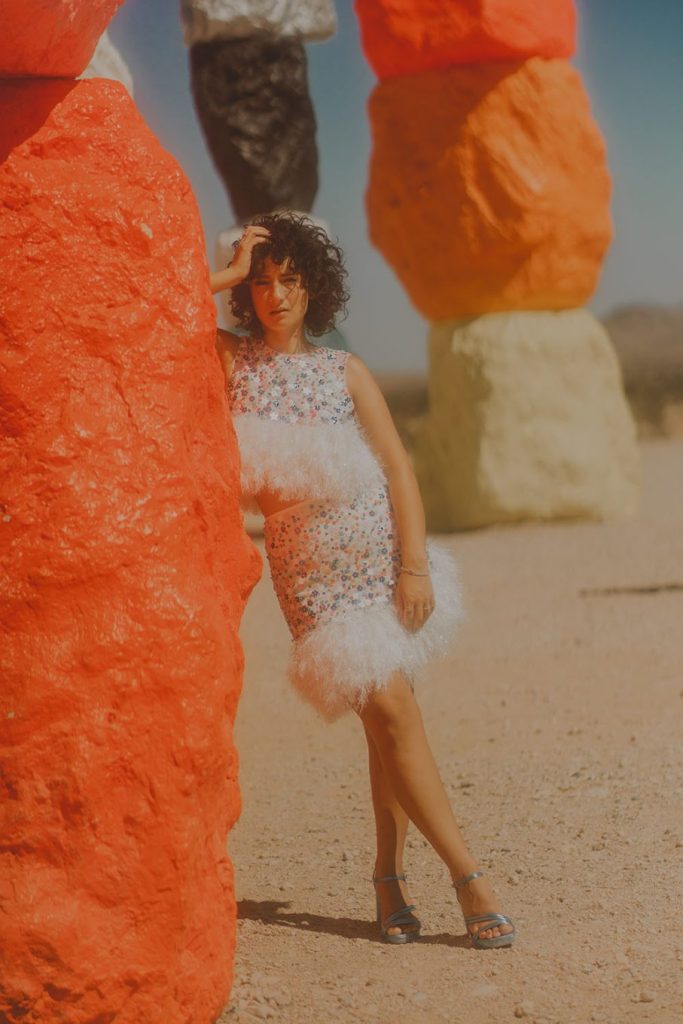 Why is this guide so short? Let's be real, no one really goes to Vegas on vacation or for work for more than a few days. So this guide is short but sweet to cater for you who want to hit up some pretty neat spots to take photos, videos and experience Vegas but are mindful of your limited time.
Though I love to dress up and enjoy a cocktail or two, I'm not a party girl and of the five times I've been to Las Vegas thus far, I've only been in a club once.
What I have done in all those times is seek out fun experiences, iconic landmarks, historical points of interest and cute places to take photos. So here's my mini guide to the most Instagrammable places in Vegas for content creators: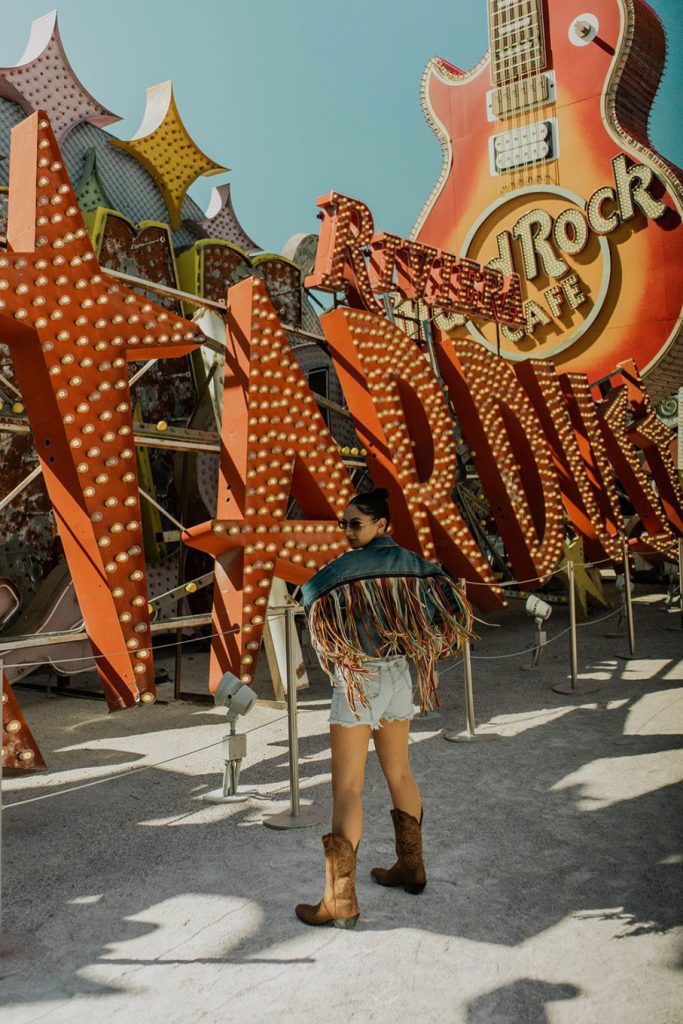 1. Behind the Bellagio Fountains at Lago restaurant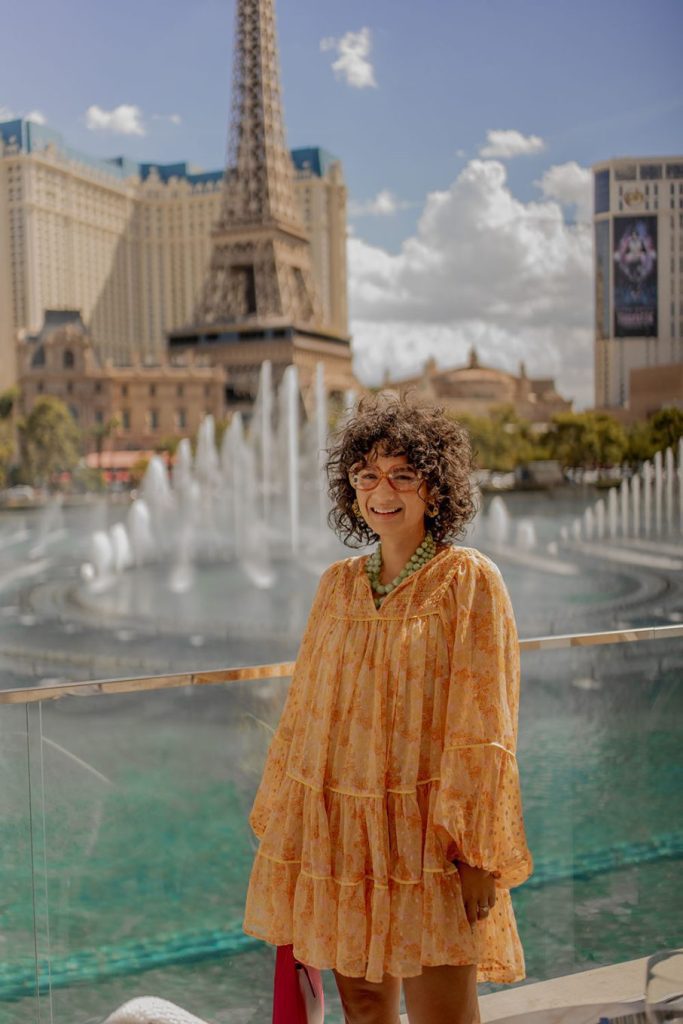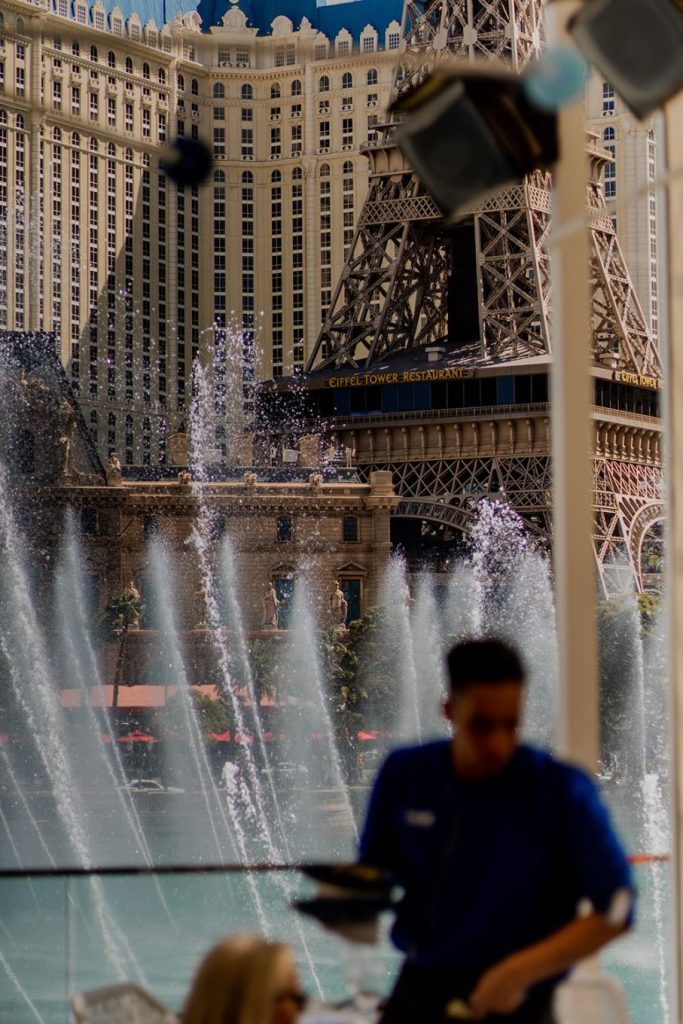 The Bellagio Water Show at the Bellagio hotel on the Vegas Strip is a Vegas bucket list item. Films such as Ocean's 11 (1960), Viva Las Vegas (1964) and The Hangover (2009) had me yearning to experience Sin City myself but it was one scene in the 2001 Ocean's Eleven that had me seeking one thing: the Bellagio Fountains.
The scene where the heist is over and all but Ocean himself gaze in bewilderment at the Bellagio Fountains. Debussy's Clare de Lune plays as each one of them peels away revealing a closing shot of one final explosive display of water. It was this scene that has me returning to the fountains every time I'm in Vegas, day or night.
PFH Fun Fact: If you want to know the song list and when a specific one is played for a special occasion you call up the hotel to find out.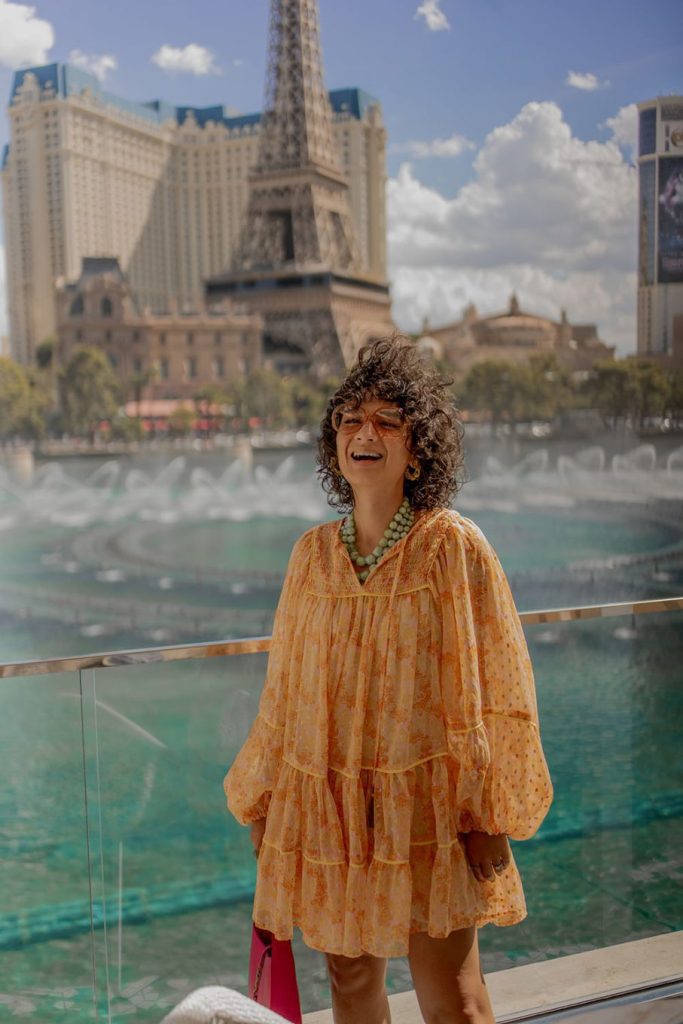 So sure, taking a photo for The Gram or making a TikTok in front of the Bellagio Fountains is great, a must, but why not level up and take in the show from behind the fountains? 
Lago by Julian Serrano is an Italian restaurant within the Bellagio Hotel. With a lucky table close to the window or out on the small terrace you'll be able to view the fountain show from behind the artificial lake, a far more immersive experience than from the front.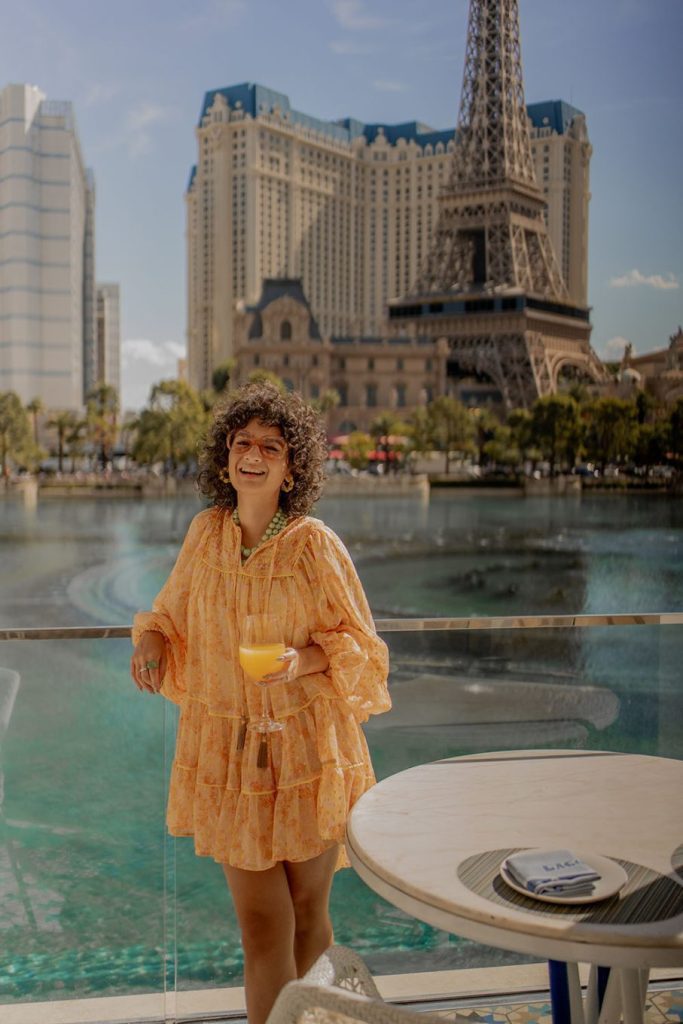 Where to find Lago at the Bellagio Hotel
Lago is located within the casino at the Bellagio hotel. 
Bellagio Hotel & Casino, 3600 S Las Vegas Blvd, Las Vegas, NV 89109, United States
Best time of day to go to Lago at the Bellagio Hotel
The water show at the Bellagio Fountains are:
Monday – Friday: every half an hour from 3pm – 8pm then every 15mins from 8pm – midnight.
Saturday: every half an hour from 12pm – 8pm then every 15mins from 8pm – midnight.
Sunday: every half an hour from 11am – 3pm then every 15mins from 3pm – 8pm. 
Lago opening hours are: 
Monday – Thursday: 11am – 2.30pm and 5pm to 10pm.
Friday – Sunday: 10am – 2.30pm and 5pm – 11pm.
We went for brunch after seeing a show the night before thinking it would be quiet but we made two mistakes here. Though it was quiet, it was quiet because many of the seats right at the front, with the best view, were in the sun making it impossible to sit at those tables. The waitstaff were refusing to seat people at those tables whilst we were there and rightfully so.
The other reason that was a mistake was because the brunch menu was disgusting. Truly, terrible food. It was poorly presented, tasteless, cold and had a rubbery texture. Perhaps the lunch or dinner menu is better? I can't rule it out without trying but in my personal opinion, go for lunch not breakfast. You're absolutely paying for the view.
2. Welcome to Fabulous Las Vegas Nevada sign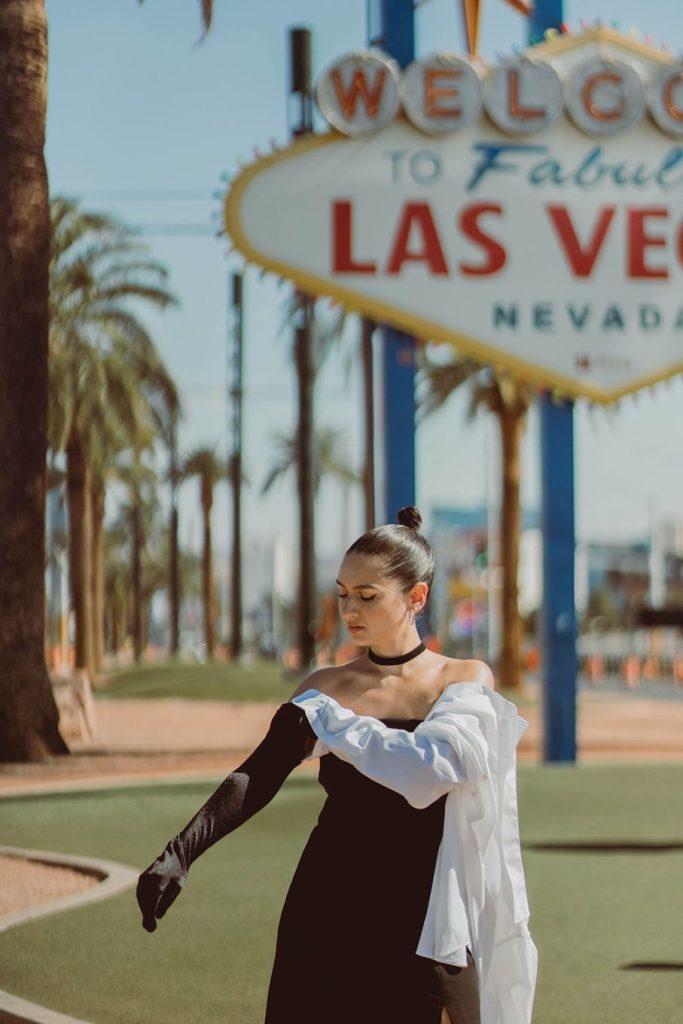 The Welcome to Fabulous Las Vegas sign is the most famous landmark in Las Vegas and therefore cannot be missed off this list. 
Recognised and duplicated around the world this yellow, red, blue, white and orange sign, designed by Betty Willis is a registered National Historic Place. Sitting at the south end of Las Vegas Boulevard, it has been welcoming people to Sin City since the late 1950s.
Did you know people were discouraged to visit the sign and it wasn't until 2008 that a parking lot was built enabling visitors to safely experience the famous landmark up close?
Unless you go first thing in the day, there is a very high chance of a queue to be able to take photos with or of the Welcome to Fabulous Las Vegas Nevada sign. This queue is to be able to take photos of the front of the sign from head on, so if your priority isn't to go head on, you can get equally amazing shots from the side. Taking photos from the side alleviates any pressure from people staring, gives you more time because there's no queue and gives you the freedom to be more creative with your content.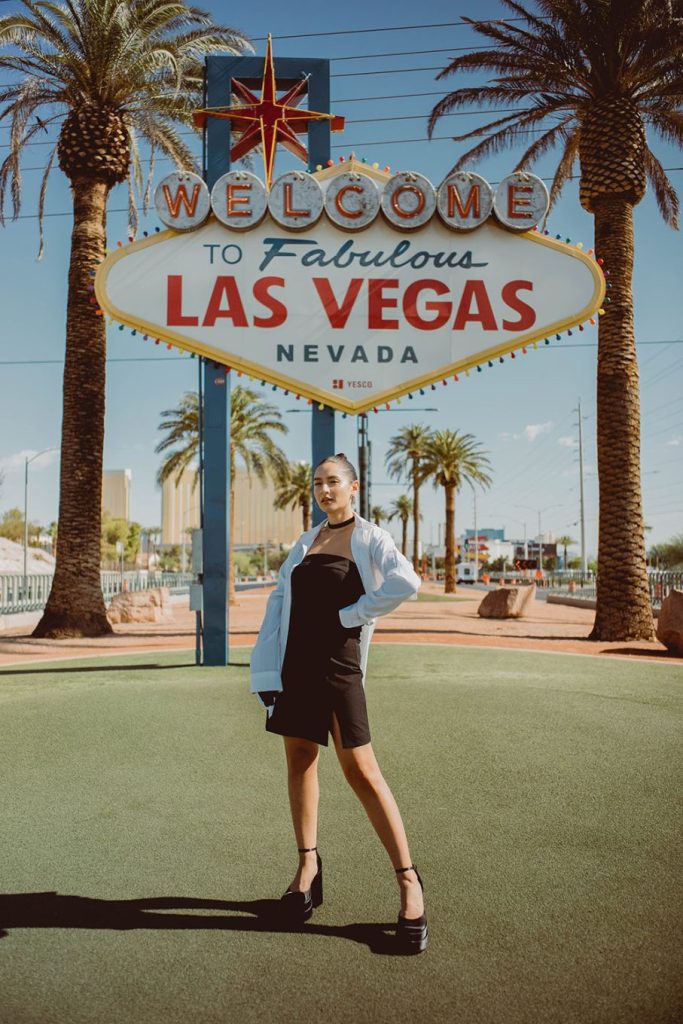 I was in Vegas to see Shania Twain and was channeling her "Man I Feel Like a Woman" music video.
Where to find the Welcome to Fabulous Las Vegas Nevada sign
The Welcome to Fabulous Las Vegas Nevada sign is located at the south end of Las Vegas Blvd.
5100 Las Vegas Blvd S, Las Vegas, NV 89119, United States
There's a complimentary parking lot next to the sign in the centre of the road. 
If you aren't driving the Deuce bus route will take you to the sign and back from the Vegas Strip or you can get an Uber but expect a longer wait from the sign than from your hotel.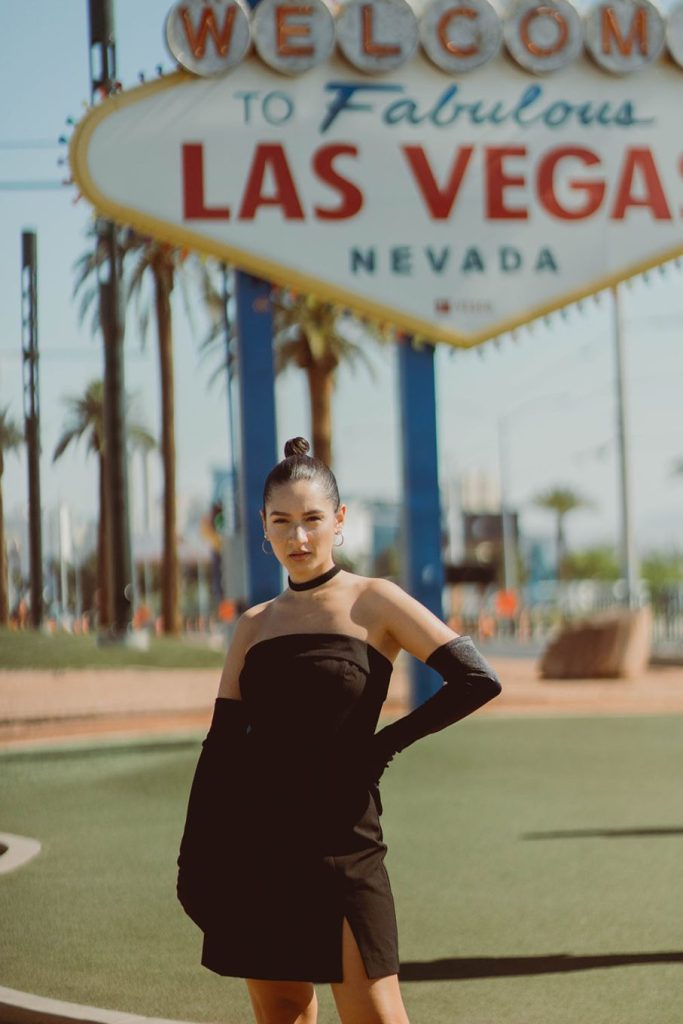 Best time of day to go to the Welcome to Fabulous Las Vegas Nevada sign
The best time to visit and take photos at the Welcome to Fabulous Las Vegas sign is early in the morning, as soon as the sun is up if possible. Here's four good reasons why: 
It's quiet, unless there are other content creators with the same idea, no one can be bothered enough to go that early so you won't have any pressure from people in the queue behind. You also won't have to queue.

 

The person who volunteers to take photos won't be there yet so you don't have to have that awkward exchange of why you don't want them to take photos of you kissing or with your arms in the air. These people are not affiliated with the sign and though you can tip them for taking a photo of you, know that you can take your own photos free of charge.
The temperature is cooler and you've got far less chance of getting heatstroke – which I did on my first time after standing in the queue for 25mins in the midday sun.
The sun isn't high in the sky, making for more even lighting and better photos and videos.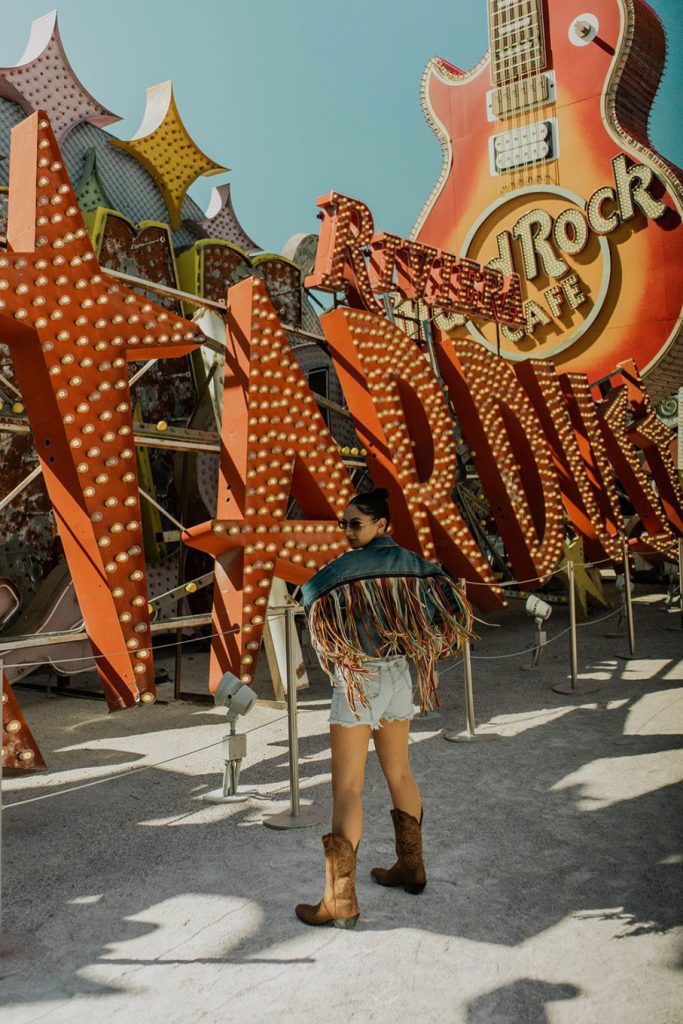 The Neon Museum is a non-profit organisation that collects, preserves and displays retired signs from all over Las Vegas.
Their collection of neon signs have been rescued from hotels, casinos, clubs and more and range from the 1930s to present day.
As of 2022 the Neon Museum is celebrating 10 years since opening its doors to their paid exhibitions. 
There are two galleries with separate entrance costs and multiple tours available, check here to plan your visit to the Las Vegas Neon Museum.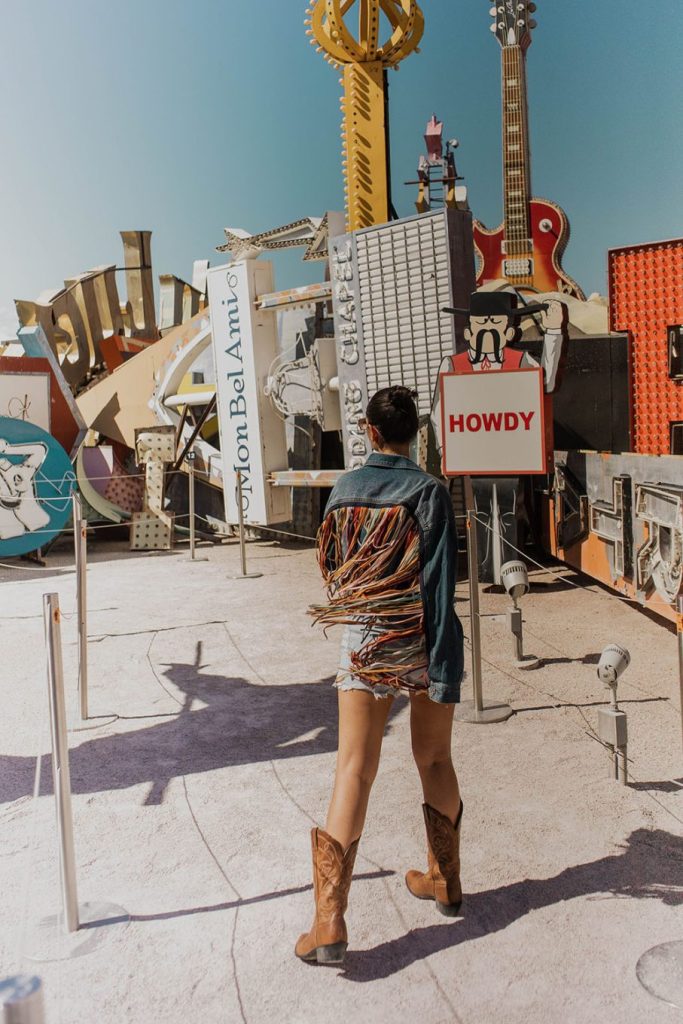 Where to find the Neon Museum Las Vegas
The Neon Museum Las Vegas is located on Las Vegas Blvd at the opposite end to the Welcome to Fabulous La Vegas sign. Find it at the following address:
770 Las Vegas Blvd N, Las Vegas, NV 89101, United States
Parking for the Neon Museum Las Vegas is complimentary and shaded.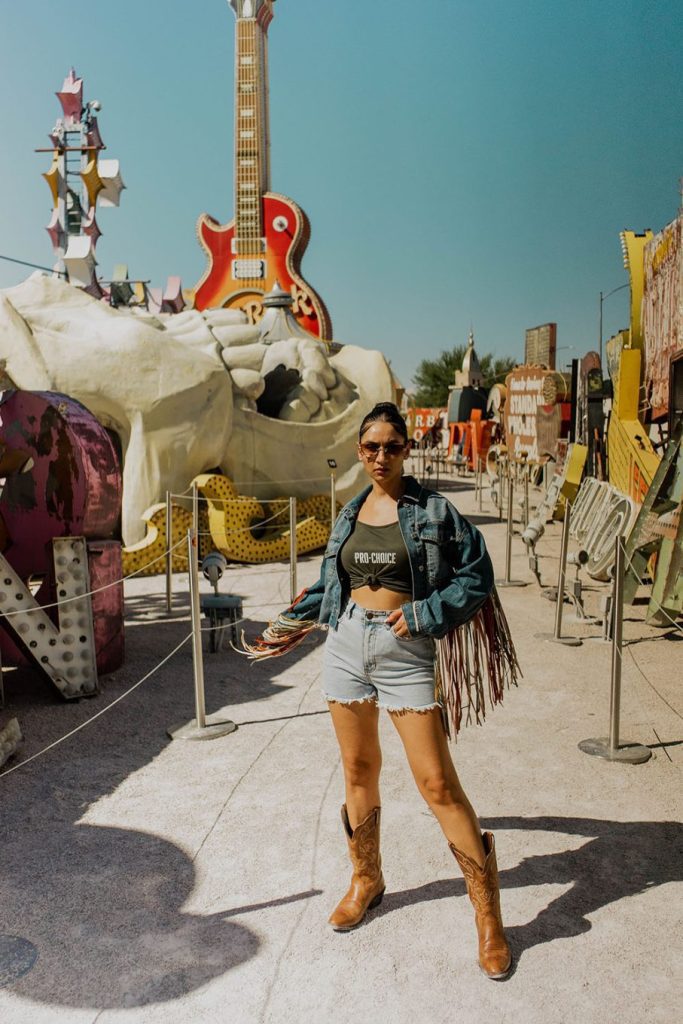 Best time of day to go to Neon Museum Las Vegas
The best time of day to get photos and videos for Instagram and TikTok at the Neon Museum Las Vegas is in the daytime as the natural daylight will make everything far clearer. However the best time to experience the Neon Museum's fabulous collection of historic neon signs is at night when they do what they do best, light the sky ablaze with a dance of flashing bulbs.
So I would say, if you're patient enough to hang around, the best time to visit is dusk so that you can experience both.
Keep in mind that it is busier at night so book your tickets here in advance.
Opening times vary seasonally so check them before hand here.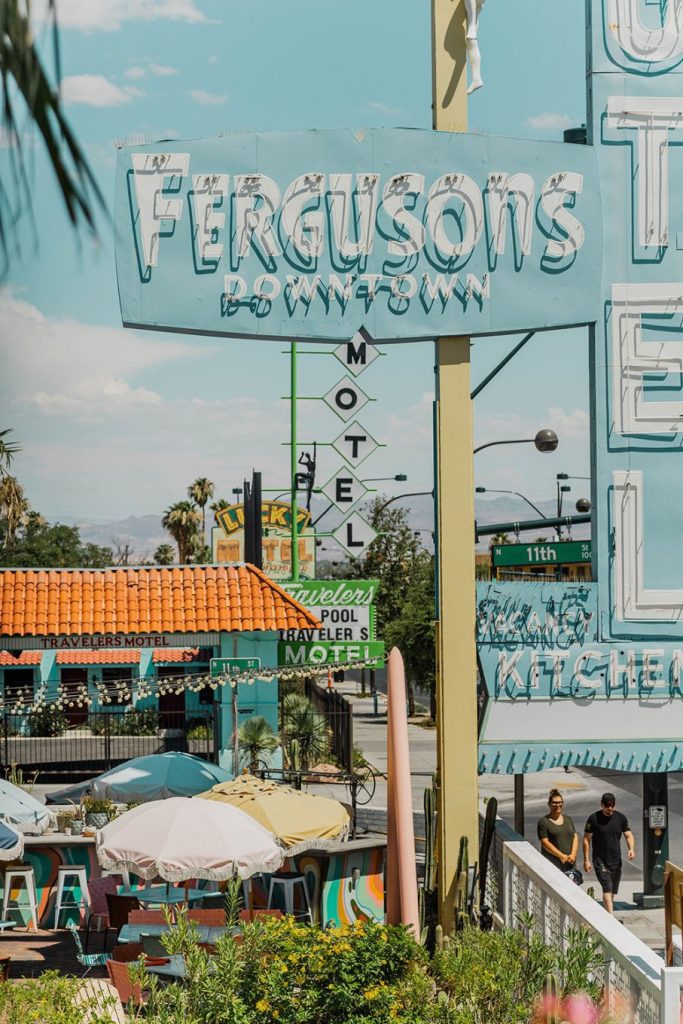 East Fremont St, just a mere 10mins from the bright lights and loud casinos of the Fremont St Experience, is where you'll find Fergusons Downtown. Fergusons Downtown is a converted motel that is now home to independent restaurants and shops whilst being a venue for live performances.
PFH top picks for Fergusons Downtown: 
Peyote restaurant – has very cool retro inspired umbrellas to shade you from the desert sun.
Mothership Coffee Roasters.
Neon Cactus Vintage – very affordable vintage bargains and friendly customer service and is a queer WOC and black-owned small business.
Tofu Tees – Black owned business making positive slogan tees and stickers like the Pro Choice tank top I'm wearing in the photos of me at the Neon Museum above.
Fergusons Downtown has kept its original motel sign as has the neighbouring properties. Take a short walk down E Fremont St for some very cool signs.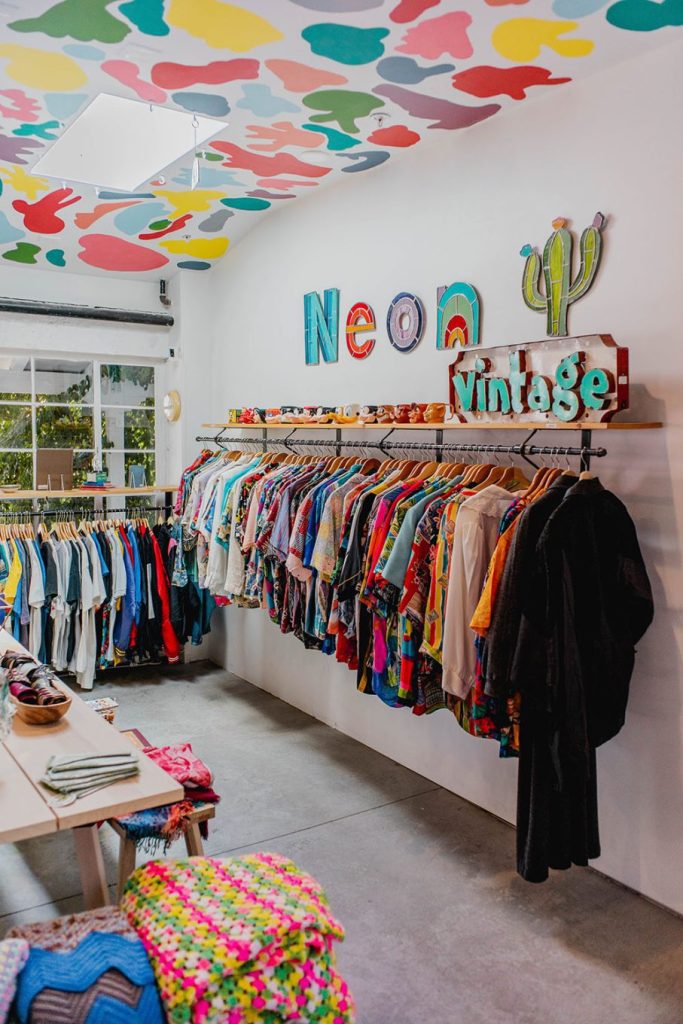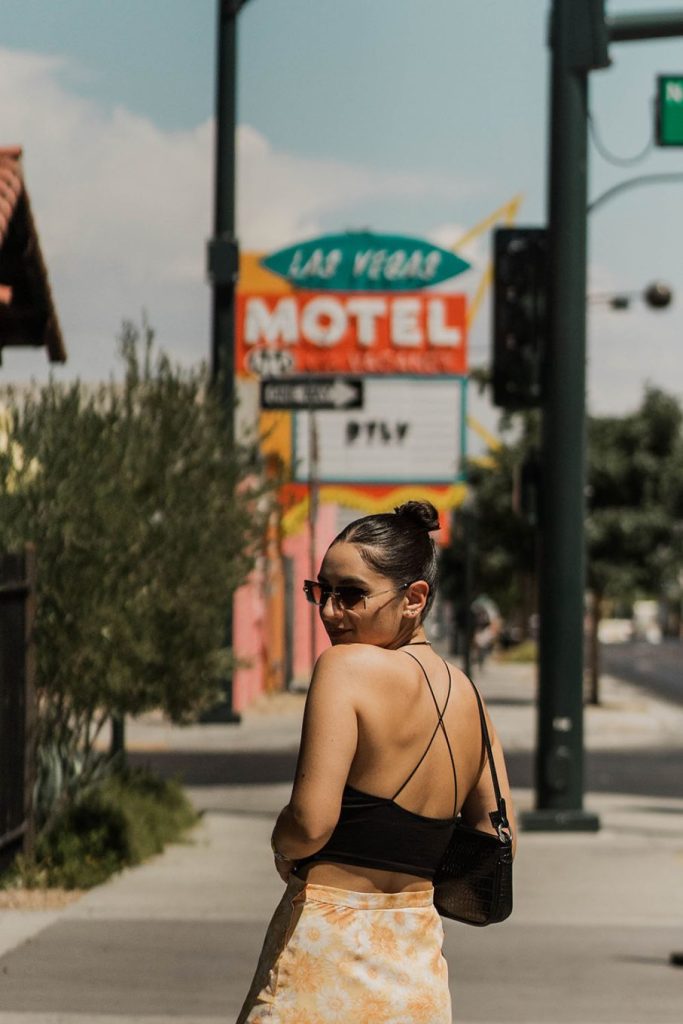 Where to find E Fremont St
E Fremont St is east of the Vegas Strip and is about a 10 minute walk from the Fremont St Experience.
The address to Fergusons is: 
1028 E Fremont St, Las Vegas, NV 89101, United States
Best time of day to go to E Fremont St
Brunch or lunch is the best time to enjoy a trip to east Fremont Street. Enjoy the area in the daylight whilst the shops and restaurants are open with good daylight for photos and videos, whilst keeping a chance of not overheating from the afternoon sun.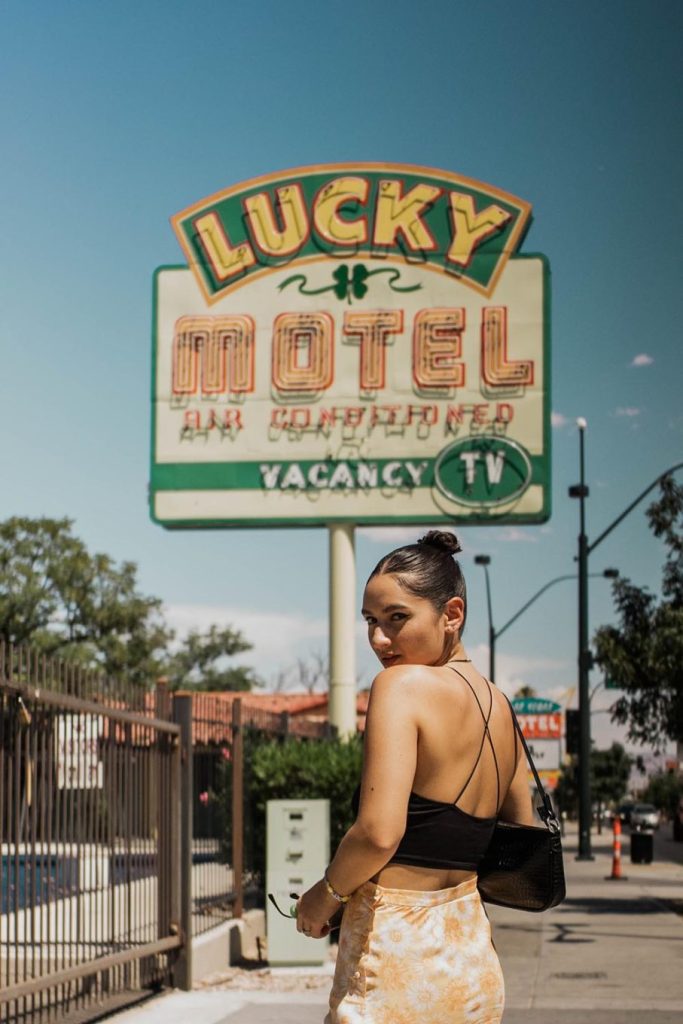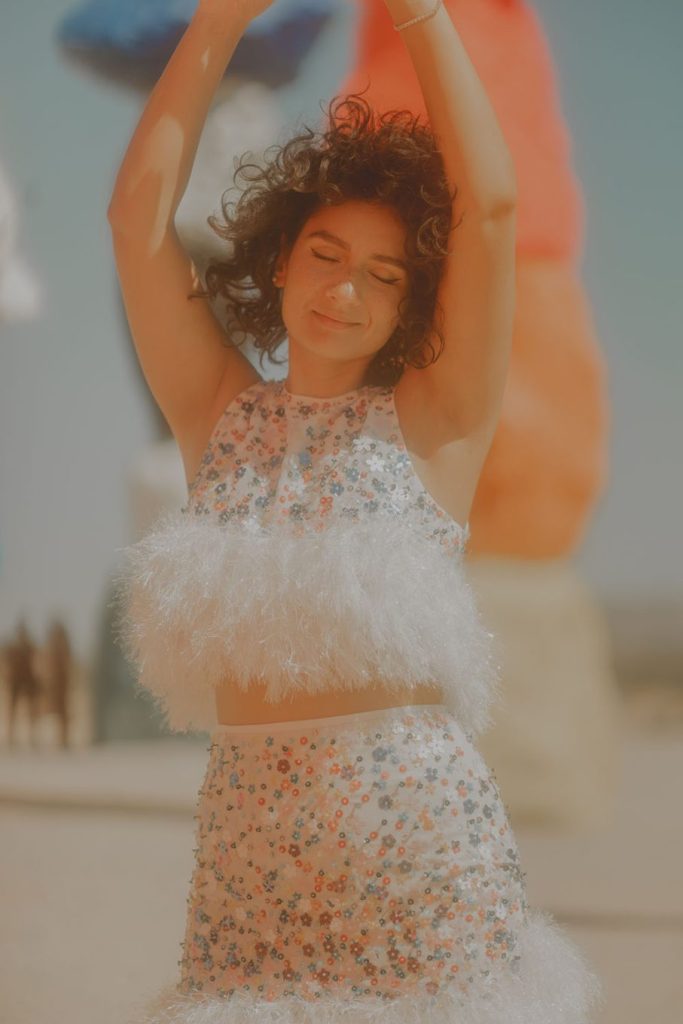 7 Magic Mountains is a multi coloured art installation located about 45 minutes from the Vegas Strip. The 7 totems formed by painted boulders was designed by Swiss artist Ugo Rondinone. 
The 30ft+ columns in contrasting colours of neon and metallics can be instantly spotted from the Las Vegas Fwy and serves as an interesting place to get creative with creative content for Instagram and TikTok or your own pleasure.
"A creative expression of human presence in the desert, Seven Magic Mountains punctuates the Mojave with a poetic burst of form and color." – www.sevenmagicmountains.com
Open from May 2016, 7 Magic Mountains was only supposed to be on display for 2 years but its overwhelming popularity led to an extension and I'm not aware of any plans to remove it.
It is free to visit 7 Magic Mountains.
Note that it's super dusty here so your footwear will need a good clean after.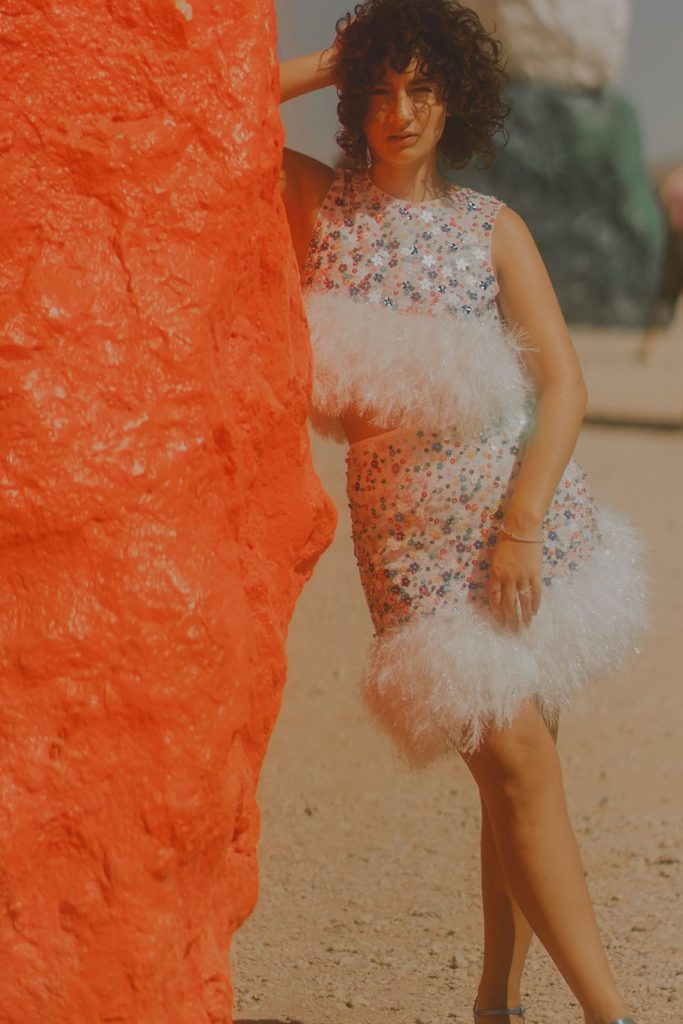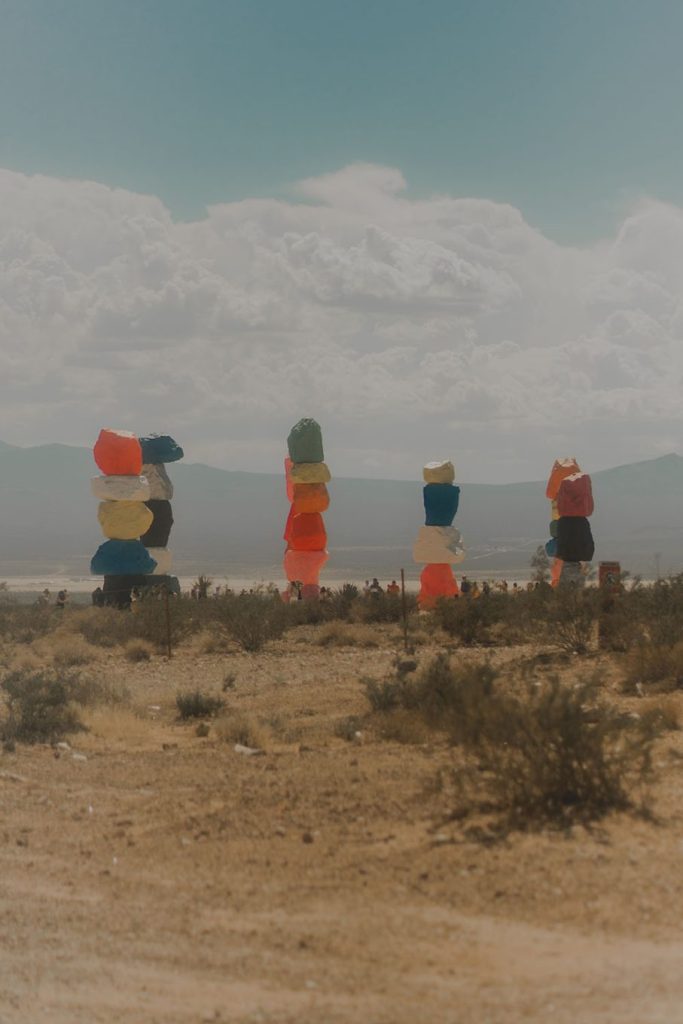 Where to find 7 Magic Mountains
7 Magic Mountains is located in the Ivanpah Valley, half an hour (by car) from the Welcome to Fabulous Las Vegas sign. 
S Las Vegas Blvd, Las Vegas, NV 89054, United States
There's a free parking lot.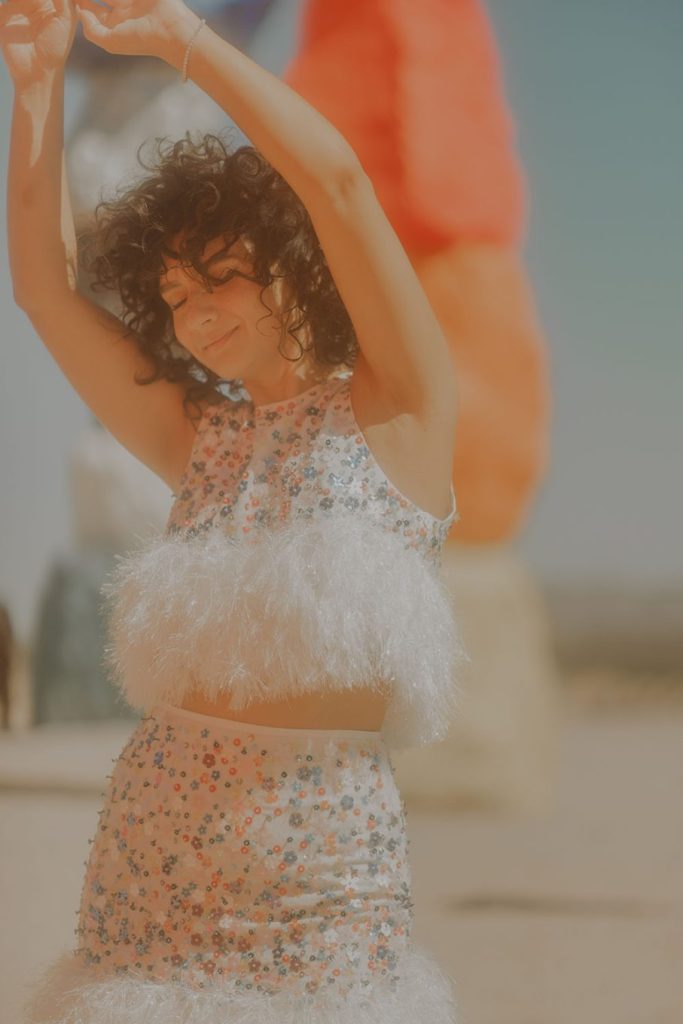 Best time of day to go to 7 Magic Mountains
As 7 Magic Mountains is an open space and there's 7 boulder-totems to work with, you don't have to worry about what the best time of day is to avoid crowds. I've been in the afternoon and sunset and sure there's people but you can always work around them. 
I personally think the best time to go is around dusk/sunset as the sky turns to peach, lilac and baby blue. We were already heading back to the car at this point but it was very beautiful and I wish we had gone back to take photos on the camera.
Let me know in the comments below if you use this guide to visit any of these places or if you have any new recommendations for other readers. Thank you for being a part of the PFH community!
Do more on & for the planet, Gabriella