Who are TouchNote?
You know that special feeling you get when you receive mail through the door that isn't an electricity bill, a flyer for an elderly care home or a fast food menu that doesn't even have a voucher attached?! No, I'm talking when it's something just for you, from someone you care about, that you didn't know was coming, you know? Well, TouchNote took that and combined it with the digital era to create an award-winning app that allows you to send personalised postcards, greetings card and more via your mobile, tablet or desktop to your loved ones all over the world. In an instant you can send a photo from your travels, of your kids or pets, any cherished moment in time, and have it arrive through the mailbox of your nearest and dearest a few days later. It's what TouchNote like to call "keeping in TouchNote".
Why I use TouchNote
I have been using TouchNote since 2014, way back when Michael and I had officially put both of our names down on a lease for our first place together and wanted to send personalised Christmas cards out to our family all around the world. Since then I've using TouchNote to send birthday messages, thank you notes, Christmas cards and travel postcards to and from all over the world. 
To get the best idea of why I love using TouchNote and how much it means to me and my loved ones, watch the video below created in collaboration with TouchNote.
What I love most about TouchNote is how easy it is to use their app to make something so unique and personal at such a low cost. I have been sending my best friends postcards for almost a decade now and though finding the most ridiculous cards I could get my hands on was fun, it was always a pain to then purchase a stamp and locate a postbox. Since using TouchNote I can do it all from my phone at one all-inclusive cost for printing and postage.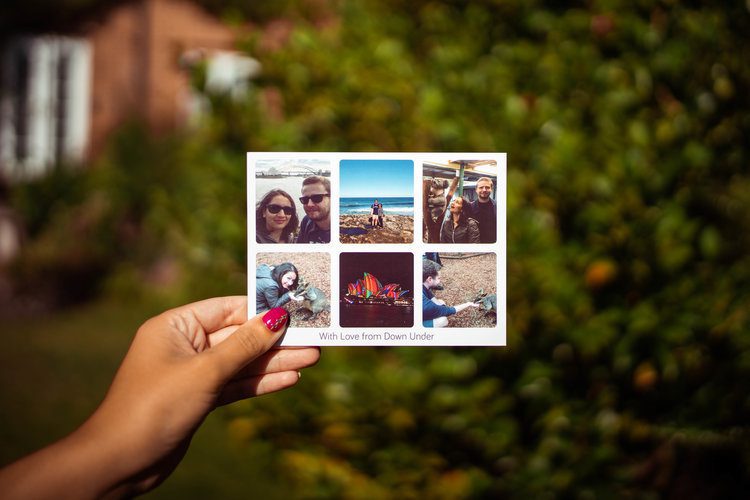 I sent this card to my parents' next door neighbours in 2016. They lived next to my childhood home for years and are dear friends of the family. Michael and I set off for our 16 week long round the world trip where we visited their daughter who is living and working out in Sydney, Australia. They gave us a bon voyage card along with Aussie Dollars to spend on our trip, so to say thank you, we put together a few photos of us out in Australia on the TouchNote app and sent them a postcard.
It's not only sending them abroad that is cost-effective though. I can send postcards to my parents in England from anywhere in the world and only have to pay English postage because it will be sent from Guernsey. So not only is it cheaper but I also know it won't take weeks to arrive! You can read more about where they print and post plus delivery time under "Delivery" further down.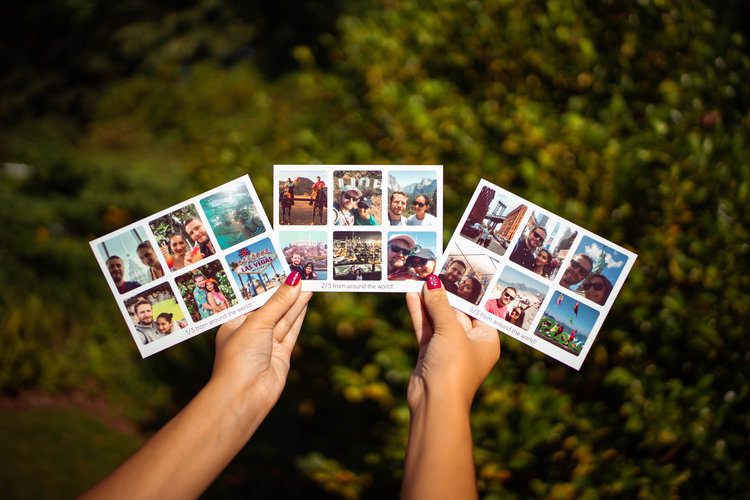 On the same round the world trip I mentioned above, I was able to send my parents postcards from Malaysia, Singapore, Australia, New Zealand, Hawaii, Las Vegas, the Grand Canyon, Hollywood, Yosemite, San Francisco, Seattle, Vancouver, New York and Rio de Janeiro in just three TouchNote postcards using their grid layout, at a fraction of the cost that it would have had I sent them individually from each destination.
Another brilliant bonus about having the TouchNote app is that it is my address book, no matter where I go. The app allows you to save addresses in the TouchNote Address Book, even when you're not sending a postcard. So whenever I need to send something abroad, whether it's a TouchNote card or not, I always go on the app to check my address book.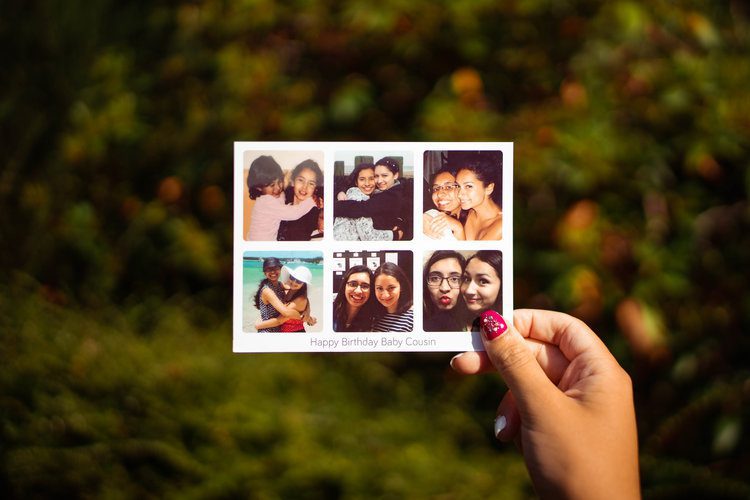 Sometimes you just can't find the perfect birthday card, so TouchNote comes in handy for sending one from the heart. The first card is a postcard I sent my (not so) baby cousin, Rachel, for her birthday and it's a collection of photos of us together over the years. She lives in New Zealand and I'm in England so we don't get to see each other often, so each photo is extra special.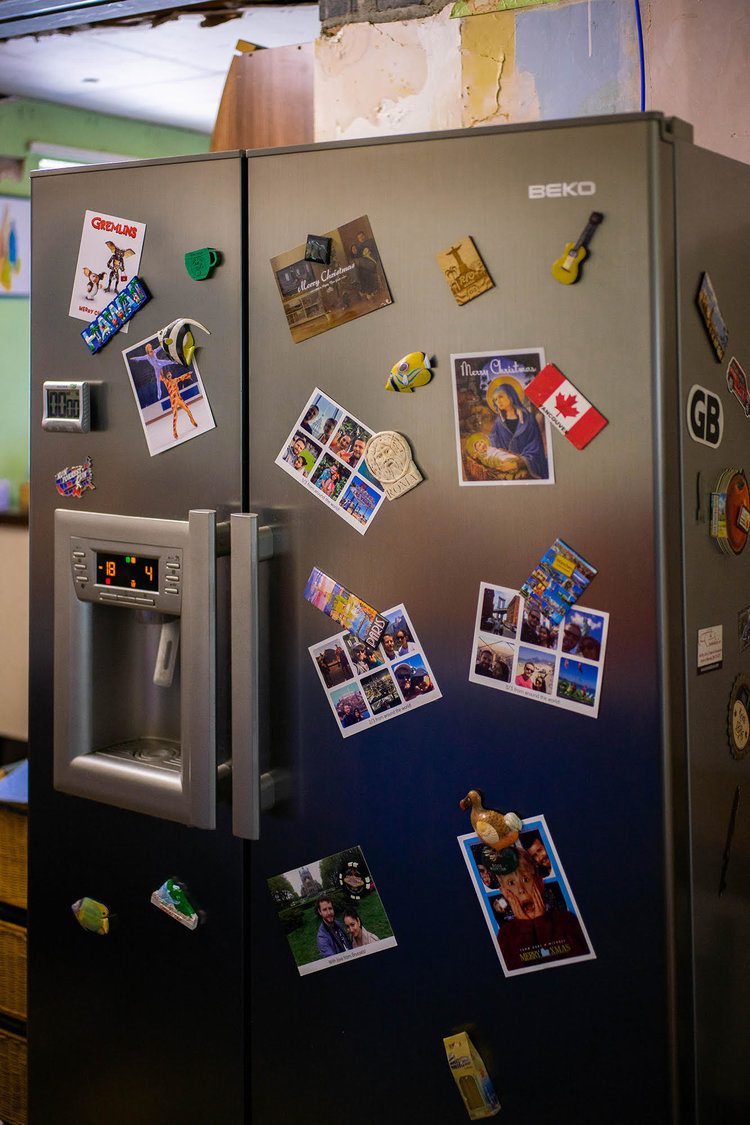 "I love receiving TouchNote postcards from my daughter from her travels around the world. TouchNote cards are more than just a postcard, it's visually sending a little piece of her home. I see what she is seeing as well as her, it makes them so much more personal and keeping in touch is more enjoyable. The postcards all live on our fridge and are a constant and happy reminder for all to see."
My Mum
Cost
To pay for postcards, greetings cards and more you need credits. A postcard costs just one credit and a greetings card is two. The cost of credits vary depending on the country you are in and how many you are purchasing. There are three ways to purchase credits:
Credit pack
The best value for money for just purchasing credits is to buy a credit pack. For a long time this is what I would do around Christmas because I knew I would be sending multiple cards all at the same time. 
Credit pack prices vary on your location but they all offer a discounted price for buying in bulk. For current pricing click here to view them via the app.
Credits expire one year from the purchase date, so please remember to use your credits within a year.
Per card
If you only want to purchase one card you don't have to purchase a credit pack, you can create your card and then simply pay for it at the end.
Premium membership 
There are four types of Premium memberships: Bronze, Silver, Gold and Platinum. Each one offers various perks that greatly benefit users who send postcards every month and love to get creative with TouchNote stickers, borders and more! The perks included are:
Free postcards every month

Money off extra cards

Money off other photo gifts

Access to 100+ Premium designs and illustrations

Use of photo filters

Use of stickers

Personalised stamps

Add the location to cards

Bonus free cards during the year
What's great about the premium subscriptions is that if you don't use your cards for that month, they will roll over onto the next! So you can even be smart and bank a few every month ready for Christmas when you know you'll have more to send out!
You also have the option to pay monthly or one upfront cost. To securely pay for your credits, TouchNote accepts Visa, Mastercard, American Express and PayPal.
Before committing, why not try out a Premium membership for free via TouchNote's 14 day free trial offer!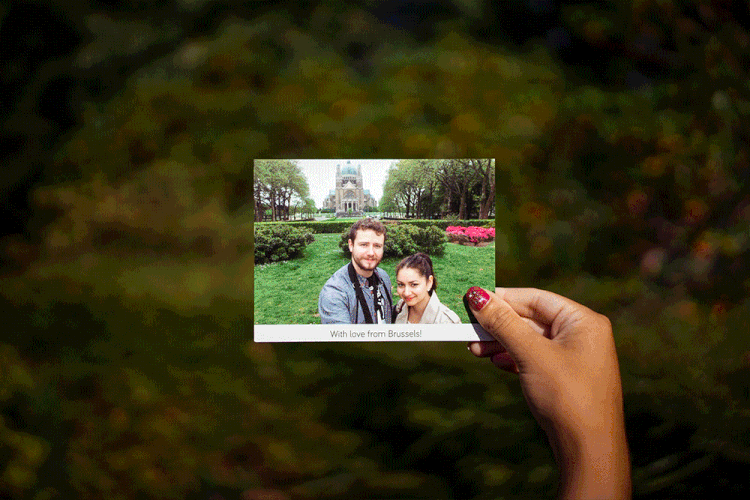 Delivery
TouchNote prints and posts cards from the UK, USA, Netherlands and Australia. This means that the cost of international postage is cut down drastically. I am so grateful for this because I send out Christmas and birthday cards to Australia, New Zealand and Canada so I know not only am I sending a personal and creative card with TouchNote, but I'm also saving money on postage.
As the printing location depends on the destination of your card, the delivery times can vary, but here is an approximation of how long it should take:
UK – 1-3 working days

USA – 2-5 working days

Europe – 3-5 working days

Australia – 2-4 working days

Rest of the World – 5-10 working days
Also keep in mind that postal systems work differently around the world so the delivery time does also rely on that.
.
So what are you waiting for? Send your loved ones a personalised message through the good old fashioned post and make their day. Whether it's for a birthday, good luck, congratulations or just a reminder of how much you care for them, TouchNote will help you say it better.
Download the app here and don't forget you can trial the Premium memberships for free for 14 days here!
Aloha, Gabriella
. 
Disclaimer: This is a paid post in partnership with TouchNote UK. Please know that I have been using them since 2014 and I only recommend brands I personally love and use myself.