The Gower Peninsula is the UK's first ever Area of Outstanding Beauty (awarded in 1956) and is best know for its enormous beaches, celebrated surf and wild sea life. Whilst there's so much on offer on the Gower Peninsula, here's 6 things to do there that will get you started during your time near some of the best rated beaches in the world.
Our trip to the Gower Peninsula in Wales was my first trip outside of England since the start of the pandemic and was a welcomed break from London that served up both clean air, countryside and the seaside. The Gower Peninsula, just 4 hours from London by car – all things considered that's not a bad amount to time to get to another country – is an ideal place to unwind, rest and reset before falling back into the hustle and bustle of London.
Though our trip was just a quick 4 day break (travel included) we managed to cover some pretty key points of interest on the Gower Peninsula including a tidal island, secluded beach, sunflower field and dinner looking out to sea at sunset. We even managed to stop at the capital city of Wales: Cardiff. Here's my 6 highlights for things to do near the Gower Peninsula in Wales.
1. Rhossili | Rhosili
Rhossili is a tiny village on the far west tip of the Gower Peninsula best known for its world famous beach, incredible surf, tidal islands, 250ft cliffs dressed in heather, sunflower field and breathtaking winter sunsets.
Parking at Rhossili
Rhossili Bay Car Park is a National Trust car park and is free to members. If you are not a member of the National Trust parking fees are as follows:
£2 for 2 hours or under
£6 for over 2 hours
£4 for 2 hours or under and £6 for over 2 hours for motorhomes (overnight camping is not allowed)
If there is one place you visit on the Gower Peninsula it is Rhossili, it was the reason we chose to travel to Wales from London on our summer 2021 staycation. Here's why:
Rhossili Bay | Rhosili Bae
Rhossili Bay beach is a 3 mile (5km) long beach that has been voted by Trip Advisor as one of the top 10 beaches to visit in the UK for 8 consecutive years (2021). If a heatwave is forecast in the UK then Rhossili should be your lead destination because this enormous beach won't have you fighting for room to spread your towels. Even at high tide the remaining beach is still about 10 metres wide which is a pretty big deal because so many top holiday beaches in the UK get covered during high tide.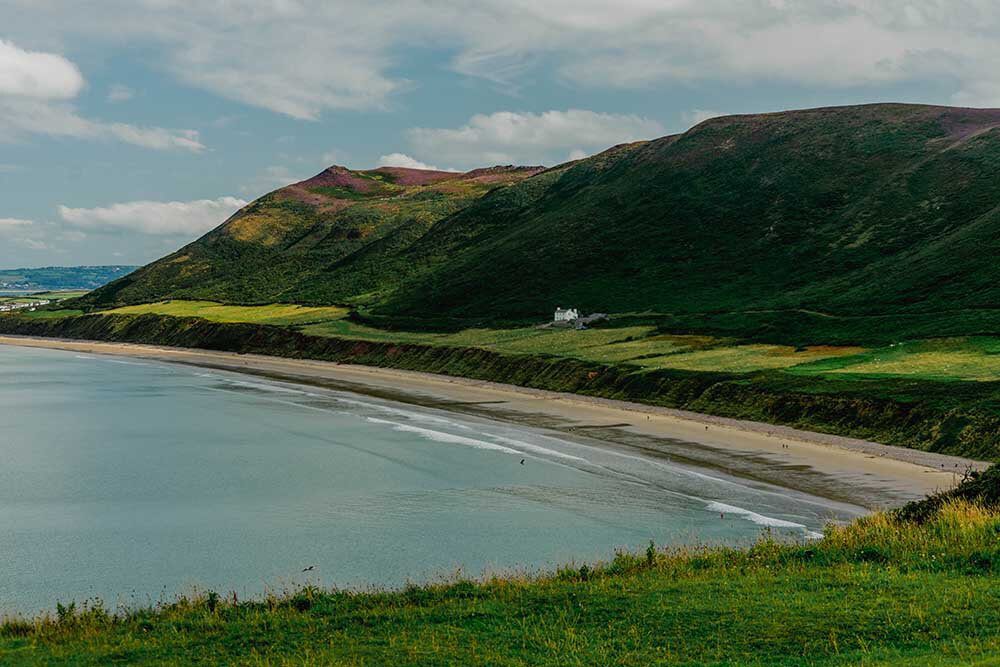 Speaking of the tide, low tide reveals the scarce remains of Helvetia, a wooden cargo ship that ran aground way back in 1887. Though it's really not much to see, what does protrude up from the sand resembles the jagged jaws of a colossal shark.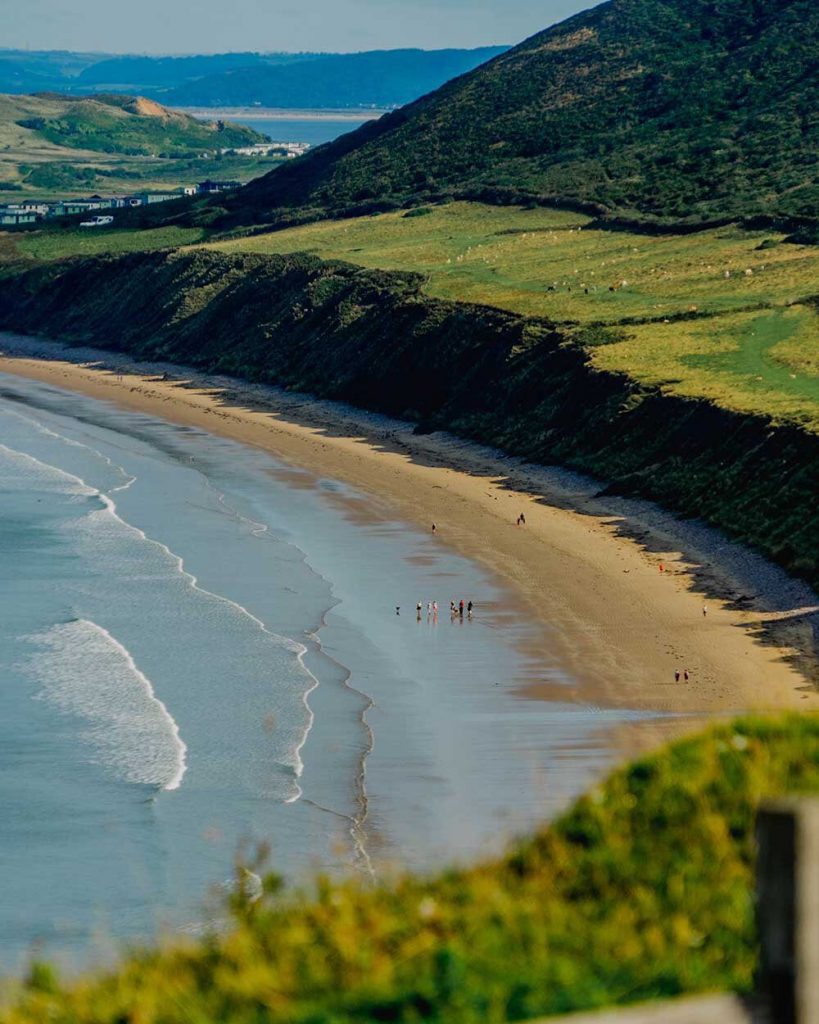 Though the best views of Rhossili Bay beach are from the village cliffs that tower 250ft (76m) above, they're also where the car park is located which means a trek must be made down and back up to enjoy Rhossili beach. This walk will take about 15 mins or more each way. If you have any concerns over accessibility then you can still enjoy the view from the coastal path that runs along the beach to Worms Head. The cliffs are plenty wide enough to set up for a picnic and in my opinion offer a far superior view than you would get from Rhossili Bay beach.
Rhossili Sunflowers 
If you're visiting Rhossili between July and September during a warm summer then you'll be able to see sunflowers on the Vile. Though if it has been a particularly cold spring they might not bloom until August and if the summer hasn't seen much sunshine they might reach the end of their season in late August.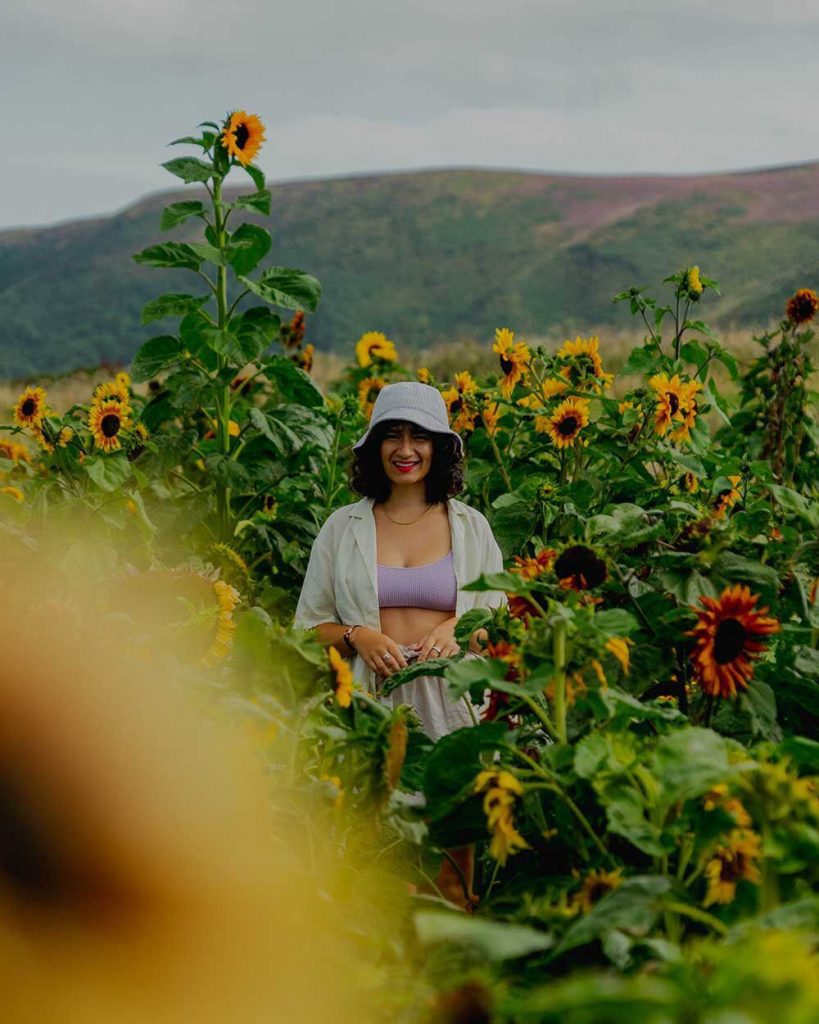 We visited at the end of August in 2021 and the sunflowers were definitely on their last legs but we were still able to capture these photos within them so there's still hope of a pretty visit even if it hasn't been the warmest of summers.
Rhossili Sunflowers is about an 8-10 minute walk from Rhossili Bay car park along the cliff towards Worms Head.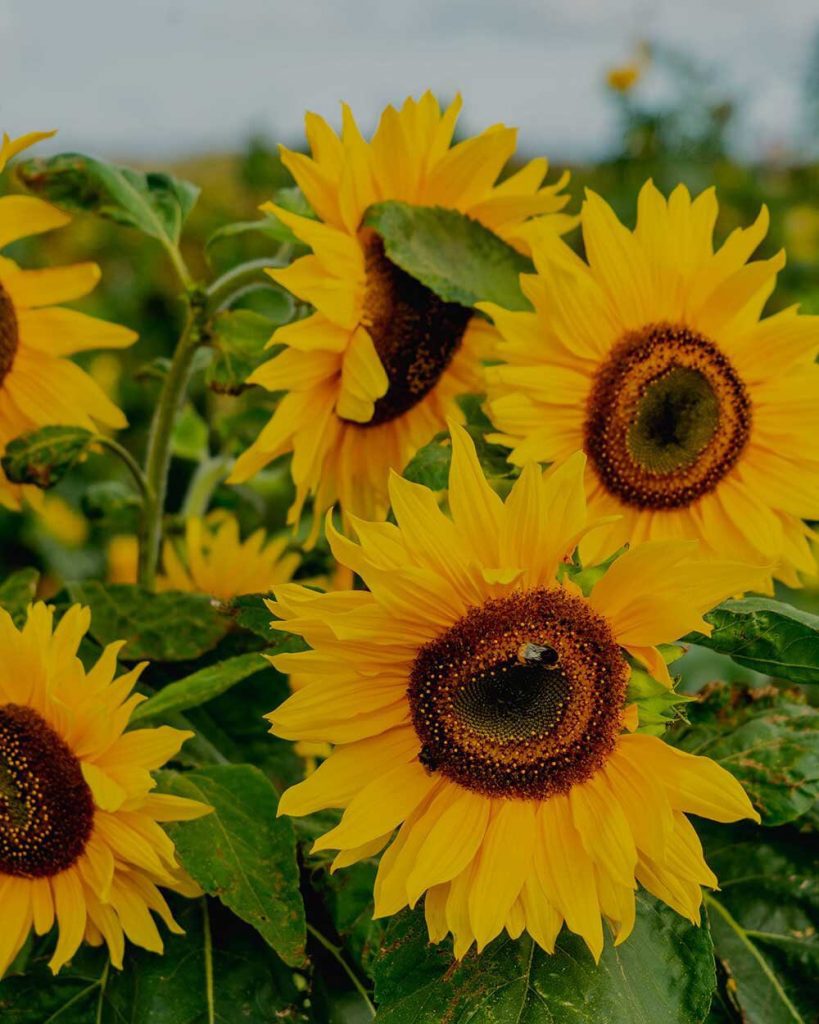 If you're visiting with children then perhaps engage with the Gruffalo trail through the sunflowers to entertain your youngsters.
Once you've wondered through the yellow giants pick up a treat from Rhossili Sunflower's pop-up café which sells all sorts of baked goods fresh from the village bakery. Snacks include salted caramel and Eton mess doughnuts, Welsh Cakes and muffins.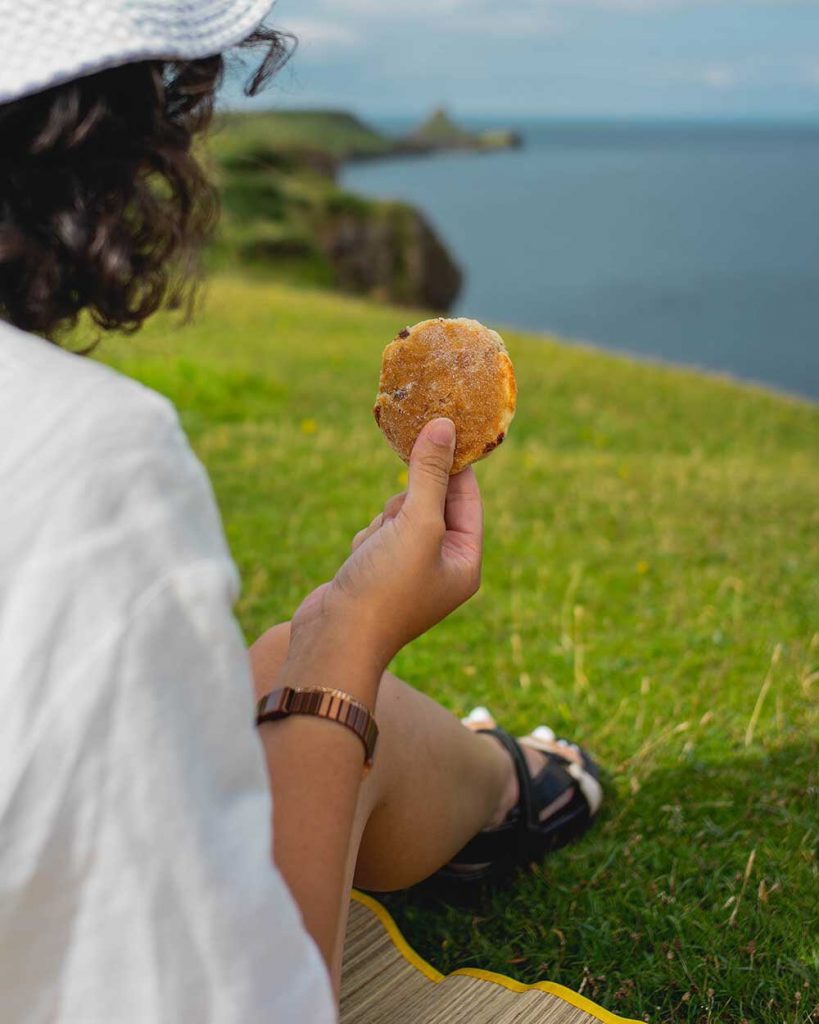 Ticket costs for Rhossili Sunflowers
£2 per person ticket cost which includes one sunflower which you can pick from the sunflower field at the back.
Worms Head causeway
Worms Head is one of two tidal islands at Rhossili that can only be accessed within a slim five hour window that straddles both sides of low tide. 
To make the journey across from Rhossili Point to Worms Head tidal island you will need to trek across Worms Head causeway which is basically just one giant trip hazard that links the two points of land. It's quite the adventure though if done swiftly but safely in sturdy shoes with a good tread. Avoid the rocks with green seaweed on them unless you want to slip like a cartoon on a banana peel.
Allow yourself breaks to gaze into the rock pools that emerge as the tide recedes revealing shrimp, beadlet anemones, sea snails and more.
Though it's important to look where you're going to avoid slipping, keep looking up so you can navigate the best path across the causeway. Some parts are more even than others.
PFH Top Tip: to give you the most amount of time to make the return trip you want to start from the base of Rhossili Point. Don't include the walk from the car park within the five hours to cross as the walk from the car park to the start of the causeway is between 20 – 30mins.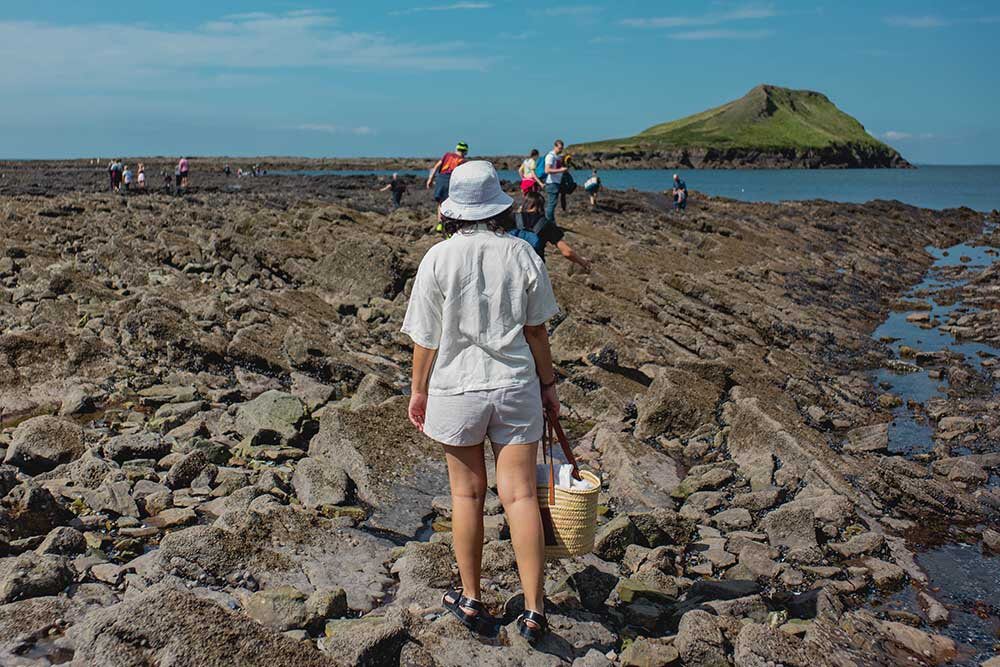 Check the tide times before planning to cross Worms Head causeway.
DO NOT cross the causeway close to high tide, the rip tide is extremely dangerous.
Once on Worms Head island you can head up to its peak to look back at Rhossili Bay and make the short hike over Devil's bridge, a natural rock bridge that has formed towards the end of the island. On a warm day you might be lucky to spot the odd seal below baking in the glow of the sun.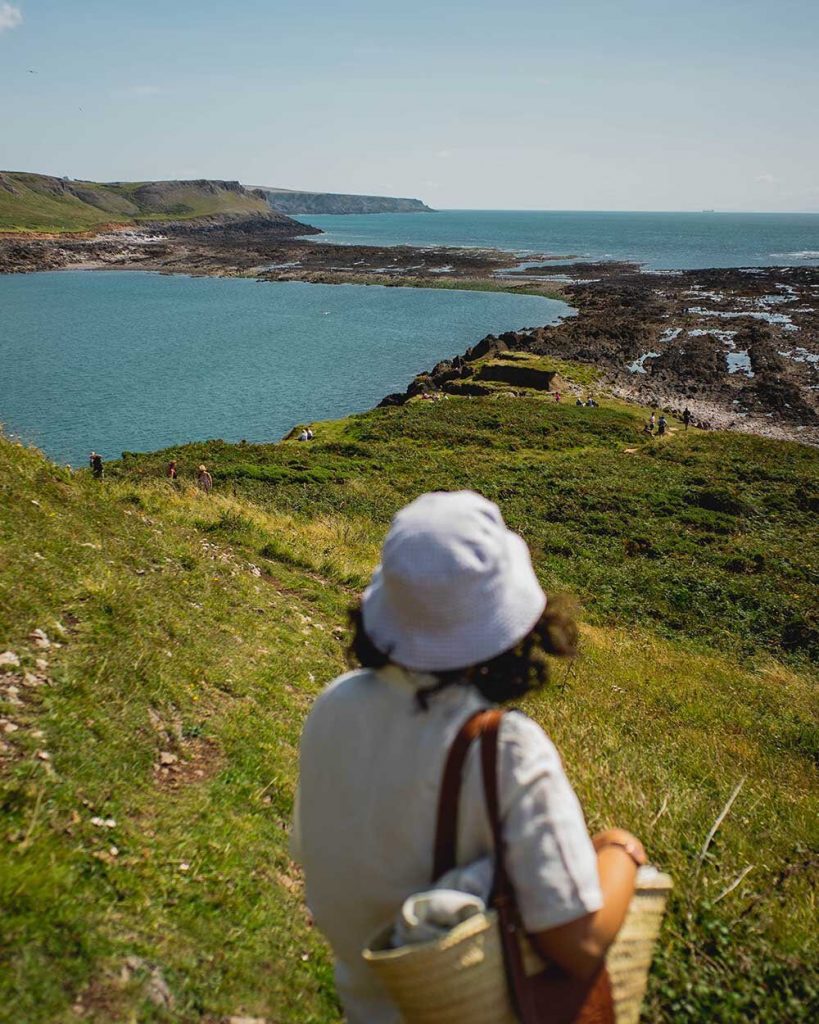 2. Langland Bay
Start one of your days visiting the Gower Peninsula with a morning spent at Langland Bay beach. Langland Bay is a Blue Flag beach along the Gower coastline and is best know for its row of picturesque green and white beach huts that line the bay and as a popular surf destination when there's a good swell.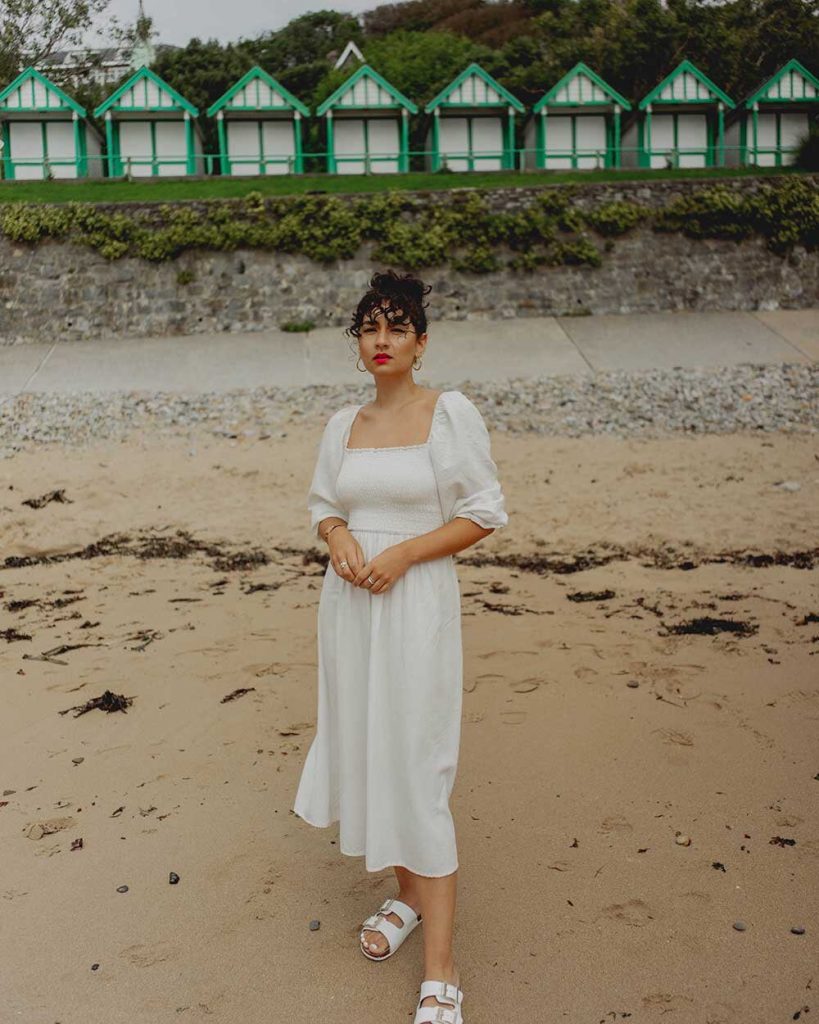 Langland Brasserie is a beautiful spot for brunch with a good selection of meat, vegetarian and plant-based/vegan meals that can be enjoyed from either inside or on their terrace – both offer a view of the bay.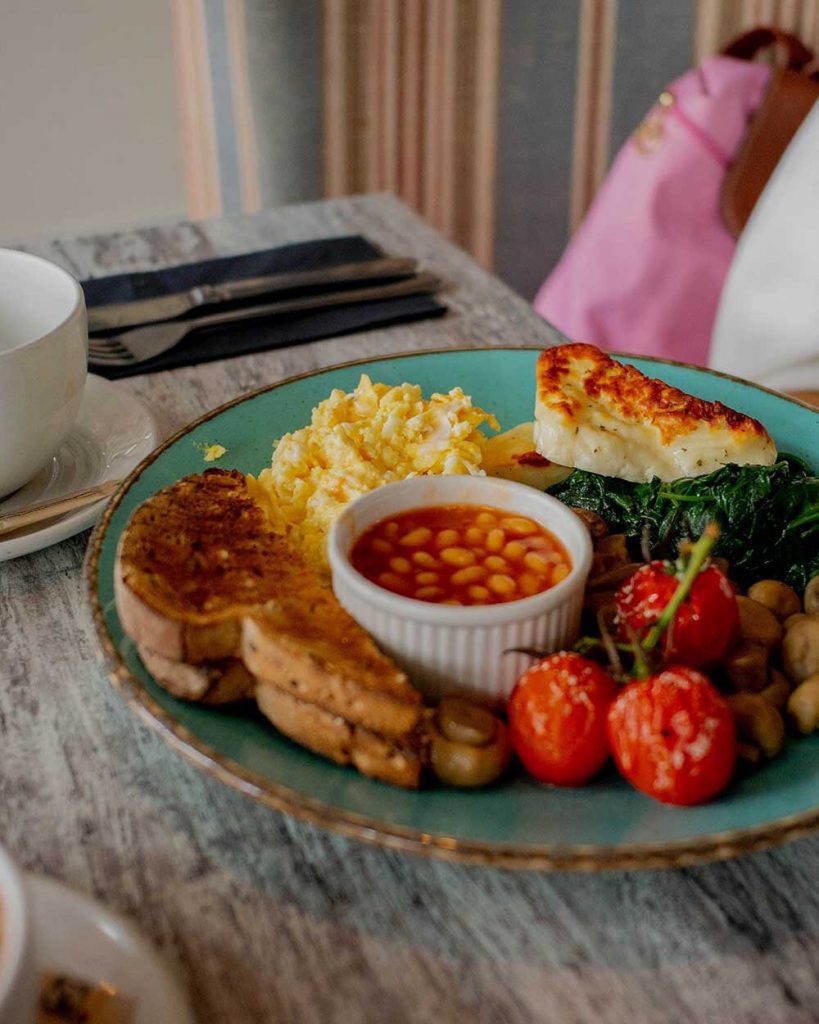 Parking at Langland Bay
Langland Bay car park is a council parking lot located just above the beach behind Langland Brasserie. The beach is accessible from the car park by steps or the slipway. Parking costs are:
£1.50 for 1 hour
£3 for 2 hours 
£5 for all day parking
3. Hike to a secluded beach
There are more walking trails on the Gower Peninsula than you can shake a stick at and we definitely had more on our list than we had time for. After spending the morning at Langland Bay we drove to Three Cliffs Bay to walk to the beach and across to Tor Bay, a secluded beach at high tide but accessible from Three Cliffs beach during low tide.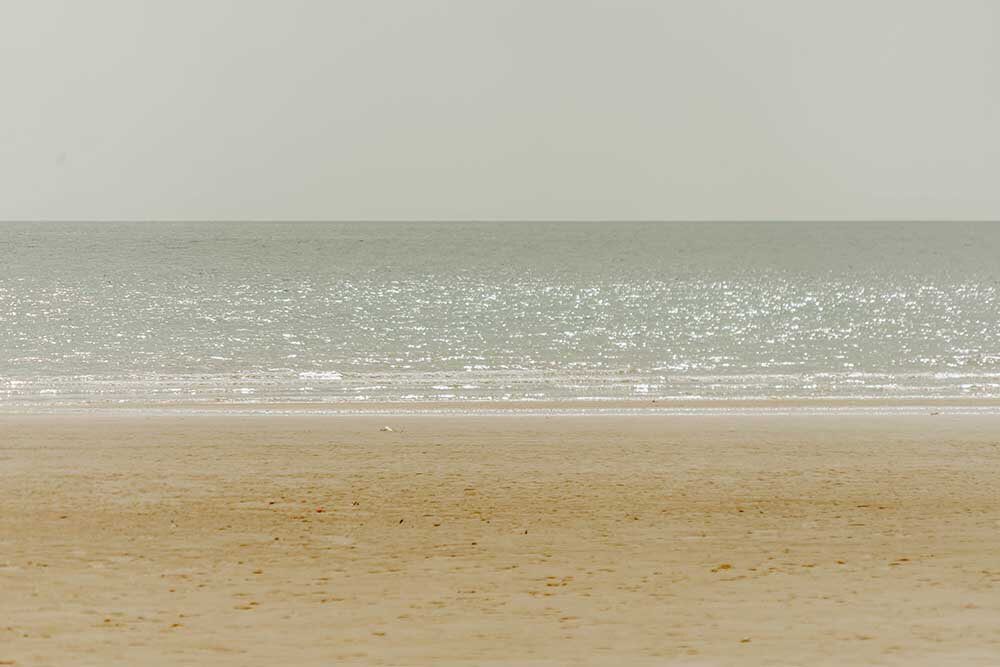 Three Cliffs Bay
Three Cliffs Bay is located in the south of the Gower Peninsula. The bay gets its name from the three peaks formed into the sea cliffs that protrude out across the beach. The three cliffs resemble razor sharp teeth and are instantly recognisable on the walk down from the car park where the trees open up to reveal majestic views of the beach.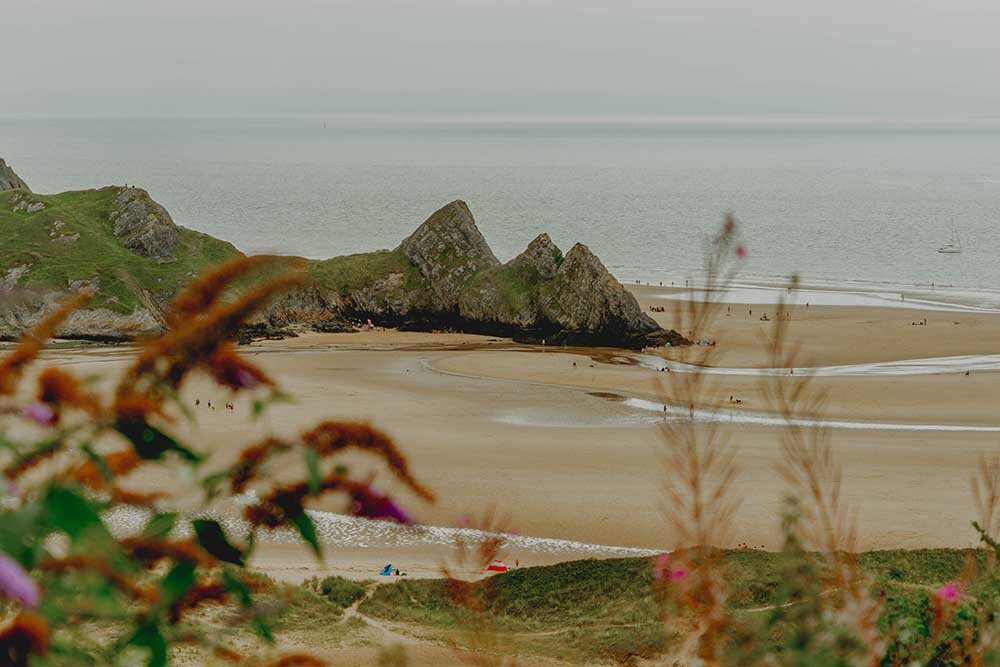 See under parking at Three Cliffs Bay below for how to gain access to the beach from the car park.
Unfortunately neither of these beaches can be accessed by wheelchair.
Parking at Three Cliffs Bay 
There is no access directly to the beach at Three Cliffs Bay. The closest car park is Three Cliffs Bay Holiday Park. 
Parking is £4 per car and lasts all day.
Get access to Three Cliffs Bay beach by taking the narrow country road opposite the entrance to the holiday park car park. When you reach the end of this road make a left through the wooden gate, a right at the Three Cliffs Bay signpost and follow the trail down to the beach. The walk will take about 15 minutes.
Reward yourself after your hike with an ice cream from their onsite shop.
Tor Bay 
Tor Bay is a beach that come high tide becomes closed off to the two much larger beaches that sit either side of it that usually give access to the bay over the sand when the tide is out.
At low tide Tor Bay no longer becomes secluded and can be accessed from either Three Cliffs Bay or Oxwich Bay via the beach.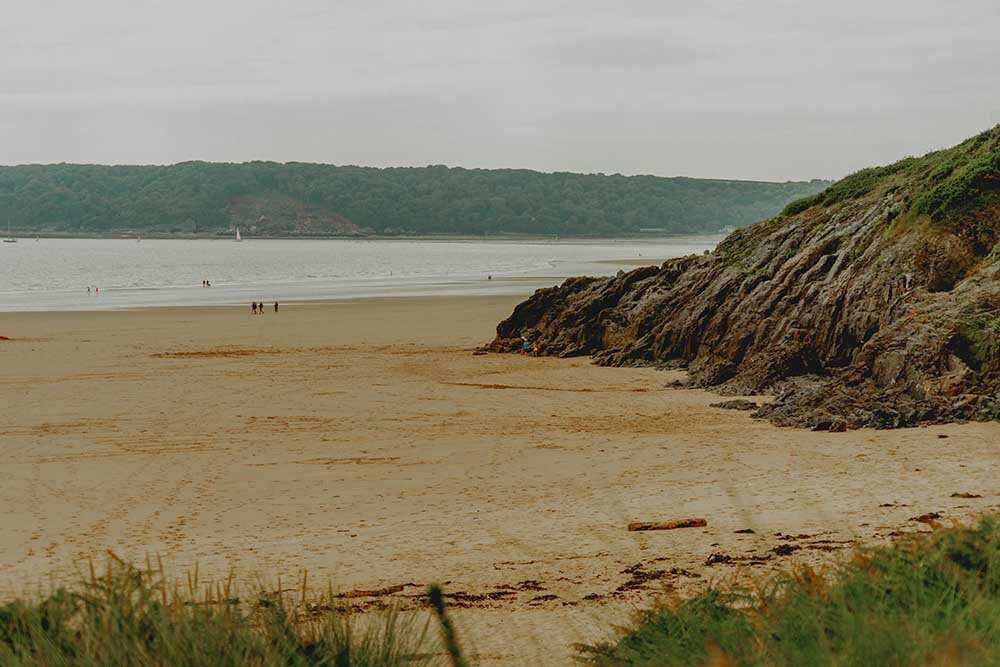 Hikes around this area vary depending on how you're feeling. You can either fill a couple of hours by starting at Three Cliffs Bay Holiday Park, walking down to the beach, across to Tor Bay and up to the cliff top where a path will circle you back to Three Cliffs Bay Holiday Park. If you're looking for something more meaty at low tide you can continue on the beach from Tor Bay to Oxwich Bay and return along the cliffs. Either way I recommend walking the cliff path back as it offers wonderful views of the bays below. Though we weren't lucky enough to see them it is possible to spot dolphins, porpoises and basking sharks chilling in the bays along this part of the coast.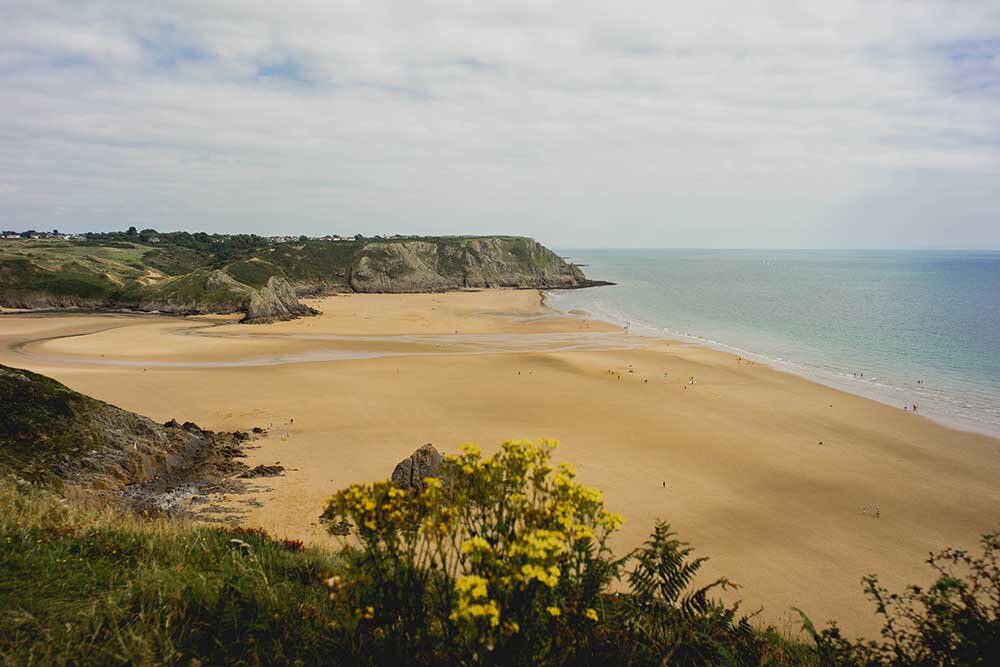 Keep an eye out for starfish and urchins in the rock pools as the tide recedes on your walk!
4. The Mumbles
The Mumbles is a seaside district at the very start of the Gower Peninsula, known particularly for its 1700s lighthouse and 1800s pier. Make a stop in Mumbles to explore its quaint little shops including The Lovespoon Gallery which holds a collection of Welsh lovespoons. Lovespoons are hand carved spoons from one single piece of wood with shapes that hold different meanings surrounding affection. The tradition of gifting them to a love interest in place of flowers or a love letter began back in the 1500s.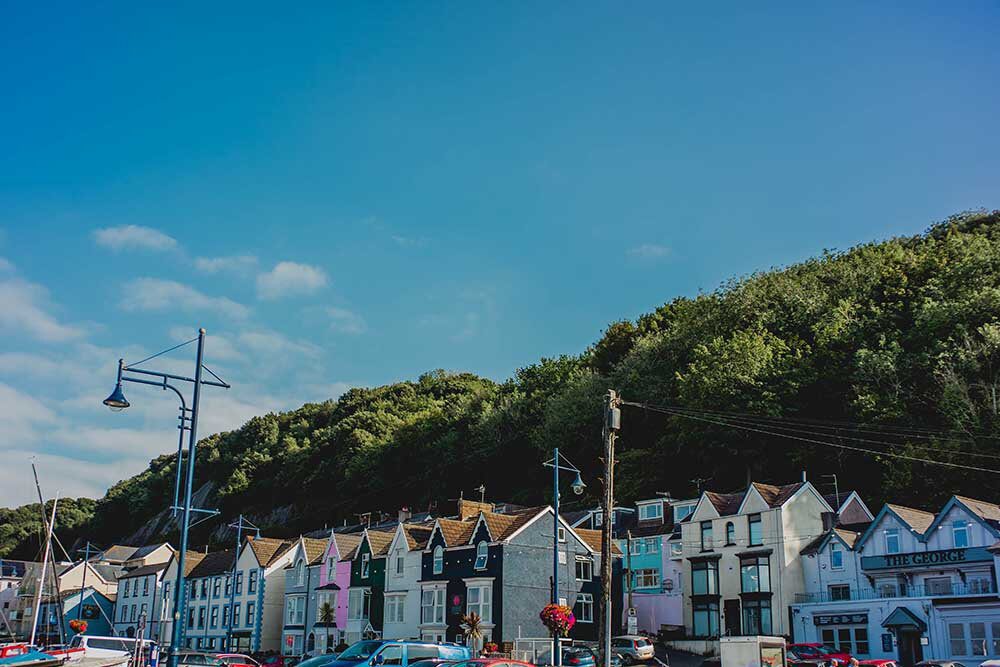 There are many places to dine in Mumbles one of which is Castellamare, a restaurant and café that has a view right over the water that's best enjoyed during sunset on a clear night.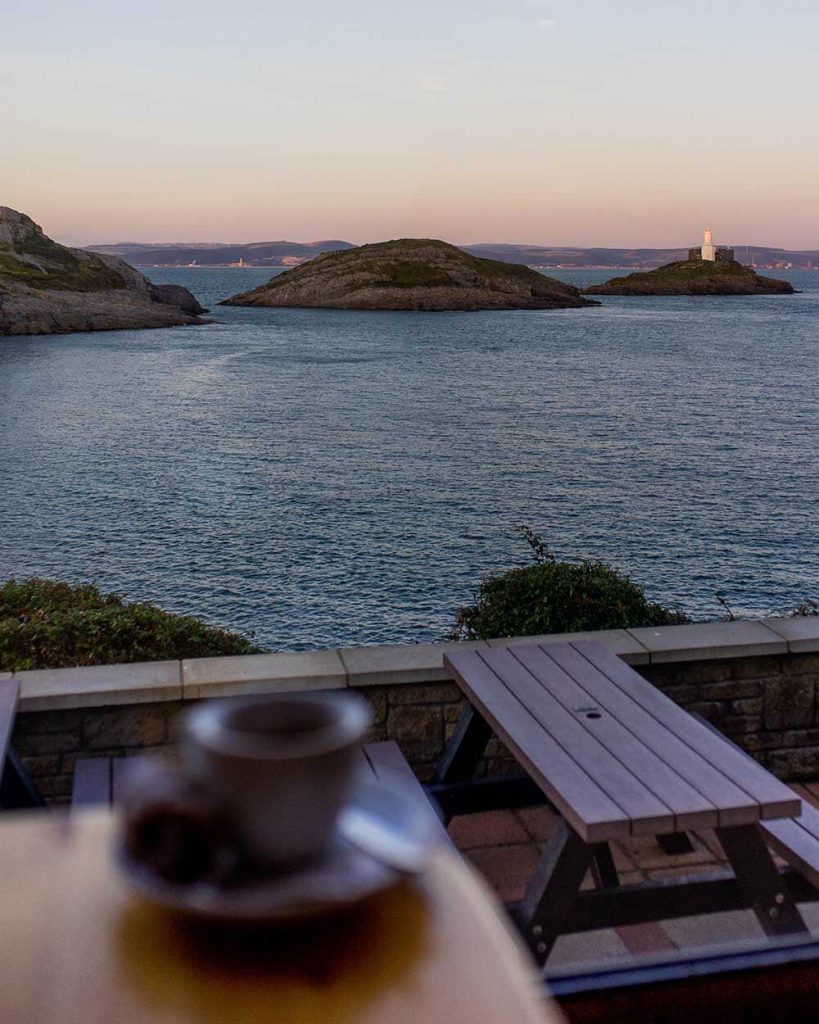 5. Clyne Gardens
Clyne Gardens is a free park located in Mumbles, between Mumbles Pier and Swansea and is open 24/7. The gardens are best know for a beautiful collection of rhododendrons and the hilltop view of the beach.
The peak bloom for the rhododendrons is between March and June but some varieties such as their blue azaleas bloom from late summer to early winter.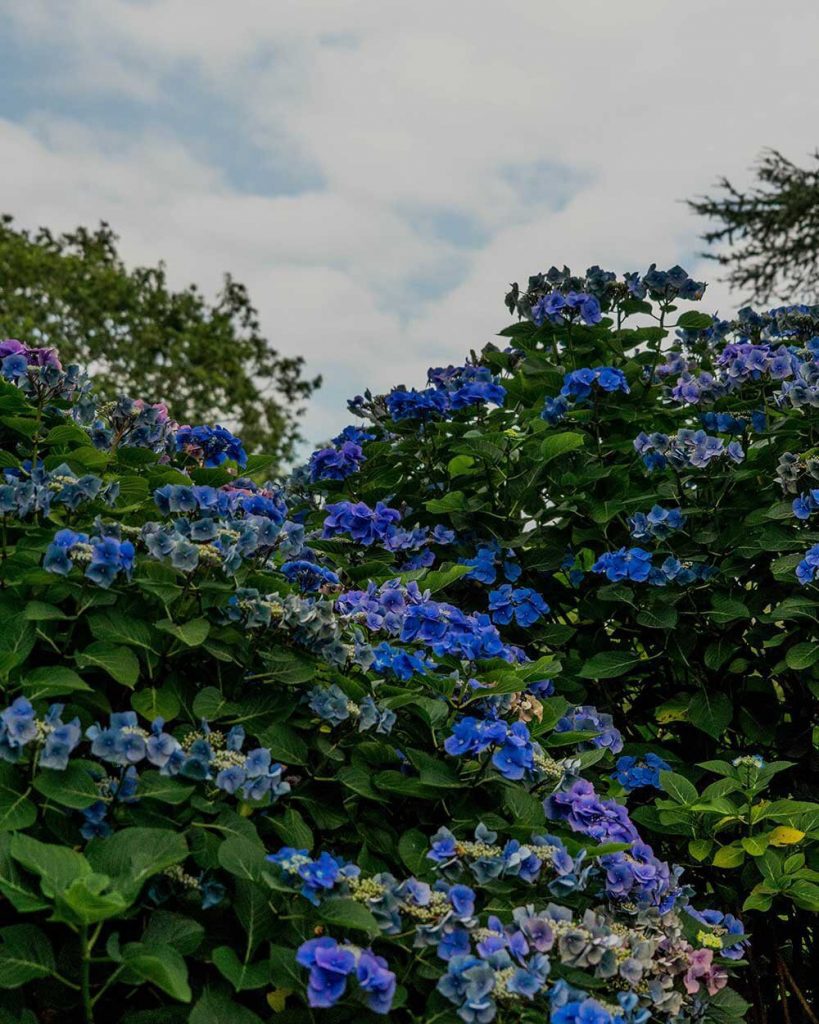 Aside from their rhododendrons Clyne Gardens has a collection of national plants with something special in bloom every season so theres' always something to see including the tallest recorded Magnolia in Britain.
Golden hour in summer is a particularly special time to visit, especially when taking a stroll along the Parkland Trail past some truly gorgeous flower beds. A downloadable map of trails with notes on accessibility can be found on the swansea.gov website.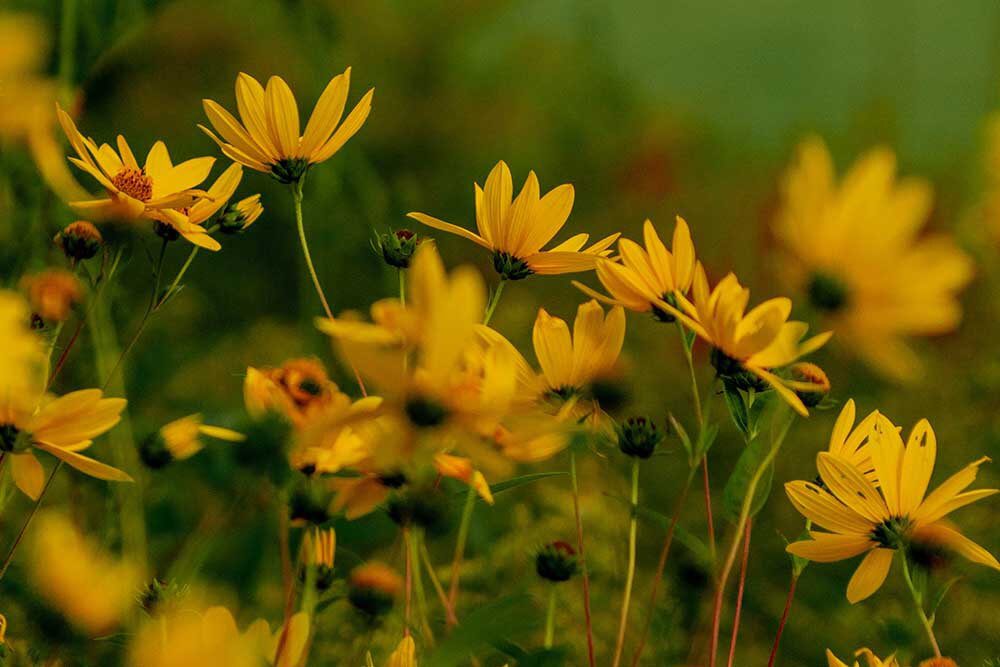 Clyne Gardens is dog friendly if you're visiting with your pup.
Parking for Clyne Gardens
Clyne Gardens car park with limited spaces including some disabled bays can be found at the entrance to the gardens. You'll have better luck getting a space to park on Westport Avenue, just off Mayals Road. From Westport Avenue you can enter Clyne Gardens just around the corner on Mayals Road.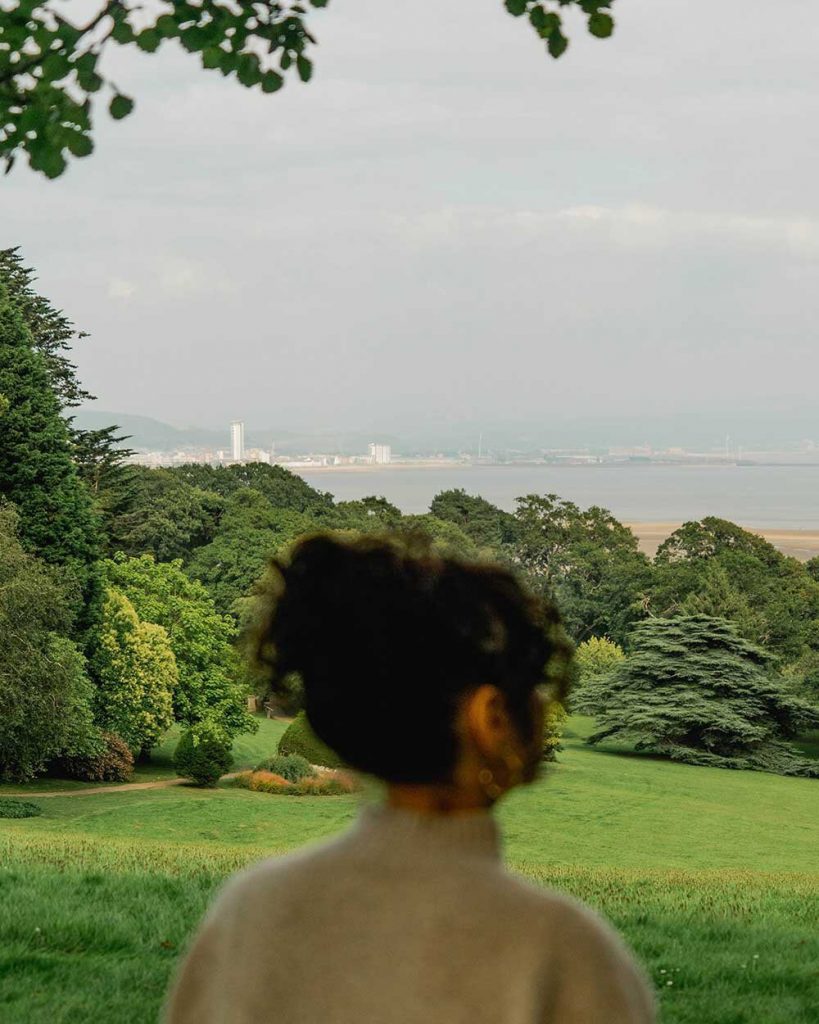 6. Cardiff | Caerdydd
Cardiff is the only place on this Wales travel guide that isn't on the Gower Peninsula but it's only a 1.5 hour drive from Swansea near Gower. Making a day trip to Cardiff from Gower is a great way to experience the capital city of Wales whilst still staying in a beautiful part of the Welsh countryside (area of outstanding natural beauty to be precise). Cardiff is also super easy to visit on the way to or from England if you are crossing the River Severn to enter or leave Wales. This is what we did, stopping in Cardiff for the morning on the way back to London from the Gower Peninsula.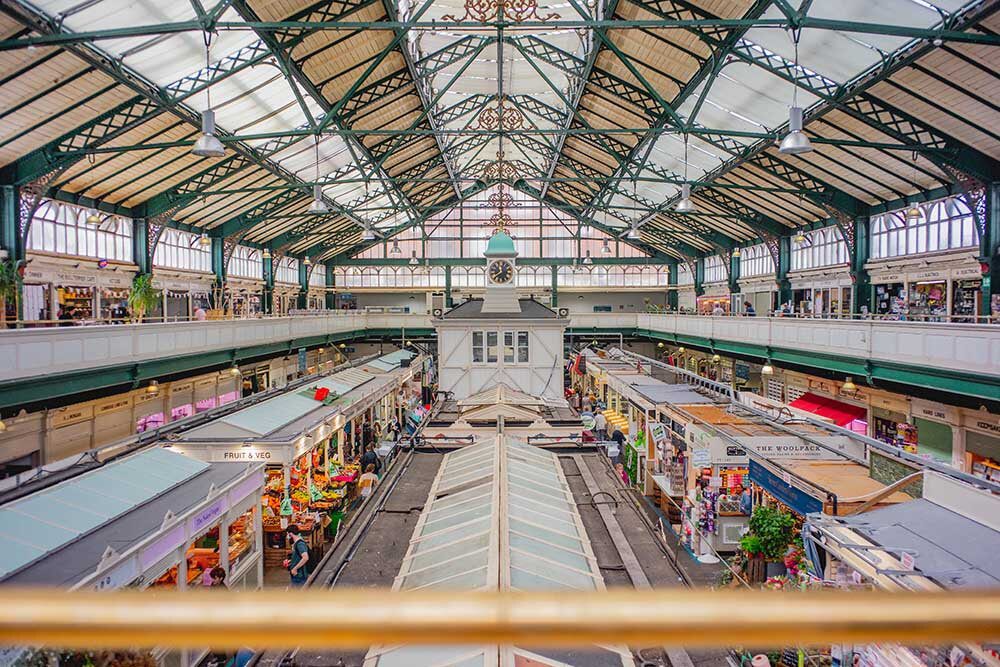 As I mentioned, Cardiff is the capital city of Wales and is located on the south coast of the country, less than an hour away from the England-Wales border.
As we were only stopping in Cardiff for the morning we only had time to visit a couple of spots:
Cardiff Central Market | Marchnad Caerdydd
Cardiff Market is an indoor market within the castle quarter. Within this original Victorian building you'll be able to shop fresh produce from butchers, bakeries, fishmongers, florists, cheesemongers and delicatessens as well as eat in at food stalls. You can pick up a granny cardigan or two or even purchase wool from the haberdashery to make your own one! 
My food stall recommendations in Cardiff Market are:
The Naked Vegan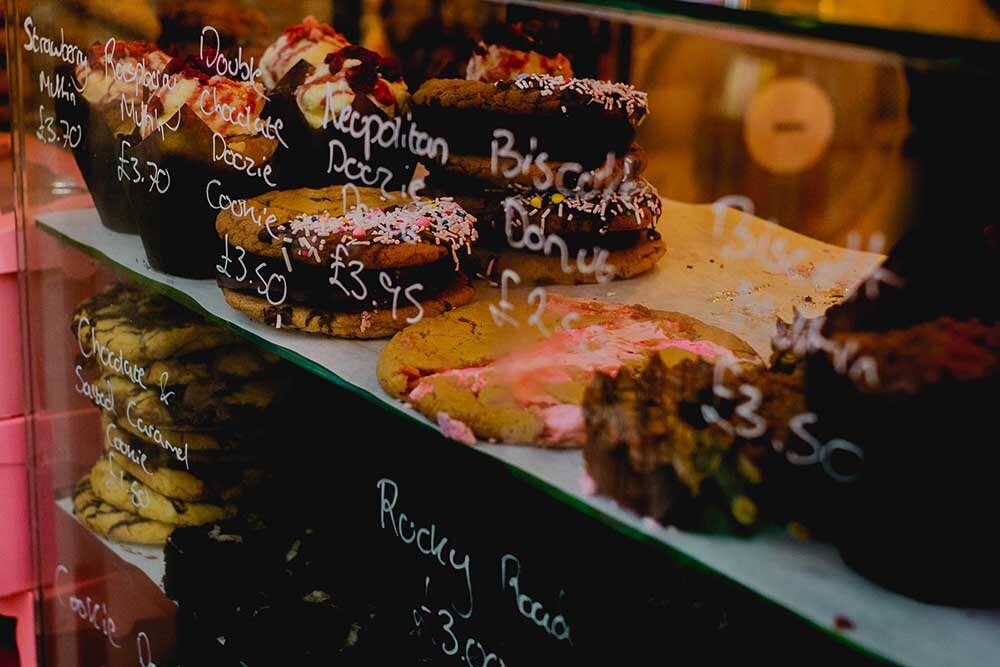 The Naked Vegan is an award winning vegan bakery offering sweet and savoury plant-based treats. We highly recommend their doughnuts, doozies and pastel de natas (Portuguese tarts).
The Naked Vegan has two stalls in Cardiff Market: one on the ground floor and the other on the mezzanine. 
Bull Terrier Café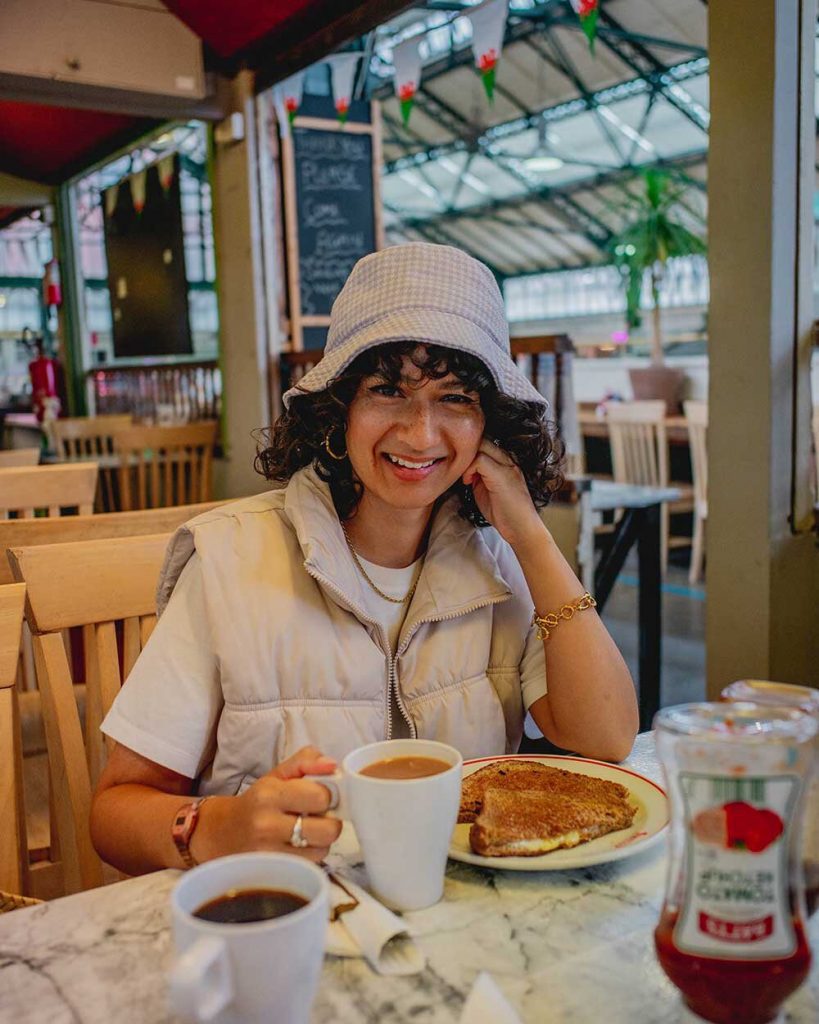 The Bull Terrier café is a greasy spoon located on the mezzanine floor in Cardiff Market. It's as humble as British cafés come; tea is served in mugs, the crockery doesn't match and the closest member of your 5 A Day is the tomato that comes with your fry up. It's no frills comfort food that's cheap and hits the spot every time. Bliss.
Cardiff Bay
On a nice day you can take a leisurely stroll from the city centre to the waterfront where you'll find restaurants, the Giant Wheel and boat rides out from Mermaid Quay to Steep Holm nature reserve and the surrounding coast.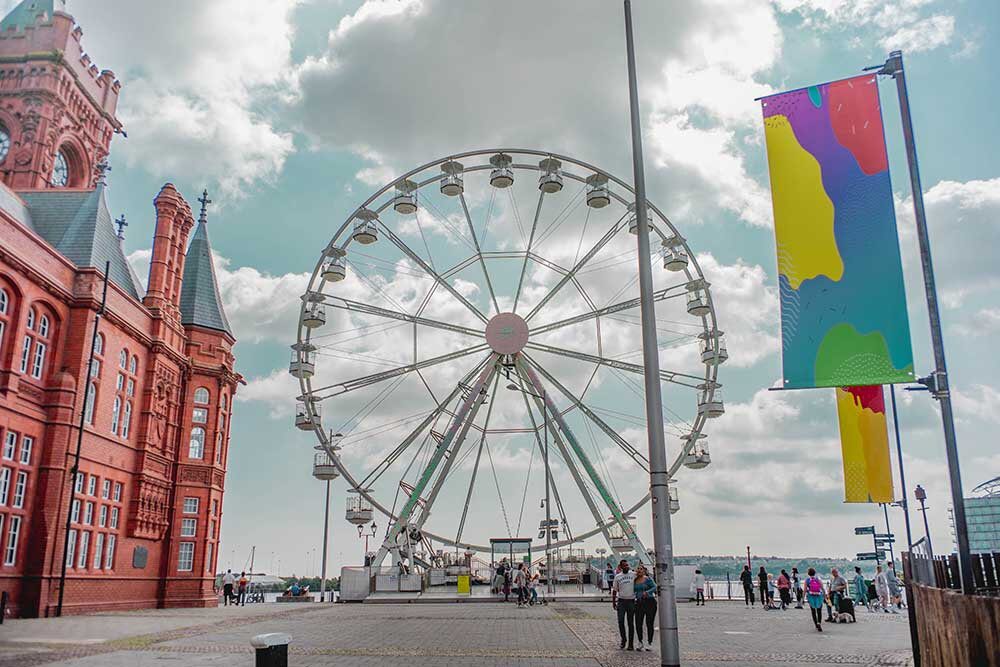 t will take about half an hour to walk from Cardiff Market to Cardiff Bay.
Cardiff Bay's Giant Wheel ticket costs
£5 per adult 
£4 per child
Under 3 year olds go free
PFH Fun Fact: Turn the wheel in the middle of the carriage to rotate it for a 360° view of the bay.
If you have any recommendations for what to do near the Gower Peninsula let me know in the comments and drop a comment if you found this travel guide useful.
Do more on & for the planet, Gabriella