Napolitaines are traditional Mauritian biscuits. They are round, flaky shortbread biscuits (cookies) that are sandwiched together in pairs with jam between them and coated with a thick, bright pink icing. Though the shortbread is savoury, the jam and icing make napolitaines a very sweet treat.
Napolitaines are one of the first things I seek out when I visit Mauritius, they're like home a comfort to me. They're one of my favourite Mauritian treats and so I want to share them with you.
Before I share the recipe I have answered a few questions you might have about making napolitaine biscuits but if you want to skip straight to the recipe, feel free to do so.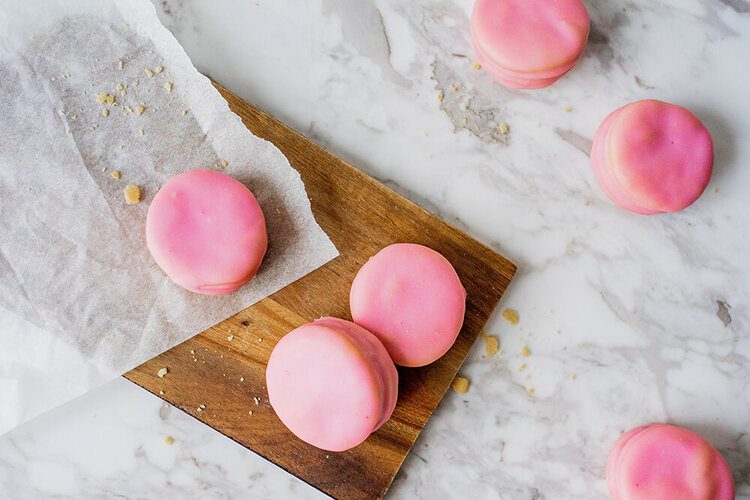 How many napolitaine biscuits/cookies does this recipe make?
This recipe will make approximately 30 napolitaine biscuits.
How long does it take to make Mauritian napolitaines?
Making the dough for napolitaines will take approximately an hour and they take 22-25 minutes to bake (keep in mind that you may need to bake in batches too). They take about an hour to cool fully and it will take between 10-20 minutes for you to add the jam. Icing could easily take an hour and a half or more and for the best results you should leave them out to dry overnight so the icing sets completely. 
I start making my napolitaines 2 days before the day I will be serving them. They take a little planning but they're worth it.
Which jam goes in Mauritian napolitaine biscuits/cookies?
Traditionally guava jam goes into napolitaines but depending on where you are in the world, guava jam might not be the easiest to get hold of, it certainly isn't in England. So I use either my homemade raspberry or strawberry jam to go in the middle of my napolitaines.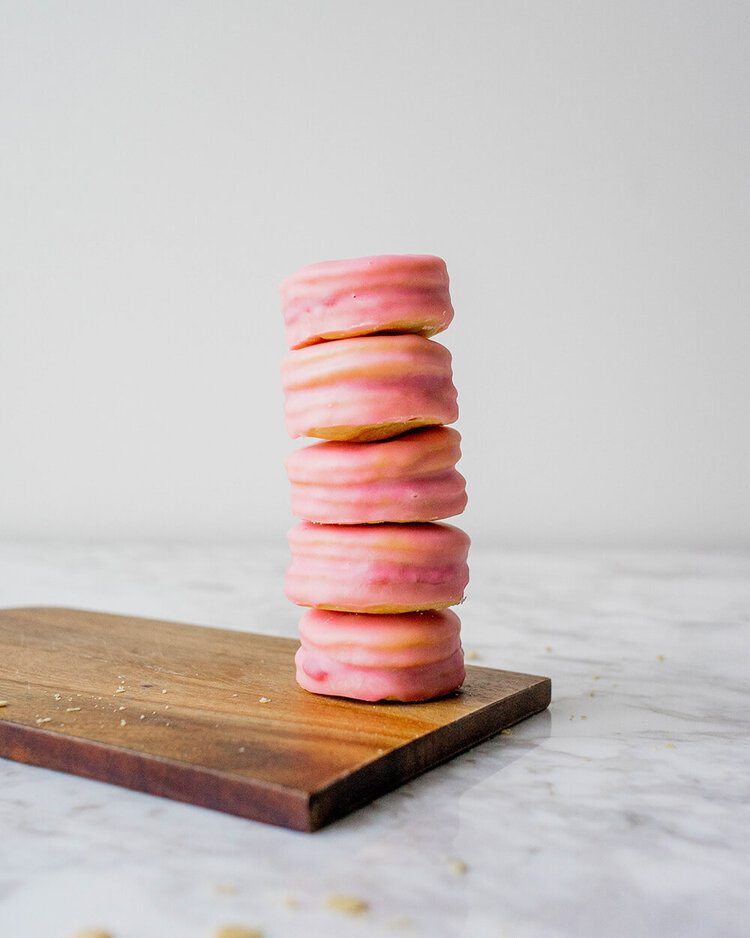 Can napolitaine biscuits be made dairy free or vegan?
Mauritian napolitaine biscuits (cookies) are already vegetarian. To make them dairy free/vegan you just need to swap out the butter for vegan butter or dairy free margarine and the milk that goes into the icing can be swapped out for a plant based milk alternative. I have actually used vegan margarine and soy milk to make these napolitaines in this recipe.
Can napolitaine biscuits be made gluten free?
I have tried to make gluten free napolitaines but the dough was just too dry and kept falling apart. Gluten free flour is very dry and due to the already crumbly nature of the shortbread the dough just wouldn't hold together to be able to roll it out.
Ingredients for making Mauritian napolitaines
500g (3 cups + 2 tbsp) plain flour (plus a little extra for rolling)

360g (1 ½ cups) butter or vegan margarine (room temp)

Pinch of salt

8-10 tbsp jam

500g (3¼ cups + 3 tbsp) icing sugar

80ml milk or plant based milk alternative

½ tsp pink food colouring (paste will give you the best colour)
What you need to make Mauritian napolitaines
Measuring cups or scales

Large mixing bowl

Small mixing bowl

Rolling pin

Round cookie cutter 5cm or 2" wide

2 Baking trays

Cooling rack

Whisk

Spoon
How to make Mauritian napolitaines
1. Pre-heat the oven to 180°C or 356°F (fan oven).
2. Sieve the flour into a large mixing bowl and add a pinch of salt.
3. Combine the butter and flour to resemble breadcrumbs then continue to bring them together to form a crumbly dough. If it's a real struggle to get it to come together then add a knob more of butter.
4. Leave the dough to rest for 15mins at room temperature.
5. Split the dough in half, take one half and roll it out on a lightly floured surface to a thickness of 0.5cm (a little under a ¼").
6. Cut an equal number of cookies using a round cookie cutter and repeat for the other half of the dough .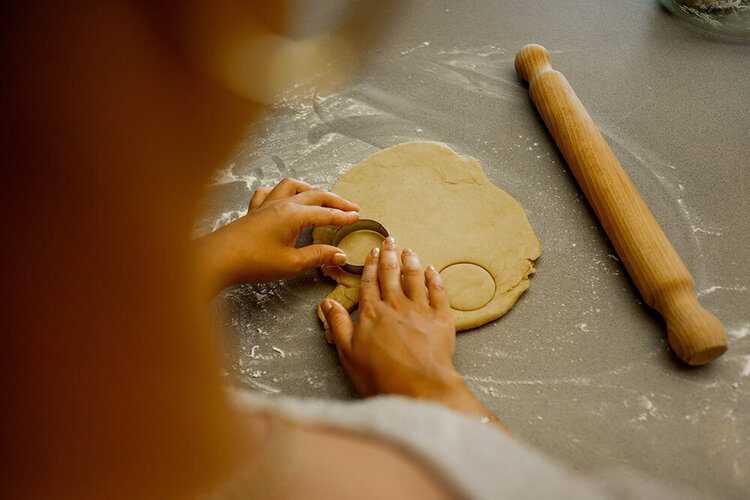 7. Place the Napolitaine biscuits on baking trays and bake on the middle shelf of the oven for 22-25 minutes. You want them to be pale in colour, not golden, but baked through. You may need to bake in batches as you might not get them all in the oven.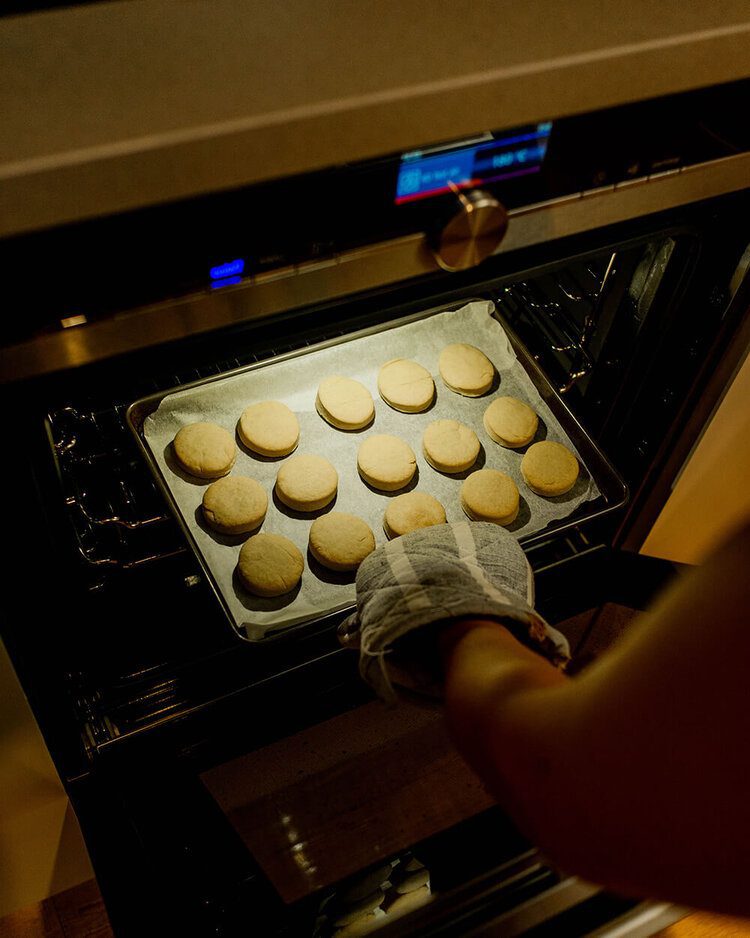 8. Place the Napolitaine biscuits on a cooling rack and allow to cool fully, this should take approximately an hour.
9. Once cool, apply a teaspoon of jam to the centre of half of the Napolitaine biscuits (cookies) then take each top and press them upon the ones with jam, wiping away any jam that spills out.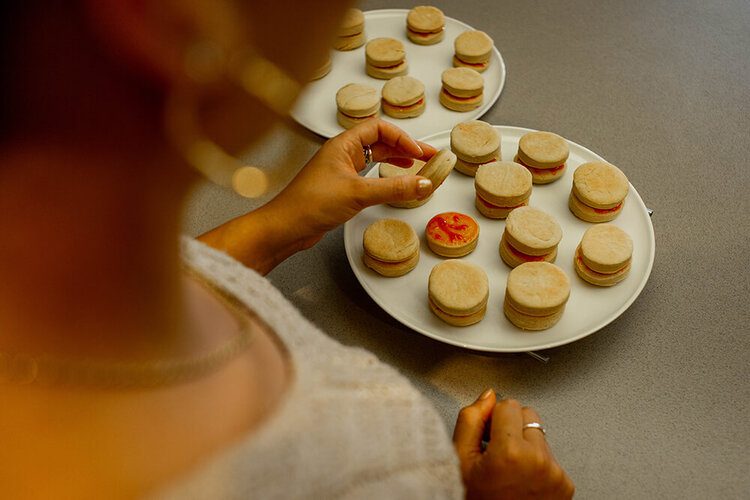 10. Add the ½ tsp of pink food colouring to your milk and stir until it looks like strawberry milk. With your icing sugar in a large mixing bowl, begin to add the pink milk gradually, whisking in-between pours. You don't want to add all the milk right away as you want the consistency of the icing to be thick, you might not need to add all the milk. The ideal consistency should be that when you lift your whisk with icing, the icing that pours off sits for a moment on top of the rest before settling in – see the photo below for reference.
11. Place a plate, greaseproof (parchment) paper or a baking tray under the cooling rack before coating the Napolitaine biscuits with icing.
12. Spoon the icing over a Napolitaine biscuit, holding it still over it until the icing has run all over the Napolitaine biscuit. You want the top and sides to be coated in icing so continue to do this until each one is fully coated.
13. Leave the icing on the Napolitaines to dry fully, it's best to do this overnight as they need to be dry to the touch then they're ready to eat.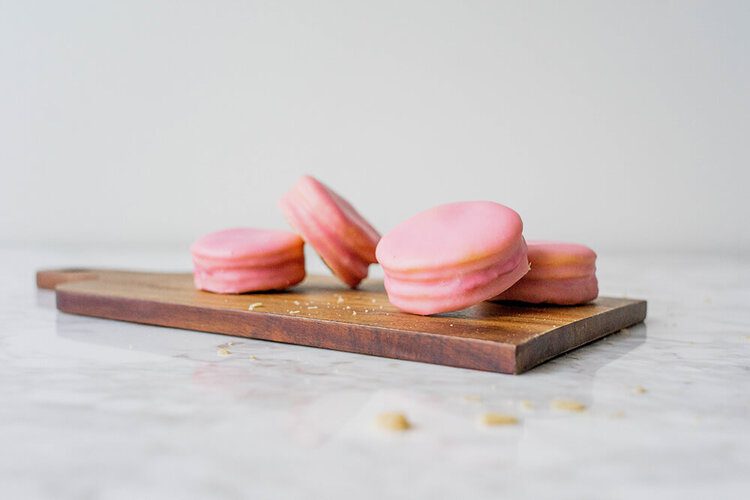 Bon appétit! 
Do more on & for the planet, Gabriella