Most people love a good nosey into someone else's handbag, am I right? I'm going to take you through what I carry on every flight in both my handbag and cabin case. As you have probably learnt by now I like to be prepared so there's a fair bit but hopefully you can just take from it what works for you. 
Bag
Last year I upgraded my travel bag from my trusty backpack to my Louis Vuitton Neverfull MM. I have always wanted a neverfull because I think LV is the epitome of luxury luggage so I was pleased as Punch to finally get one. It really lives up to its name, I've thrown so much into it and it has always been big enough, the only thing to keep in mind is the weight. As it's so spacious and hold so much it's easy to put too much weight in it and because the straps are skinny it may dig into your shoulders. Plus you don't want to put too much strain on the stitching.
Of course Louis is my baby and I want to preserve him as much as possible, despite his constant use. To do this I pop him in a reusable shopping bag. You might be thinking "why not use the dust bag?", but there are three great reasons why a shopping bag is better:
1. I can carry Louis with the handles of the shopping bag, dust bags don't have handles.
2. If you for any reason don't feel comfortable showing that you have a designer bag, the shopping bag conceals this. Dust bags are branded.
3. The top is open which means I still have access to the contents throughout my flight. Dust bags are designed to seal, the LV ones have a big flap which makes reaching down more awkward. 
My shopping bag is from Monoprix in France which I realise is not helpful, but these kind of folding reusable bags are everywhere these days, look for them near the counter when you pay and check the size is right for your bag.
Purse
If you are expecting to do any shopping in the airport make sure you bring your loyalty cards i.e. Boots or Accessorize. I actually save all of my Boots points so that I can buy snacks or emergency items in the airport using just my points.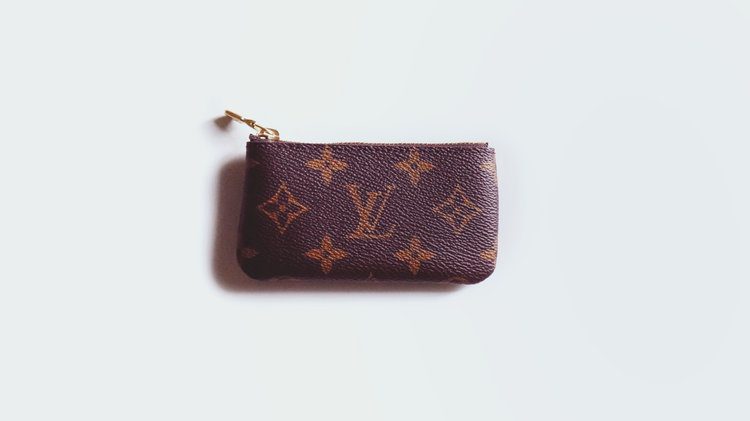 Keys
When you get to your destination pop your keys in a safe place whilst you don't need them. When it comes to packing for your return home, make sure you put them back in your bag. The last thing you'll want to do whilst you're running on little sleep is open up your suitcase at the door to dig around for your keys.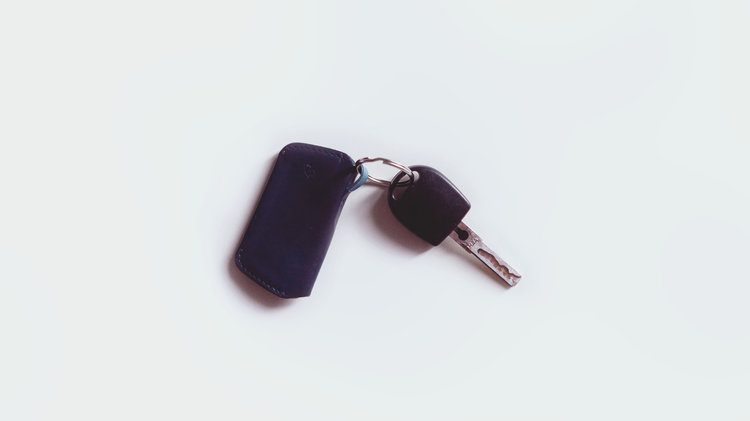 Sunglasses
For the journey to and from the airport on both sides, I don't want to be squinting if I'm sitting in the sun.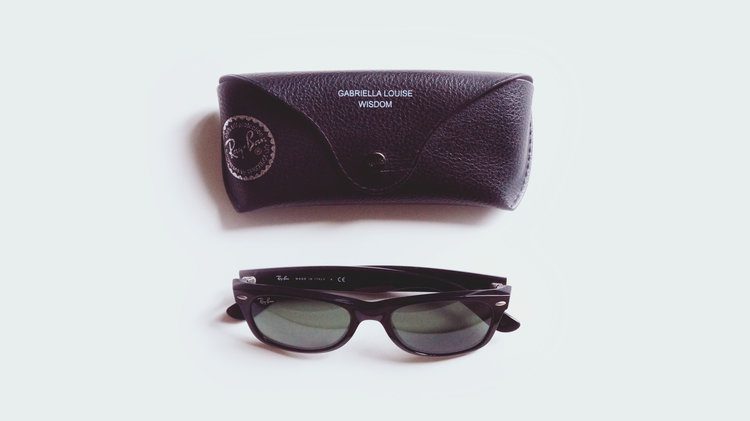 Travel wallet
I bought my Aspinal of London Travel Wallet* back when I was working in London, dreaming of travelling the world. I had almost used up my holiday days and I was telling my colleague I had just blown the last of my cash before payday on it. She laughed and said "when are you ever going to use it, you've used your holiday days" and inside I thought true I can't use it now, but one day this baby is going around the world with me, and it did.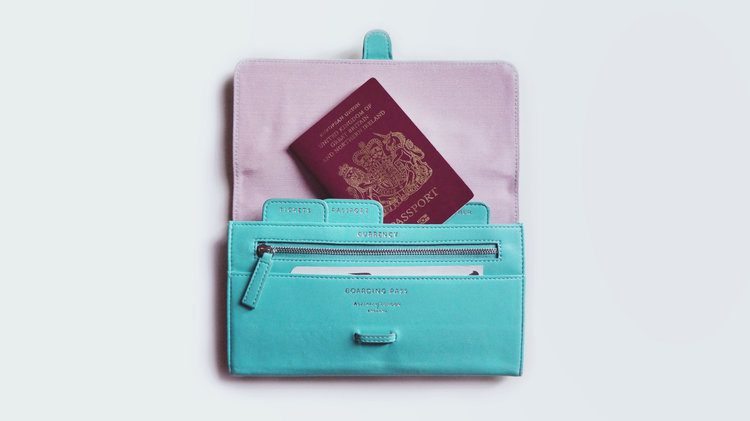 It wasn't my wisest purchase, the nappa leather damages easily and it was expensive (£120) but that purchase was my way of keeping my travelling dreams alive at a time where I wasn't sure what I was doing with my life. Of course having a travel wallet, whatever the brand, is incredibly useful for keeping important documents in order, I organise mine as follows:
Boarding pass
Well this one is self explanatory, I will keep my printed boarding pass in here.
Currency
As you may have read in 8 ways to manage your travel money I like to spread my money across different purses so I'll keep some cash in the currency section along with my one of my travel cards (either Monzo or Starling) and my Priority Pass membership card.
Tickets
I keep any tickets for events/excursions that I have printed in advance (should they not have a mobile ticket option) in here.
Passport
I have both mine and Michael's because he cannot he trusted! The last flight we took, he lost his boarding pass less than 15mins after it was issued!
Documents
I mainly use this for medical documents: I currently have the prescription for any medication I'm taking. The box of your medicine is also good because it will have you name, DOB and Doctor's info. For our RTW I had the document with the updated information for all of my travel jabs.
Other
I just have a little love note from Michael, some plasters and a tissue in this part.
If you're interested in purchasing a travel wallet with a higher budget check out Smythson and Aspinal of London*. For a lower cost Cath Kidston and Accessorize have cute patterns with plenty of pockets.
*Please note that "lizard" and "croc" are the texture names, not the leather used.
Electronics
Headphones
I carry two pair of headphones: noise cancelling and EarPods.
My Bose Quiet Comfort 35 (series I) are amazing! I honestly don't know how I was flying without them! Say goodbye to crying babies, snoring neighbours and that persistent buzzing, it's just you and your movie marathon. They're super comfortable, have a 20 hour battery life when fully charged and they come with a wire and flight adapter so you can plug it into the inflight screen.
Thanks to the series II coming out, series I is now reduced on Amazon from £329.95 to £279. They come in black or silver.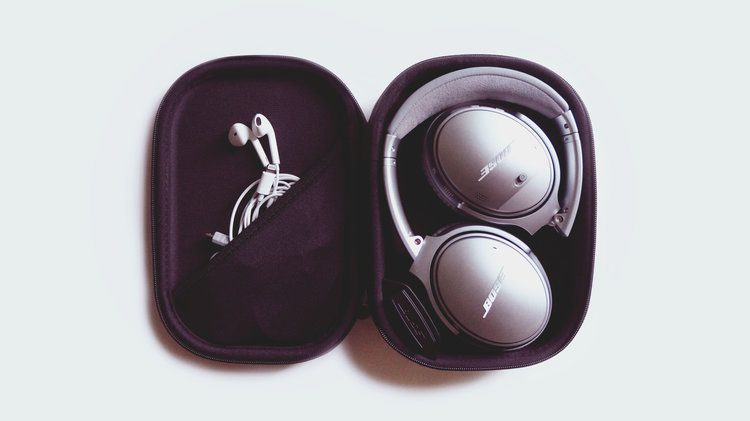 Phone
Prepped with playlists and episodes of my favourite programmes downloaded for offline use.
Check out my PFH California Road Trip Mix Tape for download on Google Play and Spotify.   
Phone charger
You never know when you're going to get delayed so it's best to keep your phone charger to hand.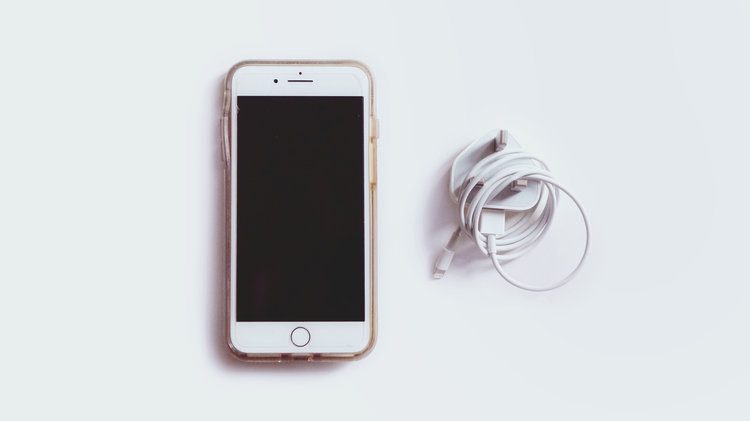 Power bank
Just in case there isn't a plug nearby or a USB port on the plane I keep a power bank to hand. I like to fall asleep listening to music when I'm flying so by the time I get to my destination my phone is usually running out of juice. My Fresh N' Rebel 3000 MAH Powerbank provides one full charge of my phone, I just need the cable from my phone charger.
I got my power bank from Amazon for £17.99. They also do 6000, 12000 MAH and 18000 MAH which does three, six and nine full charges, plus they come in really cute colours and they're safe to fly with because they're UN38.3 airline approved.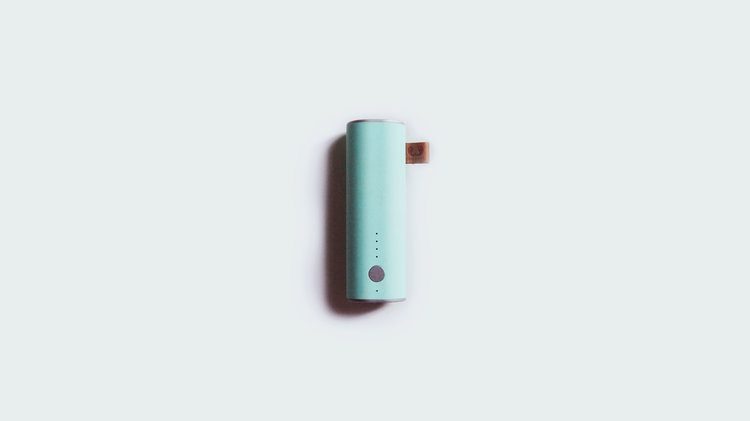 Travel adapter
One of the first things I do when I get to my accommodation is plug in my phone to charge. So to save me from rummaging around in my suitcase I keep my travel adapter nearby. I have a universal one to save needing multiple adapters, I got mine as part of a goody bag when I tested Heathrow T5 before it opened so I can't link it for purchase but I believe you can get a decent one for around £15.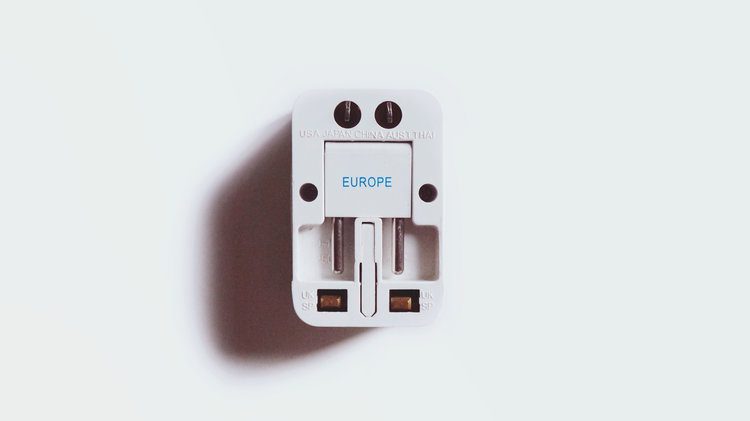 Liquids
I carry the following in my ziplock bag:
Mini mascara

Liquid eyeliner

Concealer

Hand cream

Moisturiser

Roll on deodorant (don't choke your fellow passengers using an aerosol)

Mini perfume

Gel eye patches

Eye gel

Face mask

Mini toothpaste

Bongela

Vaseline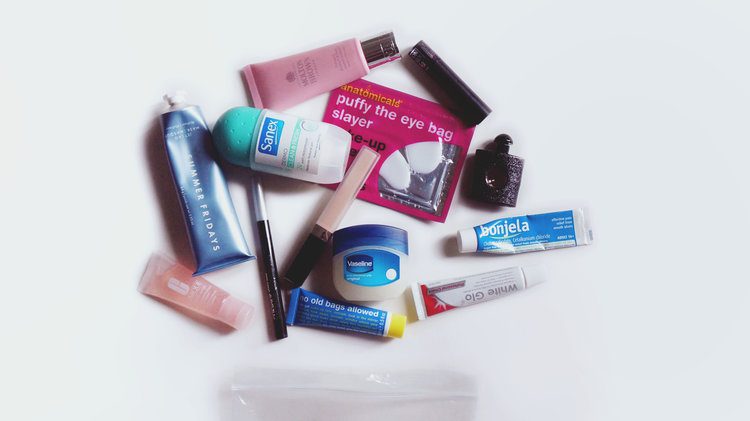 Try to look after your ziplock bag and put it away for your next trip to reduce your plastic usage. Unfortunately not all airports accept reusable clear liquids bags and prefer for everyone to use the regulated ones given out before security, this means there's a whole lot of plastic wastage, so please try to think about the environment before you toss it out after one use. I keep mine in my cabin case ready for my next trip.
Cosmetic bags
I don't particularly like to have loose items in my bag because I'm terrified of pulling a Carrie Bradshaw when she went flying across the floor in Dior, the contents of her bag spilling out everywhere. Too dramatic? Ok. If by chance I drop my bag, keeping in mind it has an open top, I don't want the contents to scatter everywhere so I prefer to keep them together in cosmetic/toiletry bags. This also means I can just grab the one I want from my bag and tuck it in the seat pocket for easier access.
My first one contains the bits and bobs I will need throughout the day:
Pen

Tissues

Antibacterial wipes

Deodorant wipes

Plasters

Sanitary pad

Painkillers

Pill

Gum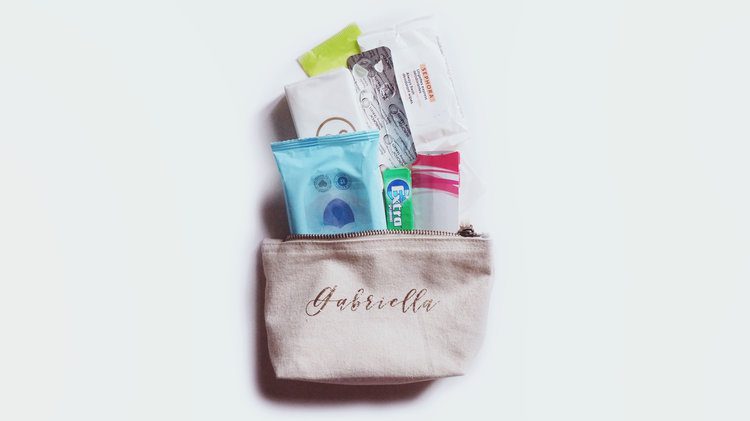 My second one contains the items I need for going to sleep and freshening up:
Mini makeup remover wipes

Mirror

Toothbrush

Sleep balm

Sleep mask

Lucas Pawpaw

Lipsticks

Compact powder

Makeup palette

Brush & sponge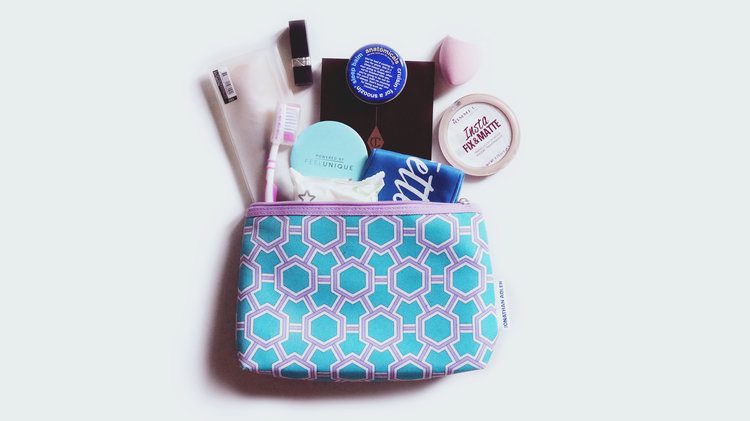 Snacks
I'm not a fan of plane food and I tend to sleep through meals because I like to pass as much of the flight time as I can by sleeping through it. Of course I'll wake up peckish so I keep some snacks to hand. I stick to dried food because there's no risk of them spoiling if I have a long journey and I don't eat them straight away. Here are my go to items:
Urban Fruit dried mango

Chocolate covered rice cakes

Perkier coconut and chia quinoa bar

Crisps

Sugar free sweets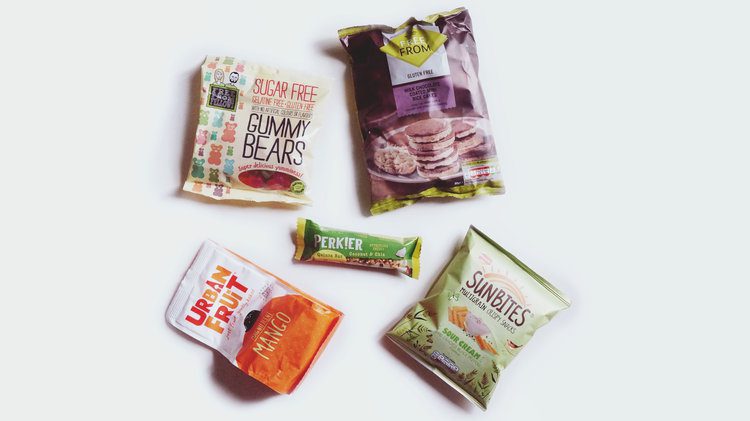 Water bottle
For far too long I'd been buying bottled water in the airport after security, but I now take my empty water bottle through security and fill it on the other side. You should be able to find water fountains past security if not you can always nicely ask one of the coffee shops to fill it up.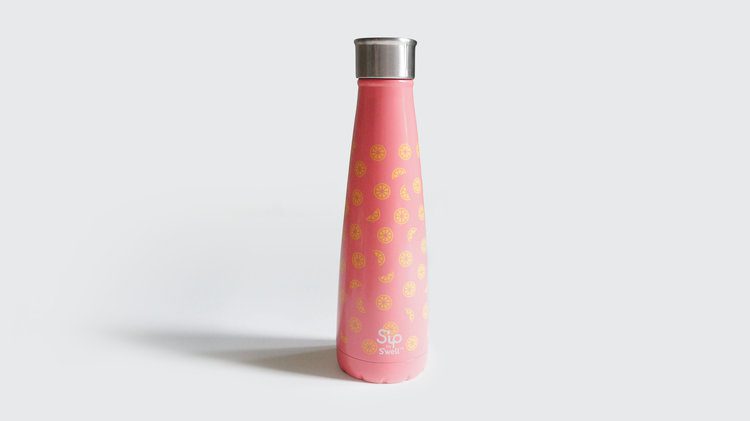 I have been using Swell for many years now, they are amazing because their triple-walled thermal technology means drinks will stay cold for 24 hours and hot for 12. You can leave it in a warm car all day, take it on a hike out in the sun, or tuck it into your seat pocket all flight and every sip will still be cold. Never again will you have to drink warm water with a Swell bottle to hand!
.
I don't want to overstuff my bag so I keep a few bits in my carry on case:
Travel pillow
If you've read Travel pillows – who you should be sleeping with then you know that I prefer to sleep on memory foam. I got mine from Amazon for £9.99 and it's the best pillow I've had. It's soft, supportive and it has a removable cover.
Laptop and charger
You cannot put your laptop charger into checked luggage because it contains a lithium ion battery which can short circuit and cause fires. Fear not though the chances are very slim, but you must keep them in your carry on to be safe. You can read more on the Civil Aviation Authority website here.
Items of value
I keep anything sentimental or of value in my hand luggage because I don't feel comfortable being separated from it.
Change of clothes for flight
I have some comfies that I change into shortly before boarding.
Change of underwear
Let's be real long haul flights make you feel gross, a change of undies will make you feel a little less grubby.
.
Well now you know all of my travel bag's secrets! Keep an eye out for future posts focusing on what I wear when I'm travelling and what products I use to recover from jet lag.  
Aloha, Gabriella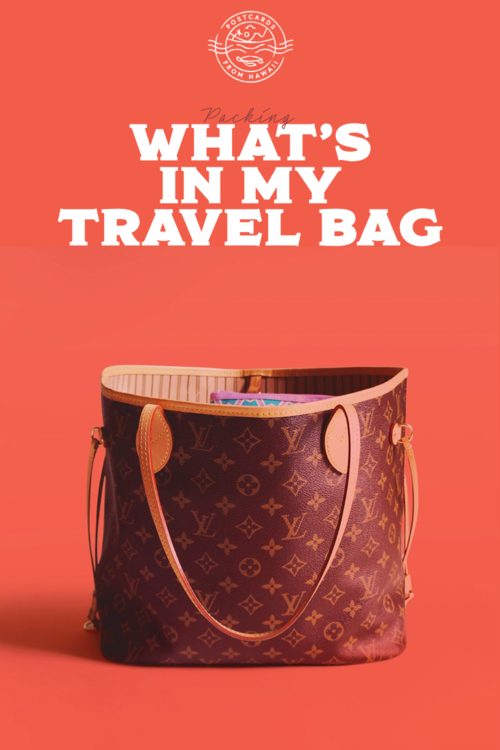 .
*Disclaimer: As an Amazon Associate I earn from qualifying purchases but please know that I recommend all of the products above from personal use which you can see throughout my blog posts.