In 1923 Harry Chandler, a real estate developer, erected a sign reading "Hollywoodland" to advertise his new housing development. It went bust during the Great Depression so the sign was neglected and it began to fall apart. In 1944 it became city property but by the time the Hollywood Chamber of Commerce took it on, the "H" had fallen over. They propped it back up again and removed the "LAND" but of course priorities changed during WWII and the sign deteriorated once more, but this time much worse, getting to the point where large sections of the letters were missing and the third "O" had toppled over.
In 1978 the Hollywood Chamber of Commerce decided to rebuild the sign completely, and thanks to a fundraiser organised by the late Hugh Hefner, some of the biggest names in Hollywood collectively put up a quarter of a million dollars to get this done. Since then the sign frequently receives touch ups, as every big Hollywood stars does, including a facelift in 2013 in prep for it's 90th birthday. 
This universal icon holds such precedence that it's considered a high risk area for a possible terror attack and therefore has 24/7 surveillance which includes cameras, choppers flying over constantly and loud speakers. If you want to take a look for yourself head here for a live video feed of the sign.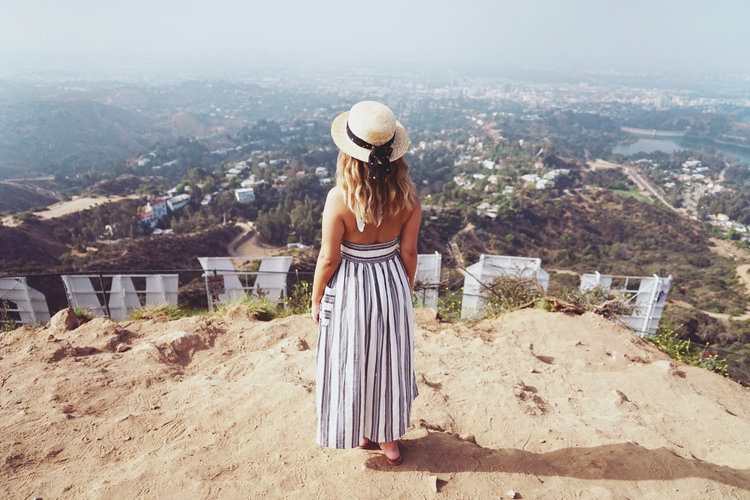 Heads up guys, unlike in many popular films including one of my favourites Friends with Benefits, it is NOT possible to climb up the letters. Thanks to the surveillance I just mentioned, you will be spotted straight away and you will face being arrested and fined for trespassing.
The absolute closest you can get to it (unless you're making a movie or part of the maintenance crew) is hiking up to the top of Mount Lee. This will take you up and around the back of it, so technically you'll be looking down on "DOOWYLLOH". 
Now that you know a little bit of the backstory to one of the world's most famous signs, I'll tell you how to get up there.
Where to start
Pop Bronson Caves* into your sat nav device for your starting point. When you get there, continue driving up the road past the children's play areas which will be on both sides. There are two car parks, the first is a skinny strip on the right (see image below), the second is further up and on the left. If it's quiet I recommend going to the one furthest on the road because it will take you closer to the start of the trail which you will appreciate on the way back to your car. Both of the car parks are free and are open from sunrise to sunset.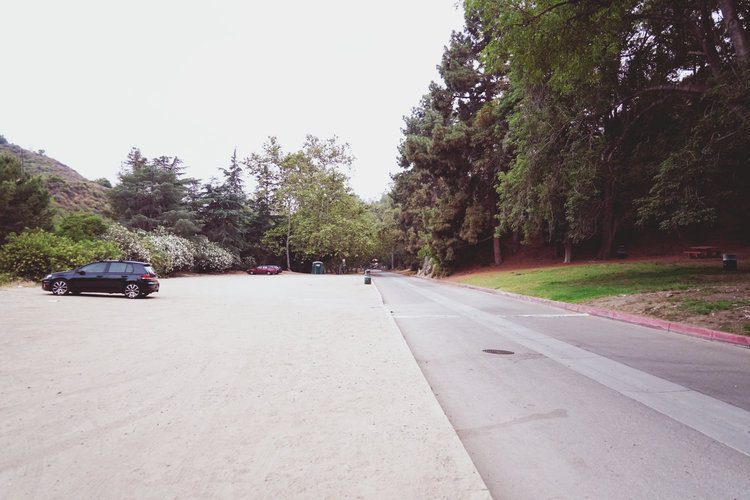 Looking back at the first car park.
Directions
From the car park walk ahead down the path.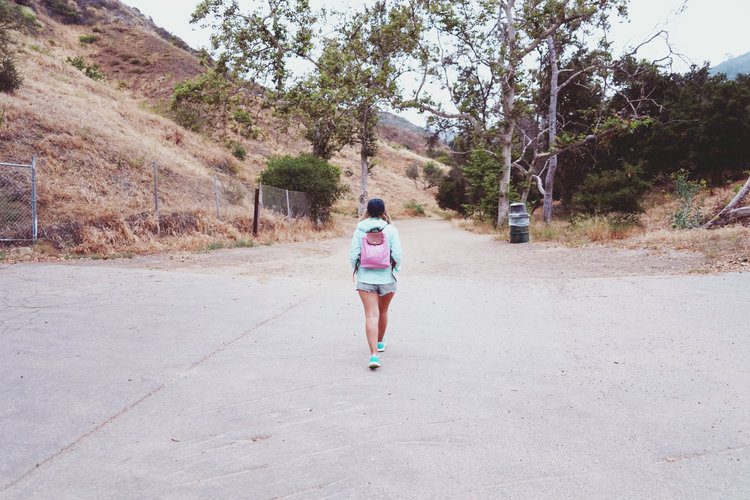 Not long after entering you will face a gate which closes off the road to unauthorised vehicles. Pedestrians can walk past the gate, this is the trail.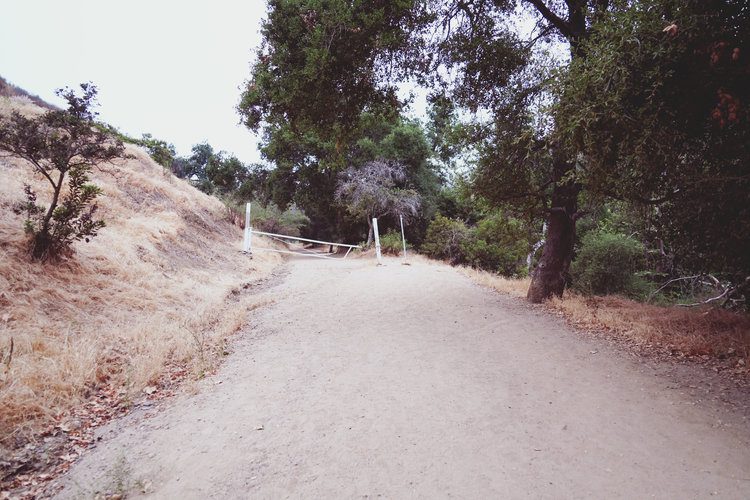 Continue on to start the climb up.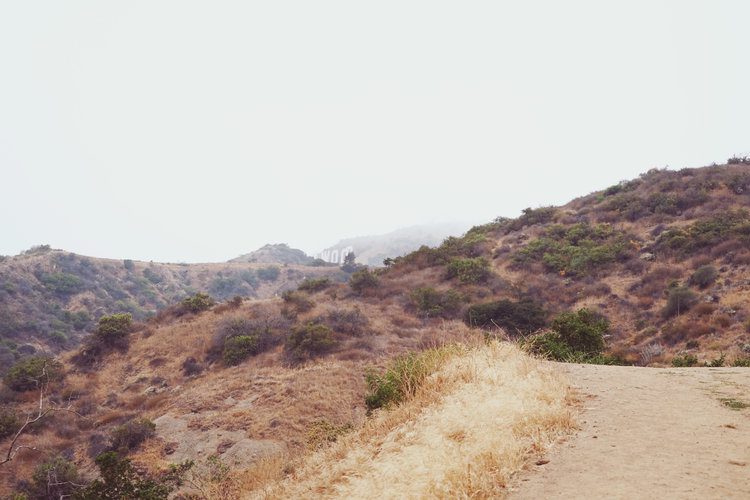 The first sign for directions tells you to go left for the sign, the right will take you to the Griffith Observatory. This one is simple.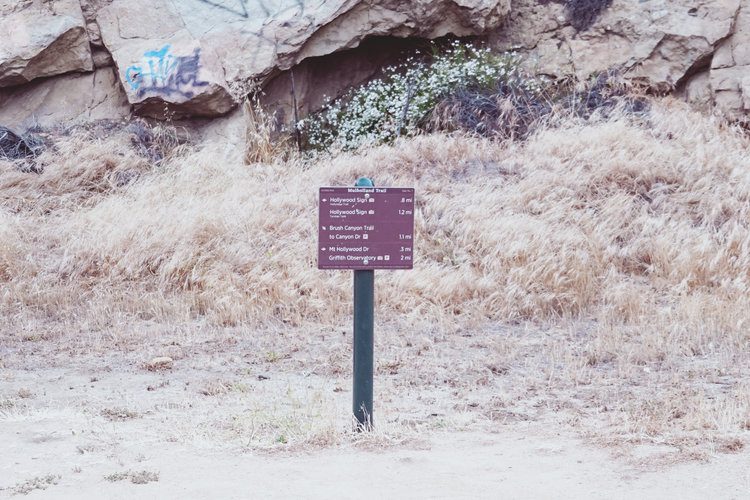 The second sign will show two options for the Hollywood Sign.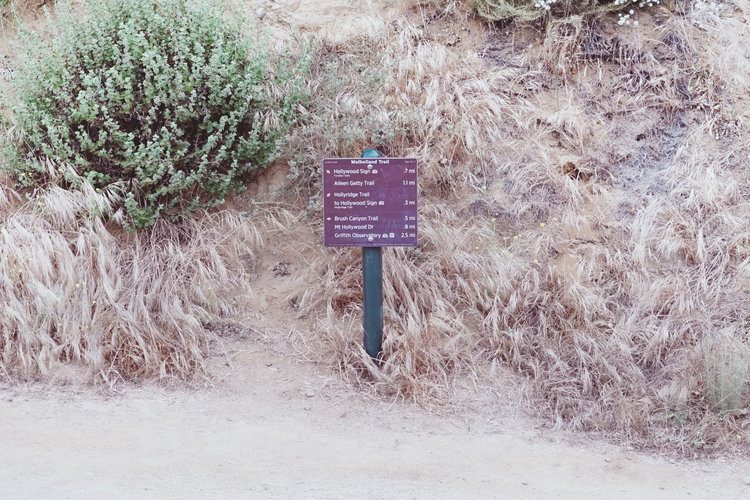 Follow the direction for the first. Facing the two options, take the one on the right heading upwards.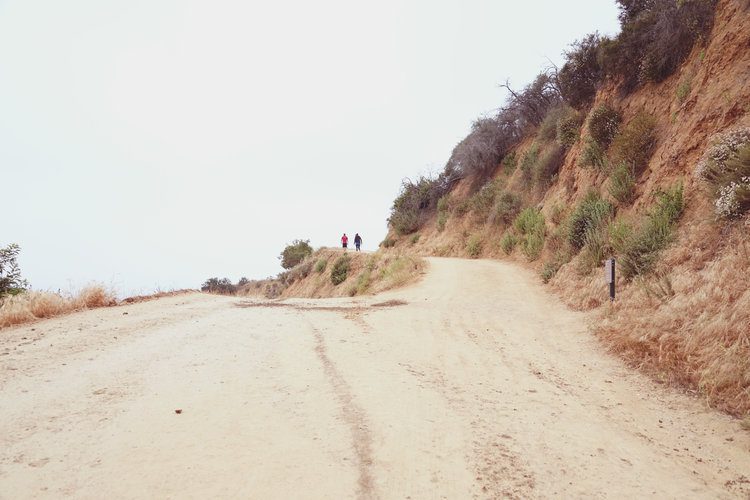 The third sign is mildly confusing, it says left to the Hollywood Sign but you actually want to follow the direction for the Mt Lee Summit, so head right. Someone has written on the sign that this trail will lead you to the back, which means behind the sign. It will seem counterintuitive to go right because it appears to lead you away from the sign but after a steep incline you will eventually wrap around the back of it and get up to the top.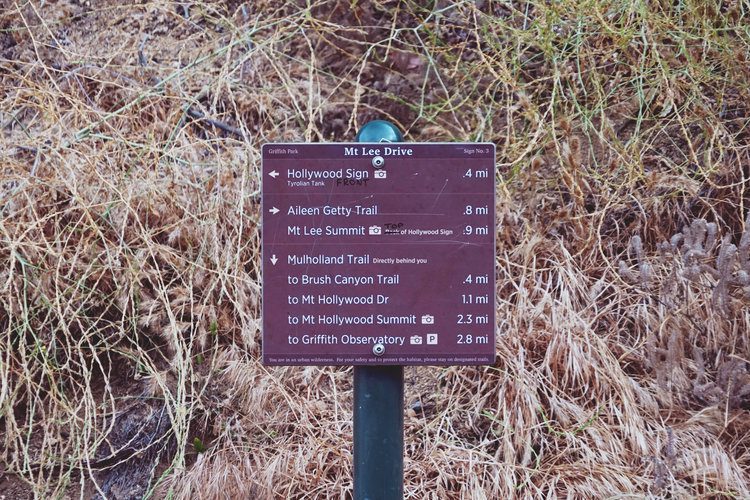 The first sighting you will get once you walk around the corner will be of the sign behind a big wire fence but keep going up and around the left for a tiny but very steep dirt track which will take you up to the best viewpoint, where you will look down on the sign and the city it graces.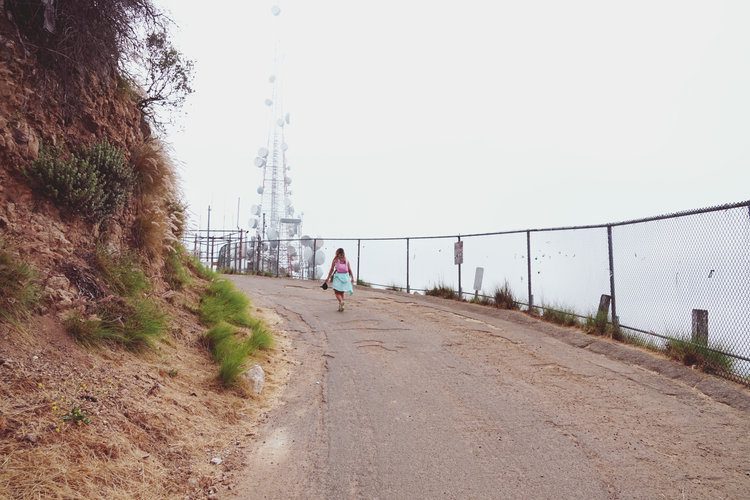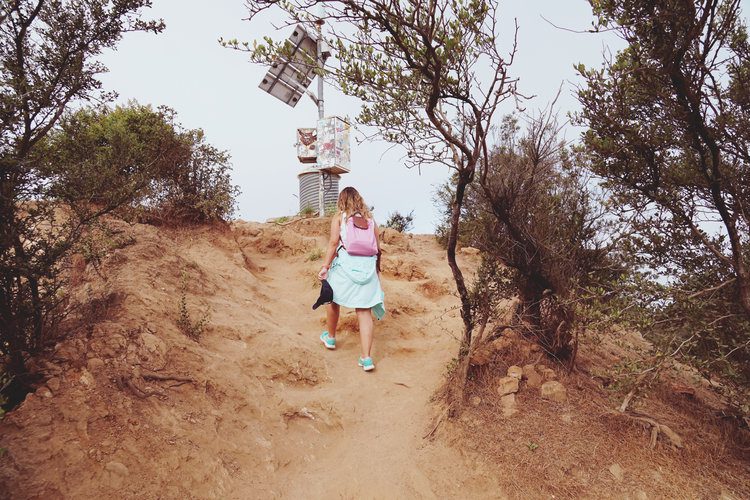 Weather
I've done this hike twice, once when we were doing our RTW 2016 and the other two days ago, 26th June 2018. The first time we went was in July during a heatwave and despite us getting to the top at 6pm it was scorching and we had to keep stopping to catch our breath.
The second time we went first thing in the morning and it was much cooler and June Gloom is taking hold of LA whilst we're out here so the mornings have been overcast and therefore cooler than usual. The sun broke through the clouds at about 9am that day so we were comfortable on the way up but by the time we started to descend it was heating up quickly and we were grateful for already being on our way down.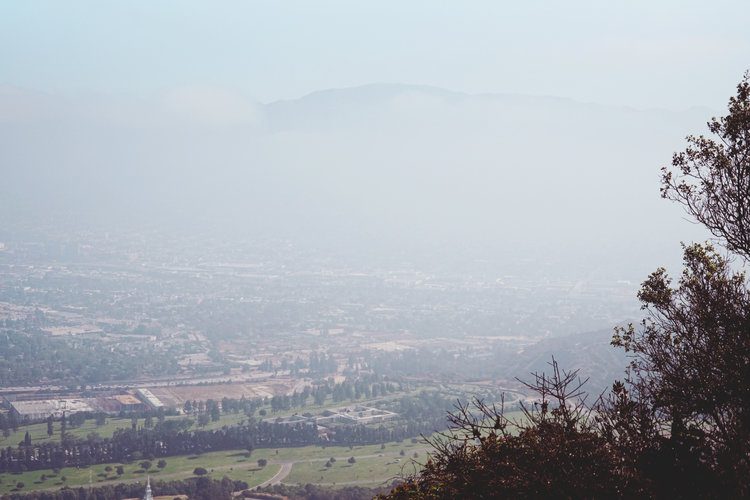 I mentioned above that you can watch a 24/7 stream of the sign, this is really helpful to see what the weather is doing up there should it be an overcast day like ours started out. The cloud does lay low though so we didn't have a problem even before the sun came out. Be sure to check the forecast too though.
You can do this hike all year round but obviously the height of summer during the midday sun is ill-advised. It's not worth risking heatstroke or sunburn so go when it's cooler.
Time to go
Sunset is a good time to go because the temperature will be cooling down and the views will be amazing, but keep in mind that the carpark closes at sunset, so if you dawdle or don't leave enough time you might not be getting your car back. The other issue with this is that it will most likely be busy with people trying to get those sunset snaps.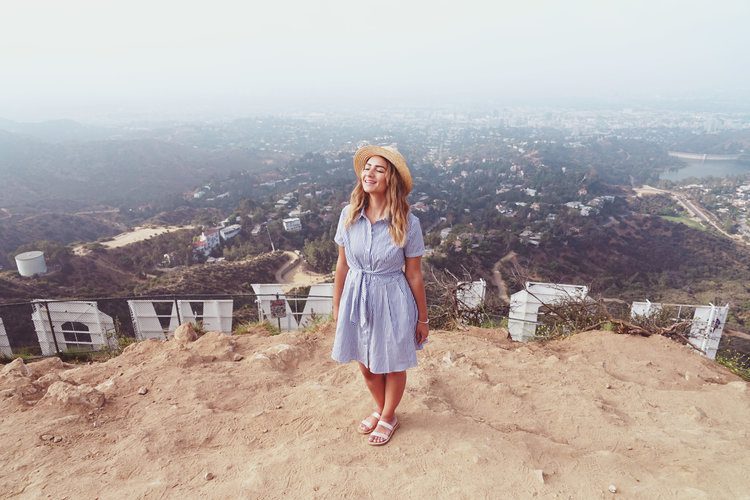 My advice is to go first thing in the morning. We left our accommodation not long after sunrise and arrived for 7am which was perfect for us. It was still overcast so the temperature was a cool 17 degrees Celsius, but it was still nice and bright for photos. We only passed a few locals on the way up on their morning jogs, and when we reached the top there was only one woman up there. Luckily for us, because we had to do a fair bit of shooting, we were alone up there for about an hour so I could easily get changed and shoot anywhere I wanted. By the time were done and ready to go down, which was 9am, the sun was out, people were starting to arrive up there and it was soon swarming. I counted at least 30 people up there just as we were heading down and in less than 5 minutes into our descent another 13 people passed us on their way up.
To summarise, go as early as you can.
How long it takes
It's a 7.5 mile hike which takes you 1,003 ft up and is considered a medium level hike, but that is really determined by how fit you are and what the temperature is when you go.
As I said above we have done this hike twice the first one was on a very hot day which wore us out quickly. That time we started off at 4pm and it took us about 2hrs just to get up there. That includes stopping time because it was a rough go in the sun but also for photos. We didn't stay up there much longer than half an hour and then we came down. The sun was on its way down as we made our descent so it was much cooler and parts of the trail were shaded so it only took 1hr to get back to the car.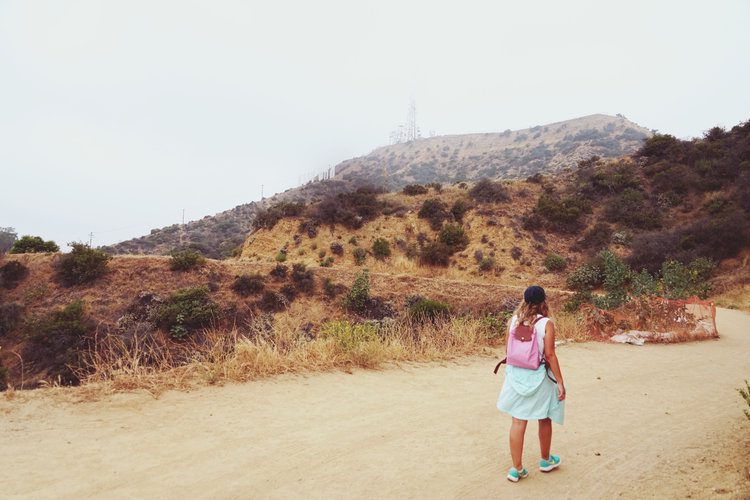 The second time only took 1hr 5mins to get to the top, it was cooler so we didn't overheat and we didn't stop for photos because L.A. was still under a blanket of cloud so there was nothing to see. We did however spend 1hr up at the top taking photos in multiple outfits (a girl's gotta have options) and then our descent took longer than the climb because the sun was out and we wanted to stop and take photos of the city and the valley views. We got back to the car at 10.30am so it took us 1hr 30mins to get down including the time to take photos.
I should note that the second time around we were on a mission to get up there before anyone else so we power walked to keep it to roughly an hour, honestly if you don't need to rush allow an extra half an hour for a more leisurely hike. I'd say on average you're looking at spending 3hrs not including however long you want for photos.
What to bring
There is no shade on the trail once the sun is up which means you are completely exposed to its burning rays, so most of these items are geared up to protect you.
Sunhat
Wearing a sunhat does three things: stops your head from burning, shields your eyes from the sun and absorbs sweat from your brow.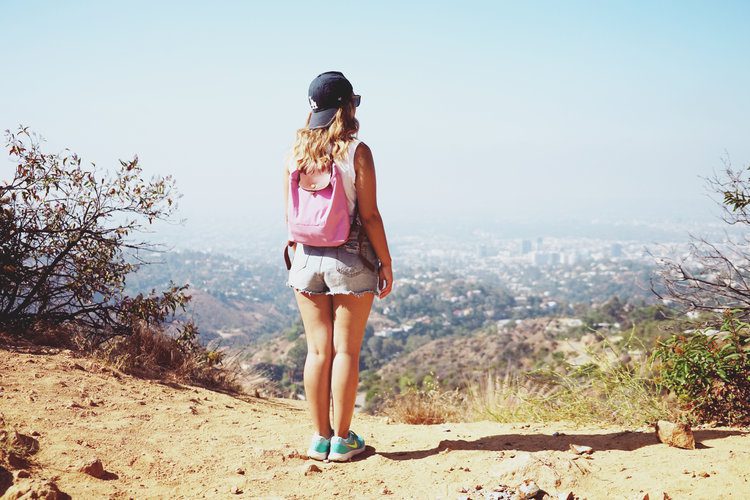 Sunglasses
It's really bright even when it's overcast so protect your eyes. They will also save you from squinting in your selfies.
Suncream
No lower than SPF 30 but really just go for SPF 50. You're exposed and vulnerable so it's better to be safe than sorry.
Water
Bring at least 1 litre. Not only is it hot but it's a tough hike, plus it's quite dusty so stay hydrated. If you don't already have one get yourself a thermal bottle. These babies will keep your drink cold for 24 hours with no condensation, which is a blessing when you are all hot and bothered.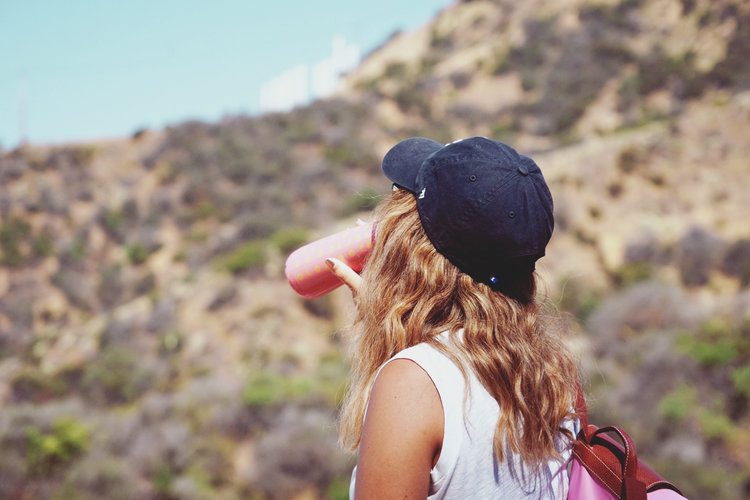 Comfortable shoes
Wear a pair of hiking boots or decent trainers (sneakers). I'm talking function over fashion people! There are two steep climbs bookending the trail and the middle is basically a dirt track. If you know the pain of stones in-between you and your sandals you will be grateful for a pair of good walking shoes. 
If you're hellbent on getting snapped in a cute outfit do what I did and pack it up to change when you get there. FYI there are no changing rooms up this mountain, strange I know, so bring something that's easy to get in and out of. 
Camera
You'll want to capture the moment once you're up there but there are also amazing views of LA on your way up too.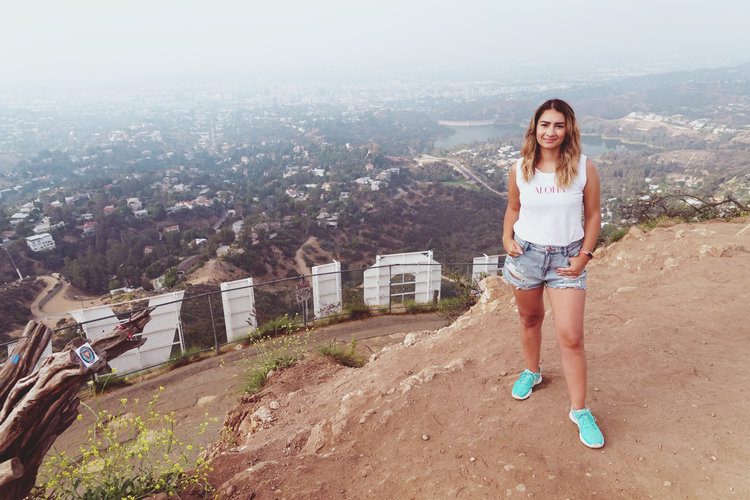 Selfie stick
A simple arm out selfie won't be enough to capture the whole sign so unless you have a wide angled lens or a GoPro, a selfie stick will be your friend. If you're thinking "ugh a selfie stick, that's so 3 years ago, I'll just ask someone to take photos" well, If you take my advice and go early someone might not be there to take photos and even if someone does come up whilst you're there they might possibly be OUT OF THEIR MIND and not actually capture the sign in the background of your photo. You don't believe that someone could do something so absurd? Well see the image below…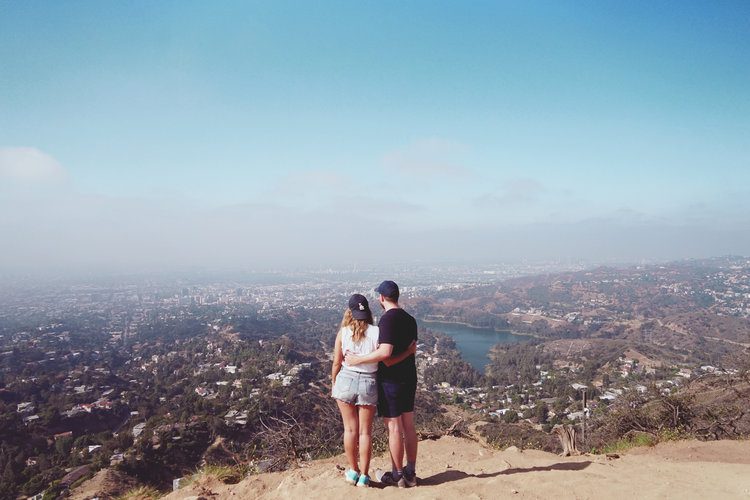 .
Check out my California road trip playlist for some Cali inspired hits to accompany a trip to the Golden State, you might even want to listen to it on your hike!
.
Aloha, Gabriella