You know it's in there, you packed it. Heck, you even used it yesterday morning. You know that concealer is in your makeup bag but you have rummaged and rummaged looking for it and it's not showing itself. In fact, it doesn't show up until you've tipped the whole bag out on the bed or counter after you've spread it all out, knocking lipsticks and palettes (yep that one hurt) to the floor. Yeah, that's when you finally find your concealer. Hands up if you've been there! Chances are if you're here reading this then you know that situation all too well.
This innovative open flat makeup bag by The Flat Lay Co. combines a cosmetic travel bag with a makeup mat into one practical and quite frankly, genius design. The Flat Lay co's drawstring makeup bag is intended to make applying your makeup on your travels far easier, and less time consuming, by cutting out the need to rummage and preventing any of those pesky roll-aways.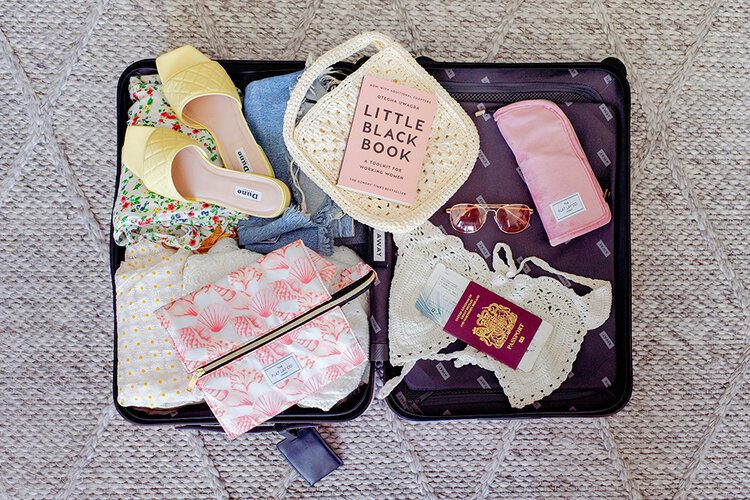 When I first partnered with The Flat Lay Co. back in 2018 we were both just starting out, I had only been blogging a few months and they only had the one size of their open flat makeup bag available in just black on their own website. Since then they have grown to 6 products including a dedicated makeup brush case and luxury eye masks, they have over 22 different patterns and colours, are available in the UK, USA, Canada, Australia, UAE and Saudi Arabia and are sold on ASOS, Amazon, Oliver Bonas, Feel Unique, Topshop, Pretty Little Thing and Misguided and though I don't want to encourage you to shop from fast fashion brands, I do encourage you to support The Flat Lay Co. because they make an amazing product.
I had first discovered their open flat makeup bags from my cousin in early 2018 and though we understood their purpose we were sceptical about whether the lack of structure would provide as much protection to our makeup. Curious, I reached out to The Flat Lay Co. and I took their classic 50cm open flat makeup bag on a 2 week road trip along the west coast of the USA in June 2018. Since then I have used my bag every single day, I also purchased a couple more, bought many as gifts and ran a couple of giveaways with them. Whether I'm on my travels or at home (pandemic or not) I store my every-day makeup and toiletries across my The Flat Lay Co. makeup bag.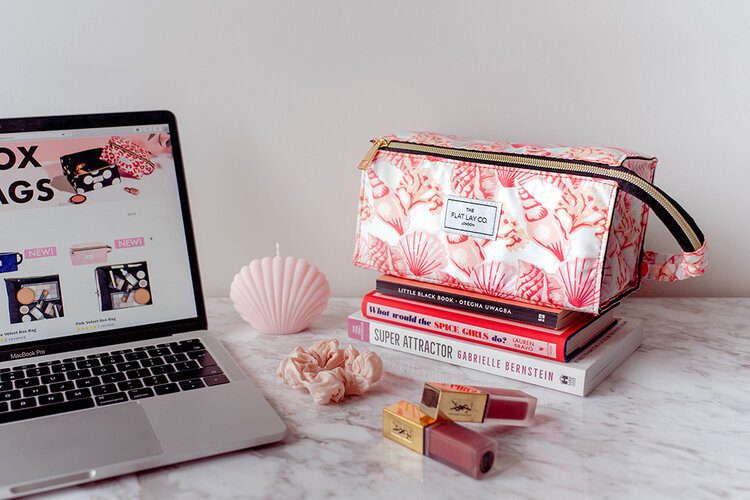 I published this review on The Flat Lay Co's open flat makeup bag in July 2018 not because I was obligated to but because I wanted to share with you all of the 8 reasons why I loved using it. This blog post has now been updated to include their following products:
The original flat lay makeup bag

The mini flat lay makeup bag

The box bag

The standing brush case
Every point I made for why their products are amazing in the original review is still valid and available to read within this post.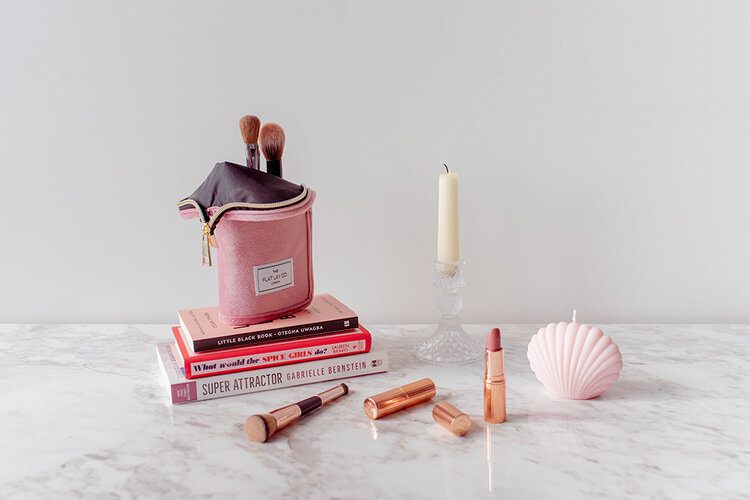 1. Practical
Are you tired of rummaging around in your cosmetic bag for what you need? Hopelessly searching for that one thing that keeps escaping you then getting fed up and tipping it all out at the expense of lost and broken items? Palettes and pencils are so fragile and all those times where we've tipped them out and hastily rammed them back in is one step closer to ruining a collection that has taken us years to perfect.
Both the open flat and box bags from The Flat Lay Co. are the answers to your rummaging nightmares. You'll never have to dig around for something again as both products combine a cosmetic bag with a mat. 
It only takes seconds to pull up the drawstring to close the open flat bags and there's a small looped handle to make carrying easier. When laid out flat the mat keeps your makeup in one place, prevents it from rolling away and keeps it clean, plus there's no more digging around because it's all set out flat.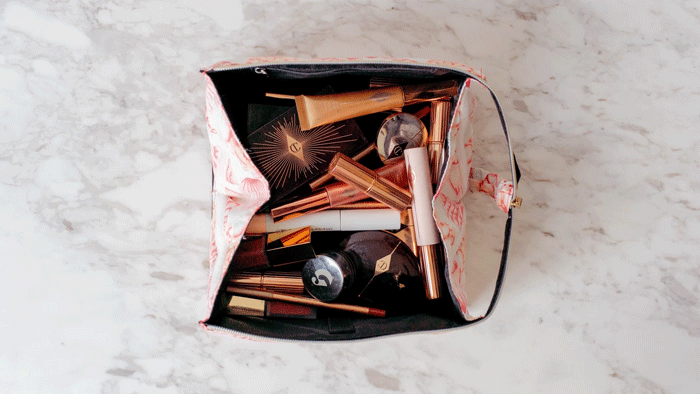 The box bag offers a little less space but a lot more security. The diamond shape opens out to a rectangular box with high sides so you can still find what you need easily whilst taking up less counter space.
Their standing brush case means you can keep your brushes clean, organised and protected from damage to the bristles. The Flat Lay Co's standing brush case means you can travel with your brushes knowing they're secure and when you reach your destination you can zip open and fold back the top of the case to make a pot. I particularly prefer using my standing brush case to a brush pot as they are protected from day-to-day dust between uses.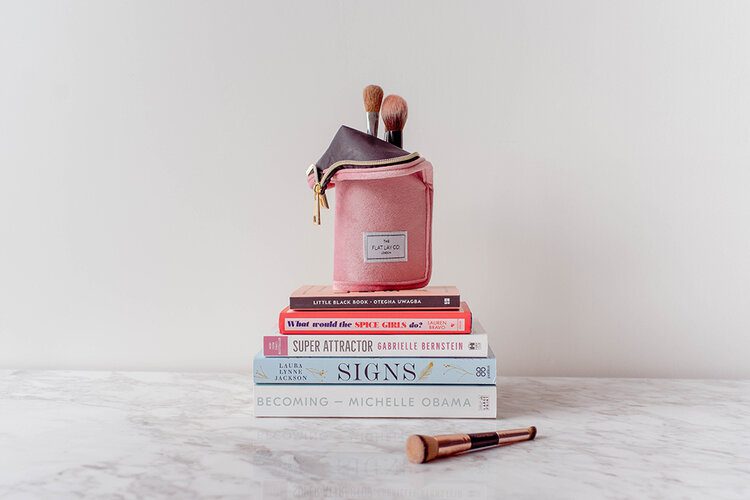 2. Drawstring fastening
You might be thinking "how can a drawstring fastening be secure?" but the toggle is strong and holds it closed with no problems and it means you can fit so much more in. It makes for quick fastening and I've found my flat lay bag moulds into free space in my suitcase far better than regular cosmetic pouches.
Also, when it's opened out flat the drawstring creates a lip that stops your makeup from rolling out.
Although I've had no complaints about my drawstring flat lay bags, I understand the want for more structure so for you I recommend the box bag which fastens by a zip and velcro and opens out to a makeup tray.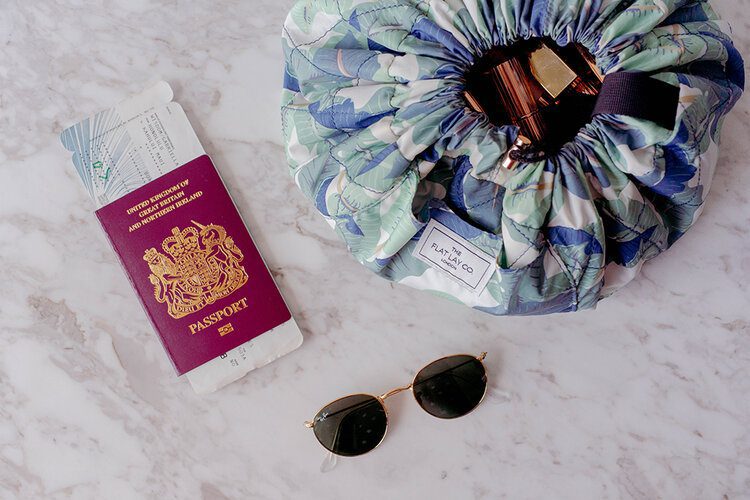 3. Organised
The drawstring flat lay makeup bag storage features include:
Two external velcro pockets, one at the front and one at the back – I store scrunchies, tissues and a nail file in these.

Internal zip pocket – I put hair clips in here and in my toiletry flat lay I store medication and plasters (band aids).

Eight elasticated loops – great for brushes if you choose not to use one of their standing brush cases, also liners, tweezers etc.
The mini drawstring flat lay makeup bag storage features include:
Two external velcro pockets, one at the front and one at the back.

Internal zip pocket.

Four elasticated loops.
The box bag storage features include:
Internal zip pocket.

Three elasticated loops.
The standing brush case storage features include:
Two small internal pockets.

Six elasticated loops.
4. Uses
Of course you don't have to use the Flat Lay Co's bags just for cosmetics, it's great for anything you don't want to waste time digging for. I use my original flat lay drawstring bags for toiletries and makeup, my standing brush case for brushes and my box bag for my accessories.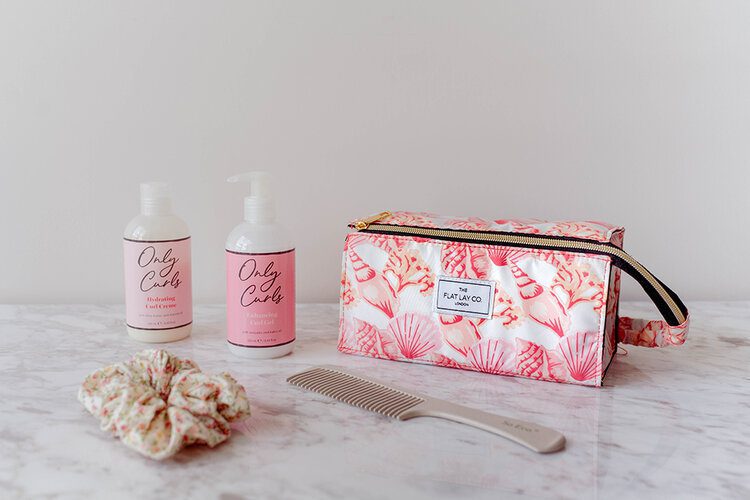 5. Quilted protection
I have been travelling the world with my flat lay bags for years, packing and unpacking multiple times, often on the same trip and I'm yet to have any makeup break within them. Even as I or others have dropped my luggage I have never had anything break whilst stored within them.
The quilting makes a huge difference towards protecting your makeup. It means the layer surrounding your makeup is not only padded but it's also stronger so you can rest assured that your makeup is more protected than in most makeup bags.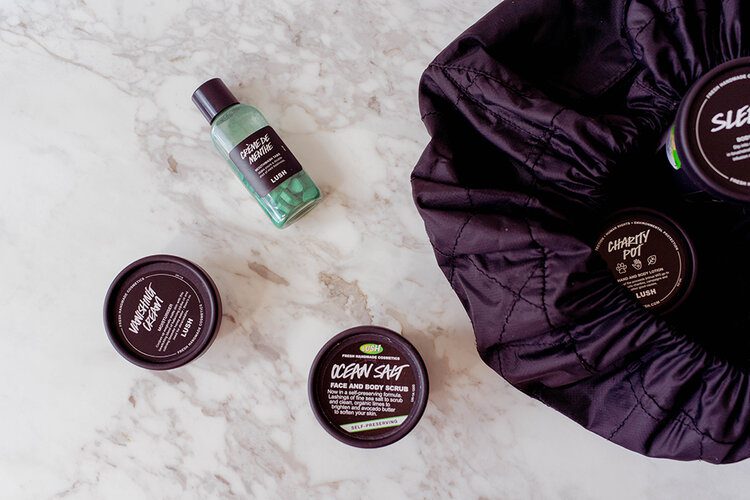 6. Sizes and capacity
The Flat Lay Co's original drawstring bag is 50cm wide when open.
Their mini bag at 33cm wide when open is perfect for popping in a few essentials to take in your handbag/ day-to-day bag. I keep a few travel basics like plastic-free deodorant, a scrunchie, suncream, some lipstick and hair products (if I know I'm going to get my hair wet) in my lemon print mini.
The standing brush case is 22cm tall and 10cm wide when closed.
The box bag is 22cm x 11cm x 11cm when closed and 22cm x 22cm x 11cm when fully opened.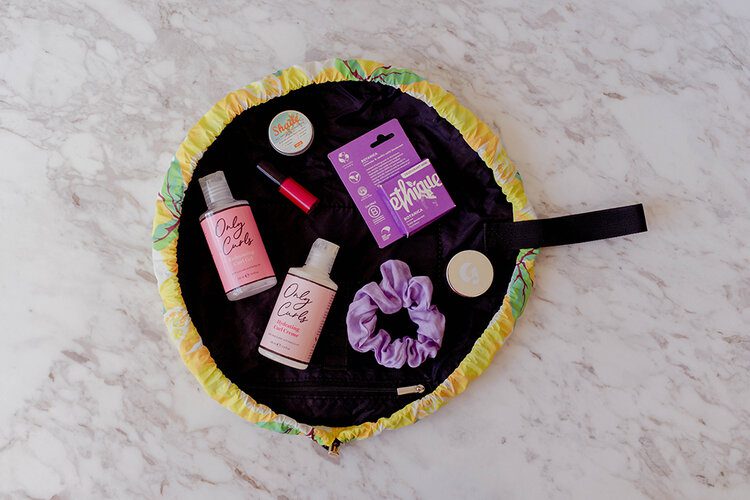 7. Machine washable
You can either wipe your flat lay makeup bag clean with a damp cloth or pop it in the washing machine on a 30ºC gentle wash.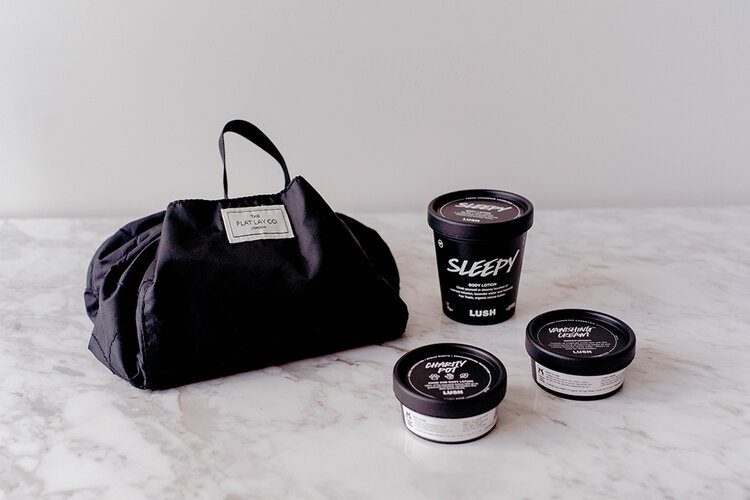 8. Price
They are very reasonably priced for how amazing they are, all are under £22! 
The mini flat lay bag retails at £17.99

The original flat lay bag retails at £19.99 (£21.99 for the velvet collection)

The box bag retails at £19.99 (£21.99 for the velvet collection)

The standing brush case retails at £13.99 (£14.49 for the velvet collection)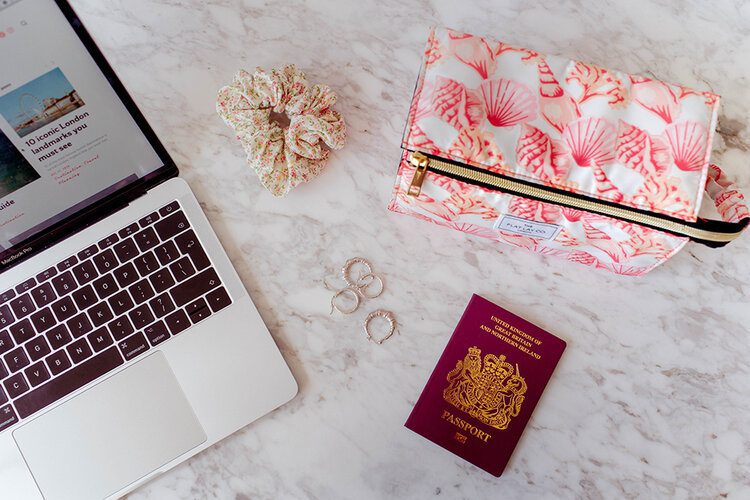 I haven't purchased another type of makeup, cosmetic or toiletry bag since using The Flat Lay Co's products and for the time being I don't see the need to. If you're looking for a versatile carry case to last you a long time (yay for less waste and longterm use) then look no further than a bag from The Flat Lay Co. 
Do more on & for the planet, Gabriella
Three of five products in this blog post were gifted and I purchased the other two. As an Amazon Associate I earn from qualifying purchases.