This post goes out to all of you curly haired people who are either shying away from your natural curls, just learning to embrace them or wanting to fully enhance your voluminous do. In this blog post I'm sharing my curl story. I'll take you through a step-by-step guide on how I style my natural curls with Umberto Giannini, you'll find out what my favourite Umberto Giannini products are and I tell you which products I can't travel without.
My curl story
So I mentioned that this post is for people at any stage of their curl-appreciation. Me? I'm somewhere in-between learning to embrace and fully enhancing. It's taken me all my life to get to a point where I appreciate my naturally big, curly hair. You see, I grew up in the English countryside in a white community which made it awkward to style my hair naturally. Though there were always a few who told me to embrace my curls and show them off, there were more people ready to bash them. To this day I still can't wear my hair curly in my hometown without someone making a comment like "What have you done to your hair?", "Why is your hair so big", "Your hair looks like a bird's nest" or "You look like Brian May". No young person wants to be compared to a 70 year old person!
During my shorter hair phase in college/uni I was able to wear my curls more often because they weren't as big or wild as when I have longer hair. The longer my hair got though, the less inclined I was to go au natural.
It really is my increased amount of travel that has led to me celebrating my curls. Not once, in all of my travels, have I ever had someone say something negative about my curly hair. Instead I am complimented on it, and as I have come to wear it curly more often the compliments are coming in from all over. I realised that the community I grew up in isn't the opinion of the world, and I am so grateful for that realisation that came from a life of travel. In Norfolk I went to a salon where the hair dresser took an afro comb to my hair (I never went there again), in Maui I am mistaken for being Polynesian.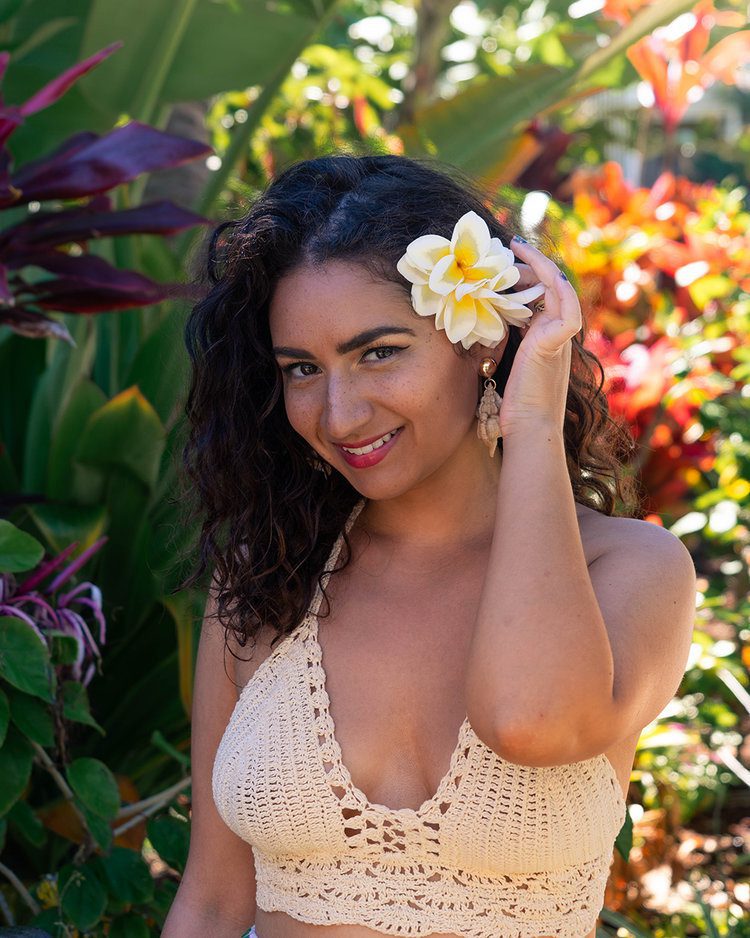 Travel helped shape a new perspective on my hair, but the one thing bigger than perspective in building the confidence to embrace who you really are, is using the right products. 
I have tried a lot, and I really mean A LOT, of curly hair products; Bed Head, Schwarzkopf, Label M, Pantene, John Frieda, Wella and so much more! Those products made my hair hard, flakey, greasy or worse, that wet hair look (which wasn't in fashion at the time), I'm talking Ross Geller level of wetness. About five years ago though, I was buying travel minis in Boots and I came across a little bottle of Umberto Giannini curl jelly. I gave it a go and it did wonders for defining my curls, I was so impressed I bought the bigger bottle to refill the little one for trips. I wasn't wearing my hair curly all that much so it lasted a long time. About two years ago though, I picked up that same bottle and started using it more often, then last year I added the weather proof curls finishing cream to my curly hair stash and the two of them blew my mind. For the first time I was seeing defined, voluminous and bouncy curls with far less frizz than before.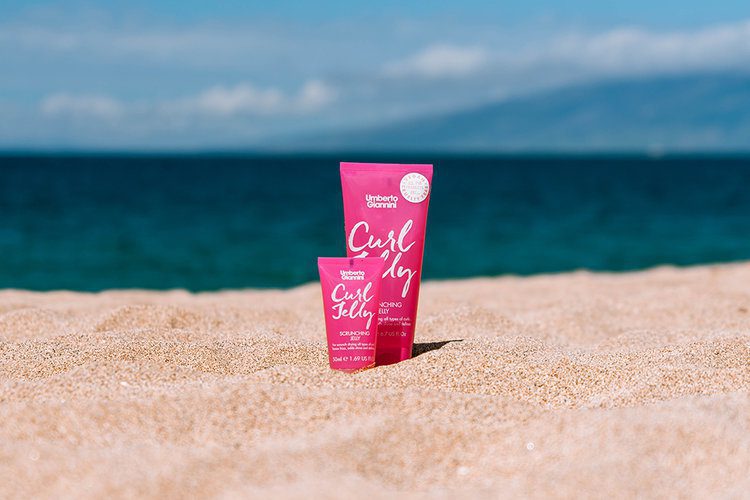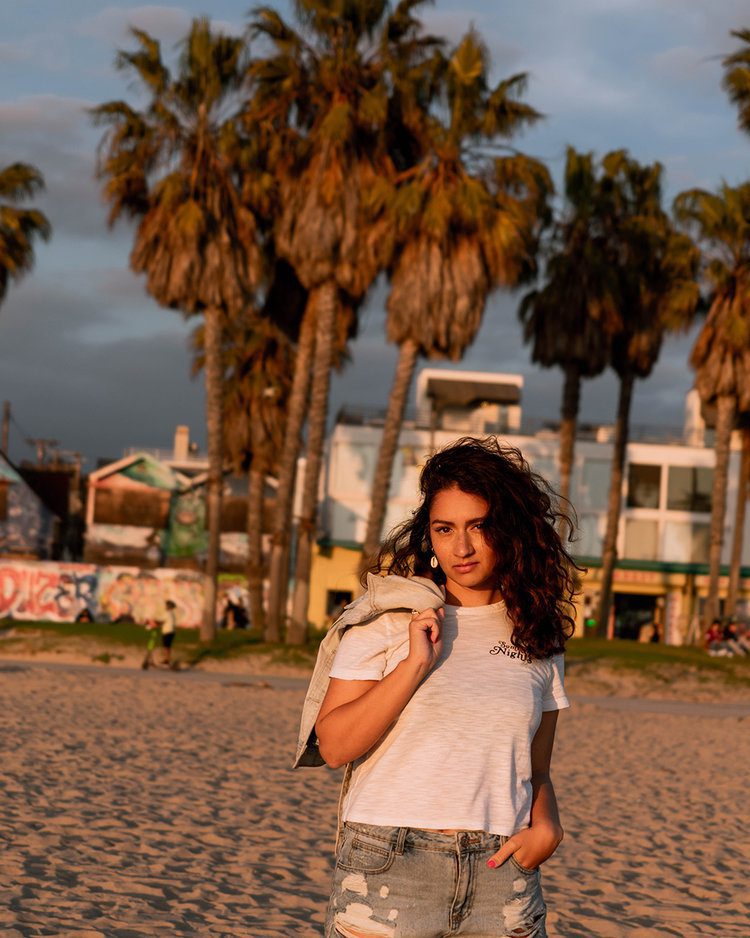 Partnering with Umberto Giannini is a dream come true because their products really changed the way I feel about my curly hair. They have given me the confidence to wear my natural curls proudly. It also gave me the opportunity to try more products from their curly hair range (which is huge by the way) and now I can't imagine wearing my hair curly without their help. Since expanding my use of Umberto Giannini products, I have received so many lovely comments on my hair that it made me wonder why I let the bad ones stop me from letting my hair live its best life! The very first time I used the curl jelly, weather proof curls finishing cream and no more frizz serum I had comments flood in on my stories instantly! I ended up wearing my hair naturally for most of my last trip and almost every day since I've been home, and my hair has never felt so good!
Those are just a few of the messages I got on the FIRST day that I started to use more than just Umberto Giannini's curl jelly; it was noticeably bouncier and defined.
My Step-by-step curl guide with Umberto Giannini
1. When I'm going to wear my hair curly I wash my hair over the sink or whilst bent over the bathtub. This is because I scrunch my hair to enhance the curls, and it's easier to get to all of it with my hair upside down rather than standing upright. I actually don't use any curly shampoos or conditioners, I haven't found that I have needed to. I cannot wear it curly without conditioner though, my curls are dry and need to be moisturised for them to not completely frizz out.
I shampoo, rinse and then with conditioner in both palms, I move it through my hair by scrunching. Taking sections of my hair in my palms from the ends, I lift and squeeze the conditioner into my hair. Once I'm done, I rinse it very lightly, making sure to leave some product in my hair so it doesn't dry out.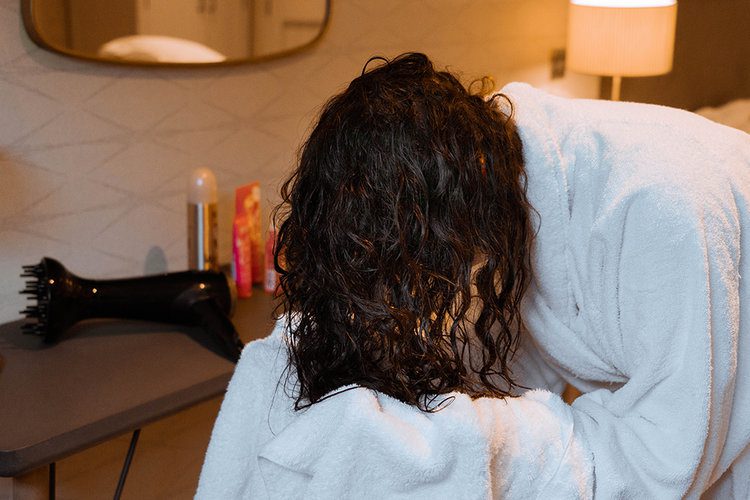 2. I wrap my hair in a towel, loose enough that it doesn't prevent my hair from naturally coiling up but tight enough that the towel doesn't fall off my head. This is to prevent it from dripping everywhere before I am ready to style my hair. When I am ready, I flip my head over and use the towel to squeeze excess water out of my hair in the same scrunch method as when I was conditioning my hair.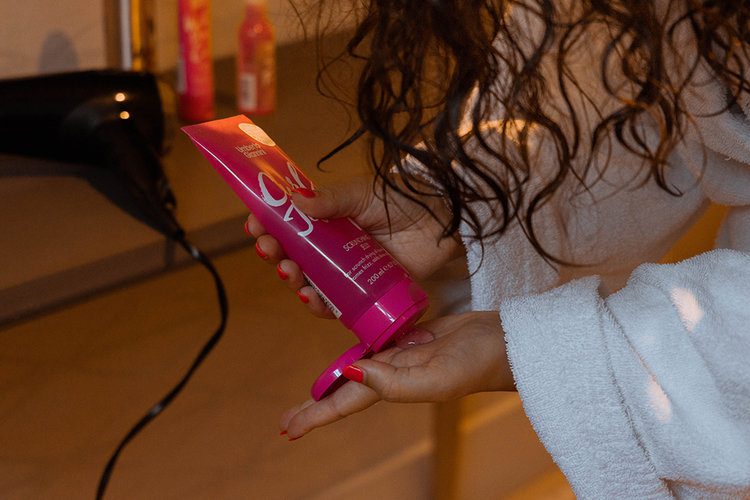 I then spread a good tablespoon amount of the scrunching jelly over my palms and scrunch it in through my hair. I'll keep scrunching my hair until I've put the product on all of my curls. Then I'll put the towel back on top for it to dry a little more. I usually use this time to apply my makeup. 
3. When I'm ready to go back to my hair I flip my head over again and take off the towel. I spread about a pea sized amount of the weather proof curls finishing cream across my palms and scrunch it into the curls that frame my face because I want those to have the most definition. Then I put the same amount into the rest of my hair, always scrunching.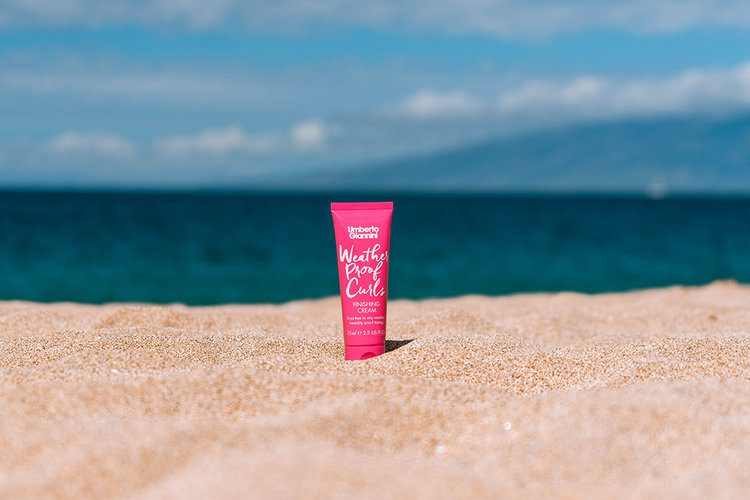 4. Keeping my head upside down – I'm not exactly sure why hanging my head upside down whilst it's wet makes my hair curlier. My theory is that my curls aren't weighing down on each other so they spring up more, either way I've gotten pretty used to walking around like Cousin Itt whilst I style my hair.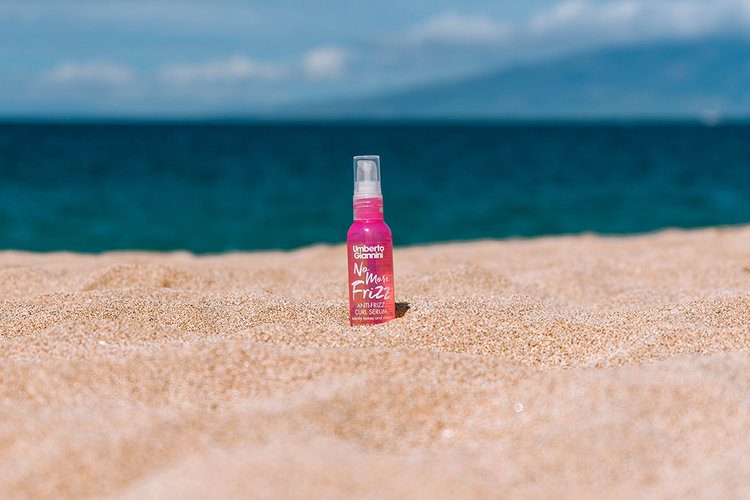 I pop a couple of squirts of the no more frizz serum into my palms and work it into my hair starting at my ends to stop any dry and split ones from frizzing, then I apply a few more squirts worth onto my hair line and the hair that sits on the top of my head, which is where I frizz the most.
5. I plug in my hairdryer and attach the diffuser. It took me a long time to truly appreciate what a diffuser does to my hair. A diffuser prevents the air flow from being so direct and therefore prevents curly hair from frizzing as much as it would if it were to dry naturally or be blasted by a hairdryer without one.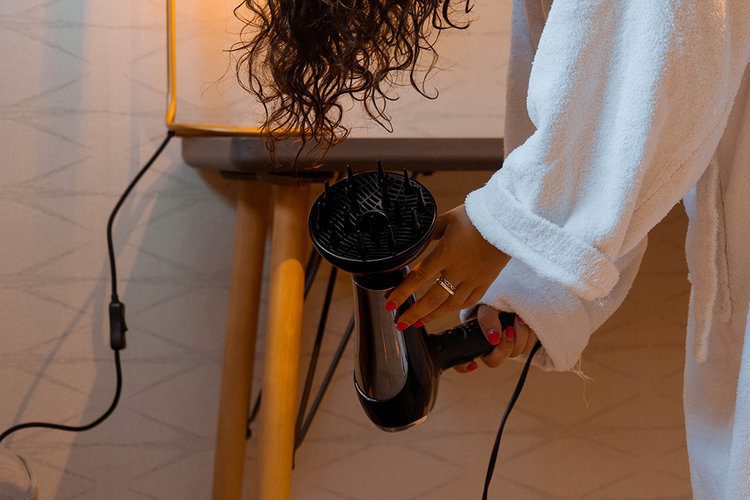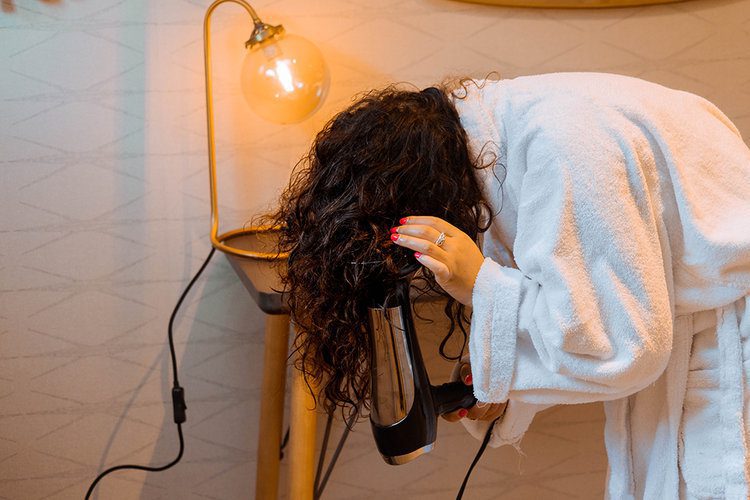 With the hair dryer set on a low heat I dry it using the same action as I would when scrunching. I cup the ends of my hair in the diffuser and bring it up to my scalp. I don't leave it there for longer than a couple of second because I don't want my hair to frizz under the heat. I'll continue to scoop up my curls in the diffuser until it's virtually dry.
Side note, I'm yet to stay in a hotel that has a diffuser attachment so I have to skip this part out on my travels so I tend to keep my hair upside down, drying naturally for longer. If I'm somewhere hot and by the beach though I won't need a hairdryer because the salty water and warm air has magical dryer powers for curly hair.
6. It's time to see the world the right way up again! I flip my hair back (with a classic bend and snap if no one is around to judge me) and give it a bit of extra volume with my fingers by doing what can only be described as zhuzching – A word I have used so many times but had to google its spelling! I wear my hair parted over to my left, unless I'm in Hawaii and wearing a flowers in my hair.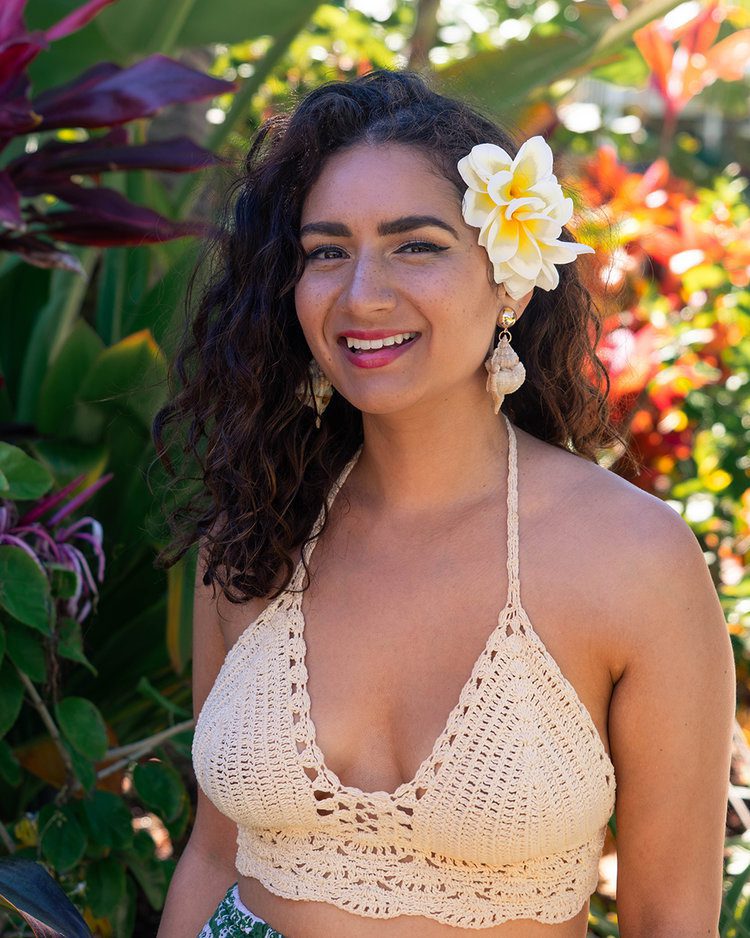 7. I don't have to finish my hair with hairspray because my curls will hold – I haven't used hairspray in any of the photos in this blog post except for the one that shows me using it – but if the weather is damp, as it often is in England, I will use the weather proof anti-humidity hairspray to prevent my curls from frizzing up if they get a little wet.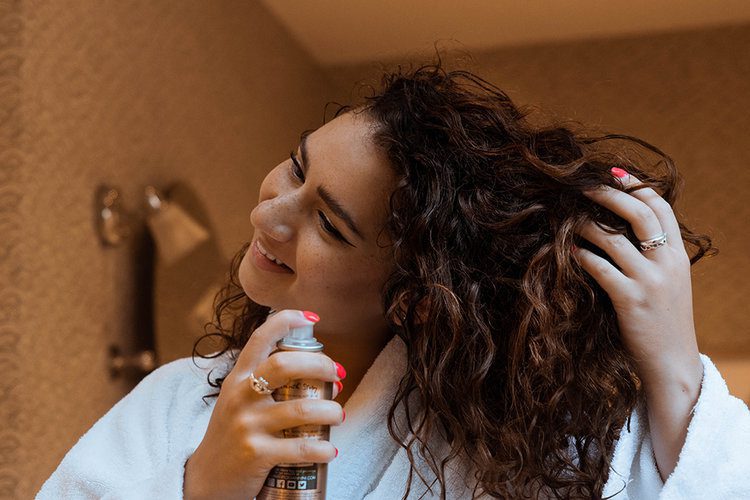 Umberto Giannini products I can't travel without
Aside from the reasons I gave in my curl story, two of the best reasons to love Umberto Giannini products is that they're vegan and cruelty free. They've formulated some incredible products for curly hair but that's not all. Although this post is focused on my journey to embracing and styling my curls, Umberto Giannini also has a full range of products for all textures of hair. Their new Grow Long range is very popular, the exfoliating grow scrub was recently featured on This Morning as part of their recommended "ultimate hair care guide".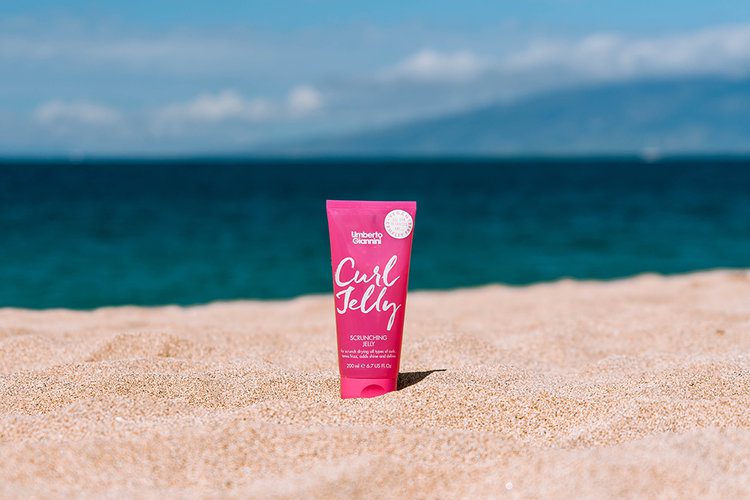 Aware that there is more than one type of curl out there, Umberto Giannini have got you covered with their Coily Curls range, and it doesn't stop there. If you don't have curls or want to style your hair straight, they have a full collection of products for every which way you want to style your hair.
My ultimate curl products that I travel with are:
No More Frizz, anti-frizz curl serum

Curl Jelly, scrunching jelly

Weather Proof Curls, finishing cream
Depending on the length of my trip I will take either the 200ml bottle or the 50ml travel bottle (which can be refilled using the full sized product, patience and the desire to save the world from additional plastic waste).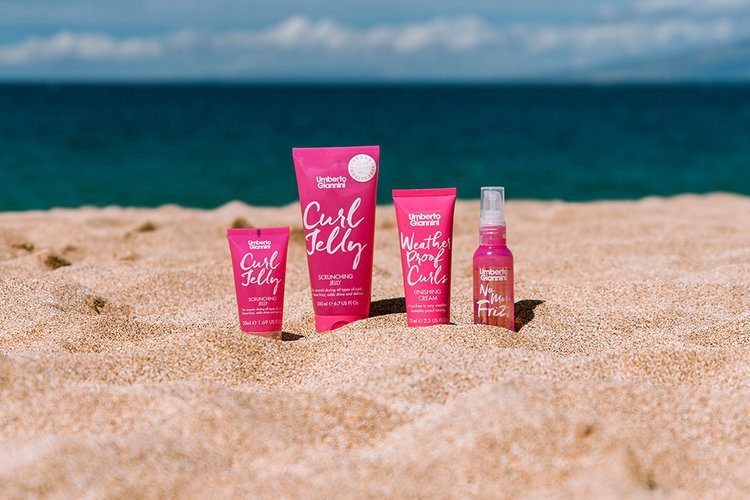 With these products alone I can style my hair to show off my voluminous curls wherever I am.
You can save money by purchasing these three in a travel set, Curl vegan travel trio, from the Umberto Giannini website.
The following products are perfect if you and your curls are travelling to a hot destination where you can guarantee that your hair is going to be out in the sun.
Boho Beach Jelly, Coconut oil scrunching jelly

Pool Proof, Leave-in hair protection cream
They both have built in UV filters* which protect your hair from sun damage (it's like suncream for your hair) and coconut oil which will prevent your hair from drying out when exposed to the sun or chlorine.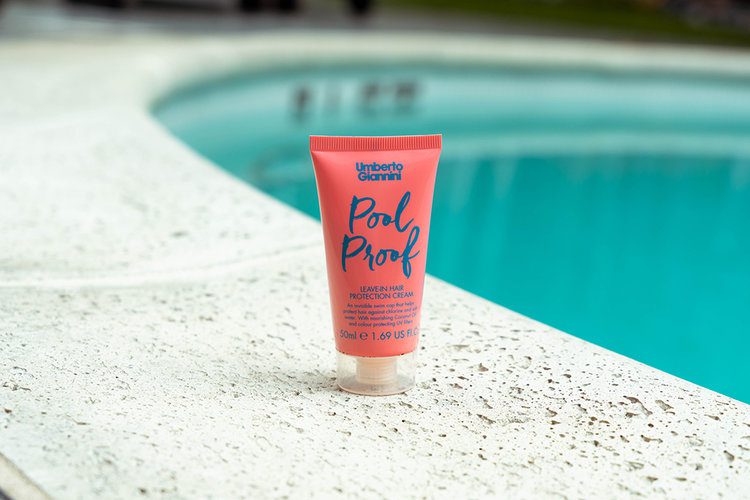 *Please refrain from using these products if you are swimming in the sea, particularly in reefs, as the UV filters are harmful to coral. They are however perfect for protecting your hair from chlorine damage.
.
Umberto Giannini products have changed the way I feel about my curly hair, and I hope that it can do the same for you. The confidence that comes from finding and using the right products is inexplicable, so I encourage you to experience it for yourself.
Umberto Giannini products are sold on their website, in Boots stores and online.
.
Aloha, Gabriella