Help support these amazing Maui businesses who have suffered from the wildfires that  swept the town of Lahaina. 
In August 2023 huricane winds blew the deadliest wildfire in the US for 100 years  through the historic town of Lahaina on Maui. More than 100 people have died and cultural landmarks, business and homes have been destroyed, leaving nothing behind.
Lahaina, as it is for many, is a special place that held cherished memories. 
It is also where many of the recommendations on this list of 6 best things to do on Maui are located. 
As these incredible business have suffered huge loss I have updated this blog post to include the ways you can donate and help them recover from the devastating Maui wildfires.
Responsible tourism is encouraged once again to help the economy of the island recover.
If you are able to please donate and when the time is right and these local businesses are able to operate again, be sure to book with them to help them bring joy to the world once again.
Thank you.
—
I had the very best time in Maui despite the weather not cooperating 100% of the time, my birthday in particular. It was all down to the experiences we had whilst on the island. I do want to clarify that we were celebrating Valentine's day, my birthday and the first anniversary of Postcards from Hawaii, so we spent a fair amount of money on the experiences below. We wouldn't usually do many big excursions and activities as they are costly, but each one was incredible and I would be foolish not recommend them. 
So here are six of the best things to do in Maui, Hawaii, in my opinion:
1. Open door helicopter tour over Molokai
An open door helicopter ride in Hawaii was recommended to me by a follower on Instagram and the second she told me I was desperate to do it! Michael is scared of flying though – he just about stopped digging his nails into my hand in October 2018, he still squeezes my leg during turbulence though – so I thought this was a no-go. I just about got him in a helicopter over the Grand Canyon three years ago and I thought it would never happen again, let alone with the doors off. The gem that he is though surprised me with it for my birthday!
We took the Doors-off West Maui & Molokai tour with Air Maui which is the only doors off helicopter tour on the island. The helicopter takes off from Kahului Airport Road, Hangar 110, and flies over the Pailolo Channel (if you're lucky and it's the right season you'll see whales from above) to the island of Molokai, where you will fly over the 4,000ft high cliffs, cascading water falls, luscious forests and through deep valleys.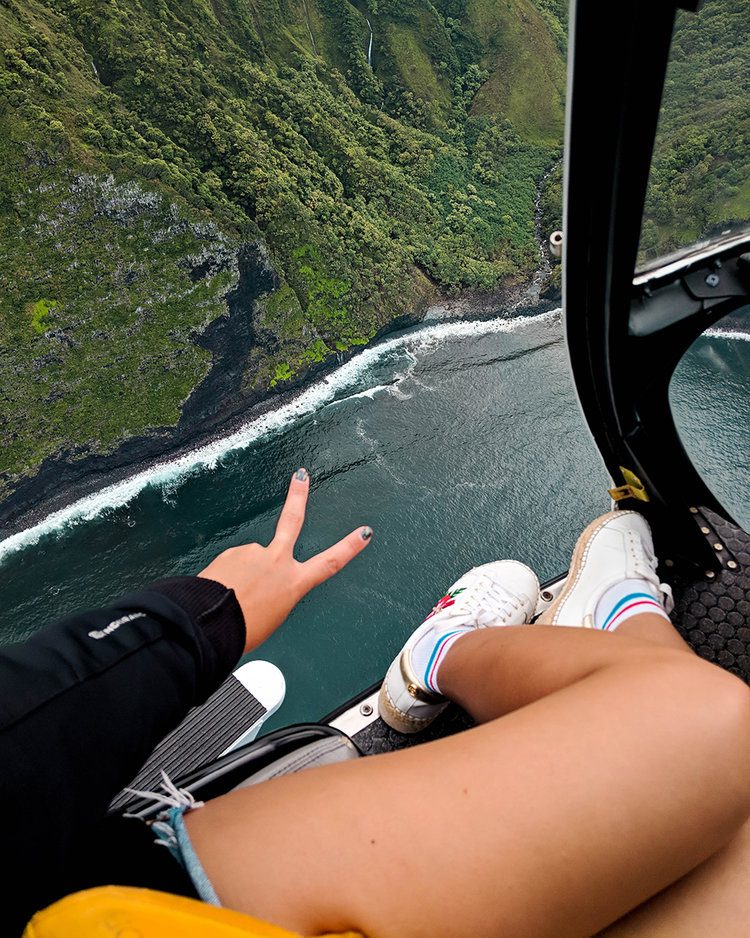 There's no radio for passengers so you can't really communicate but when your pilot has a playlist including soundtrack numbers from Top Gun, Avatar, Jurassic Park and Weezer's Island in the Sun, you don't really have a reason to speak. I could not stop crying with complete and utter joy as we swooped down to fly past the 3,500 ft high waterfalls crashing down to the sea below whilst John William's "Theme from Jurassic Park" was playing. It was incredible! It was one of the most thrilling and memorable things I have ever experienced.
$325 (£245) per person if you book through Air Maui.
$300 (£225.70) per person booked through Viator – which is what Michael did.
My only gripe is that there are only 3 doors available but there are six seats and they charge the same price for all tickets, so 3 people pay for a doors open experience and don't get one. Be prepared for not everyone getting seated on the edge, they won't send the helicopter up with two or less people. 
8am – 12pm
12pm – 5pm
*flights last approximately 45mins, check in 30mins prior.
Air Maui will provide wind-breaker jackets. 

Shorts – it is windy but we went in winter and my legs were warm in the sun. 

Hair must be tied back.

You are provided with googles and a headset. 

You mustn't have anything in your pockets or be wearing any jewellery.

You must wear closed toe shoes.

Suncream
You aren't allowed to bring a camera. Only phones are permitted and you are given a lanyard to prevent them from falling,
Click here to see the terms and conditions.
I've taken a few surf lessons around the world and on Maui and Lahaina Surf Shack was by far my favourite place to learn.
Sadly the whole business burnt down in the August 2023 wildfire. 
Here is a link to Lahaina Surf Shack's Go Fund Me page. 
One of their surf instructors, Richard "Tricky Ricky" Yeckley has lost his job and home along with all of his belongings, saving only his cat and the clothes he wore in the early hours of the morning. Here is a link to his Venmo and Go Fund Me page.
Before our helicopter ride which was in the afternoon, my birthday (which was delayed due to rain) started with a private surf lesson for Michael and I. We booked with Lahaina Surf Shack and had a great time!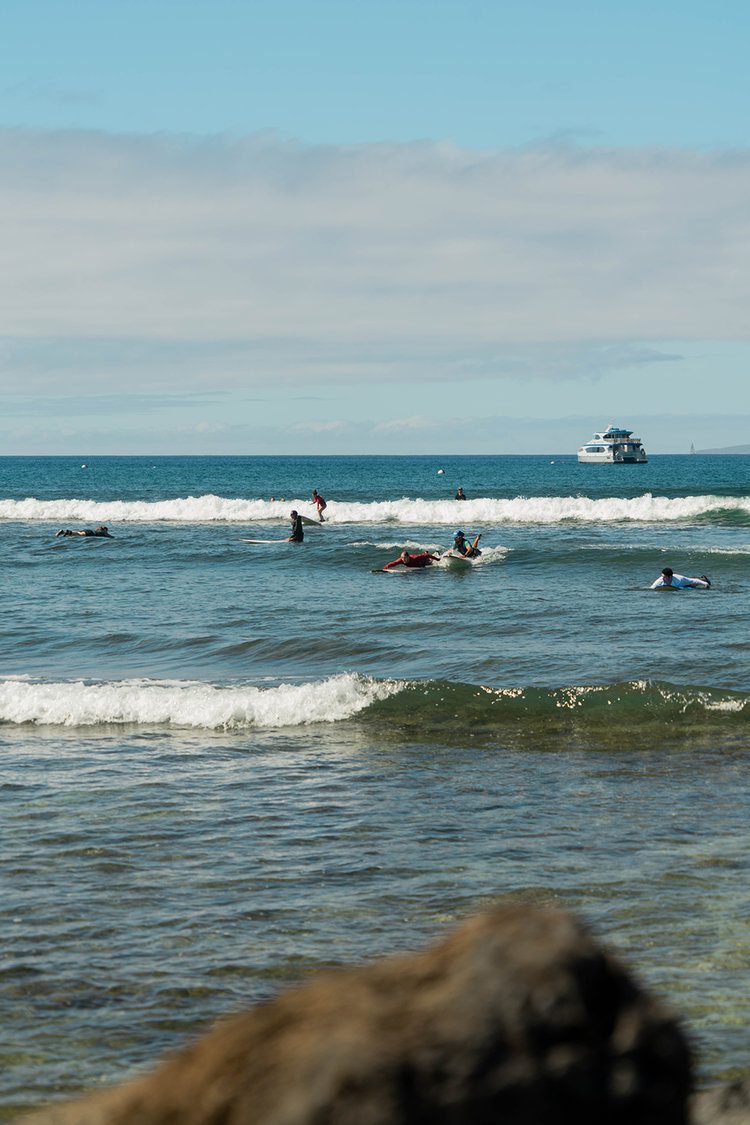 Before this trip I had mentioned to Michael that I wanted to try surfing again so he surprised me with a surf lesson for my birthday. We had a semi-private lesson which is for two people and one instructor. "Tricky" Ricky took us out and we had a blast! 
Our lesson started on the beach where he briefly broke down how to get up on our board, the correct way to fall that won't hurt us (and I'm happy to report I didn't hurt myself) and where to position ourselves on the board.
We spent 2 hours in the water catching endless waves, moving out further so they were bigger and I caught the majority of mine! It wasn't until Michael got out to take photos that I missed a bunch, typical! Check out my Instastory highlight "Maui part 2" to see what my instructor had to say about me catching a 5ft wave!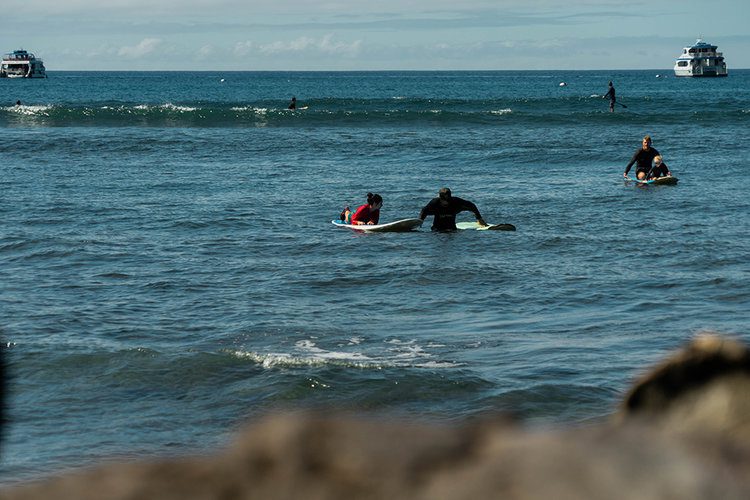 What I really admire about learning to surf with Lahaina Surf Shack is that after every wave your instructor encourages you to analyse how you did and gives you pointers so you can improve the next time. This was invaluable because we continued to get better on each wave doing this!
Price for surfing on Maui
Private one on one lessons are $150 per person
Semi private lesson which is for two people are $100 per person
Group lessons are $75
Obviously group lessons are cheaper and make more sense if you are on a budget, but I strongly recommend taking a private/semi private lesson if it's your first time out because your instructor will be solely focused on you, plus you will get to catch more waves because you won't be waiting for others to surf theirs.
They also rent out a selection of longboards, short boards, beginner boards and stand up paddle (SUP) boards at a discounted rate if you have had a lesson with them.
What to wear for surf lessons on Maui
Swimsuit

Reef safe suncream

They will provide you with a rash vest and reef booties
3. Hula dancing lessons on Maui
Since publishing this blog post I have learnt that Jordan Saribay, who taught my hula lesson mentioned below has started his own production company called Kupu Productions. His company teaches hula, ukulele and lei making lessons.
Jordan was born and raised in Lahaina and sadly his family lost four of their homes during the wildfires in August 2023. 
Here is a link to his family's Go Fund Me page, donations will be split across the family to help them after their loss.
"In ancient Hawaii, a time when a written language did not exist, hula and its chants played an important role in keeping history, genealogy, mythology and culture alive. With each movement – a hand gesture, step of foot, swaying of hips – a story would unfold. Through the hula, the Native Hawaiians were connected with their land and their gods." – Taken from the official Hawaiian tourism website.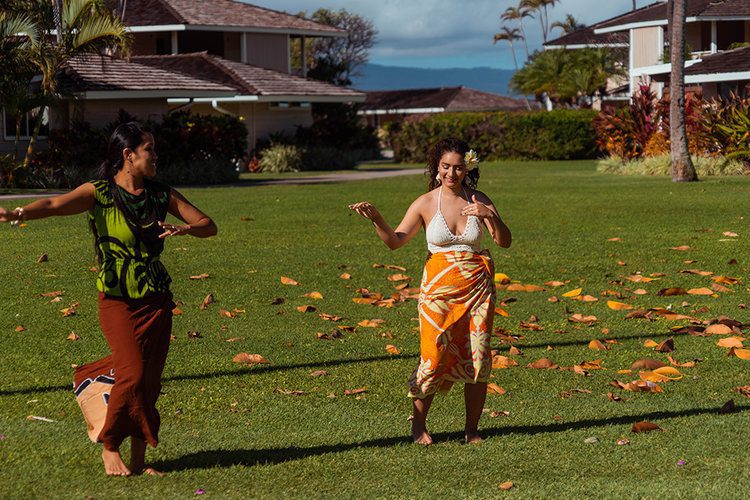 I really wanted to learn hula dancing, but I didn't want to get lost in a group. I have zero hand-eye coordination but I also wanted to absorb as much as I could, in groups you risk getting left behind or the class can focus on other people and you don't end up learning much, so I chose to do a private lesson.
We booked a private Hula lesson with Hawaii Hula Company which lasted an hour and included:
Dancers coming to a location of your choice.

Music.

Use of a pareo which they will show you how to tie.

Fresh flowers and a lesson in making your own rosette for your hair, which you get to keep.

Of course the lesson and brief history of the hula.
The dancers that came out to me were Jordan Nelson Keali'i Kūpule Saribay and his cousin Annastaceya Kau'iokalani Saribay Arcangel-Pang, aren't they beautiful names! They are both professional dancers in Luau shows at local hotels, in fact Annastaycea dances in the Luau at the hotel we were staying at, Myths of Maui Luau at the Royal Lahaina Resort.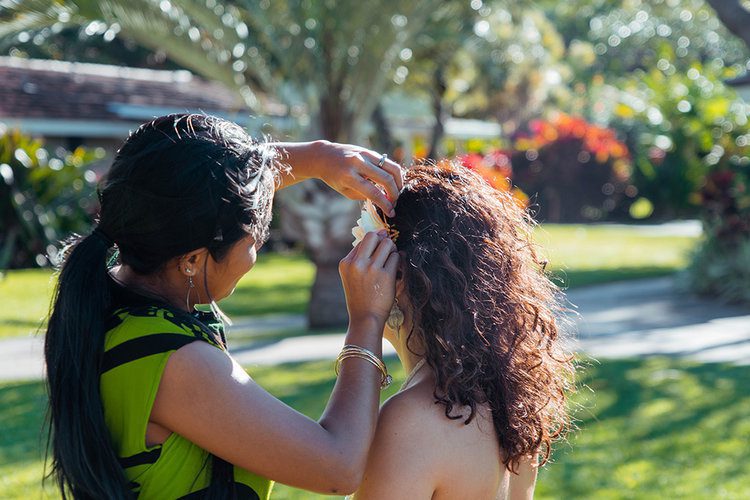 The lesson started with Jordan teaching me to make a rosette for my hair out of plumeria (frangipani) and then he showed me how to tie the pareo (a large sarong) into a dress and a skirt whilst giving me a brief history of the dance. Annastaycea then took me through the routine step by step, putting it together without music at a slow pace, and then we put it to music, picking up the pace. Both Jordan and Annastaycea explained the meaning behind the moves – I was telling the story of a woman's beauty; her eyes, her hands, her body. They were incredibly patient whilst I fluffed up and very supportive when I remembered the steps! Close to the end, they encouraged Michael to join in and Jordan took his place as photographer, then we all danced together. It was such a joyous experience, and even though I don't look as gracious as I felt, I enjoyed every moment dancing out beneath the trees with two really lovely instructors.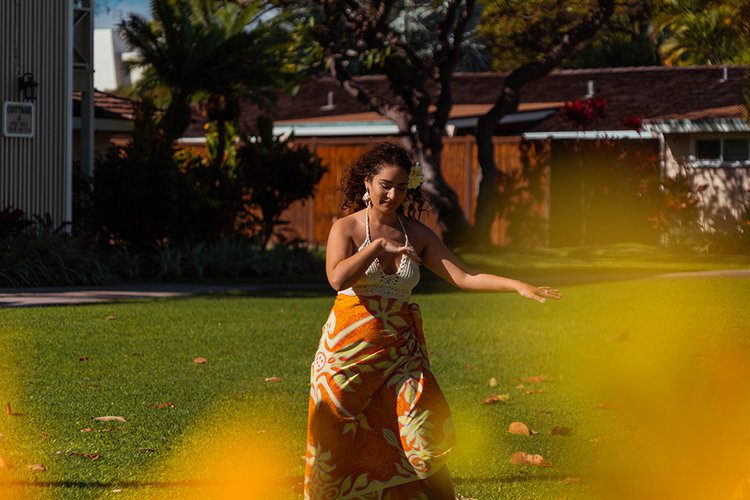 PFH Fun Fact: If you are in a relationship you wear your flower behind your left ear, and if you are single you wear your flower behind your right.
Price for hula lessons on Maui
$286.46
That is the price we paid for a private lesson for one person.
You can also contact Jordan directly at jksari9@hawaii.edu or on 808 264 4082 which I recommend doing.
What to wear to a hula dance lesson
Bare feet.

Free flowing hair because it feels and looks good when you dance.

A cute top if you plan on wearing the pareo as a skirt.

Shorts so you can hide them under your skirt or dress.

A huge smile! I have the song I danced to playing as I write this and I have a big smile on my face.
4. Whale watching on Maui
My experiences whale watching with Ultimate Whale Watch and Snorkel have been some of the most magical moments of my life. 
Sadly most of their vessels were lost in the wildfires that swept Lahaina in August 2023. Some of their crew have also lost their homes and all their belongings in the fires too. 
Here is a link to the Venmo Ultimate Whale Watch and Snorkel. 
We had always intended to book another snorkel trip with Pride of Maui, especially as we had such a good time with them before but as it was whale season during our trip, we decided that we would use that budget to go on a whale watching tour, and it might have been one of the best decisions of the trip. 
Humpback whales migrate to Hawaii's warm water from November – May to escape the freezing conditions up north. The peak of the season is January – March, and as we were there in February it seemed foolish to pass up the opportunity to go.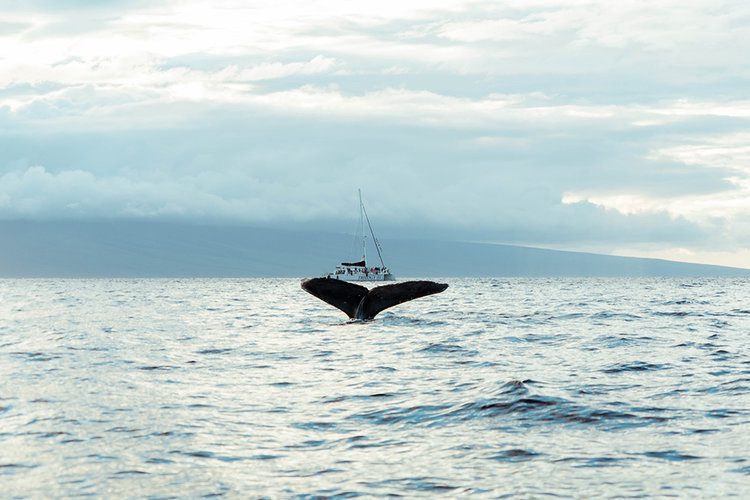 The truly amazing thing about humpback whale season is that you can see them from Kāʻanapali  beach with the naked eye. In fact, we soon learnt (and I mean from the very first moment we stepped onto our balcony) that it is impossible not to see one! Thanks to them spouting water from their blowholes to such a great height, they are forever catching your eye, even when you're not looking for them. Plus they are so happy! They spend all day breaching and slapping their pectoral and tail fins but better than that, on a good day you can hear them in the water. Yes, you read that correctly, you can HEAR them in the water! Michael went swimming in the sea and moments later he was dripping on me panting something about how he could hear the whales. Well of course I went running in after him and I can confirm that all you had to do was put your head under water and you could hear the whales communicating. It was wild!
We booked our whale tour for our last night. It was a sunset tour which set off at 5pm and lasted two hours. We chose to book with Ultimate Whale Watch and Snorkel because they offered a small boat tour which only carries 26 people maximum and is a low vessel so you are close to the water. The tour is also led by marine naturalist guides, which I know from previous tours means that you are going to learn heaps about marine life and their enthusiasm for it is unprecedented.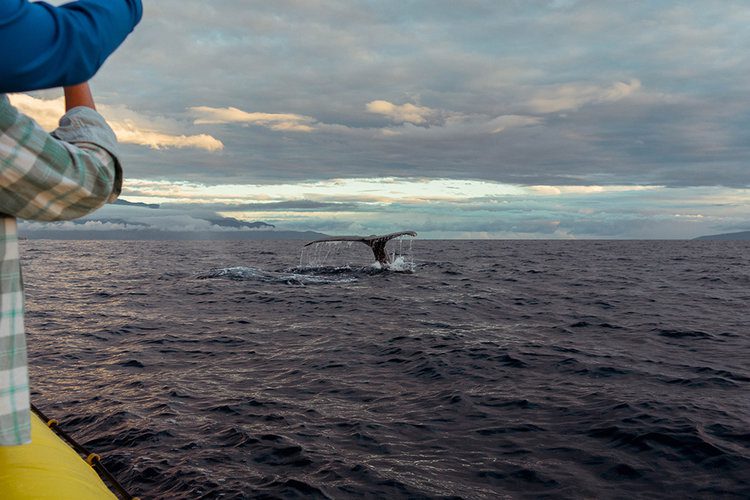 We were out on the water for less than 10mins before our guides spotted our first whale which was a mumma with her calf who were joined by three bottle-nose dolphins. Our guides were so excited you couldn't help but be filled with joy. We then headed further out where we came across a male whale who was just diving. Disappointed at first because that usually means they won't resurface for a while we were then treated to his beautiful singing which, and I kid you not, we could feel through the hull of the boat! An experience you wouldn't get if you were on a big tour boat. Our tour guide then put a hydrophone in the water for us to hear the whale's song and it has to be one of the most magical experiences of my life. We listened for 12 minutes and I cried for most of them. In those 12 minutes you could hear a pattern in the song as he repeated sections almost like verses and a chorus. We continued on to meet more whales and the highlight was when a youngster swam beneath us and then came up for air beside us before diving again, breaching his tail as he went down. Well, I was a mess! It was breathtaking.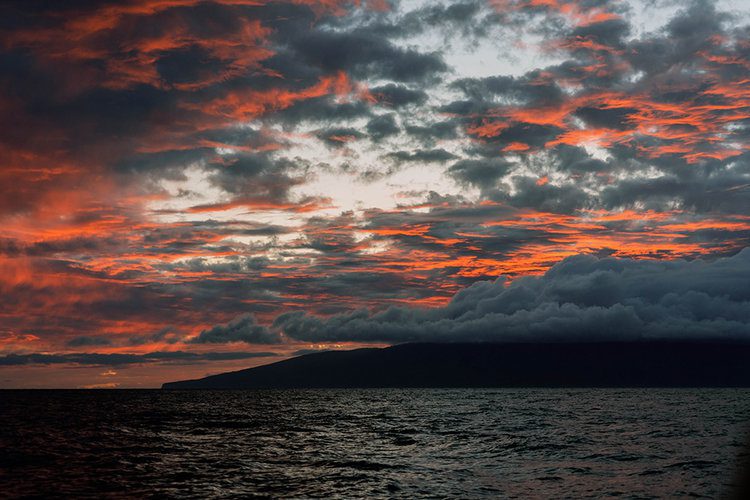 PFH Fun Fact: Did you know a whale's song is as loud as a jet engine at 140dB, to put that into perspective, humans can reach 70dB when shouting and our tolerance for sound before it is too painful is 120dB.
Price for whale watching on Maui
Adults: $54 plus tax per person 
Children: $33 plus tax per child aged 4-12yrs old
What to wear on a whale watching tour
Water proof jacket or something you don't mind getting wet, it can get splashy.

Bare feet, shoes are left at the harbour so don't bring anything pricey.

Shorts so you dry quickly.

Tie up hair, it is windy and you don't want anything obstructing your view.

Sunglasses because until the sun sets, the sun will reflect brightly on the water, and when the boat is going it gets windy so they will prevent your eyes from watering too much.

Suncream.
PFH Top Tip: The guides will say there are no "best seats" because they are all front row seats, and to be fair, they are. However all but two face either left or right which is tricky if the whale is spotted out to one side or the other. We were the last to board after the group was told that the front seats on the bow of the boat are the "splash zone" so everyone avoided them and we got them. I was NOT disappointed! Turns out our seat was best in the house because we had just shy of a 360° unobstructed view, we saw everything! I can only assume they don't want people fighting for the seat so they make it out to be a bad one but it was incredible!
5. Driving the Road to Hana
We saved driving the road to Hana until a couple of days before the end of our trip because we figured if we're going to die doing it that it should be at the end of our trip. What am I talking about? Well we received a warning of death from just about everyone we spoke to about driving the road to Hana. Even the lady at our hotel's guest services told us about guests from the hotel who died doing it or as she put it, "guests who are no longer with us (checked out?)…on earth (oh cool, so dead).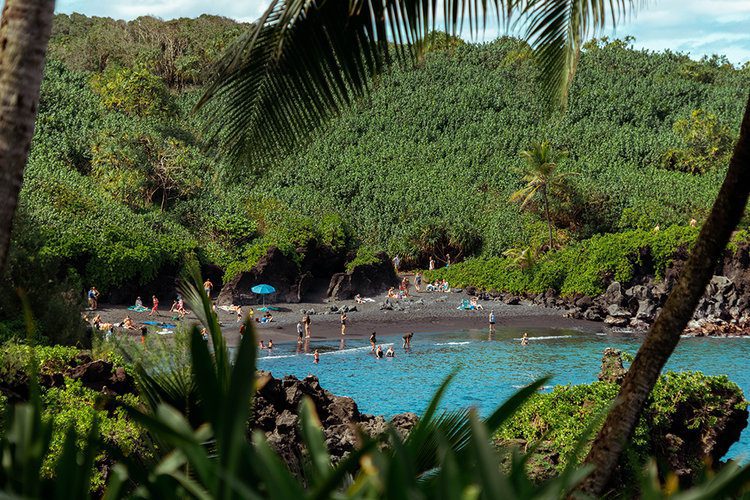 Of course we were worried but we were set on doing it, I wanted to go to a black sand beach and it was sure to be a thrilling experience. I have to say though, the actual road itself did not live up to the hype. Sure, it's a seemingly never-ending winding road with one sharp apex after the other, but to my surprise it's very well paved, it has two lanes wide enough to easily fit two cars – aside from the areas where it narrows to one lane but those parts are easy to navigate because each side can be seen so you know when to give way – and there is a wall up on the edge. Never mind the fact that it's in the jungle which feels less threatening than driving along a cliff edge. Now, maybe it's because we have driven far worse roads in terrifying conditions that we weren't as scared as we could have been (I'm talking through the mountains of the Amalfi coast, at night, in a torrential downpour which turned the road into a river and our visibility was non existent, oh and there were land slides all over the shop), but honestly I really got the impression that tourist are warned off it because they just want to keep the road quiet and the land in good condition, which of course is understandable.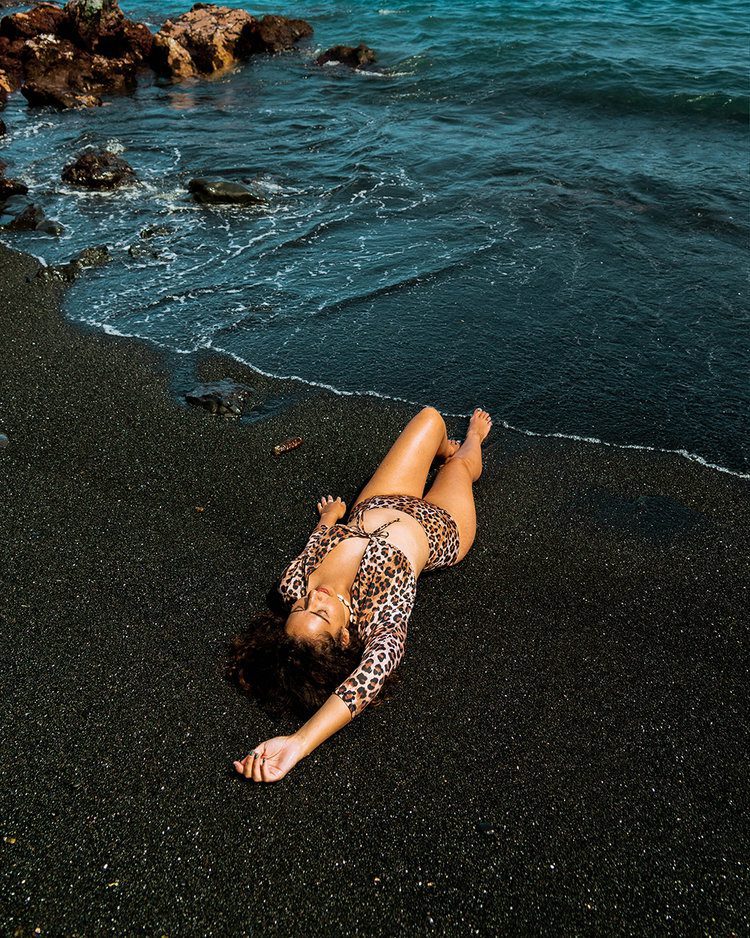 The actual road aside, the points to stop off are beautiful! We didn't managed to stop off at all of the ones recommended below that we were told to stop at, but the ones we did see were amazing!
Hookipa beach park to see turtles on the beach (if you're lucky, we weren't)

Twin falls

Nailiili-Haele Falls (bamboo forest)

Rainbow Eucalyptus

Halfway to Hana store for freshly baked warm banana bread – it's so good!

Waianapanapa (black sand beach)

Hana

Kaihalulu Beach (red sand beach)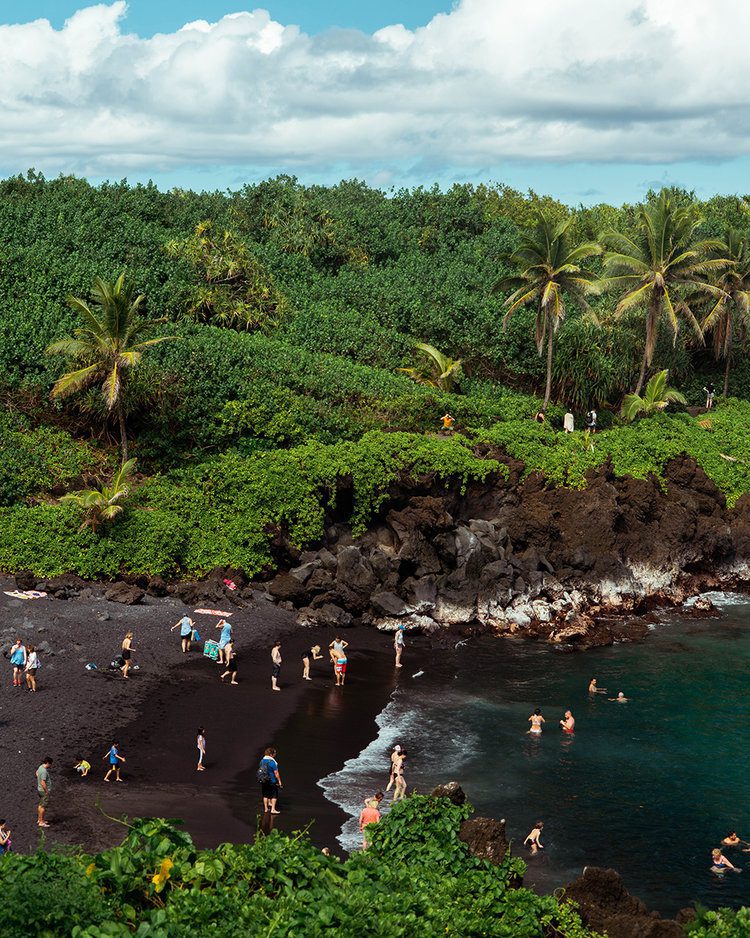 PFH Top Tip: Though you can go anywhere else on the island and not get eaten, the mosquitos in Hana have an attitude and they will get you the second you step out of your car if you haven't sprayed. Trust me, I know from experience. I didn't want to spray in the car so I stepped out to do it and I had a whopping five bites in the time I was spraying! Not cool! Spray before you go!
6. Snorkelling at Molokini & Turtle Town
During the wildfires that destroyed the historic town of Lahaina ion Maui, captain Patrick Grady from the Pride of Maui crew lost his home and all of his possessions. 
Here is a link to his Go Fund Me page to help him.
Whilst on a snorkel trip in Waikiki, Oah, a few years back we witnessed the crew throw chocolate chip cookies into the water, and last time I checked wheat and chocolate don't grow in the sea and are therefore not part of a natural diet for turtles or fish. There were only four turtle in the water, one was young too, and another three boats came to join us, including a boat loaded with scuba divers and even a glass bottom boat! At one point there were approximately 40 people both on and beneath the surface surrounding these poor turtles. You're supposed to stay 10ft back from them to prevent the turtle from being scared, harassed or harmed and yet people were swarming them whilst the crew did nothing. I had to stop at least five people from chasing the turtles when they surfaced and I even pulled a person away after they TOUCHED one of the turtles. It was incredibly distressing!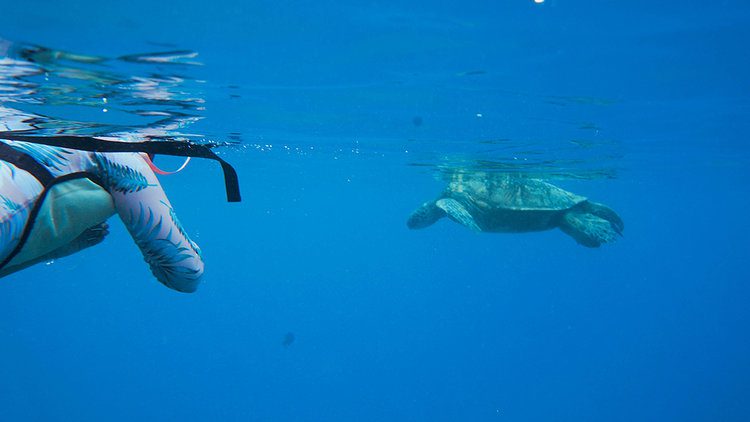 It is important that people do not harass turtles when they surface because:
They surface to breathe. If they feel threatened they will be reluctant to surface which could lead to asphyxiation and therefore death

Sea turtles are an endangered species

It is illegal!
I reported the tour company, Holokai, to the authorities and I do not under any circumstances recommend you use them. 
If you would like to learn more about responsible tourism and swimming with sea turtles take a read of my blog post How to practice responsible tourism.
The company I do whole heartedly recommend is Pride of Maui and this is for five very good reasons:
They are incredibly conscious of the environment you're in, they do not and will not allow chasing or touching of the animals.

They provide ocean friendly suncream which doesn't release harmful chemicals into the reefs

They also provide vests to keep you warm in the water. The water temperature can still be cool in summer.

The crew are great company and they make good cocktails! 

They have a BBQ on the boat and will make you the best lunch you can have out on the ocean. 
The tour lasts about 5hrs and includes breakfast, a BBQ lunch, cocktails or soft drinks, snorkel equipment and they take you to two snorkel sites: Molokini Crater to swim with the fishies and "Turtle Town" to float with the green sea turtles.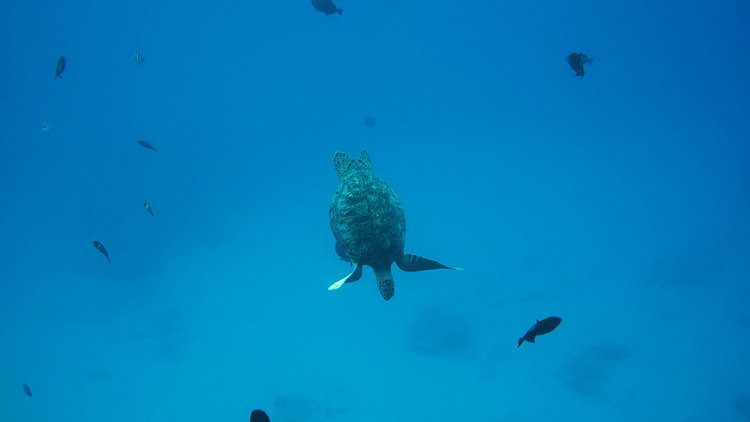 Price for snorkelling in turtle town
$99 per adult aged 13yrs and over.
$69 per child aged 3-12yrs.
Children under 2yrs go free.
Tickets are $25 cheaper (the price quoted above) if you book online. Fuel cost and tax not included.
I didn't do the Molokini snorkel tour on this trip, but I have used them in the past and it is still one of my top recommendations for things to do in Maui.
For advice on what to bring take a look at Packing guide – what to take on excursions, tours and day trips.