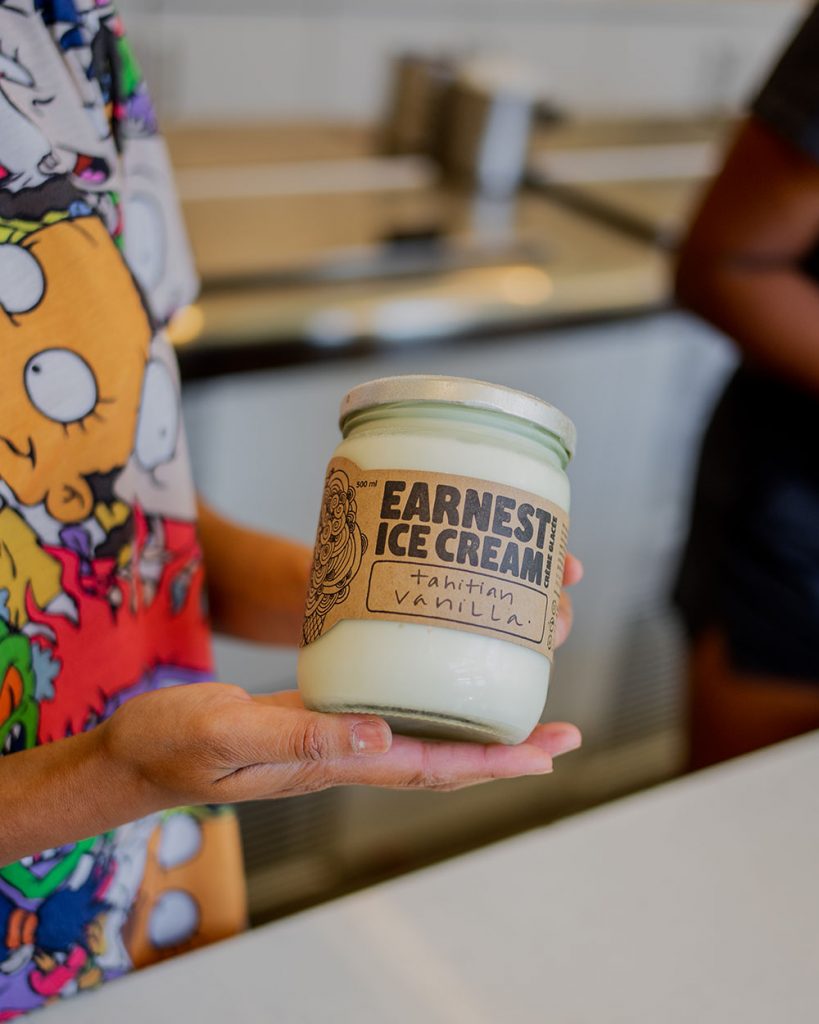 Earnest Ice Cream is made in Vancouver and sold across their four locations around the city and North Van. Earnest Ice Cream makes incredibly delicious, creamy and flavoursome ice cream. Their flavours are innovative but not pretentious and include the likes of Butter Pecan, Espresso Flake, Vegan Long Table Gin & Blackberry Ripple and my personal favourite: London Fog.
They are an environmentally conscious company with a goal to becoming zero waste. Currently their single-use takeout packaging including their tubs, spoons and even the wrappers around their ice cream sandwiches are all biodegradable. Their ice cream pints are sold in glass jars for which you get money back when you return them and their production kitchen is powered by 100% renewable natural gas.
Not only are they working towards being zero-waste but they are also a community-driven company. They are partnered with seven different community focused organisations, from protecting bees to supplying fresh food to low-income families.
Their staff are beyond friendly too!
Earnest's four ice cream shops are located at:
3992 Fraser St
1829 Quebec St
1485 Frances St
127 West 1st St, North Vancouver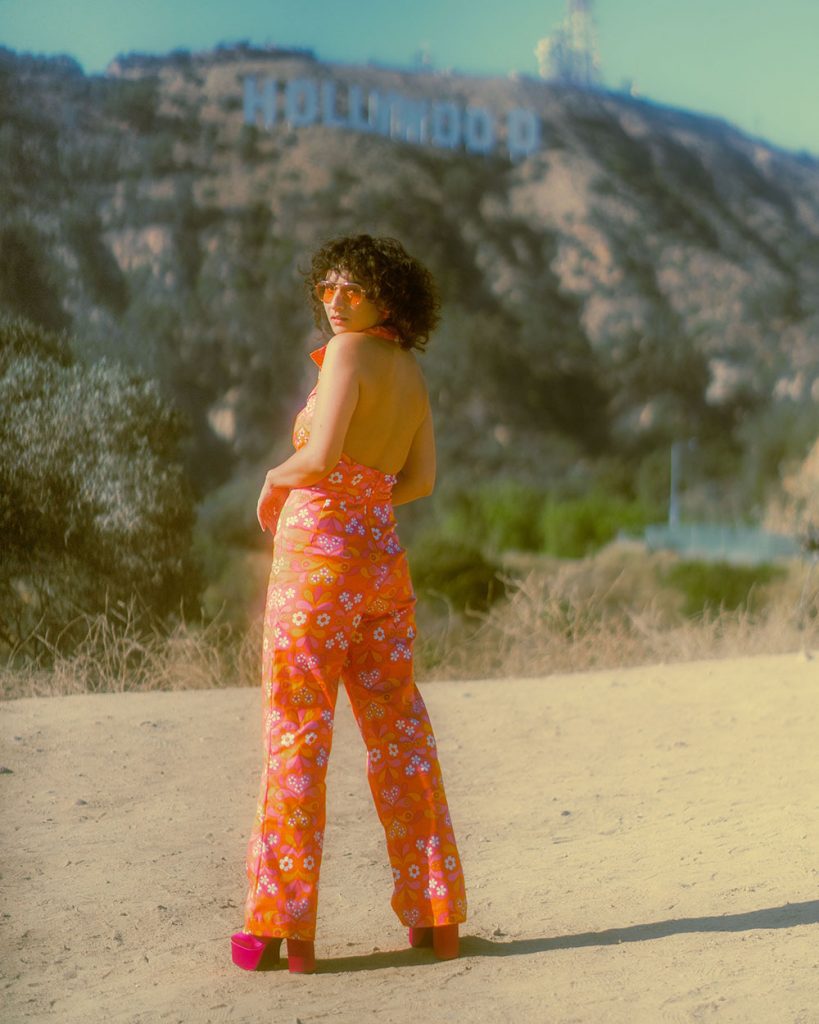 Miracle Eye is a Latin-owned, family run and all-women clothing label based in Los Angeles. Designed by Larissa and sewn by her Mum and Aunt, Miracle Eye creates vintage-inspired clothing that's handmade in store.
I first came across Miracle Eye through Keiko Lynn on Instagram when she was visiting a mutual friend and was wearing one of their groovy green rompers – the Green Daisy Romper. I had an upcoming trip to L.A. planned and the time to visit their store on N Broadway and so I did.
Miracle Eye is like stepping into an era gone by. Step into a rainbow and be surrounded by some of the most divine 60s and 70s inspired prints you'll ever see. Take a glimpse at the magic in the back of their store as the founder's family hand sew the garments, play fetch with their resident pup, Linda, watch authentic but totally ridiculous Pathé ads on the tele and most importantly try on as many garments as your arms can carry. 
Their retro fitting room is perfect for selfies as you try everything on but fair warning you might be inspired to redecorate your bedroom after!
I purchased the Cecilia Jumpsuit in Clementine Daisy in size S and had it custom fitted in store as the XS was too short in the body (keep in mind I'm 4ft 11" so their clothes definitely run small). Gloria, the Head Seamstress, took one look at me and fitted it to perfection without needing to take any measurements! The personalised tailoring cost an extra $25. If you order online there is an option to get any size shortened to a custom length. I didn't need to do this as I wear the regular length with platforms and it's perfect.
I don't just recommend Miracle Eye for vintage inspired looks and empowering a female and minority-owned business, I also think they're wonderful because they often source vintage deadstock fabrics and they use their offcuts and scraps from their garments to make scrunchies and berets so there is very little waste in their production line. Miracle Eye bags are also cloth and reusable and receipts are emailed to save on paper.
Miracle Eye has also put together this fun Palm Springs Mod playlist which is a total summer vibe.
3. Reusable 35mm film camera
I never thought when I replaced my 35mm film camera my parents gave me for my 12th birthday with a digital camera that I would miss it but here I am almost two decades later, wishing I had kept hold of it along with my OG Walkman. 
Earlier in the summer I bought a disposable film camera for a taste of nostalgia whilst documenting Michael's birthday. Oh how I'd forgotten the unparalleled joy of opening that packet of freshly developed photos and gingerly flipping through moments I'd almost forgotten, trying my best to not get finger prints on them whilst desperately hoping that the flash had created sufficient light so that I'm not left with a stack of 4×6 murky rectangles. 
I loved them so much that I decided to buy a reusable Harman 35mm point and shoot film camera from London Drugs – where I get my film developed – for just $46.99 and it includes x2 black and white reels of film.  
Buying a reusable film camera not only reduces the plastic-waste created by using disposable cameras but it's also so much cheaper. For comparison a pack of x2 single-use Fujifilm cameras in London Drugs is $37.99 and then you have to buy another one every time. Plus these single-use cameras only have 27 exposures whilst you can shoot 36 with the Harman reusable point and shoot 35mm camera. 
As you may have learnt from my PFH 5 Favourites: May 2022 I'm a sucker for displaying cherished memories in photo frames so having physical prints of my most favourite summer moments brings me so much joy and I encourage you to take a similar trip down memory lane. I'm certain you won't regret it.
4. Only Murders in the Building
Only Murders in the Building is a Hulu Original TV show created by Steve Martin and John Hoffman, starring Steve Martin, Martin Short and Selena Gomez. It's about an unlikely trio of neighbours living in the Upper West Side, who bond over their love for a murder podcast. After a murder occurs within their bougie apartment building they come together to create their very own murder podcast that unfolds real-time as they attempt to solve said murder with no experience in the field whatsoever. 
The show is made particularly endearing by all of the quirky and whimsical character traits of the three main characters played by the aforementioned actors. Peculiar backstories, uncomfortable anecdotes, bizarre interests, theatrical reactions and surprising celebrity cameos make for a show that keeps us coming back for more.
Seasons 1 and 2 of Only Murders in the Building are available to watch on Hulu or via Disney+.
If you have the time and the means, I highly recommend a little sofa comfort this summer with Only Murders in the Building.
5. Summer Movie Nights in Downtown Vancouver
After a 2 year hiatus because of Covid restrictions, Summer Movie Nights have returned to Downtown Vancouver.
Every Thursday from 7th July – 8th August a movie will be projected onto an outdoor screen in šxʷƛ̓ənəq Xwtl'e7énḵ Square (formerly known as the Vancouver Art Gallery North Plaza) and you can watch it for FREE!
Bring something to sit on and some snacks or grab something from one of the local food trucks in the square.
Check out the Instagram post below for what's showing each week.
What are you loving this summer? Let me know in the comments below.
Do more on & for the planet, Gabriella