Save money this Christmas with these 8 free things to do in Vancouver at Christmas. It's no secret that Vancouver is expensive and Christmas is the most costly time of the year so let me help you save money during the holidays with this list of 8 tips, free events, strategic ticketing and gifts. 
I'm sharing how to get free entry to Canyon Lights, get a free reusable Christmas cup for your festive drinks, get a free ticket for Vancouver Christmas Market, get a free hot chocolate and which festive events are free to do in November and December.
So let's not waste time and instead save money. Here's 8 ways to save money with these free things to do in Vancouver at Christmas:
1. FREE ticket to Canyon Lights at Capilano Suspension Bridge Park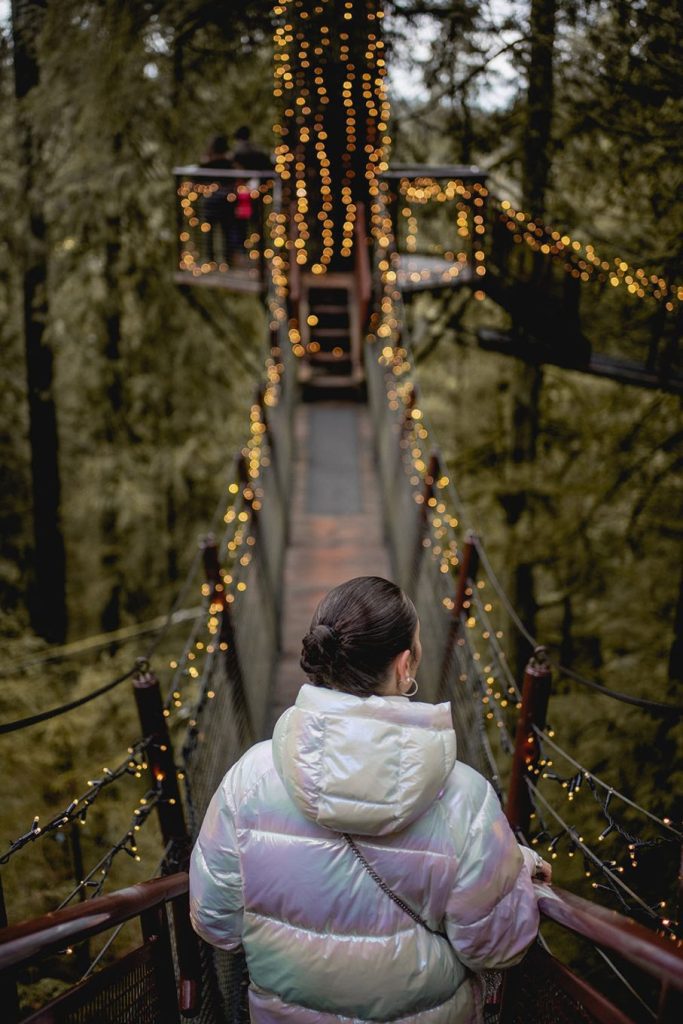 If you are a BC resident then you can get a free annual pass to Capilano Suspension Bridge Park with the purchase of a single Canyon Lights or park entrance ticket. This means that if you're strategic with your date you can see Canyon Lights for free the next season.
In 2021 we purchased tickets for Canyon Lights on the 12th of December and as they opened November 19th in 2022 we are able to see them for free as many times as we like until the 12th of December 2022. We also made good use of the free annual pass throughout the summer.
Just note that if you visit Canyon Lights on the annual pass you will be offered limited entry time slots.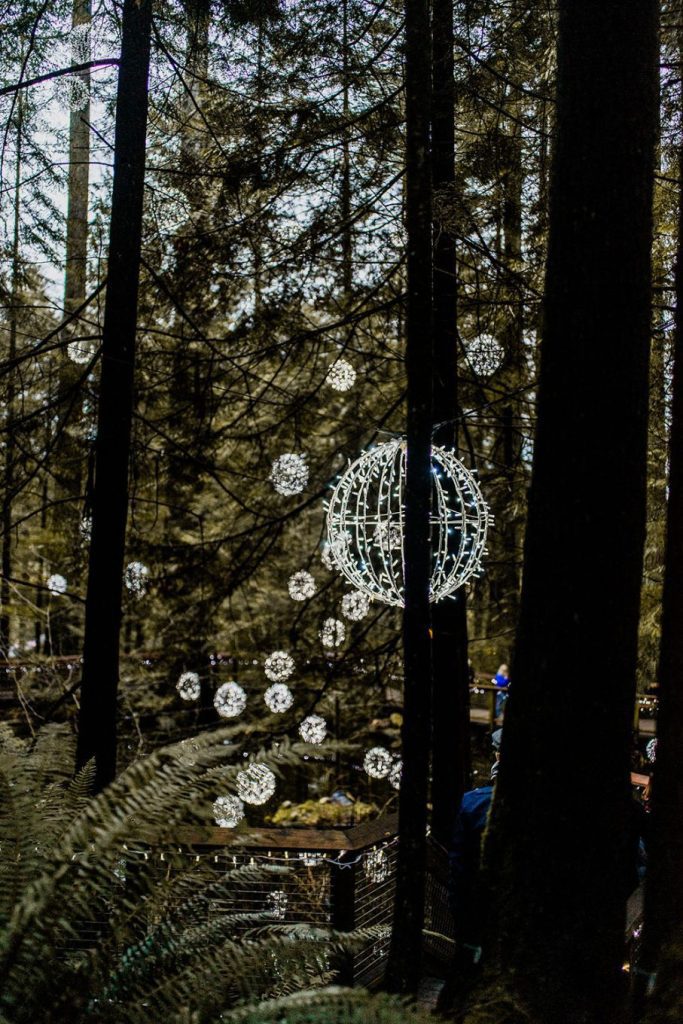 Get your free Capilano Suspension Bridge Park annual pass here. Afterwards you can simply reserve a free entrance time online whenever the park is open for a whole year.
The Capilano Suspension Bridge Park annual pass also gets you a 10% discount at their gift shop, the Trading Post.
You can also save money on gas and parking by taking the free shuttle bus service by Capilano Suspension Bridge Park that runs from three locations downtown: 
Canada Place
Hyatt Regency Hotel on Melville St
Blue Horizon Hotel on Robson St
Take a look at the free shuttle bus schedule.
2. FREE reusable cup on Red Cup Day at Starbucks in Canada
Red Cup Day at Starbucks is where Starbucks offers a free limited-edition reusable red cup with the purchase of a festive Fall or Holiday beverage (excluding Starbucks Christmas Blend brewed coffee and Christmas Starbucks Reserve™). 
All fans of Starbucks want to be seen with the red cup, they've done a very good job of making their annual designs part of festive pop culture, so if this is you take advantage of Red Cup Day at Starbucks by getting a free reusable cup so that you can sip your holiday drinks and save the planet as you do.
Not only will you be saving money by getting one of their coveted red Starbucks cups for free but you will also receive a $0.10 discount every time you use it. Then if that wasn't enough of a saving, you're also saving the planet from one more single-use coffee cup every time you use your free reusable cup. The Starbucks reusable red cup is made from 50% recycled plastic.
Red Cup Day 2023 is suggested to be happening in participating Vancouver Starbucks coffee shops on Thursday 16th November and all across Canada. 
It is known to happen on the third Thursday of November each year.
Arrive early to avoid disappointment as the offer ends when the store runs out.
3. Vancouver Christmas Tree Lighting ceremony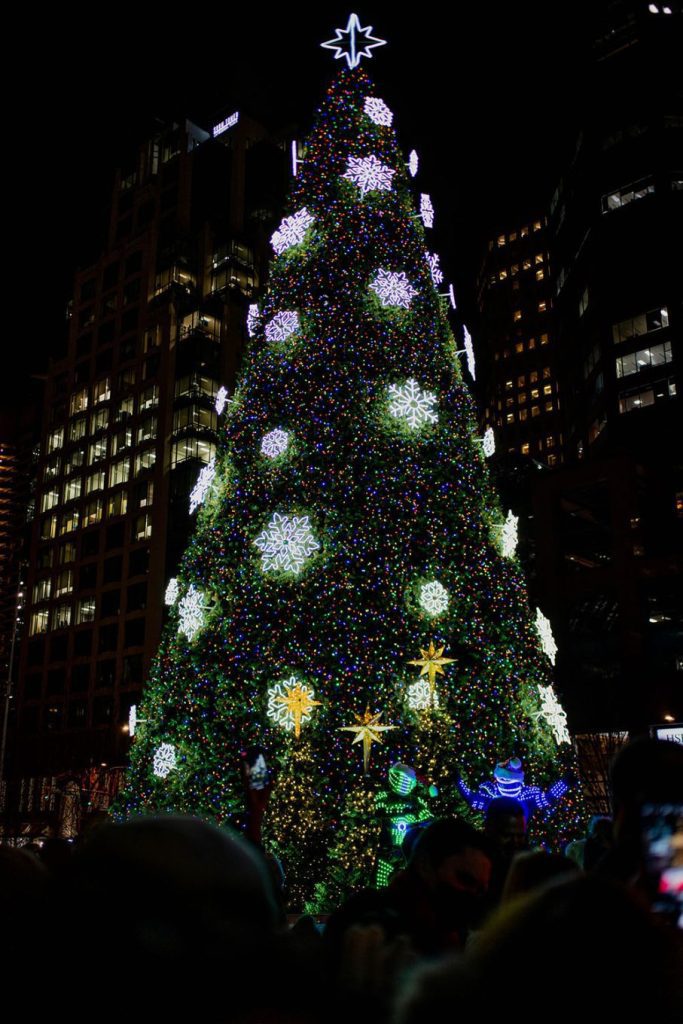 The annual Amicon Vancouver Christmas Tree Lighting ceremony is where the giant Christmas tree in šxʷƛ̓ənəq Xwtl'e7énk Square (Vancouver Art Gallery North Plaza) gets its lights switched on for the first time in the season. 
The Vancouver Christmas Tree Lighting ceremony has been an annual event since 2006 and is free!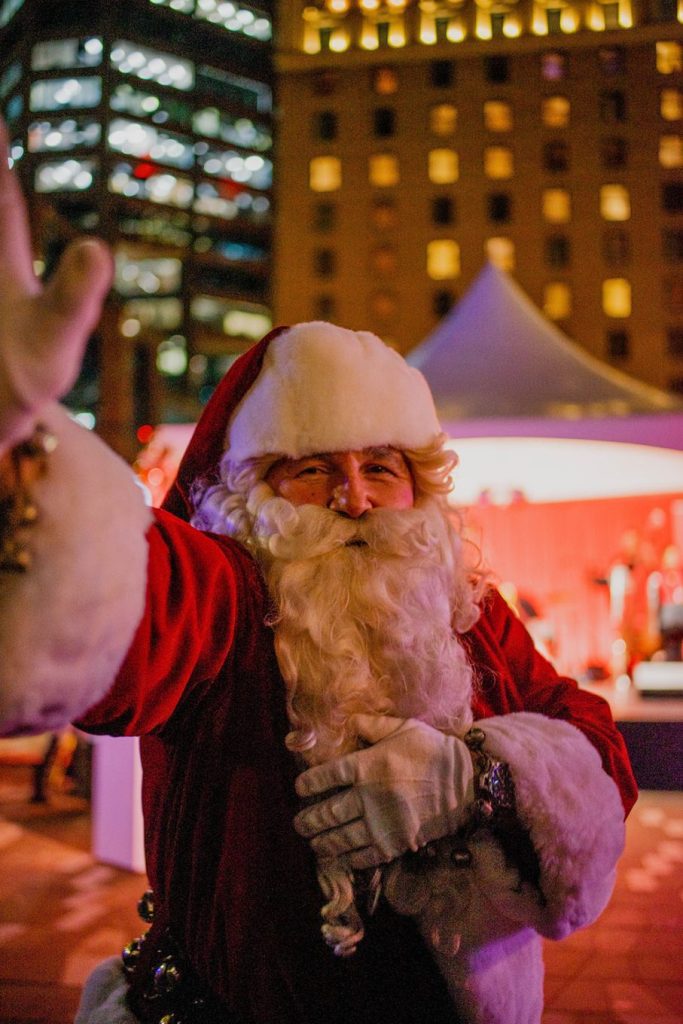 The Vancouver Christmas Tree Lighting ceremony starts at 6pm on Friday the 1st of December 2023 and includes an appearance of delightful and very believable Father Christmas and live musical performances covering classic Christmas hits.
Not only is the Vancouver Christmas Tree Lighting ceremony free to attend but they also serve free hot chocolates at the event!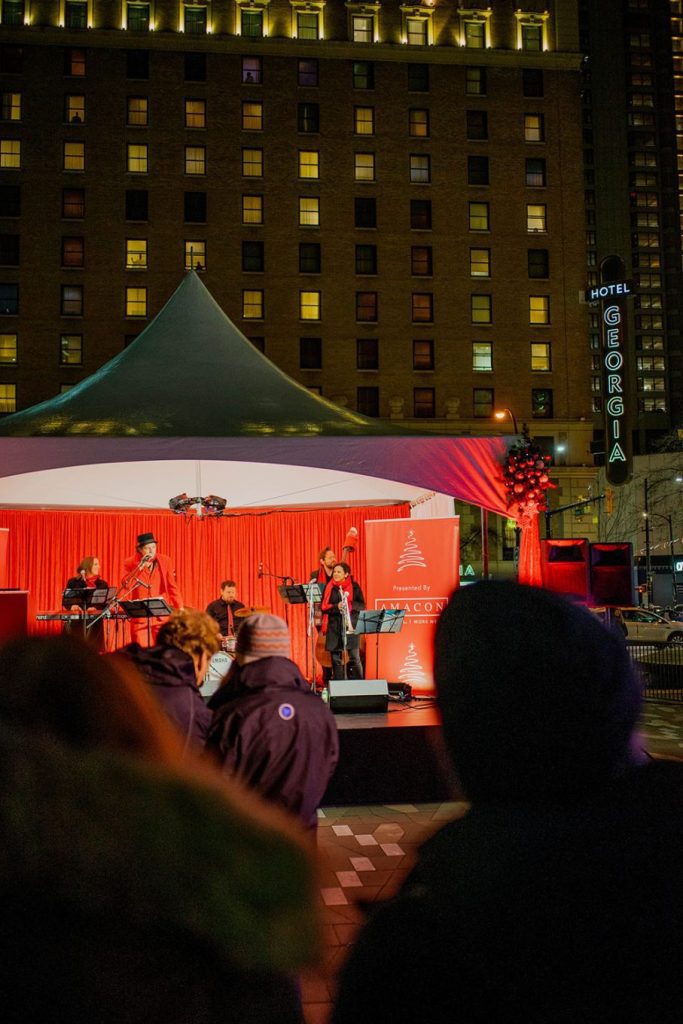 4. Bright Nights at Stanley Park, Vancouver
Bright Nights is the free Christmas lights display hosted within Stanley Park by Vancouver Board of Park and Recreation and BC Professional Fire Fighters' Burn Fund since 1997.
In 2023 you can expect to find an antique fire truck and a sparkling tunnel of lights in the plaza. Food vendors will be onsite as well as Fire Fighters to take photos with plus there's an opportunity to meet Santa is his workshop!
Bright Nights is free in Stanley Park daily from 4pm to 10pm and runs from November 30th – 1st January 2024. The only days it is closed is Christmas Day.
Bright Nights is located on Pipeline Road in Stanley Park, via the West Georgia Street park entrance. Free parking is available in the railway parking lot and the main lot across Pipeline Road after 3pm daily.
Though the event is free, donations to the BC Professional Fire Fighters' Burn Fund are encouraged, who provide life-saving support and community to burn survivors and their families in British Columbia.
5. Candytown in Yaletown, Vancouver
It's the 10th anniversary of Candytown, a free outdoor winter festival in Yaletown.
The first weekend of December will see Bill Curtis Square and Helmcken Plaza in Yaletown get transformed into Candytown, a winter wonderland with festive characters and a craft market.
Horse drawn carriage rides are available by donation to the BC Children's Hospital Foundation and there's an ice sculpting demonstration at Bill Curtis Square whilst carollers and a live jazz band will be performing at Helmcken Plaza.
Candytown is a free event in Yaletown on the weekend of the 3rd and 4th December 2022 from 12pm – 5pm.
6. FREE Vancouver Christmas Market ticket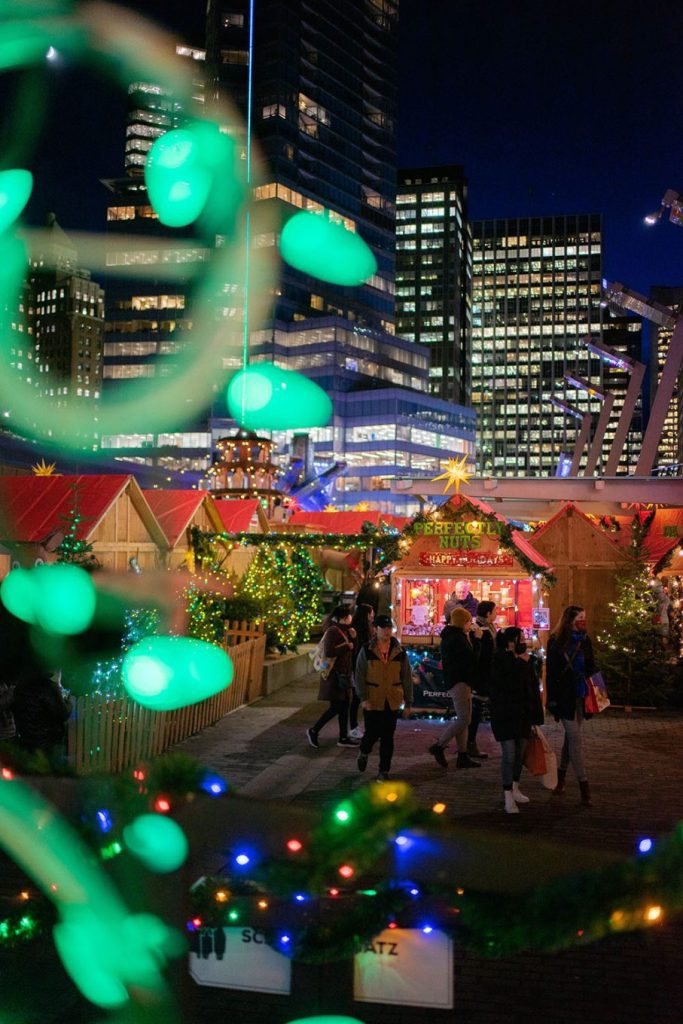 For three nights of the season Vancouver Christmas Market is offering buy-one-get-one-free tickets for "Date Night". Honestly, I don't know why they're hell bent on promoting this offer as non-inclusive "date night" when any two adults can get the offer, I mean it's not like the government is going to ask for proof-of-relationship documents! 
The 2022 buy-one-get-one-free tickets are available on the 15th, 22nd and 29th November.* 
Simply book two adult tickets on one of these three dates and one of them will be free upon checkout. 
*Vancouver Christmas market is yet to announce this deal for 2023.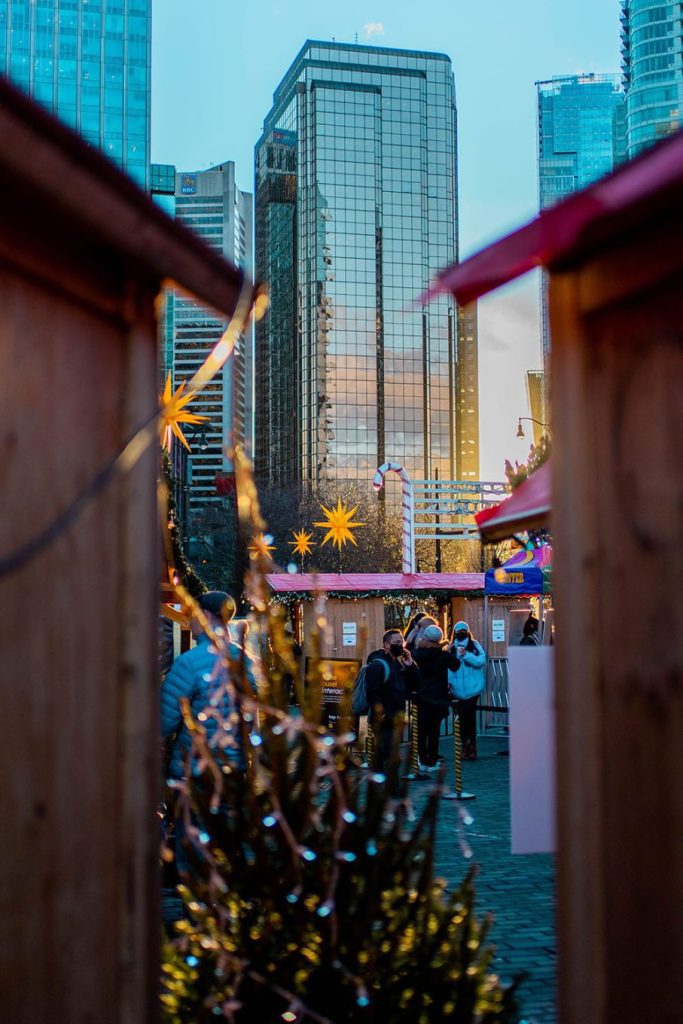 Another free offer for the Vancouver Christmas Market is a free apple cider during Jolly Hour on the 16th, 23rd and 30th November. Jolly Hour is from 4pm to 6pm.
Another great but not free deal is 50% off Vancouver Christmas Market tickets for students with a valid ID.
7. Gingerbread Lane at Hyatt Regency, Vancouver
Visit the longest running gingerbread lane in Canada at the 31st annual Gingerbread Lane at Hyatt Regency.
Every year the hotel lobby of the Hyatt Regency transforms into Gingerbread Lane where you'll find some of the most beautifully decorated gingerbread houses you'll ever see for free. Pay a visit and get inspired to make your very own!
The gingerbread houses on display are made by various restaurants, schools, bakeries, companies and more from all around Vancouver. Vote for your favourite by using the provided slips and dropping it in the ballot box.
Visit Gingerbread Lane for free from Friday 1st December to Friday 29th December 2023.
If you wish to make a donation whilst visiting Gingerbread Lane, it will go to Make-A-Wish foundation.
8. FREE ice skating in downtown and North Vancouver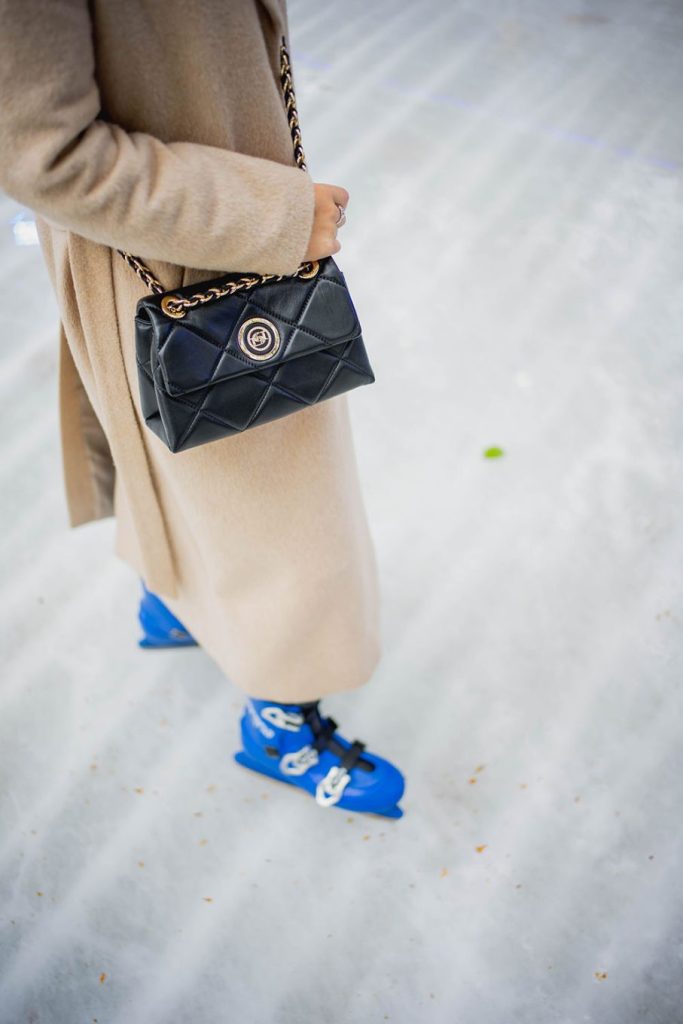 The annual Robson Square ice rink in downtown Vancouver and the Shipyards Skating Plaza in North Vancouver both offer free ice skating to those with their own ice skates.
Both the Robson Square ice rink and Shipyards Skating Plaza are public spaces that are transformed into public ice skating rinks that are both free to skate on.
Those who don't have them can rent skates at the small cost of $7 for adults and $5 for kids at the Shipyards Skating Plaza in North Vancouver and $5 each at Robson Square ice rink and includes free helmet rental (helmets are mandatory for everyone 12 years and under).
The Shipyards Skating Plaza opens in December and usually runs from 1pm – 8pm daily until the end of February.
In 2022Robson Square ice rink was open  9am – 9pm Sunday – Thursday and 9am – 11pm on Fridays and Saturdays until the end of February. For holiday hours check here.
9. FREE Festive drone light display at Canada Place
2023 dates have not been announced and this event was cancelled in 2022.
On the 2nd and 3rd of December Best Buy Canada is putting on a free Christmas themed drone lights display above Canada Place in Downtown Vancouver. 
300 drones powdered by Best Buy will take to the sky to tell a festive story to help get everyone below into the holiday spirit.
The free show starts at 6pm on Friday 2nd and Saturday 3rd December and will last for 10 minutes. 
10. Christmas at Canada Place
Christmas at Canada Place is a free annual festive celebration presented by the Port of Vancouver. Come see the sails of Canada Place get illuminated in Christmas colours, marvel at the Christmas trees sponsored and decorated by local businesses and say hi to "Chrismoose" the 15ft illuminated Moose resident of Christmas at Canada Place.
Christmas at Canada Place is happening every day for free from December 1st 2023 through to 2nd January 2024, excluding 24th, 25th, 26th, 31st December and 1st January.
Let me know if you try any of these free things to do in Vancouver at Christmas and what you thought of them in the comments below!
Happy Holidays, Gabriella