In my home office tour I'm sharing the decor theme of my workspace in Vancouver, taking you through where I got all of my furniture and all the finer details. Part 1 of 2 shares all the details of my writing desk, office chair, the space I created for product photography, my credenza, rug and plant.
Part 2 of my home office tour will share the second half of my office that includes my walk-in wardrobe, mirror, accessories gallery and vintage wardrobe.
When I moved from London, England to Vancouver, Canada I had been running my travel & lifestyle blog, Postcards from Hawaii, for just under 4 years. In all that time I had never had my own office. Between the travelling and temporary living with my parents and in London (because of the pandemic) we never had the space and the closest I came to my own workspace was a wobbly IKEA desk in the corner of our bedroom at my parent's house.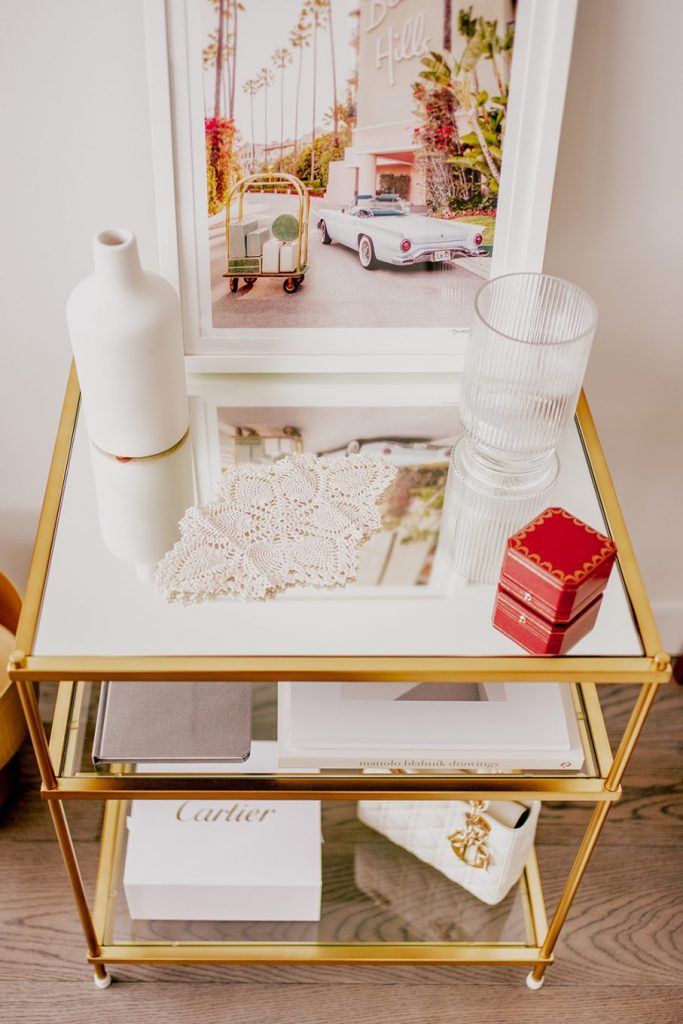 I won't go too much into our apartment in Vancouver and I will publish an apartment tour in another blog post. I will say though we manifested the sh*t out of it and it's beyond my wildest dreams. After a few unsuccessful apartment/condo viewings I was feeling extremely deflated, homesick and not particularly festive (it was the end of November 2021). Feeling this, Michael took me to the 1927 Lobby Lounge at Rosewood Hotel Georgia for a cocktail to talk about what it was that we wanted from our new home. 
Under the glow of the five Christmas trees in the hotel lobby and a very good cocktail we decided to write out a very specific list of everything we wanted our new home in Vancouver to have, what we wanted to be close to, the view, the amenities and why we wanted it. The very next morning the universe delivered an apartment listing within our budget that had all but one thing on our list, we had manifested our dream apartment by making our intentions clear and putting them out there.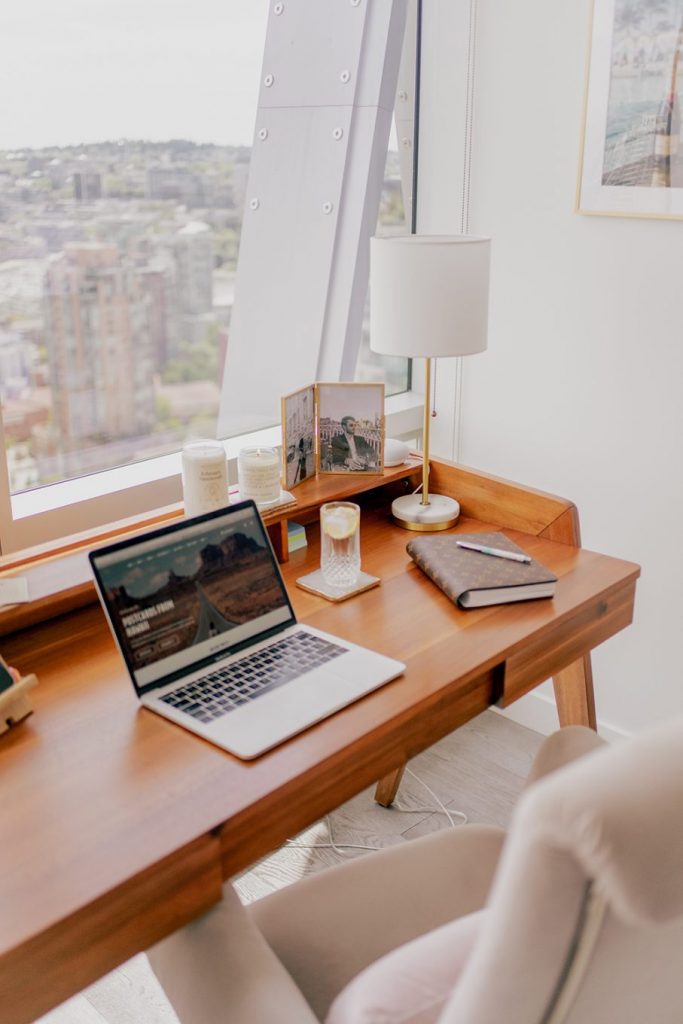 When it came to a work space for me. I wanted my own office, for the first time since starting my own business, with an incredible view, windows for fresh air and plenty of natural daylight and I wanted a walk-in wardrobe. The universe delivered a master bedroom with an ensuite bathroom, a walk-in wardrobe, floor to ceiling windows facing south-east with views of False Creek and on a good day Mount Baker and the North Cascades all the way in the US. I am beyond grateful and humbled by the power of manifestation. I am in love with my office. 
My office brings me insurmountable joy. From my desk I can look out on miles upon miles of open space. Every day I can look up and see happy little seaplanes fly in and out of the city (literally one flew over just as I typed this), on special days I see bald eagles circling Yaletown, rainbow coloured aquabuses journey along False Creek which sparkles on sunny days – Okay, I'm super giddy right now because every time I write something I look out of my window and it appears!! – trees as far as the eye can see and on a clear day the horizon reveals the North Cascades mountains all the way over in Washington State, USA.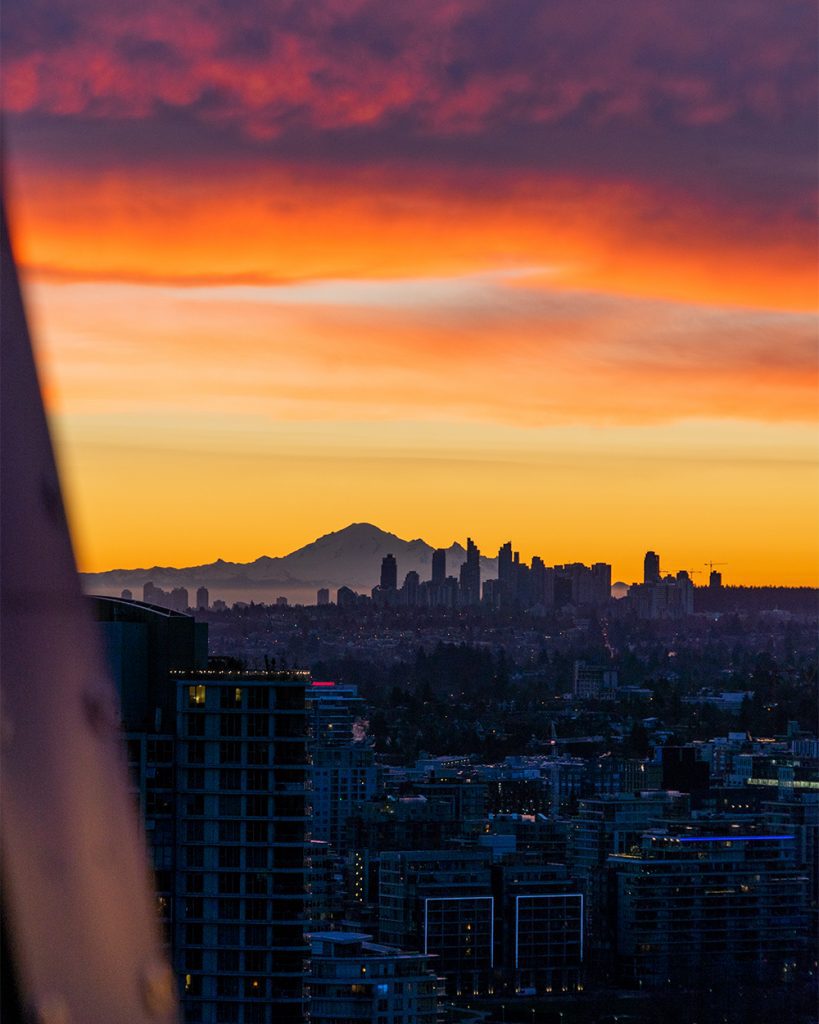 On a clear summer's evening the sunset turns snowy Mount Baker blue against a pink sky whilst Burnaby shines like bricks of gold. On a crisp winter's morning the sun rises from behind Mount Baker setting the sky on fire. It's a view that takes my breath away every time. The best part for me though is that I can see Michael in his office from across the balcony but I can't hear his questionable choice in music.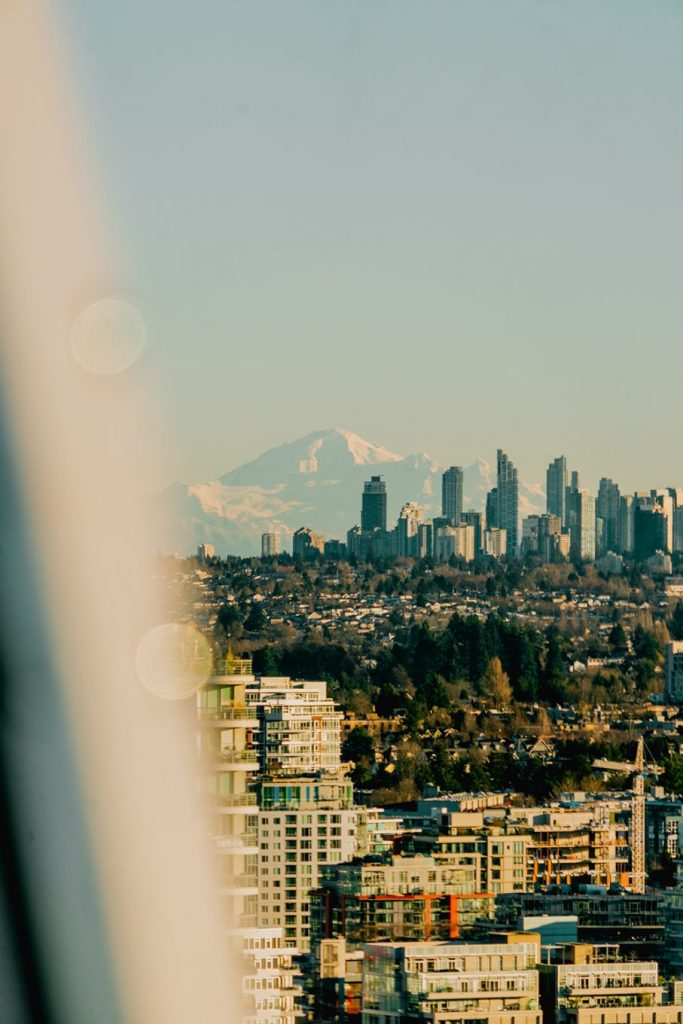 So after a few requests to see more than snippets from my stories I have put together this blog post that shares how I furnished my home office in Canada and which home stores I used to do it.
The theme of my office was Mid-Century Modern with hints of Art Deco in a white and gold colour scheme with pastel accents.
Writing desk and office chair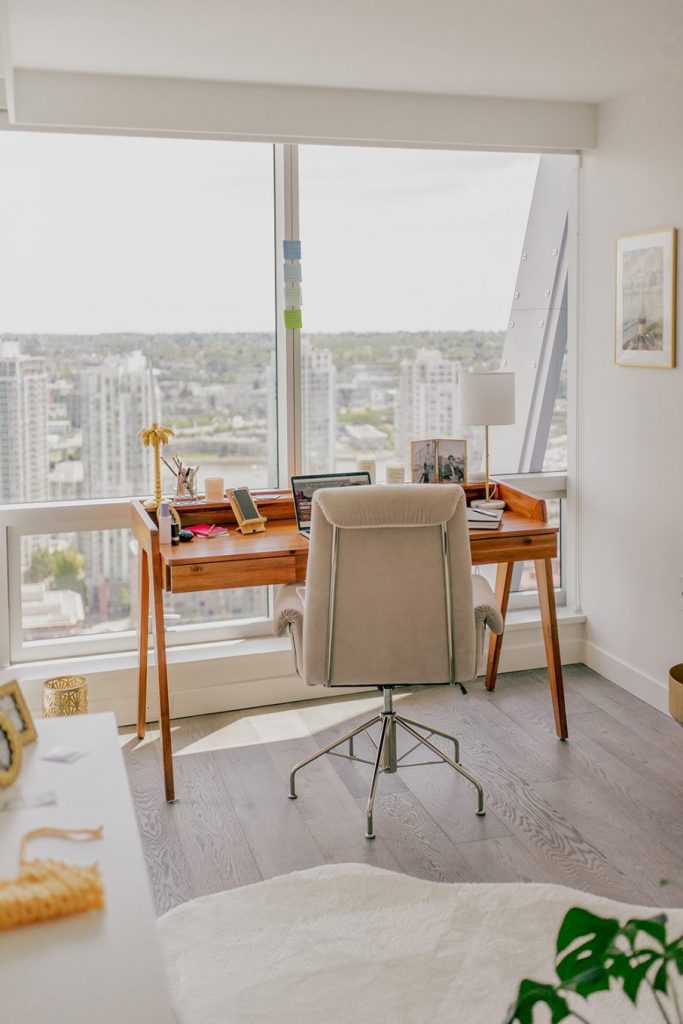 There were issues with delivery of these items and they ended up arriving a month later than expected. For this reason we received a 25% discount on both items which significantly lowered the price.
Your desk and chair in your office are the most important two pieces of furniture you will buy. Unfortunately I learnt this the hard way. When we originally moved into our downtown apartment in Vancouver I decided I didn't want to spend much on a desk and chair so I bought them from Wayfair (cue eyeballs from people who know). 
I used their "open box" service to order items that had already been opened but returned in (what was supposed to be) good condition to save waste. I had been mood boarding my office decor for a few years and varying designs of a writers' desk and velvet office/task chair had been on there from the start. So I bought a small white writing desk and emerald green velvet task chair.
Little did I know Wayfair is terrible quality and both items came broken not to mention the chair was wildly uncomfortable. Following this we decided to spend more money to get a chair that offered the support I needed for long days sitting and writing and a desk that wouldn't fall apart when I put more than my laptop on it.
Both my writing desk and office chair came from CB2.
I wanted a writing desk not just because of my unwavering desire to be validated as a writer (where my imposter syndrome sisters at?), but because I didn't want my desk to be flush to a wall and I have a terrible habit of pushing things off my desk with my laptop – much like a cat but my destructive behaviour is unintentional. I wanted a drop front writing desk so that nothing would fall off the back or sides of my desk and apart from one stray smoothie it has done its job perfectly.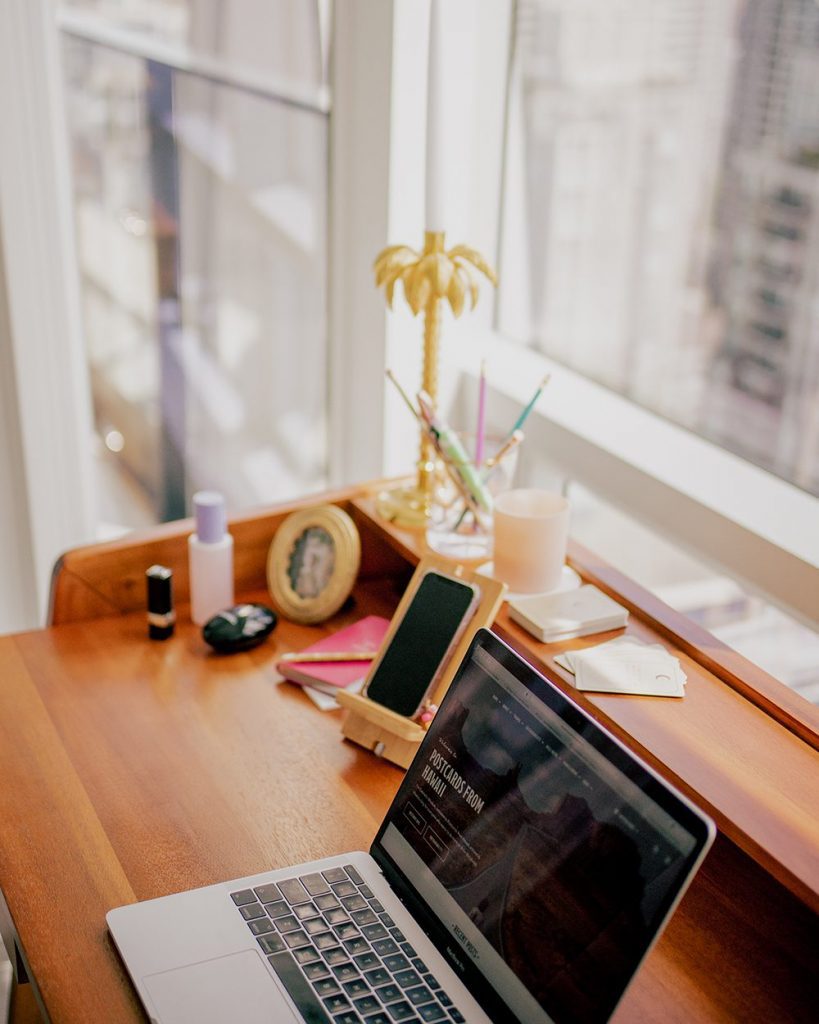 One thing I was never going to compromise on was having Mid-Century Modern desk legs. I find these to be the most alluring style of furniture, with velvet at a close second. So when I saw the Drommen desk in CB2 I knew this one was the one for me. The Drommen desk is made from solid sustainably sourced acacia wood, has holes on both sides for cord/cable management, three draws and the centre draw folds down to accommodate a keyboard – I kid you not I just figured that last part out the day I wrote this.
Whilst in CB2 looking for a new desk I came across my chair. I was drawn to the velvet of the Saviti Bone Velvet Office Chair but I wasn't sold on the silver hardware because I wanted strictly gold in my office plus I wanted it to be on wheels. When I sat down in it and felt how supportive its high back is my butt instantly knew this was the one and its lack of wheels didn't end up bothering me as it still swivels so I can get in and out of my desk without needing to move my chair out of its prime position.
The Saviti Bone Velvet Office Chair is the kind of chair that made me enjoy a good laugh when I heard Frankie guess if a chair she liked was from CB2 in the finale of Grace and Frankie because I knew exactly why that was her guess. They're beautifully designed and blissfully comfortable that if you have the budget for one you can excuse its high cost.
All the details on my desk
We got a couple of Google Home speakers for our apartment during the Black Friday sale. My Google Nest Mini gives the speakers on my laptop a break when I'm playing music to aid creativity plus it's super useful for setting reminders and checking the weather even if it's always raining in Vancouver. It's also connected to our other speakers so I can send messages to the one in Michael's office.
My pretty little water glass is second hand from a Salvation Army Thrift Store and was just $2.99!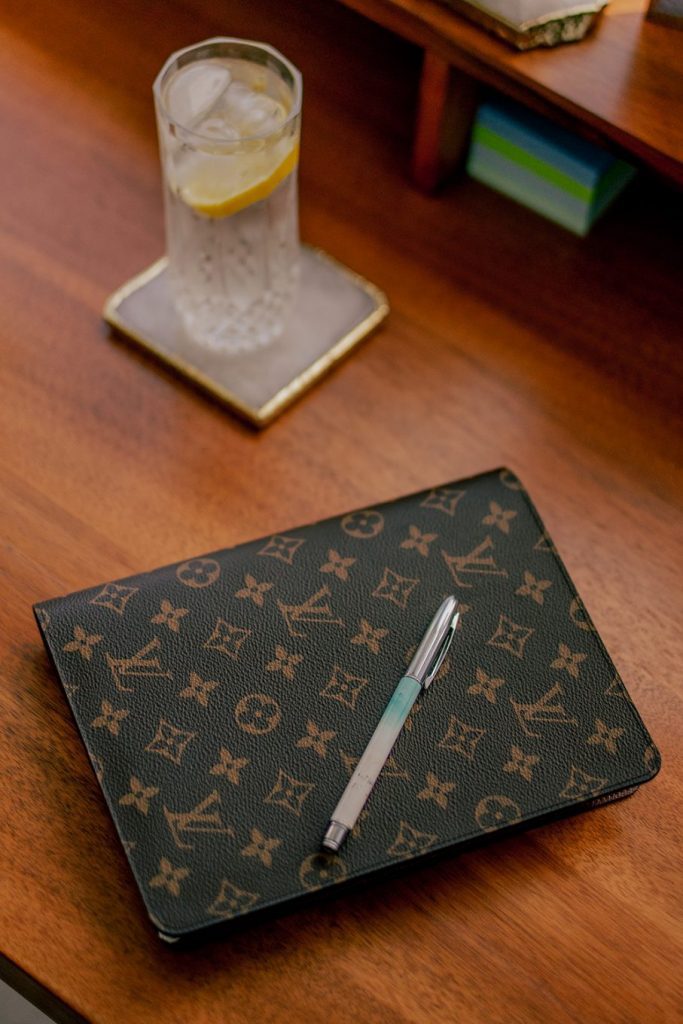 My agate coasters are from Anthropologie and were a 30th birthday gift from a friend who is featured in one of my photo frames in part 2 of my home office tour.
My bamboo phone stand was purchased from Amazon a few years ago and can be portrait or landscape. I chose bamboo over plastic/metal because it's biodegradable.
My pen pot in a glass tumbler that I got on sale from Antropologie a few years ago.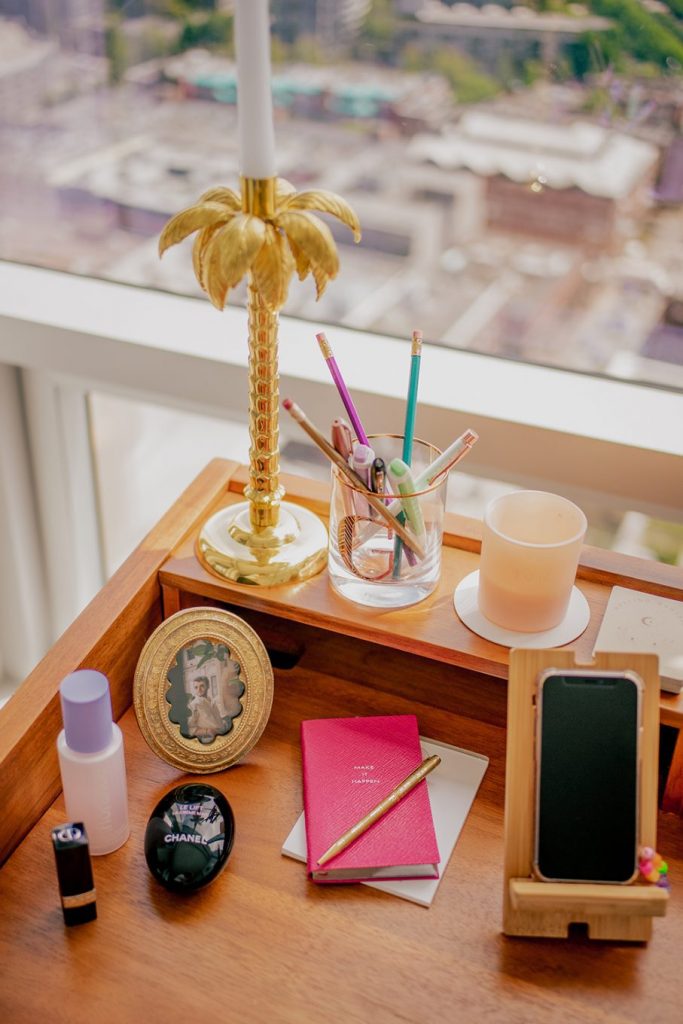 The Birthday Candle was another birthday gift from the aforementioned friend and is a natural coconut-soy hand poured candle.
The Anecdote Candles candle was from Indigo and is another natural coconut-soy. What's special about this candle aside from its funny little scent notes—"Smells like style icons and aspirational lifestyles"—is that it smells so powerful that it doesn't even need to be lit to fill the room.
I got my Palm Tree Gold Taper Candle Holder on sale for President's Day in CB2 Seattle. It gave me "it was Miss Wisdom in the ballroom with the candlestick" vibes and I was here for them. It was designed in a collaboration with Matthew Williamson, a British designer I loved as a teenager and I think it looks fantastically daft with a candle in it! 
The June candle is from Canadian brand Cardea Auset and is a hand-poured, natural soy candle.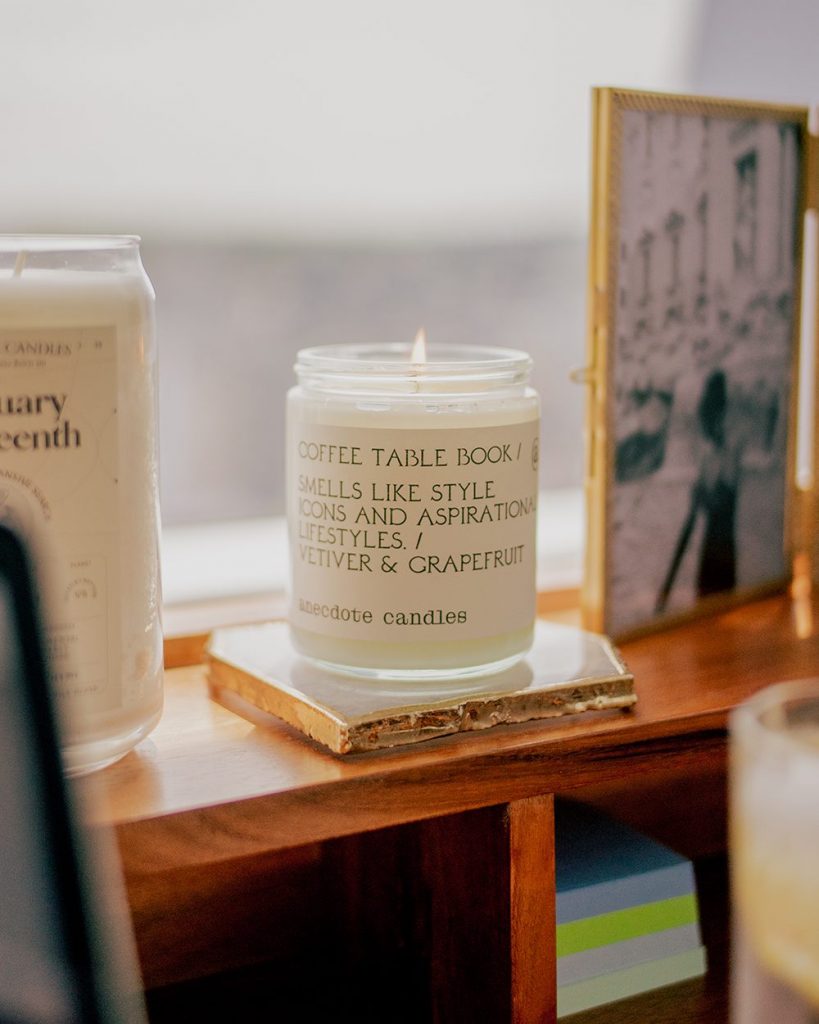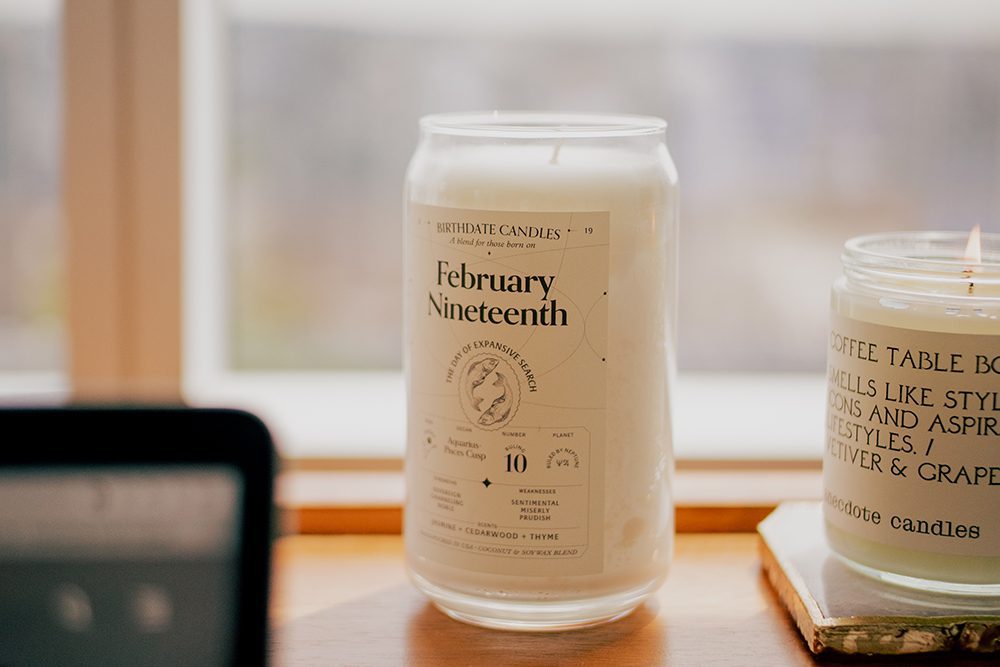 Michael got me this pack of Healing Affirmation cards for my birthday in 2021 when we were in the thick of our longest lockdown in the UK. I pulled one every week for a year and journaled about them then put them on display around my mirror in London. 
I keep them on my desk and pull them when I feel like I need a supportive message from the universe.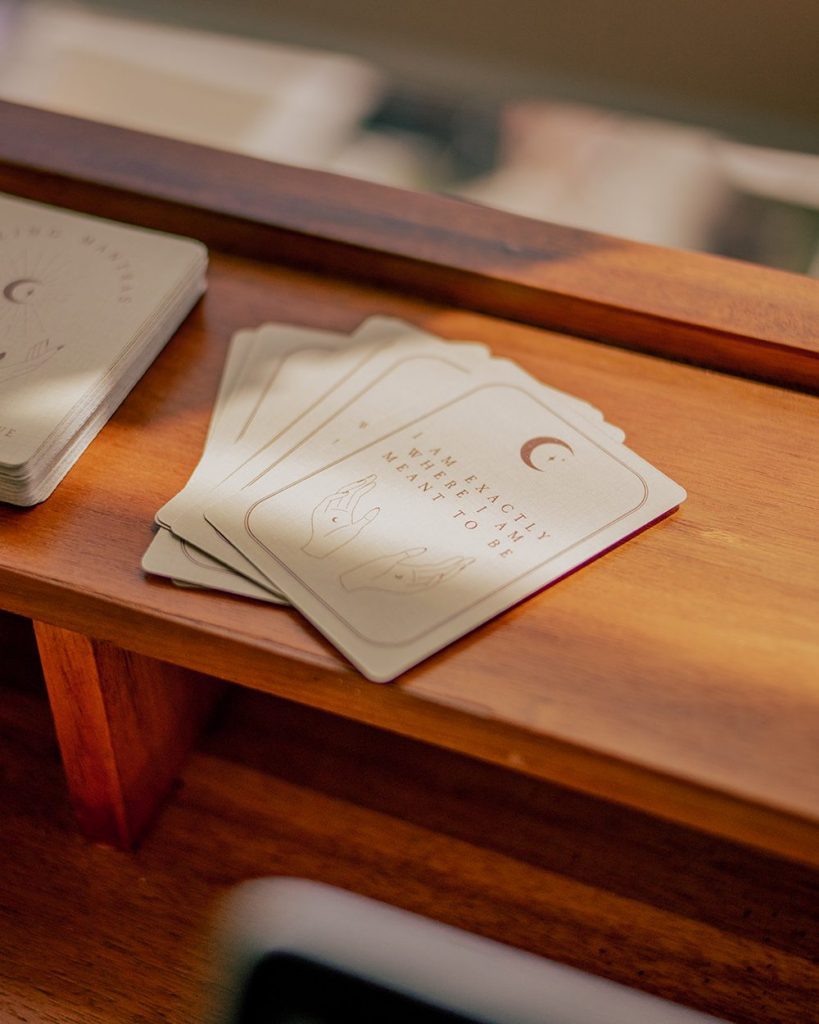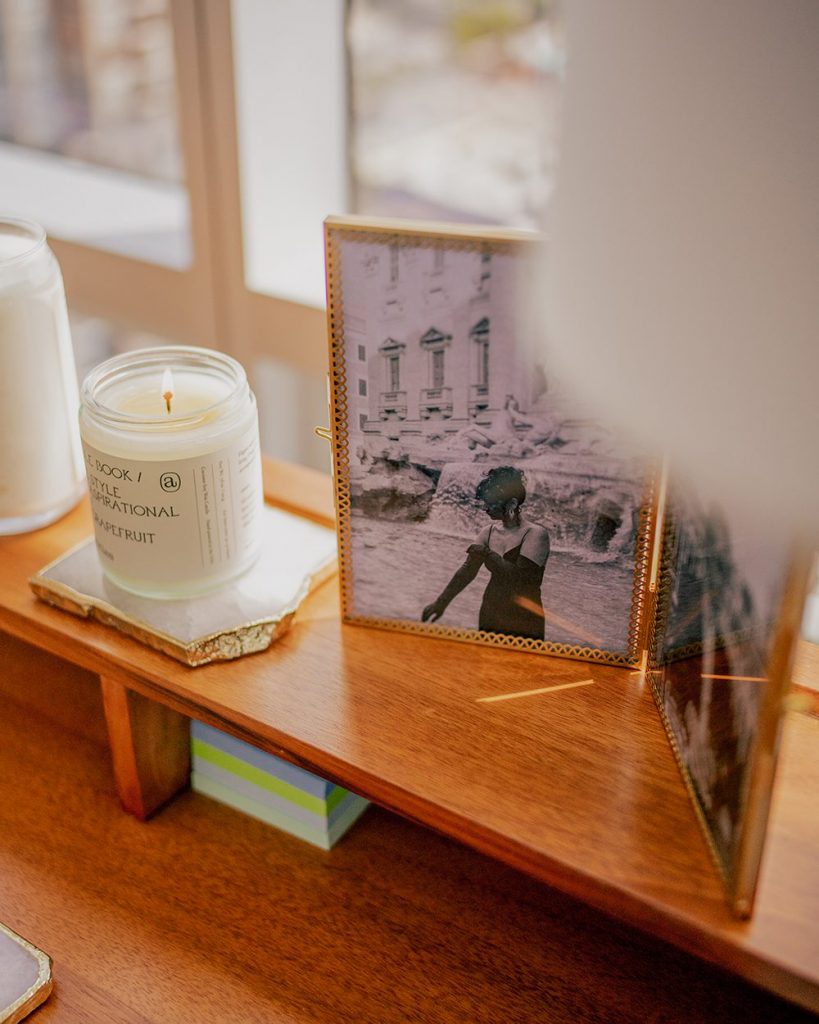 Lamps are stupid expensive in Canada, even from second-hand stores. I can't seem to find a reasonably priced one anywhere. As the cost of our furniture took its toll in the first few months of moving here we started to put off the final furnishings such as lamps. Months later on a road trip with Michael and my brother, said brother and I emerged out of Target with what should have just been snacks but included a Hayes Marble Base Stick Lamp for $30 and a big smile on my face.
There are three essentials I keep on my desk whilst I'm working:
Hand cream
Lip balm
Hydrating facial mist
The hand cream and lip balm are extra fancy because an airline lost my luggage for a second time within 3 months and I knew the ropes that time.
My bin or trash can is a vase from HomeSense (which is the Candian equivalent of TK Maxx). I love how the pattern looks Art Deco inspired.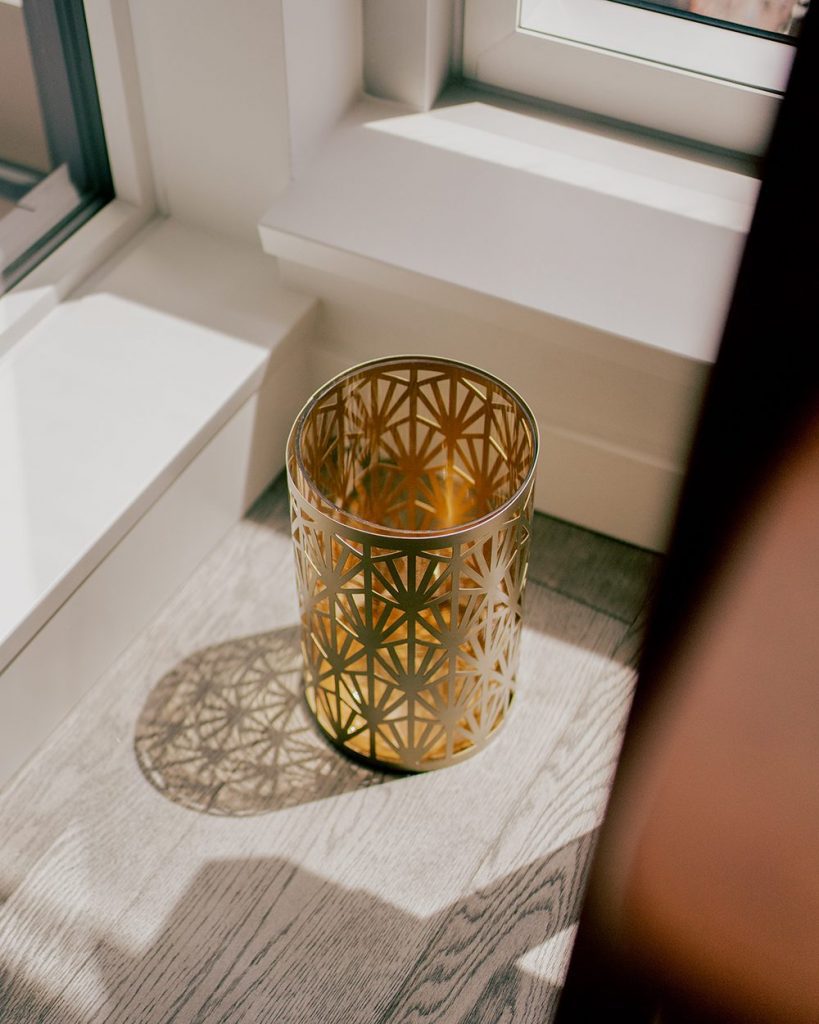 My "wake me for champagne" embroidered cushion was a birthday gift from Michael and is Ted Baker from The Bay.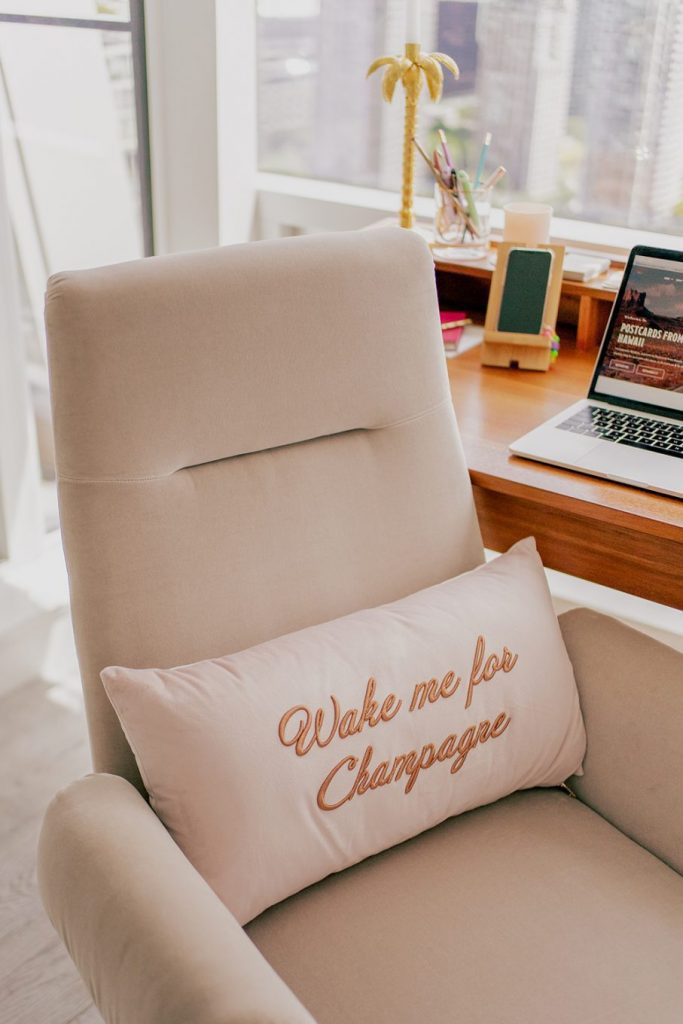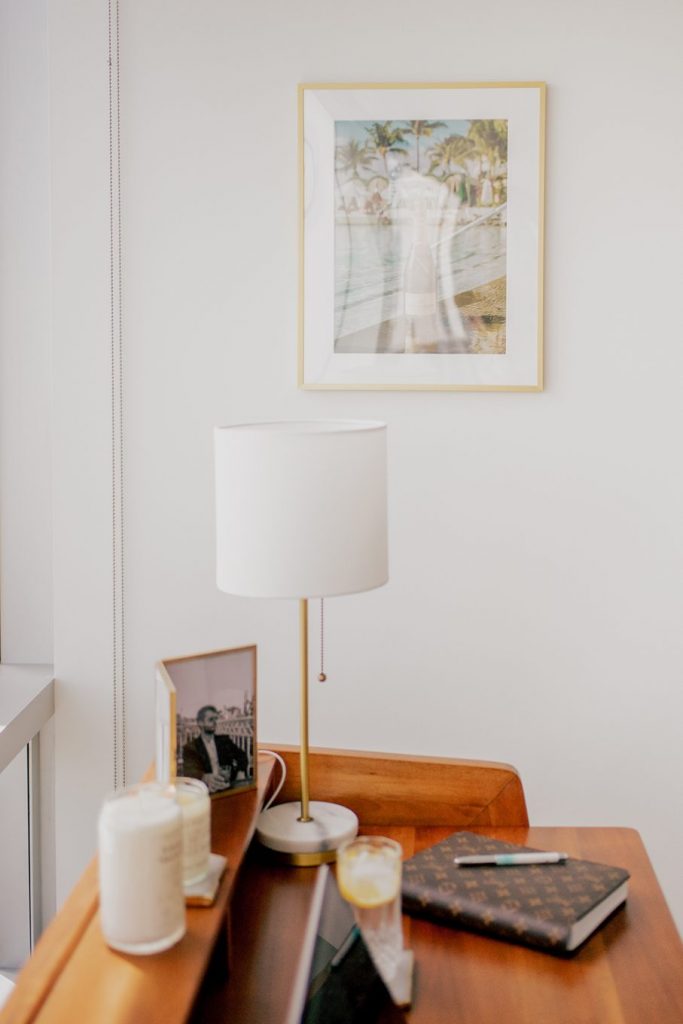 Print is one of my own photos.
LOMVIKEN gold 12×16″ (31×41 cm) photo frame from IKEA.
I chose to frame this photo I took of a bottle of Moët & Chandon champagne I was gifted during my first solo hotel collaboration at Mondrian South Beach in Miami. First of all it fits the bougie aesthetic of my office but it also represents independence and resilience. I was so nervous about working without the safety net of Michael but I took photos that I and the hotel loved and so I framed it on my wall to remind me that I am capable. Unfortunately is doesn't photograph well on a sunny day.
Product photography space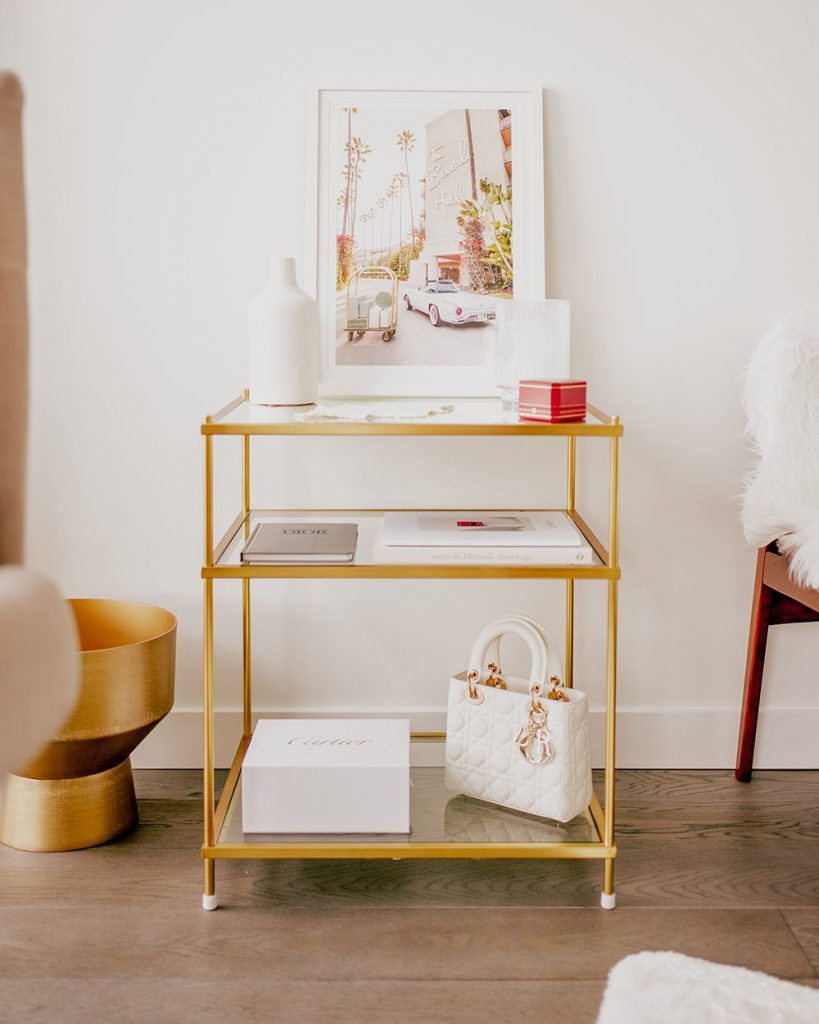 Since creating Postcards from Hawaii I have wanted a dedicated space for product photography for blog posts and brand partnerships. In the early days we used a Lightbox and during my time in London I would push the marble coffee table up against a white wall but it was very heavy and a whole ordeal to set up every time. I wanted a permanent place that would always be available for product photography, somewhere well lit and interesting but not distracting. 
I had originally imagined a coffee table set up with a mirror to reflect the featured products but during a trip to West Elm on Granville for some velvet (told you I was feeling velvet) bedding in the Black Friday sale I saw the Terrace nightstand. The antique-brass finish, glass mirrored top perfectly complimented my existing office decor and I loved that instead of using a mirror I had the mirrored shelf. 
The mirrored surface was originally the bottom of the three shelves but as it has to be assembled upon delivery I switched it with the top surface to create a reflective surface for my products. You can see some examples below.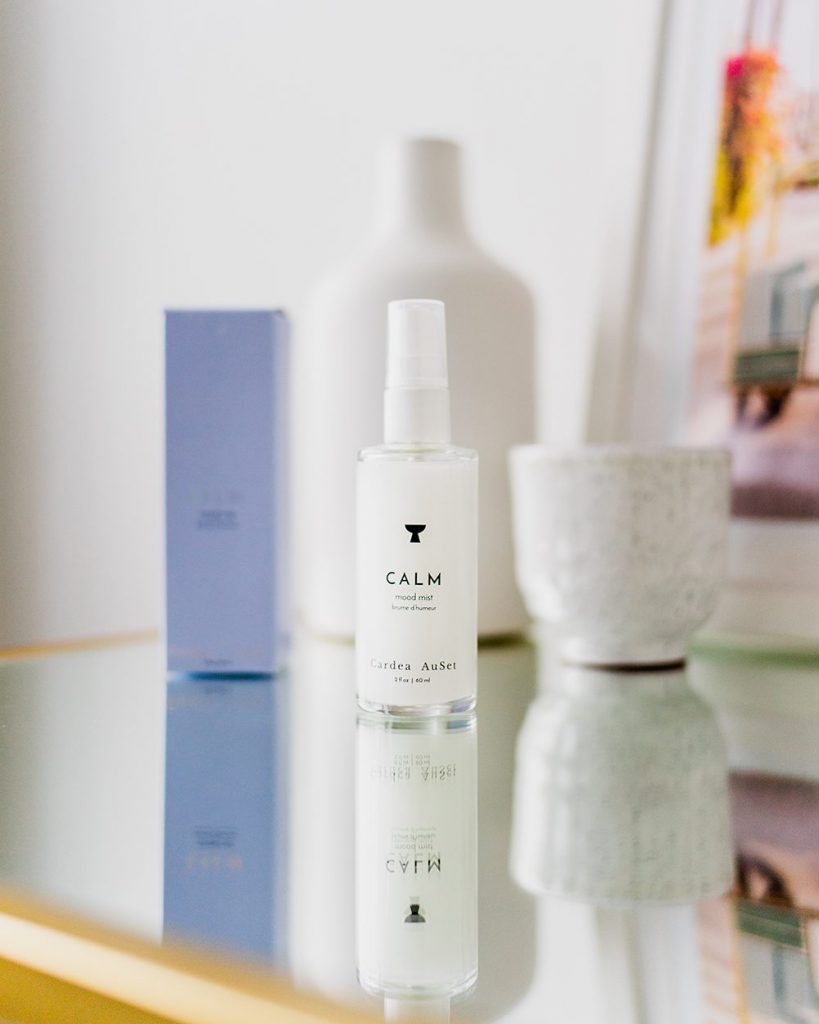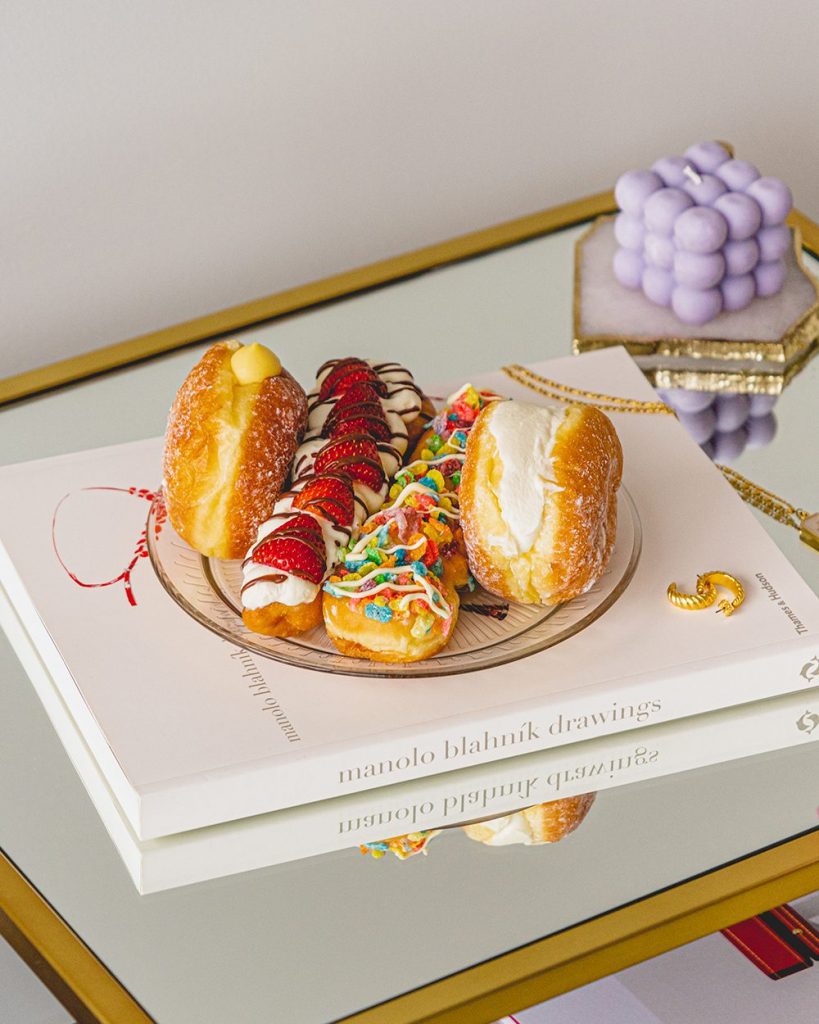 All the details of my product photography set up
Gray Malin framed photograph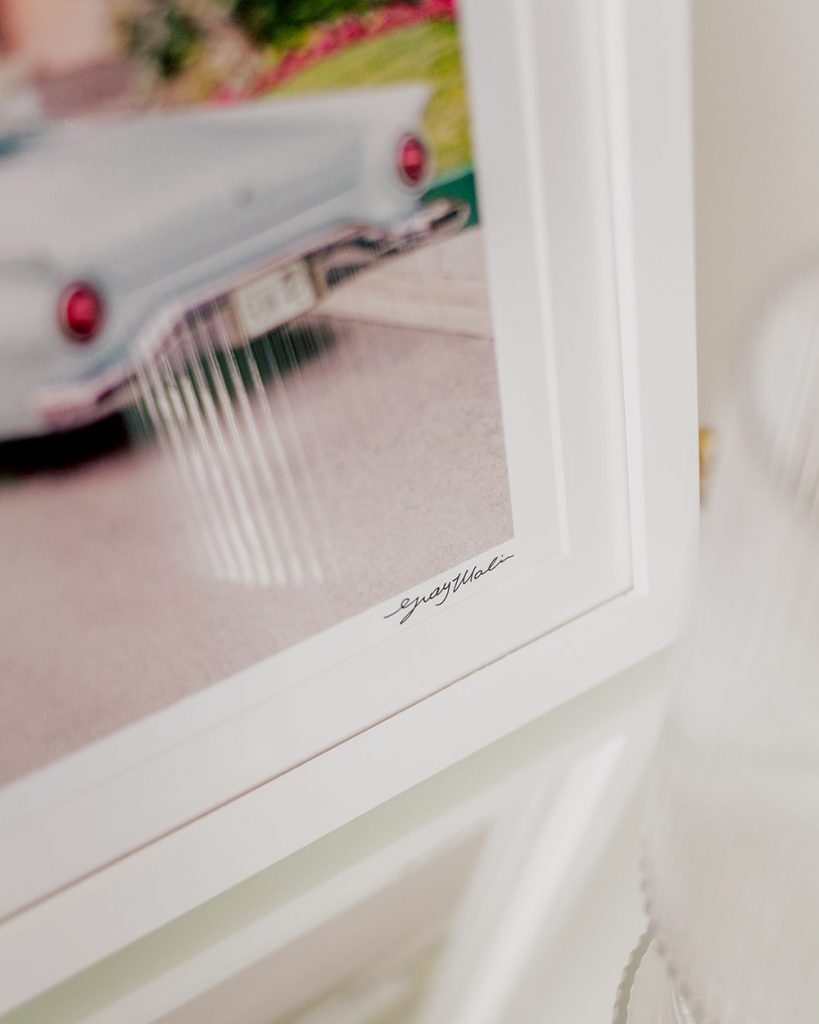 For many years I have dreamed of owning a Gray Malin photo and for Christmas 2021 Michael made that dream come true. I am obsessed with 1950s Golden Age Hollywood glamour and I have such great memories at The Beverly Hills Hotel in California. Gray Malin at The Beverly Hills Hotel has always been my favourite collection of his and I'm thrilled I own one of his prints.
My journaling pen is The Hawaii Pen by Gray Malin too.
My delicate crochet doily was crocheted by my 90-something-year-old Grandma Jean and given to me as a keepsake when I moved to Canada. It has immense sentimental value.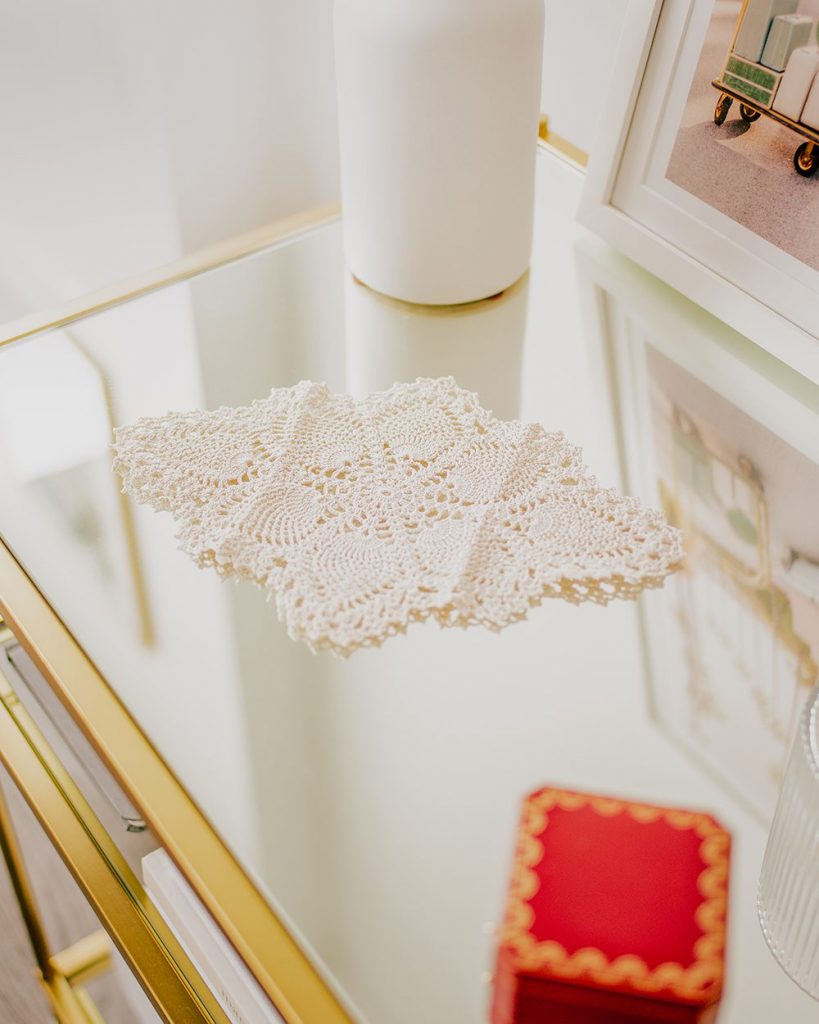 Though I was in no rush to get engaged for most of our 12 year relationship, I have been dreaming of that red Cartier box since I was a little girl, totally enamoured by Princess Grace Kelly's Cartier engagement ring in High Society (1956). For this reason I keep it out on display to remind me, the box has just as much sentimental value as the ring.
The white Cartier box below was the gift packing for my 30th birthday gift from my sweet childhood best friend.
The Dina Fluted glass vase is from CB2 and was $19.95 before tax. I love its reflection on the glass table top.
Whilst I was away on a trip Michael, my fiancé, bought a bunch of decorative plant pots and vases in the West Elm New Year's sale and this 9" Pure White Ceramic Bottle was one of them.
The Dior notebook and Manolo Blank drawings books were gifts, the latter was for my 18th birthday from my childhood best friend's Mum – she predicted my shoe obsession before anyone else.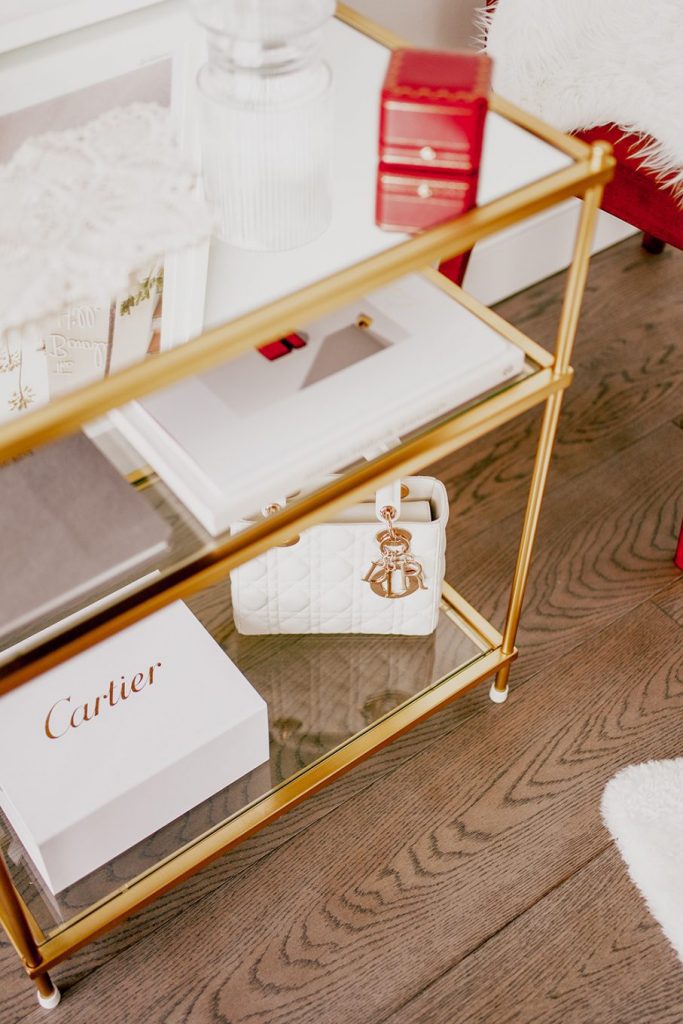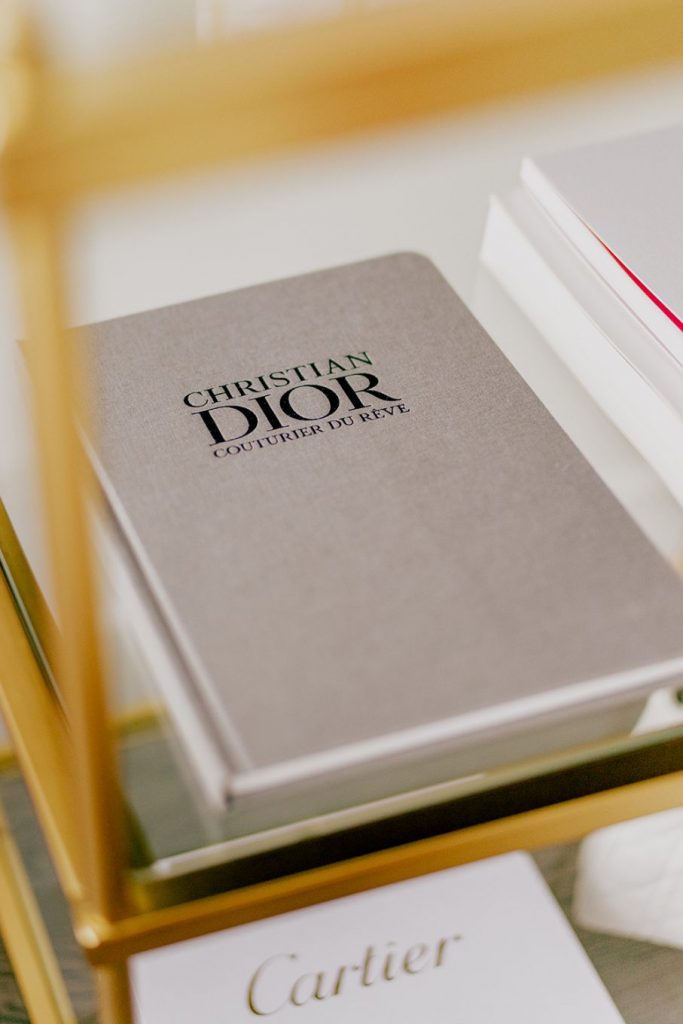 My beautiful Lady Dior was my 30th birthday gift from my fiancé, Michael.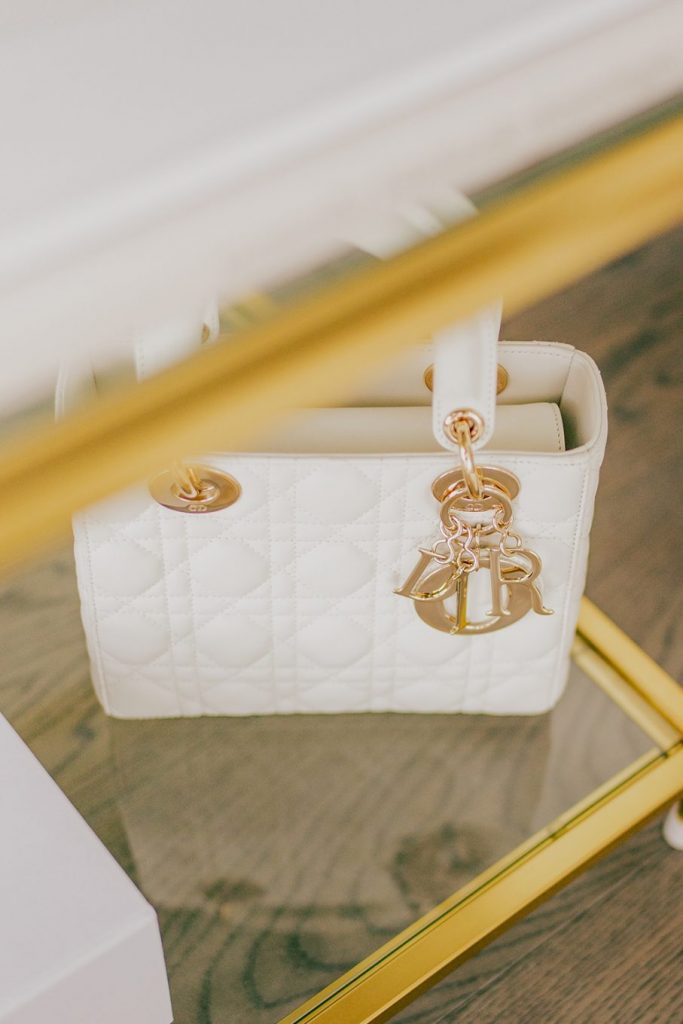 All the details on my accent cabinet
My crystal vase is second-hand from the Salvation Army Thrift Store, which might actually be my favourite store in Canada for all the gems you can find, low prices and that the proceeds go to people in need. Almost all of my kitchenware and glassware came from there.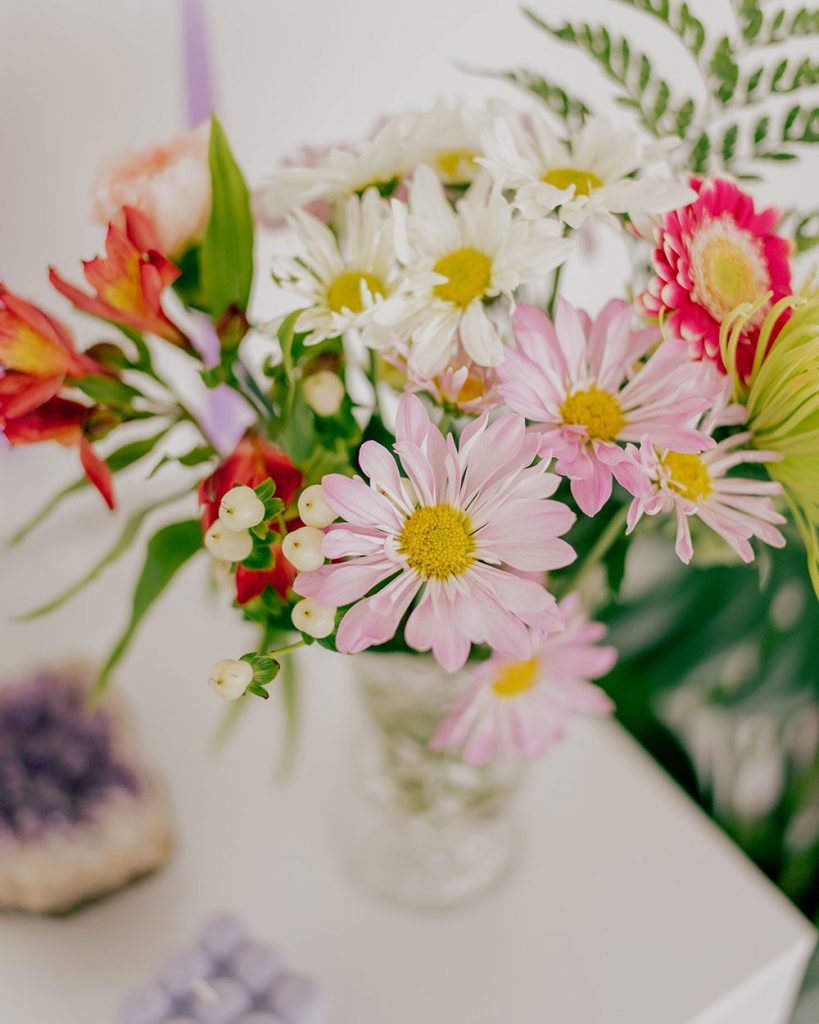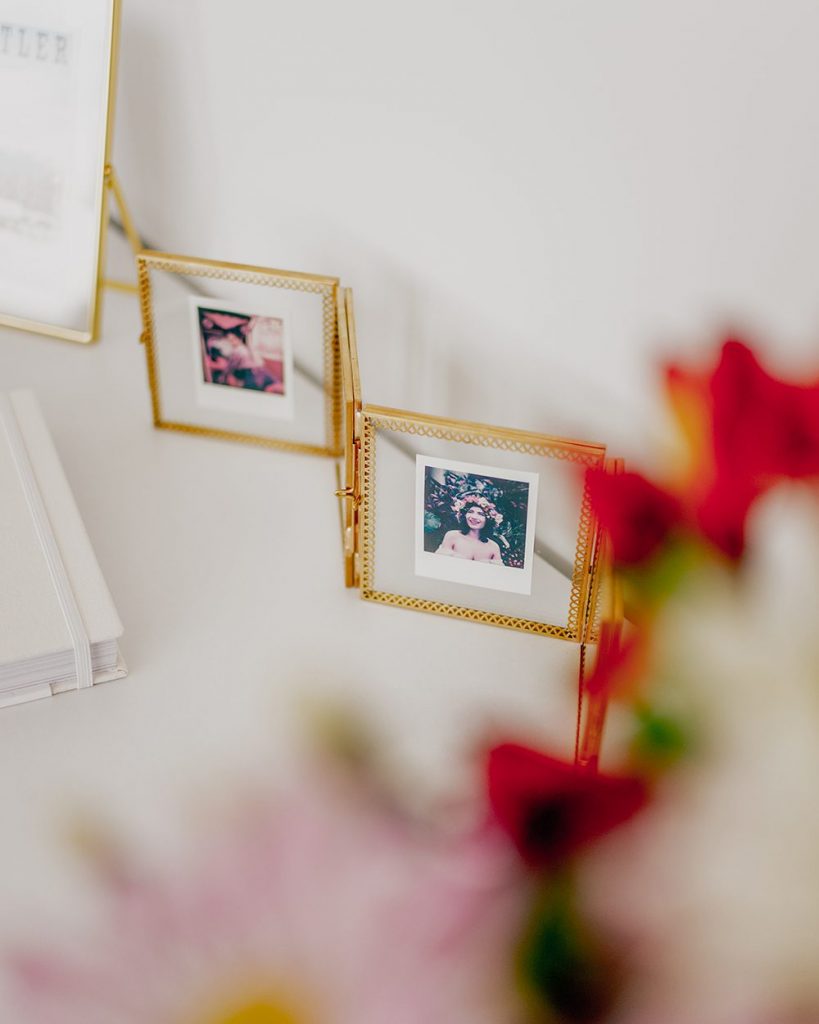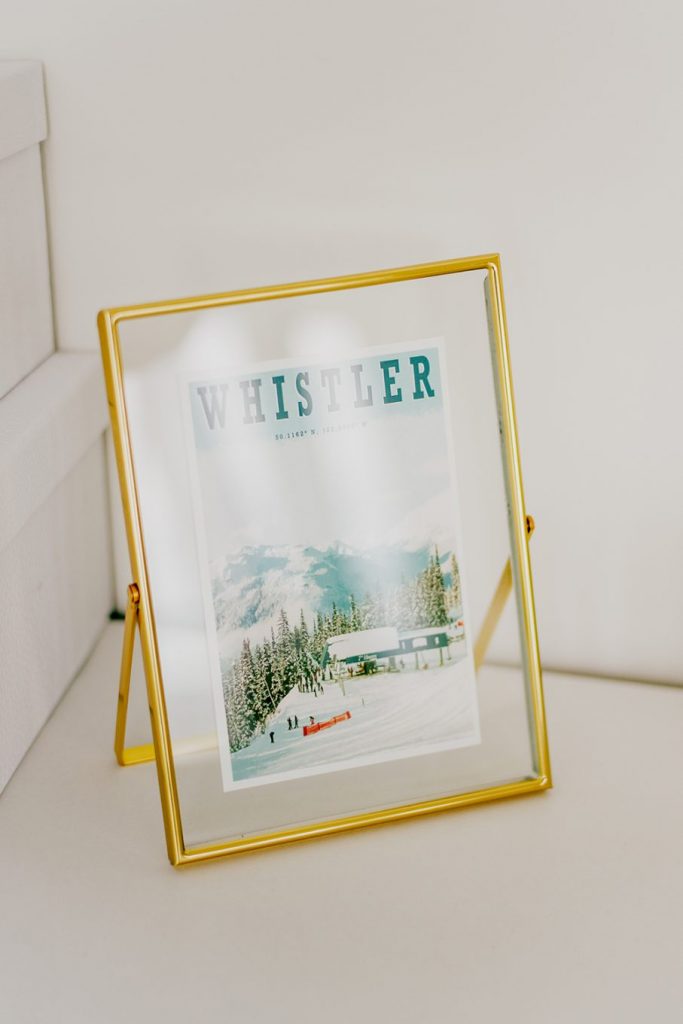 The two pressed glass candle stick holders are from Etsy UK  and were a Valentine's gift from Michael. The tapered candles in them were from Choices market.
The bubble candle is a lavender and coconut scented soy wax candle from Canadian lavender brand Provence en Couleur. I bought it on the Vancouver Christmas market and unfortunately they don't sell them online but you can purchase their other products online. 
Amethyst is my birthstone and this rather large and very lovely amethyst crystal was given to me by a family friend who was a jeweller of precious and semi-precious stones. Gerald a was wonderful man who served in WWII, cared for his poorly wife and gifted both thoughtfully and generously. I will forever treasure this beautiful gift he gave me back when I didn't appreciate it as more than a purple rock.  
Amethyst is a protective crystal that helps to relieve stress and anxiety. It carries the energy of creativity and it is also considered to be a source of power and wisdom(!). So it rightfully belongs in my office, a space of creativity, Wisdom and occasional stress.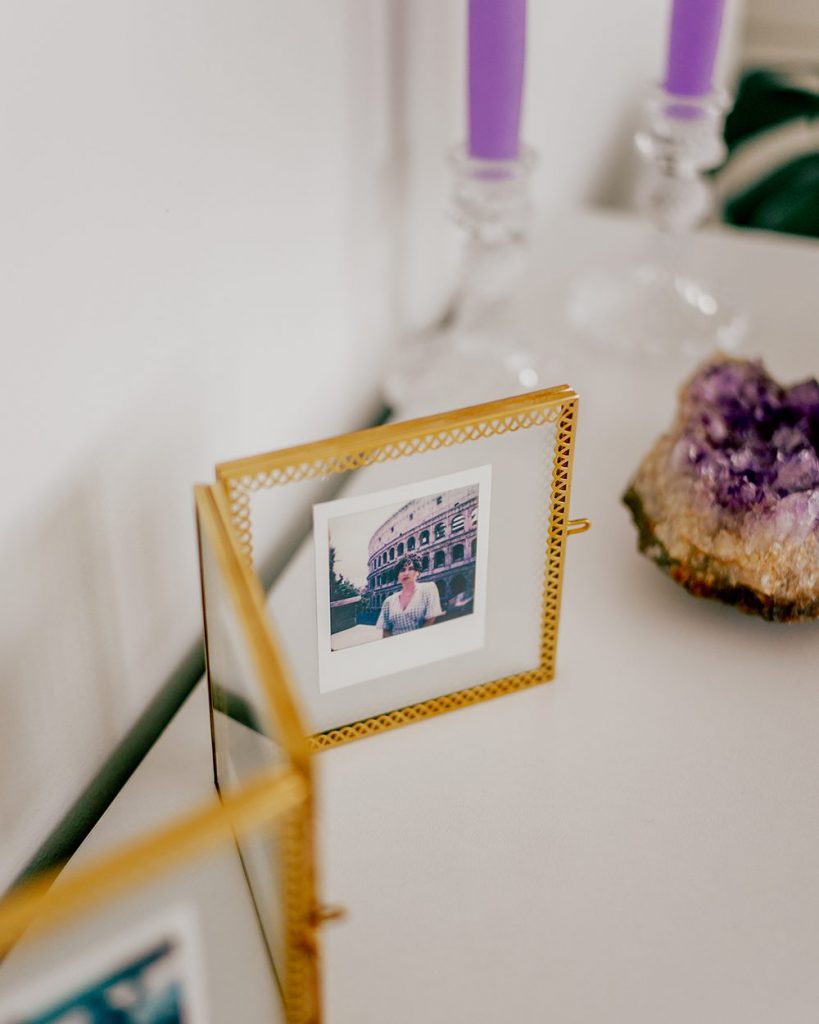 My Pause Journal was a 30th birthday gift from my friend and published author Nadia Bullock who partnered with the creators of Pause to co-write Becoming Mama.
Monstera plant and plant pot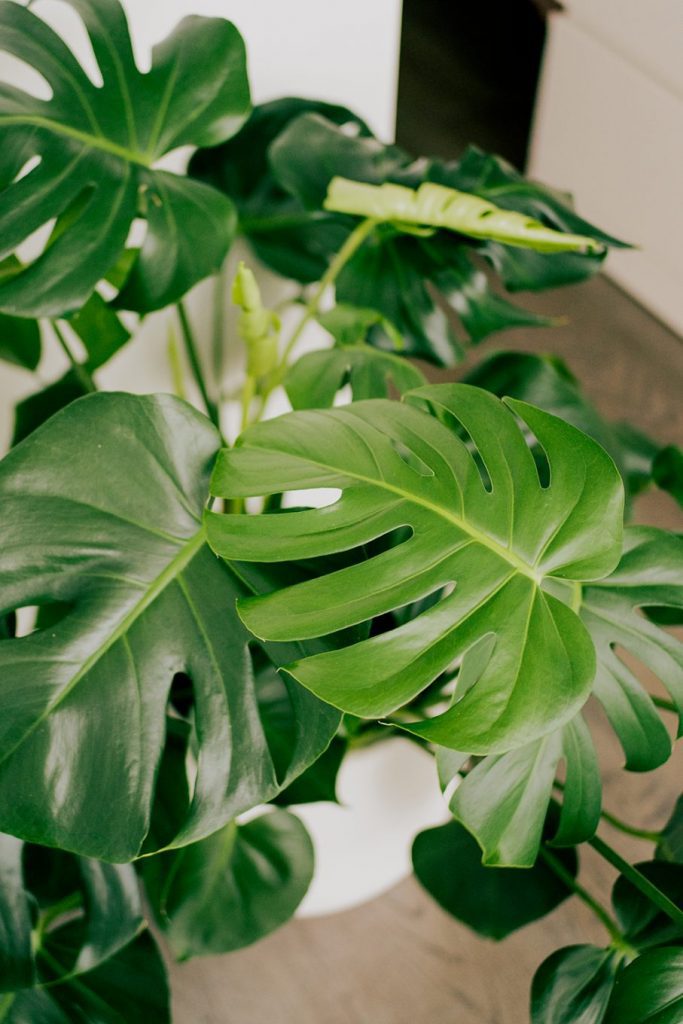 Split Leaf Philodendron (Monstera Deliciosa) from Home Depot.
Artevasi Cover Pot Aura Collection White Ceramic 29 cm from Home Depot.
The only plants I had successfully raised in my lifetime were my orchids that my Mum currently had custody of in England and I'm pretty sure that's only because I forgot to water them and turns out orchids don't mind. That was until I got my Monstera Deliciosa which is absolutely thriving, so much so that three new leaves have unfolded beautifully between photographing and writing this blog post.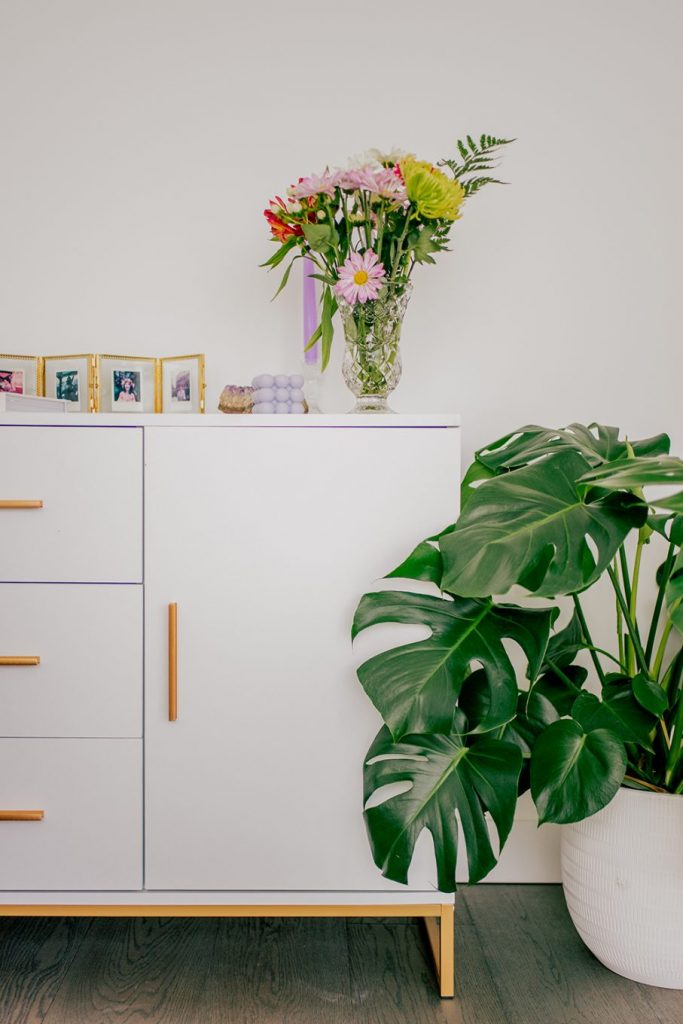 My Monstera Deliciosa was perhaps only a third of the size it was when I first bought it and is probably due a repotting. I have found watering it every 10 days, dusting it and having it in a room that only receives direct sunlight for half of the day has kept this plant growing healthy, producing gorgeous new leaves.
I had originally bought two plants for my office but the other one, from IKEA, was infected with mites and died within days of bringing it home. I now advise others to avoid plants from IKEA – I mean I should have known, they're not kept in the suitable conditions that most plants require.
The white Artevasi cover plant pot it sits within was also from Home Depot Canada. 
I also have the small Bast brass plant pot from CB2 that Michael got me but I'm yet to find the perfect plant for it.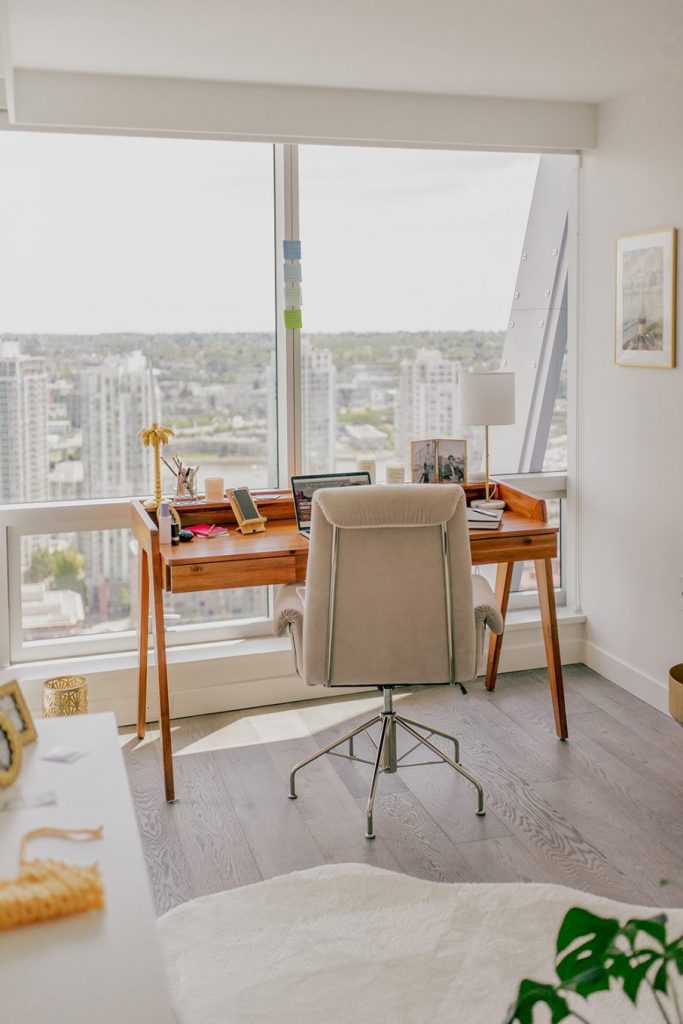 TOFTLUND faux fur rug from IKEA.
The obligatory trip to IKEA for HUVUDROLL Plant Balls (their vegetarian meatballs) and the basic furniture you need, can't find anywhere else and don't want to spend a fortune on was made when we first moved. Actually a few trips were made because no shelf compares to a KALLAX, IYKYK.
On one of our IKEA trips I came across the TOFTLUND faux fur rug in white for just $19.99.
The need for a rug in my office was greatly undervalued at first. I was buying it to tie the room together and to begin with had been looking at a large, floor-encompassing one for texture from West Elm but I was dissuaded by the cost and left it for months. I got the TOFTLUND from IKEA when I saw the price but it wasn't until I got it home and walked on it barefoot that I realised what a visceral reaction it created. In a solid floor apartment, as the soles of my feet walked over the rug my body instantly felt relaxed and memories of playing on the carpet as a child came to mind. It was an unexpected moment of calm and now I use my rug to ground myself whenever I feel overwhelmed.
I believe this is the same reason I often find my fiancé asleep behind me on my rug when he's feeling overwhelmed with work.
Never underestimate the power of texture.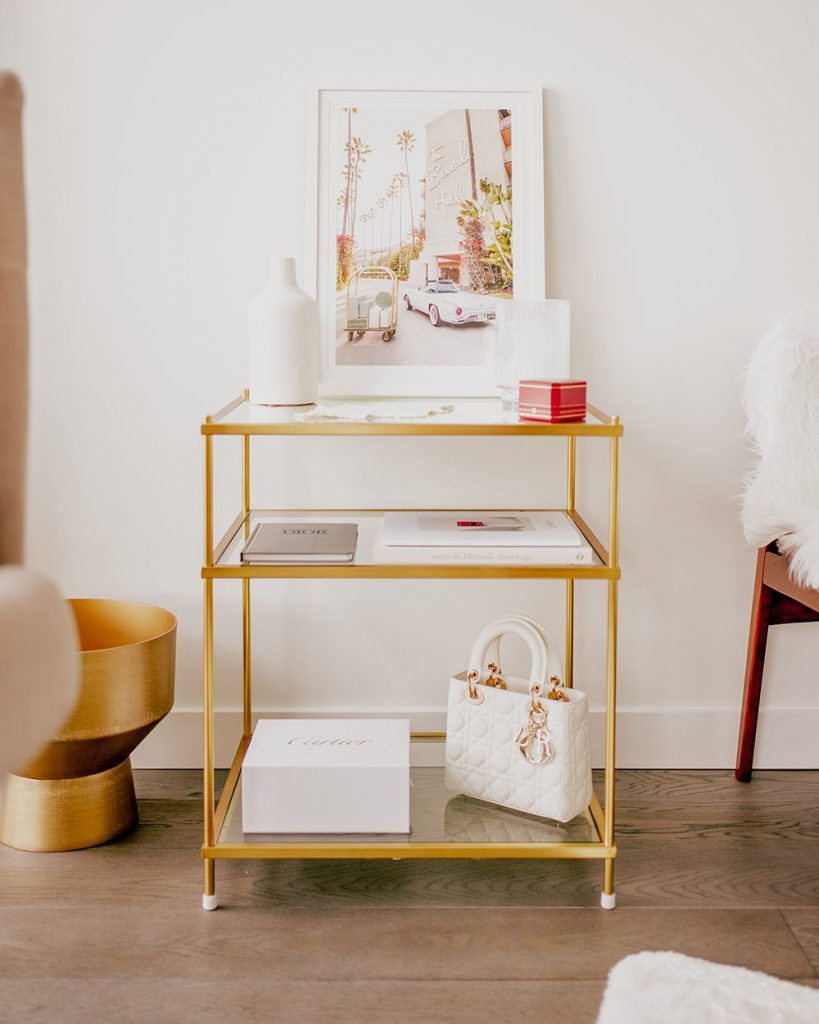 Baltimore Vegan Leather Dining Chair in Saddle from West Elm.
Though I did want an accent chair in my office we don't have a whole lot of room for all four dining chairs in our open plan kitchen living room when they're not in use so I keep one in my office. Luckily the walnut-stained finish compliments my acacia wood writing desk.
To further tie it in to my office/stop it from looking like a dining chair I used one of the mini faux fur rugs, Boever,  that I bought to make our bar stools more comfortable and festive during the winter months.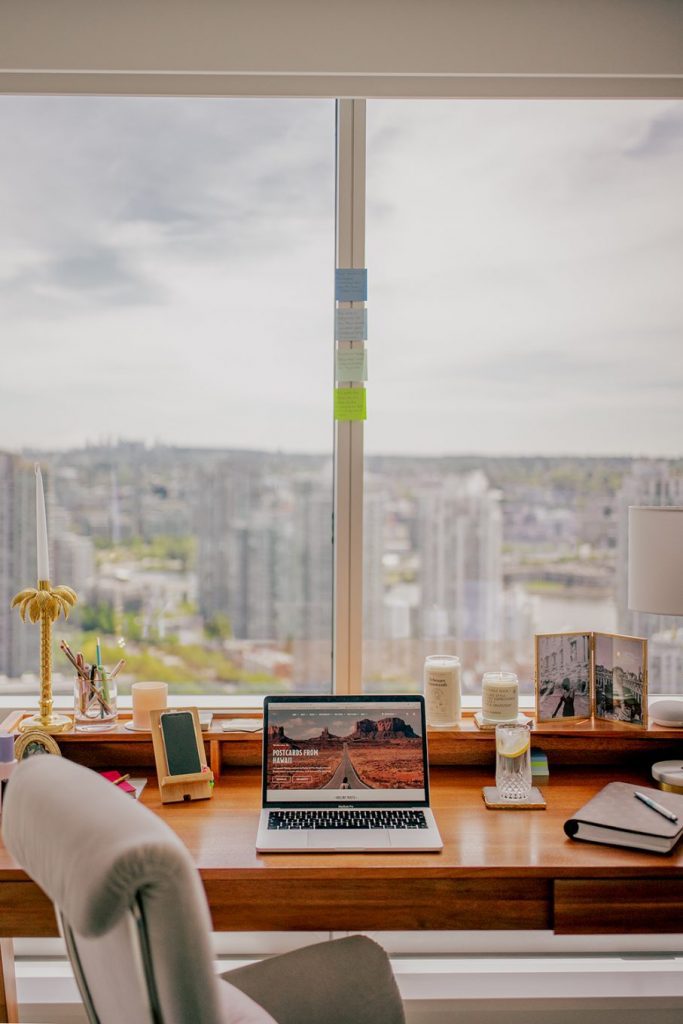 Despite shopping in sales and second hand, furnishing our home in Canada ended up being way more expensive than we ever expected. Partly because we had matured past our IKEA-everything phase and wanted furniture that would last for years to come but also because life is far more expensive in Canada than we realised, beyond the 3+ years of savings could account for. You'll see this reflected in the prices within this blog post.
If you're moving to Canada I suggest bringing as much of your own belongings as you can, shopping in sales, shopping as much second-hand homeware as you can and if all else fails pop over the border to the US to shop in Target.
I do however love that items from West Elm and CB2 are stocked for months and so everything I purchased is still available rather than discarded for new collections.
If you have any questions about my office space please drop them in the comments below! 
Stay tuned for part 2 of my PFH home office tour – how I furnished my workspace in Canada where I'll be sharing my walk-in wardrobe, mirror, accessories gallery and vintage wardrobe.
Do more on & for the planet, Gabriella